7 Hotels in the Metro for Business People
Manila and Makati City are filled with tall, fascinating buildings that you can find in any direction you put your sight to. Known as two of the most "loud and alive" places here in the Philippines, people are already used to such crowd and noise both cities have.
But apart from living the thriving Manila and Makati life, it is also home to abundant hotels not only meant for leisure but also for business people.
If you are looking for a place to stay while on a business trip to the metro, take the chance to stay at some of the metro's best business hotels. With that, Philippine Primer brings you the list of business hotels in the metro for your guaranteed comfort and rejuvenation!
Hotel Benilde Maison De La Salle
Offering a sleek and stylish accommodation in the midst of Manila, Hotel Benilde Maison De La Salle will give you a state of the art features in their 49 guest rooms.
Starting from the Dormitory Room (Php960) to their Deluxe Queen (Php2,860) and Deluxe King (Php3,360) as well as their Presidential Suite (Php12,000), you could really feel at home in this hotel.
Hotel Benilde Maison De La Salle's Deluxe Queen (Php2,860)
The rooms also complete with a 40-inch LED Smart TV, Wi-Fi, and automated service-calling system. Moreover, it is also home to a plunge pool, gym, 24-hour business center, efficient meeting venues, and a contemporary restaurant called Café Romancon.
Cafe Romancon's Beef Burger
Also read: Hotel Benilde Maison De La Salle in Malate: Sleek and Stylish Stay in Manila's Historical District
Address: Arellano cor. Estrada St., Malate, Manila
Check-in: 2pm / Check-out: 12 pm
Contact: 02-8230-5230
Website: hotelbenilde.com
Facebook: facebook.com/HotelBenilde
Hotel Jen
A dynamic hotel complete with functional services and amenities suited for businessmen and travelers alike, Hotel Jen houses three rooms of varying categories capable of catering to diverse needs: Deluxe rooms (Php3,900) for a relaxed stay, Suite rooms (Php6,900-Php8,400) for functions, and Club rooms (Php5,100) for a special and unforgettable stay.
Hotel Jen's Deluxe Room (3,900)
They also have a world-class in-house Japanese restaurant called Kitsho. Particularly traces its bloodline to the prominent brand of Shangri-La, and is within easy access to NAIA, Makati Central Business District, and the Malate entertainment district, Hotel Jen will also give you access to everything you need.
Address: 3001 Roxas Blvd., Pasay City
Check-in: 2 pm / Check-out: 12 pm
Contact: 02-7795-8888
Website: hoteljen.com
Facebook: facebook.com/HotelJenManila
Makati Diamond Residences
Right across Greenbelt—Makati's popular shopping mall, Makati Diamond Residences offers 410 spacious, modernly designed, and furnishings-rich guest rooms.
These are laden with a fully-equipped kitchenette, a washer and dryer unit, 55" LED television, and large shower and bath areas perfect for those who are planning to check-in for a long period of time.
Two-bedroom Suite
Furthermore, amid the hotel's expanse also lies a number of facilities like the Business Centre, 24-hour gym, indoor lap pool, spa, and a selection of restaurants and bars for entertainment.
They also have an exclusive Dining Card that allows guests to avail of their complimentary breakfast at restaurants like Max's, Pancake House, and Toby's Estate.
Makati Diamond Residences' Dining Area
Also read: Makati Diamond Residences in Makati: A Mesmerizing Beauty in the Heart of the City
Address: 118 Legazpi Street Legazpi Village, Makati City
Contact: 02-5317-0999 / 02-8878-9699
Check-in: 2pm / Check-out: 12 pm
Email: reservations@makatidiamond.com
Website: makatidiamond.com
Facebook page: facebook.com/makatidiamondr
Herald Suites
Intricately takes the shape of a classic, vintage hotel undisturbed by the modern noise, Herald Suites let the guests tuck themselves in its midst while still enjoying the pleasures offered by the world outside. 
Its rooms, despite being different from each other, stand on the middle ground of things by means of being equipped with a minibar where coffee or tea-making sessions are made possible, a bathtub for utmost relaxation especially at night, and access to the internet for ease of working.
Herald Suites' room
While each guest is receptive to a complimentary breakfast, the hotel houses three restaurants where they can take delight in their personal preferences: fine dining Coca Cafe, cozy nook Meridian Lounge, and Japanese restaurant Hatsu Hana-Tei. 
Also read: 
Herald Suites' Coca Cafe in Makati Offers Western and Filipino Favorites
Hatsu Hana Tei in Makati Embodies Spring Season with Fresh Japanese Meals
Hearld Suite's Coca Cafe
Address: 2168 Don Chino Roces Ave., Makati City
Contact: 02-7759-6270 to 81 / 0917-315-9247 / 0939-938-3715
Check-in: 2pm / Check-out: 12 pm
Website: heraldsuites.com
Facebook: facebook.com/heraldsuiteshotel
The Alpha Suites
As a luxury serviced residence, The Alpha Suites has 250 spacious suites that are collectively furbished with full-size kitchens featuring top-of-the-line appliances, electric window shades, television lifts, dishwasher, washer and dryer, and of course, high-speed internet connection.
Leaving no worries for guests anymore since they got the whole space packed with great amenities. 
The Alpha Suites' room
To satisfy your leisure and business needs, even more, you can visit the three-hectare lifestyle hub called The City Club where guests of the Alpha Suites have direct access. They also allow your pets to have the same comfort as yours in their dog hotel inside.
Also read: The Alpha Suites in Makati: Your Ultimate Staycation Destination
Address: 7232 Ayala Ave. Ext., 1209 Makati City
Contact: 02-8737-0088 / 02-7752-3625
Check-in: 2 pm / Check-out: 12 pm
Website: thealphasuites.com
Facebook: facebook.com/TheAlphaSuites
Instagram: instagram.com/thealphasuites
KL Serviced Residences
KL Serviced Residences is a residential tower situated in the midst of Legaspi Village's lush neighborhood that primarily caters to corporate travelers and tourists.
It houses 8 types of rooms, which are designed for urban goers with their earth tone palettes and modern geometric patterns, indoor swimming pool, sauna rooms, and gym facility.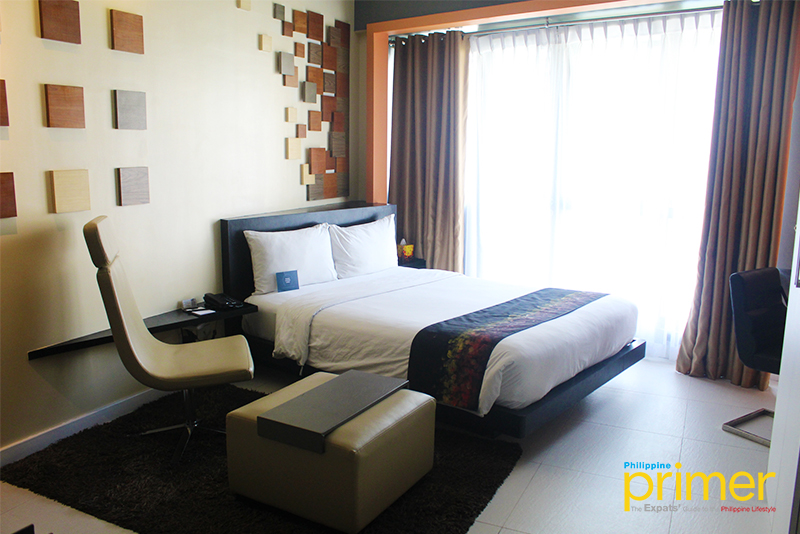 Studio Premier suite (Php 2,900)
Apart from these, one thing that the residential hotel boasts of is their zero-plastic waste initiative enacted by not using plastic bottles anymore.

Also read: KL Serviced Residences in Legaspi Village: Your Quick Staycation Getaway in the Metro
Address: 117 Gamboa St., Legaspi Village, Makati City
Contact: 02-8845-0084
Check-in: 2pm / Check-out: 12 pm
Email: reservations@kltower.ph
Website: kltower.ph
Facebook: facebook.com/KLServicedResidences
Instagram: instagram.com/klservicedresidences
Networld Hotel Spa and Casino

Beaming with a reliable Japanese brand of service hence the popularity among Japanese on business trips, Networld Hotel Spa and Casino houses six kinds of cosmopolitan-styled rooms starting from Standard Room (Php2,900) to their Penthouse (Php5,500), the rejuvenating SM Kenko Spa, and the world-class Networld Casino open to gamers 24/7. 
Networld Hotel Spa and Casino's Deluxe Room (Php3,700-Php4,400)
They also have in-house Le Amoretto Café and Bar as well as Kaishu Restaurant that will surely pique your taste buds with authentic Japanese flavors.
Networld Hotel Spa and Casino's Royal Room (Php4,800)
With its strategic location, one can easily access nearby locations such as Ninoy Aquino International Airport, Chinatown, and various shopping complexes in the metro.
Also read: Networld Hotel Spa and Casino in Pasay: All in One Authentic Japanese Service
Address: Jipang Bldg. cor. Sen Gil Puyat Ave., Roxas Blvd., Pasay City
Check-in: 2pm / Check-out: 12 pm
Contact: 02-8536-5828 / 02-8536-7777 / 02-8834-7777 / 0985-964452
Website: jipang-group.com/networld-hotel
Facebook: facebook.com/networldhotelspaandcasino
Planning to make a reservation at one of these guaranteed comfort-giving hotels? Share it with us on the comments below!