Hatsu Hana Tei in Makati Embodies Spring Season with Fresh Japanese Meals
There are various Japanese restaurants in the metro but nothing can beat the authenticity and fusion of fresh flavors hailing from Japan served in Hatsu Hana-Tei.
Established in 2002, Hatsu Hana Tei is the in-house authentic Japanese restaurant of Herald Suites, Makati. Embodying its name's meaning, first spring flower, this restaurant offers a relaxed yet elegant ambiance for traditional Japanese dining through aligning itself to nature by producing healthy Japanese food prepared and cooked fresh in their kitchen.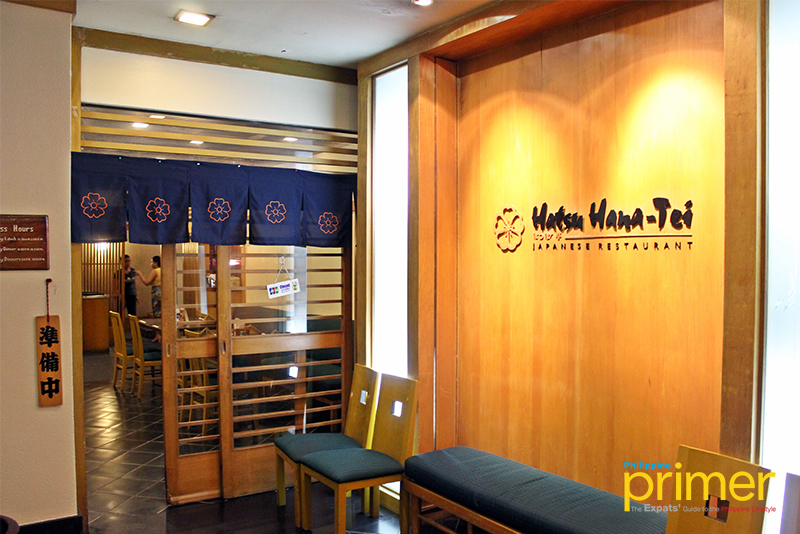 Unlike other restaurants that choose to adapt to a more modern approach and all, Hatsu Hana Tei prefers to stick to the traditional Japanese cuisine. Overall, their menu was conceptualized with finger foods or appetizers that are ordered usually with beer or alcohol.
Try their all-time favorite specialty Kinshi Sumaki (Php 240), a rolled omelet with grouper (Lapu-Lapu), salmon, shrimp, radish, and nori (seaweed).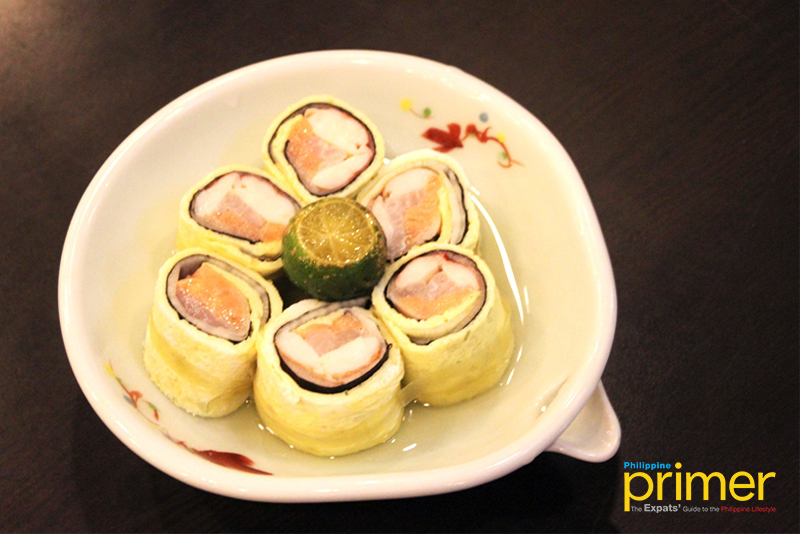 Kinshi Sumaki (Php 240)
They also have the Maguro Tataki (Php 340), which has been their menu's special tuna recipe for 15 years already. This dish is worth a try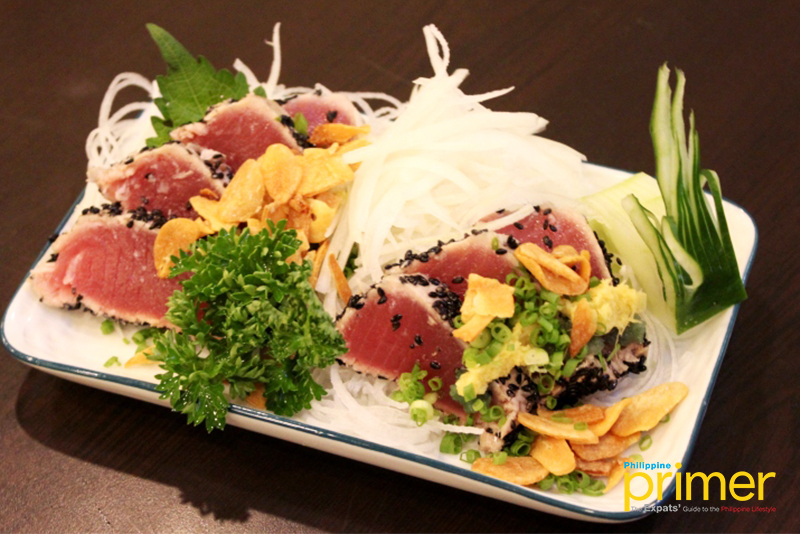 Maguro Tataki (Php 340)
However, Chef Koichi Kondo, who's been working for the restaurant since it opened, continuously experiments on the newest possible dishes they could offer to their diners every year.
Aside from the Japanese appetizers, they also proudly serve Kaiseki-style meals—a traditional multi-course Japanese dinner. One of these is their everyday lunch sets or Higawari Lunch (Php 358) comprised of miso soup, main dish, and several side dishes such as Yasai Itame or seafood and pork with mixed vegetables, Nimono (radish with squid), and potato salad.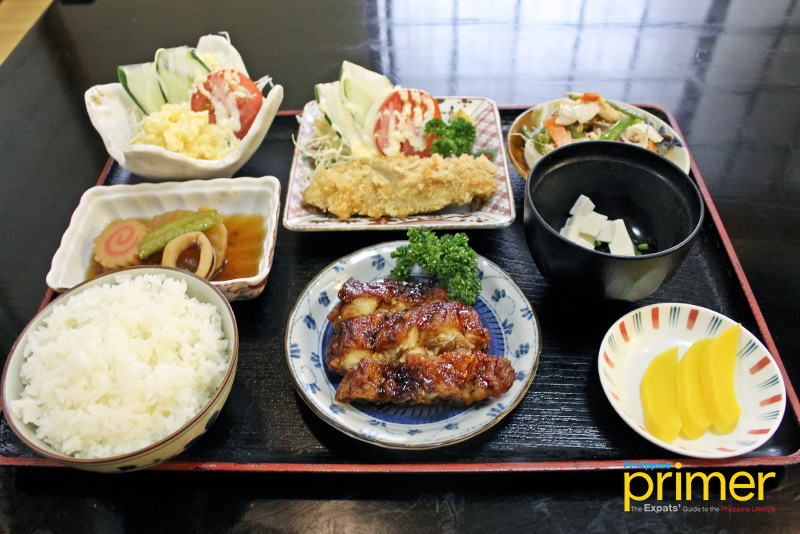 Higawari Lunch (Php 358)
This lunch set comes with a dessert of your choice: coffee jelly, ice cream or fruits. Plus, it changes daily depending on the menu prepared by Chef Kondo himself.
Also, people who wish to dine here can get an idea of what's in their Higawari lunch because Hatsu Hana Tei displays a sample plate of this lunch set on the podium at the restaurant's entrance.
For those who want to want to sample their wide selection of fresh sushi and sashimi entrees, you can opt to seat at their 6-seater sushi bar. This bar of the restaurant is the favorite area of most diners because you can actually see live how their chefs make your sushi orders.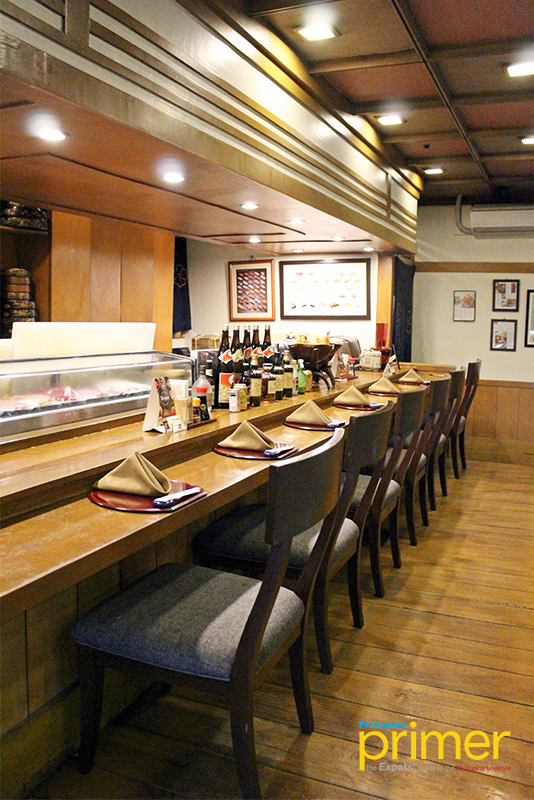 Sushi bar
If you want to have a private dinner with friends or family, they have 4 traditional tatami rooms with 4-seater and 8-seater choices. These rooms are equipped with a bell system so whenever you have additional orders, you can just ring the bell to get the attention of the server assigned to assist your table.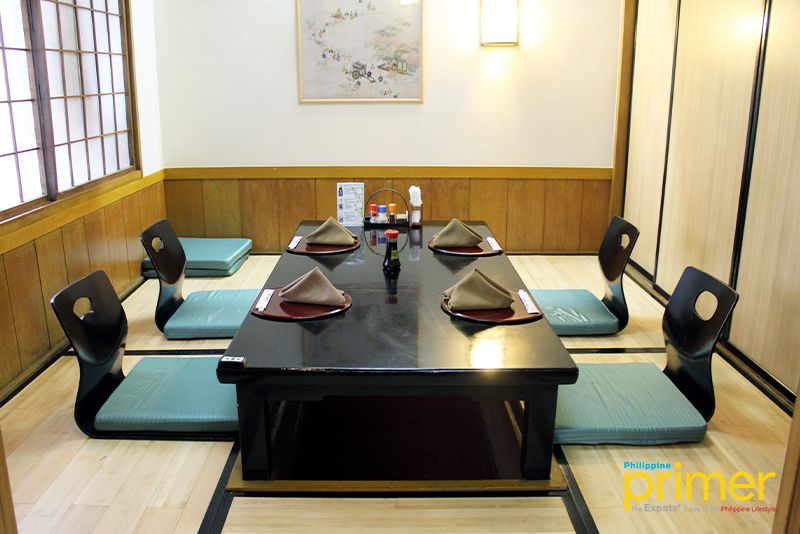 4-seater Tatami room
Hatsu Hana Tei will not disappoint you with their impeccable setting and upscale ambiance perfect for those seeking a relaxed dining experience. They can accommodate up to 80 guests and completing the whole Japanese style setting are the servers dressed in a kimono.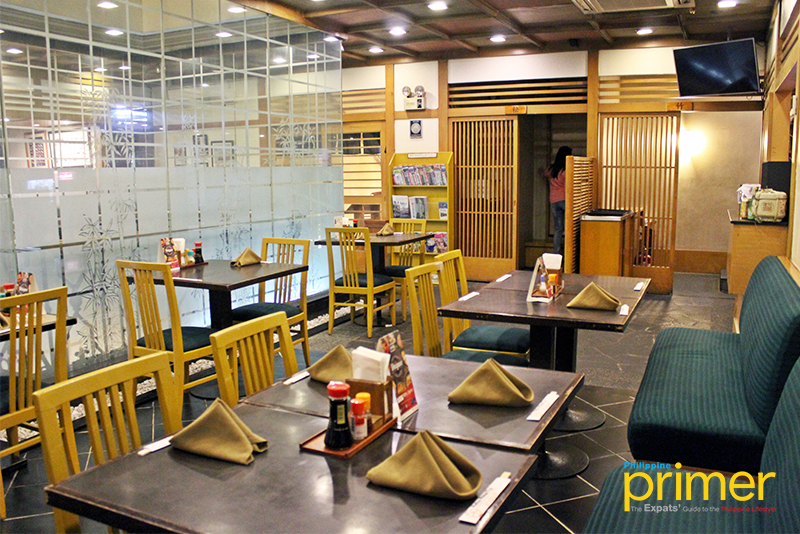 How to get here:
By car: If you are coming from Greenbelt 1, drive along Paseo de Roxas them make a right turn onto Arnaiz Avenue. Make another right turn onto Chino Roces Avenue. Herald Suites is located at your left just across Little Tokyo's Izakaya Kikufuji. Hatsu Hana Tei is on the second floor of Herald Suites.
---
A version of this appeared in Philippine Primer's Japanese (Vol. 136) and English (Vol. 41) magazines
Updated as of July 18, 2019
Store Information
2F Herald Suites, 2168 Don Chino Roces Avenue, Pio del Pilar, Makati City
02-759-6388 Fax Number 759-3814
11:30 a.m. to 2 p.m. (Mon. to Sun. lunch); 6 p.m. to 10:30 p.m. (Mon. to Fri. dinner); 5 p.m. to 10 p.m. (Sat. and Sun. dinner)