Meet Fresh in Ortigas Brings Popular Taiwanese Dessert in Town
Summer season is just around the corner which is probably why everyone is already complaining about the warm weather. Well, one of the great ways to beat the heat is by sampling some cool desserts or refreshing beverages. Thankfully, a famed Taiwanese dessert place is waiting for to meet you at The Podium in Ortigas⁠—Meet Fresh. 
Established by a family in Taichung City, Meet Fresh is committed to make traditional authentic desserts without compromising the rich flavor of every single ingredient. Even at the Podium branch, they guarantee that every dessert consists of all-natural ingredients, bringing only the best sweet treat in town! 
Start with the bestselling Icy Grass Jelly (Php 220). The concoction of taro balls and herb jelly balances the jelly's distinct taste and the taro's sweetness. Plus, it is the perfect dessert to cap off a heavy meal due to the cooling effect of herb jelly! It is usually served with creamer to achieve that milky taste.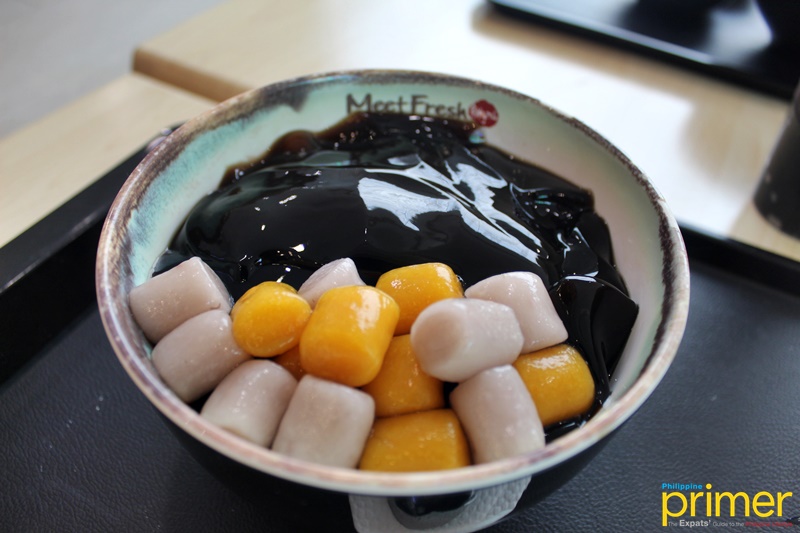 Icy Grass Jelly (Php 220)
Once you scoop a portion of it, you'll have a taste of the full-flavored grass jelly shaved ice at the bottom layer.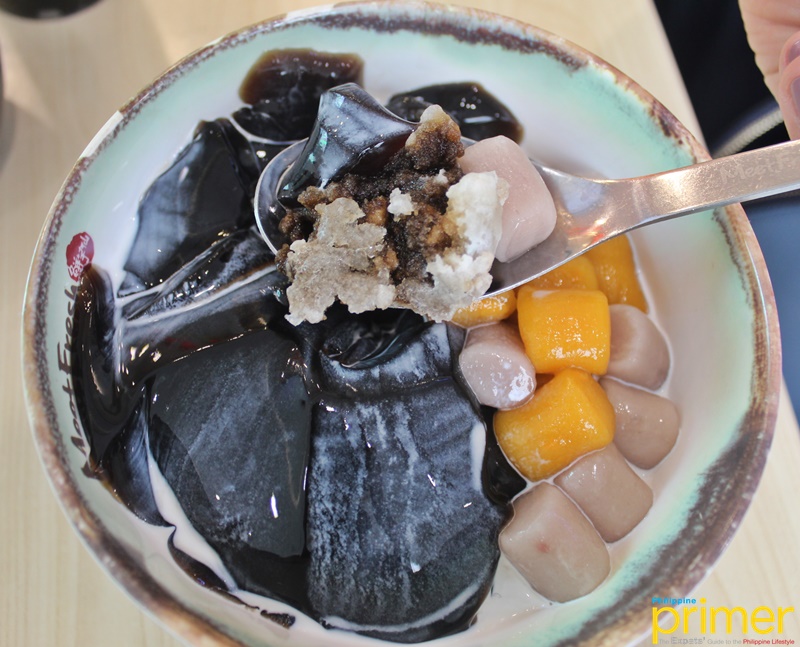 The next featured dessert is like a Taiwanese rendition of the Filipino creamy halo-halo. Q Mochi Milk and Pudding Shaved Ice (Php 280) is perfect for sharing with your loved ones. It's typically a shaved ice dessert topped with a generous portion of Meet Fresh's toppings including taro balls, almond and caramel pudding, wintermelon jelly, barley, and mochi. 
This one's more likely to be the little one's favorite as it is served with a scoop of vanilla ice cream.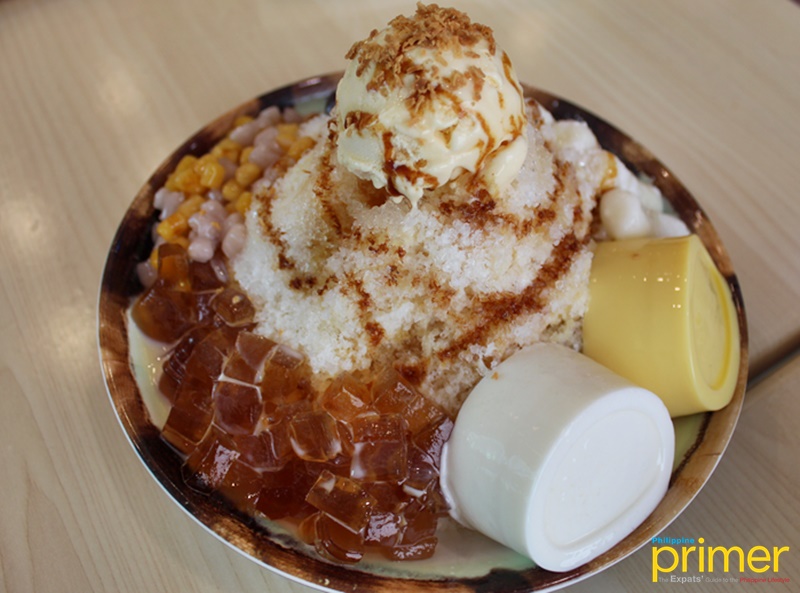 Q Mochi Milk and Pudding Shaved Ice (Php 280)
Of course, to those who prefer warm desserts, try out the Hot Almond Soup (Php 220). The combination of sweet potatoes, taro balls, barley carry a lot of healthy nutrients to one's body given that sweet potato is rich in Vitamin A while barley and taro help in the digestive system.
Hot Almond Soup (Php 220)
Additionally, there is also something in store for milk tea fans! Meet Fresh offers a wide range of tea beverages such as Black Tea, Jasmine Tea, Fluffy Black Tea, and Fluffy Green Tea, which are all made with authentic tea leaves.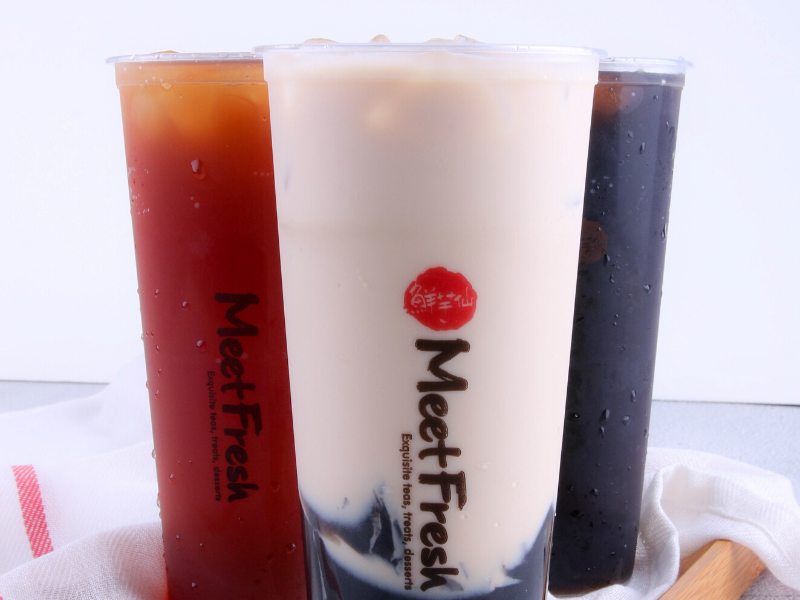 Meet Fresh Tea Options
Families and groups of friends visit the dessert store more often as the place embraces a friendly vibe, featuring some Taiwanese-inspired decorations as emanated from the wooden walls and the iconic red lanterns.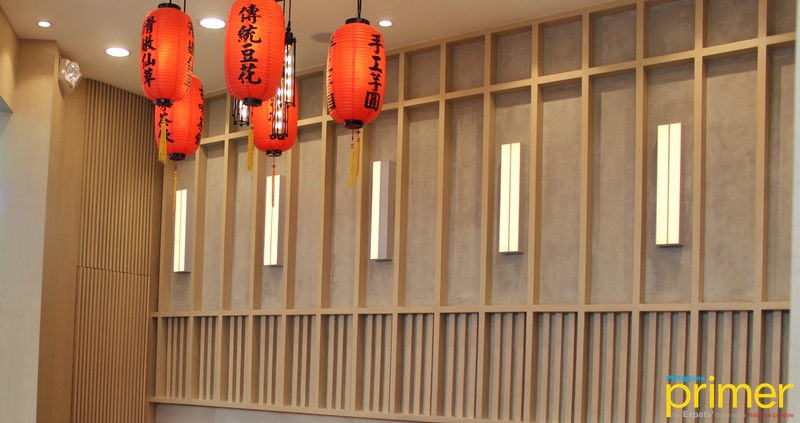 Meet Fresh Interior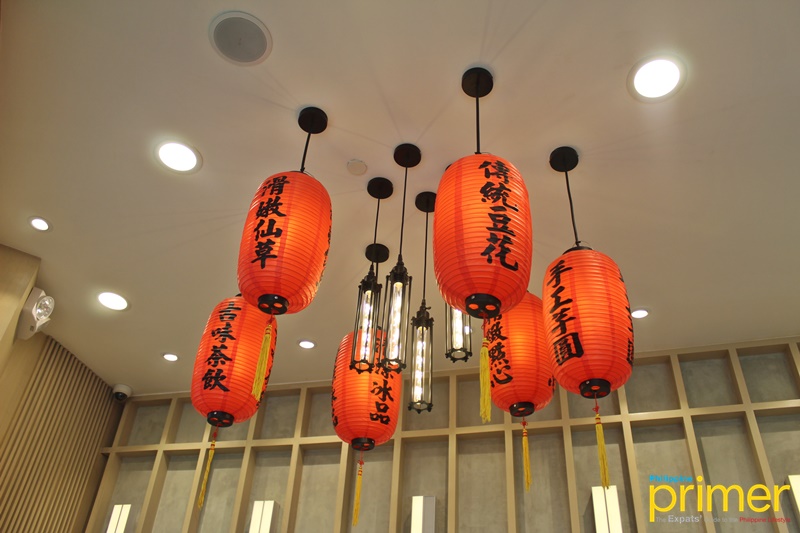 Iconic red lanterns
Munch on some refreshing desserts this summer at Meet Fresh The Podium! Other than that, their luscious desserts are full of nutrients as the brand promises to serve natural ingredients to its customers.
How to get here
Meet Fresh is located at 5/F The Podium, ADB Avenue, Ortigas, Mandaluyong City.
From Ayala Avenue,  drive along Paseo De Roxas. Upon reaching Kalayaan Flyover, take the ramp onto Epifanio de los Santos Ave. Then, make a slight left onto EDSA-Ortigas Flyover. Continue to ADB Ave in San Antonio, the destination will be on the right.
Via commute: From Ayala station, ride the MRT going to North Ave. Then, drop by at Ortigas station. From there, the Podium is about a 10-minute walk.
---
Written by Bettina Tan
Featured image courtesy of Meet Fresh

5/F The Podium, ADB Avenue, Ortigas, Mandaluyong City