OnBoard Game + Gastropub in Makati Changes the Way You Dine and Play
Eating out is surely best done with a group of people you love. But if you're tired of your typical restaurant routine and want to switch it up a bit, head on to OnBoard Game + Gastropub in Ayala Circuit Mall, Makati City.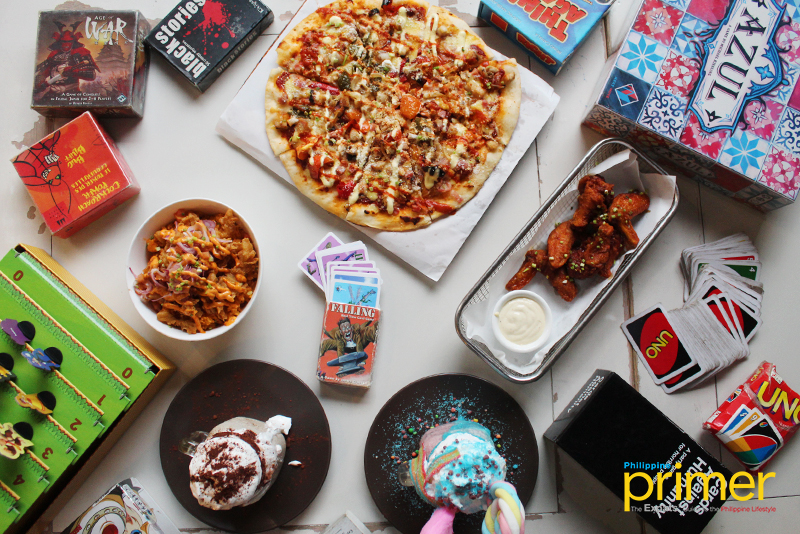 As avid fans of board games, owners Leica and Marvin Moreno really enjoy playing with friends (especially when it's accompanied by light drinking and bantering). OnBoard is a product of their desire to share this experience with even more people—they wanted to make board games accessible, just like the old times.
Established in December 2015, OnBoard is ideal for groups to eat good food and play a wide variety of board games.
Eat and Play
Keeping in mind the diners-slash-players, they crafted a menu full of hearty yet easy-to-eat pub food. They even customized their tables to have compartments, where you can put either your food or your cards.
Originally, they consulted celebrity chef Mitchie Sison for the dishes to be served. Through the years, however, the owners tried to twist it up a little bit. Marvin, being the foodie, is now one of the people in-charge for crafting their menu.
Their best-sellers are rice bowls and things you can eat hassle-free much like their chicken wings and pizzas.
To start, try their AC Bowl (Php 295), an aligue (crab fat) rice bowl topped with crispy fried squid, sole fillet, aligue mayo, and red onion slaw. You'll know right from the first bite that aligue did wonders on the overall taste.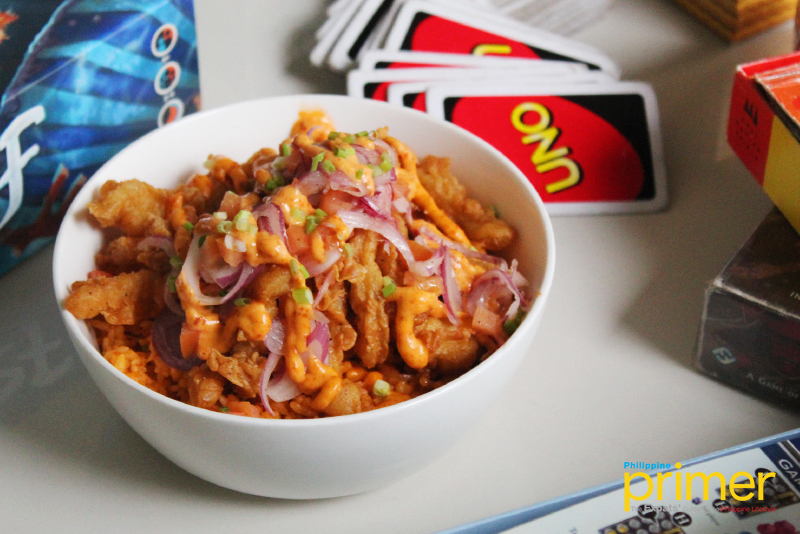 AC Bowl (Php 295)
Match the intensity of your game with Sriracha Wings (Php 285) partnered with a refreshing ranch dip. The sriracha glaze packed on just the right amount of spice to the juicy and crispy wings, while the ranch dip balanced the whole taste.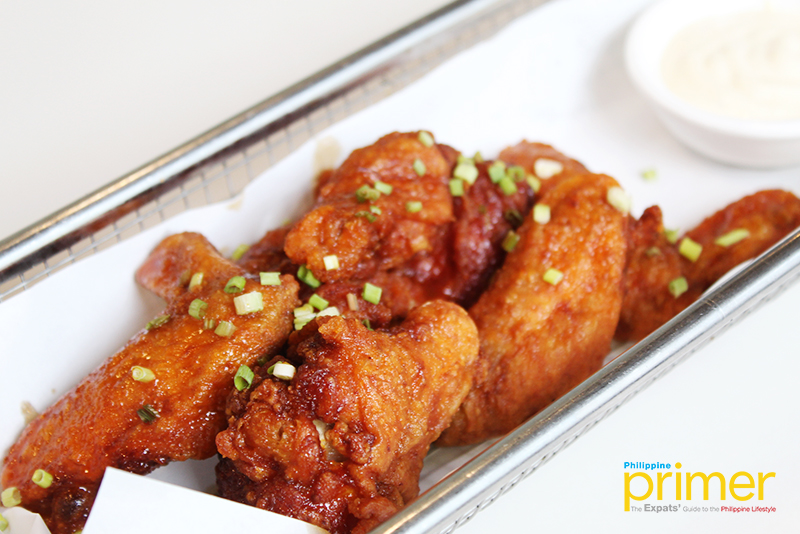 Sriracha Wings (Php 285)
Another crowd-favorite is their signature flatbread pizza, the OnBoard Overload (Php 485). Staying true to its name, this pizza is overloaded with everything good in the world.
On top of the flatbread base are marinara, mozzarella and cheddar cheese, pork, ham, crispy bacon, chicken shreds, spicy pepperoni, roasted bell peppers, grilled tomatoes, and caramelized onions. The goodness doesn't stop there as it's drizzled with a combination of ranch and barbecue sauce.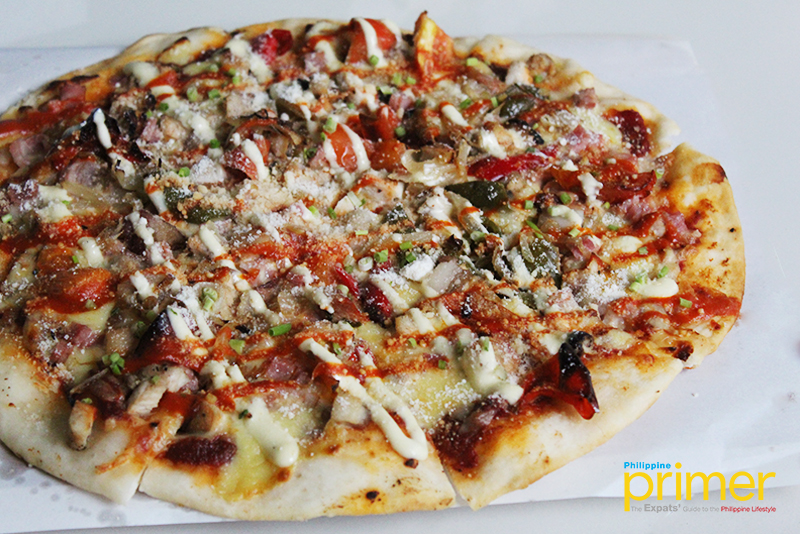 OnBoard Overload (Php 485)
Once you wolfed down all your food and squashed down your board game enemies, it's time to unwind a little and get on with the desserts!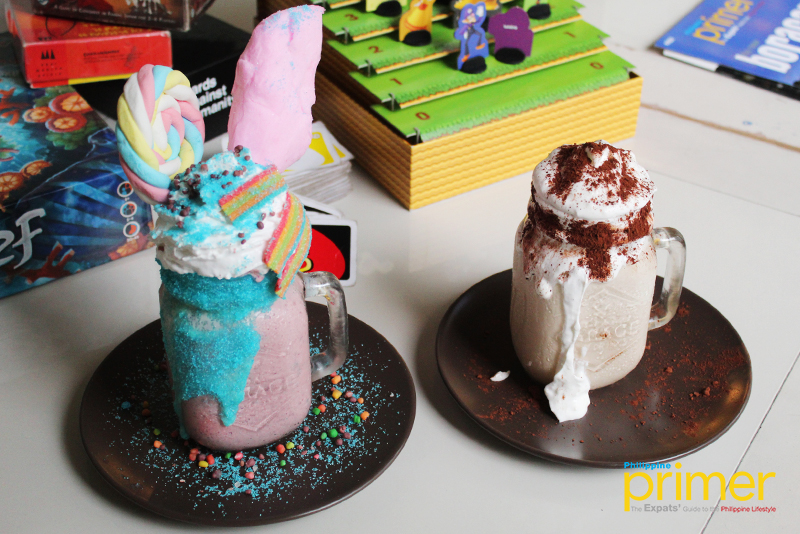 Those who are looking for a sweet treat will surely enjoy their milkshakes. They have a variety of flavors to choose from, but what will surely fascinate you is their Nerds Milkshake (Php 230).
It's made with vanilla ice cream, lemon/lime soda, grenadine and berries, topped with poofy cotton candy, marshmallow and Nerds sprinkles. The sweet and sour taste ultimately creates an interesting flavor with every sip.
Nerds Milkshake (Php 230)
Recently, they also launched a new line of milkshakes in their menu—the T-Milkshake Series. They wanted to add a slight twist to the well-loved milk tea and came up with two exciting drinks: Rock Salt and Cheese T-Milkshake and Brown Sugar and Pearls T-Milkshake.
The Rock Salt and Cheese T-Milkshake (Php 195) is made with brewed black tea, homemade chocolate ice cream, foamy cream cheese, and a hint of rock salt. What's really amazing about it is that you can still taste the tea despite the addition of other ingredients. The sprinkle of cocoa powder on top, meanwhile, further adds to its chocolatey goodness.
Rock Salt and Cheese T-Milkshake (Php 195)
Another must-try is their Brown Sugar with Pearls T-Milkshake (Php 195), which is made with brewed black tea, muscovado syrup, and tapioca pearls. Your favorite brown sugar milk tea gets an extra oomph with the addition of OnBoard's homemade vanilla ice cream.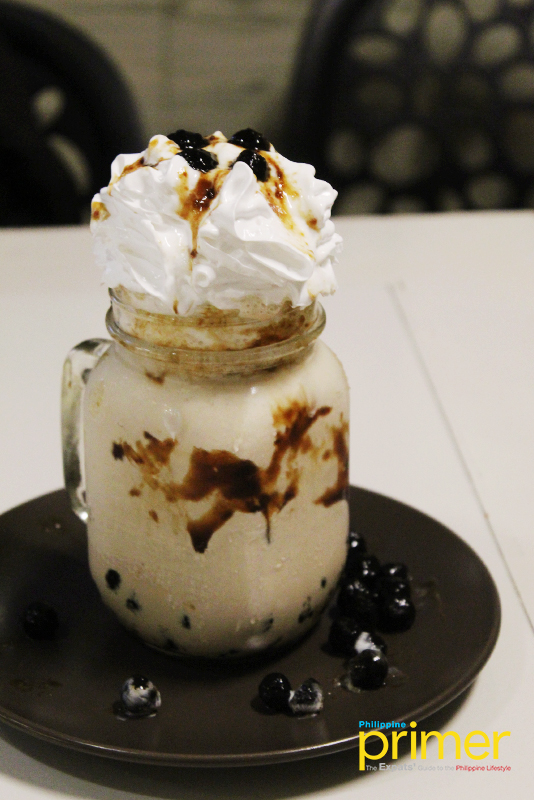 Brown Sugar with Pearls T-Milkshake (Php 195)
OnBoard also offers alcoholic drinks for those who want to drink and play!
More than 500 Board Games

OnBoard boasts its shelves full of different board games and card games. In fact, the owners themselves have lost count of the exact number that they have after the 500th mark.
This is because they kept adding more games to their collection and retiring some of the old ones at the same time. Some board games also have double copies so that more than one group can play.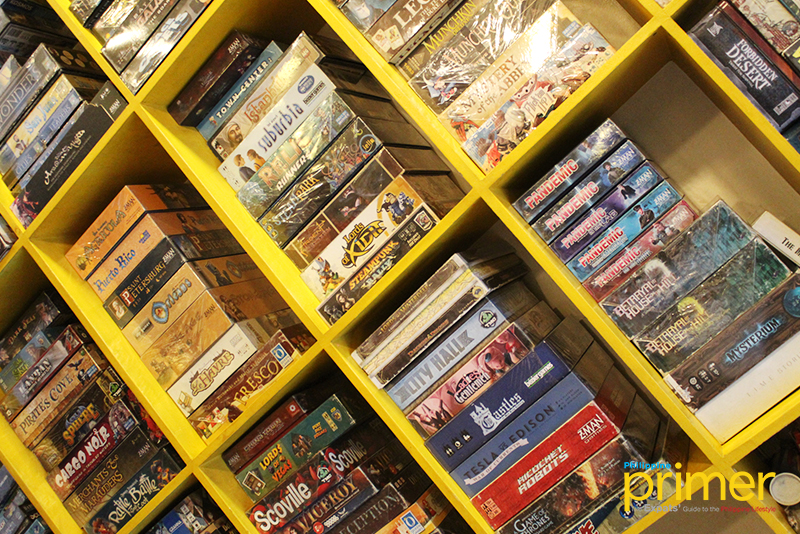 Despite having Game Library as their main supplier, the owners try to add to the collection by buying board games whenever they travel to other countries.
Customers usually request for party games that have simple mechanics and can be played in groups. There are also game masters present in the pub to explain unfamiliar games.
Their top three most requested games are Exploding Kittens, Code Names, and Cash and Guns.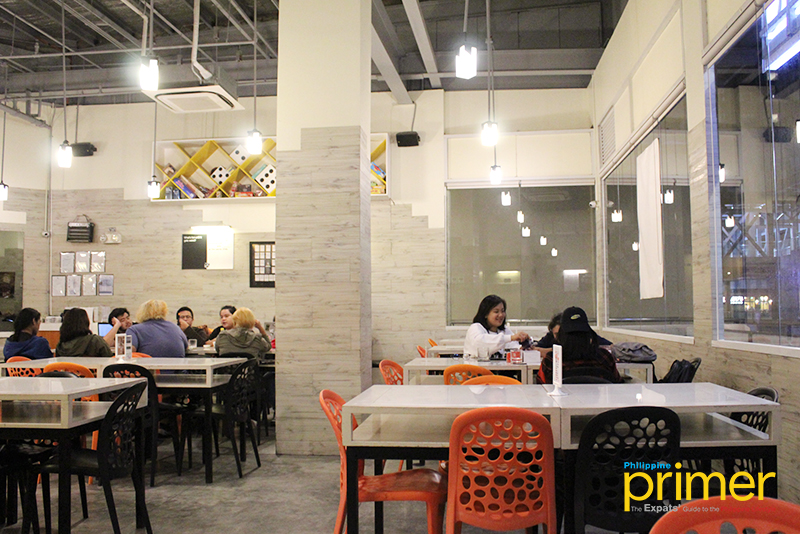 Suffering a losing streak? No worries! There is no time limit on your stay, so you can always ask for unlimited rematches and redeem yourself from your friends.
Just keep in mind that every member of your group must buy at least one item from their menu. It sounds like a fair deal considering how good the food selection is.
With a pretty laid-back interior, OnBoard gives an overall chill vibe that's perfect for your dine-and-play needs. They don't have a WiFi, too, so diners can really take time to focus on the games.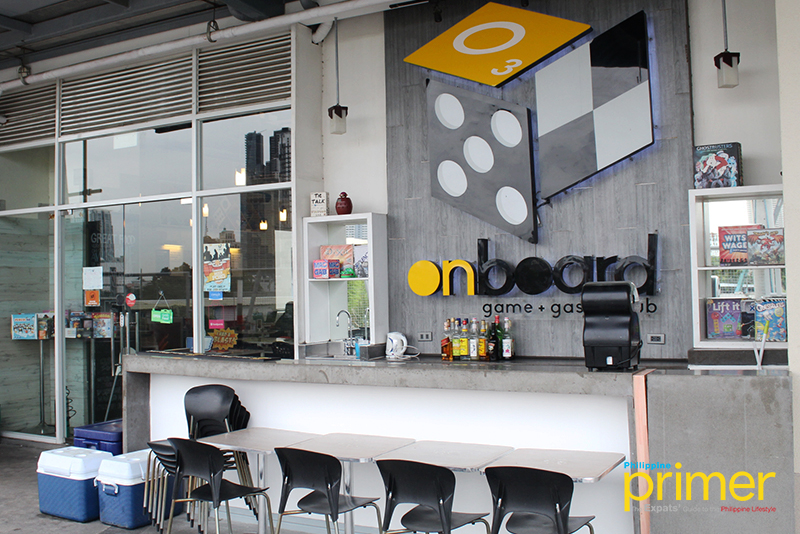 Aside from food and board games, OnBoard can also host bigger events like birthdays and intimate parties. Their rates are as follows:
Weekdays except for Fridays – 5 p.m. to closing, Php 35,000
Fridays – 1 p.m. to 6 p.m., Php 35,000
Saturdays – 6 p.m. to 12 a.m., Php 50,000
Sundays – Any 4 hours of the day, Php 35,000
All rates are consumable and are inclusive of hosting. You can still negotiate said prices especially if your event goes earlier or later than the indicated time slots.
What are you waiting for? Time to look up from your screens and take the game out of your phone at OnBoard Game + Gastro Pub!
How to get here
By public transport: Take a bus along EDSA and alight at Guadalupe. Take a jeep along JP Rizal going towards Makati City Hall, then get down at A.P. Reyes. Circuit Makati will be on your right.
---
Written by Teresa Gatmaitan
Photos by JR Padlan
General Information
L1, Ayala Malls Circuit Makati, Brgy. Carmona, Makati City
02-960-9694
0922-886-6823
Monday, Wednesday, and Thursday from 5 p.m. to 11 p.m. / Friday from 4 p.m. to 12 a.m. / Saturday from 2 p.m. to 12 a.m. / Sunday from 1 p.m. to 11 p.m.
Cash or Card (No debit)
Restaurant Menu
You can scroll the image left and right.