Yelo Yelo Reinvents Classic Filipino Desserts and Snacks in UPTC
With the blazing summer heat, it's hard not to crave for cold drinks and iced desserts and in the Philippines, it's almost an automatic response to look for halo-halo once the sun gets a little too warm.
Typical, since the shaved iced dessert is undoubtedly popular (and not to mention delicious), but the Filipino dessert is more than just halo-halo (just like how Filipino food is more than just adobo) and Yelo Yelo is here to prove just that.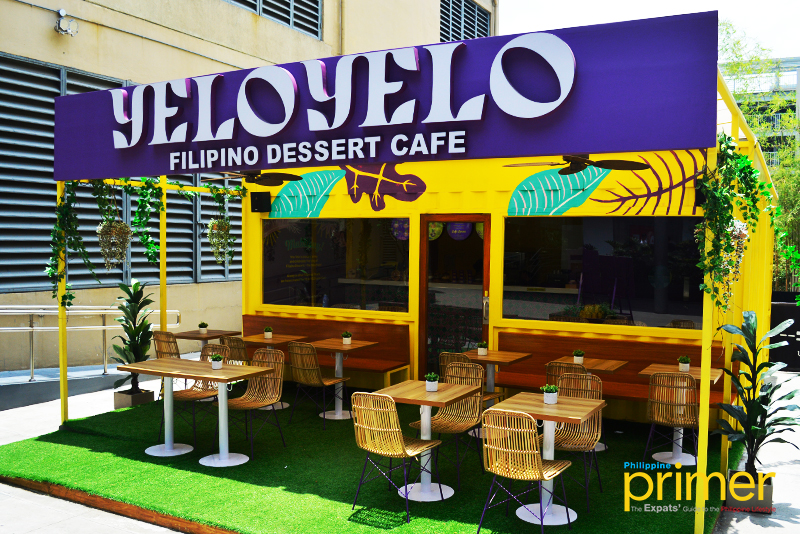 Yelo Yelo is a concept born from the same brilliant mind behind Sushi Nori and staying true to its name—which means ice in Filipino—the dessert cafe puts a twist to favorite Filipino desserts and snacks like halo-halo and turon.
One perfect example is their signature Mangga't Suman Yelo Yelo (Php 169). Yelo Yelo made the foolproof combination of mango and sticky rice into a shaved ice dessert—just like halo-halo.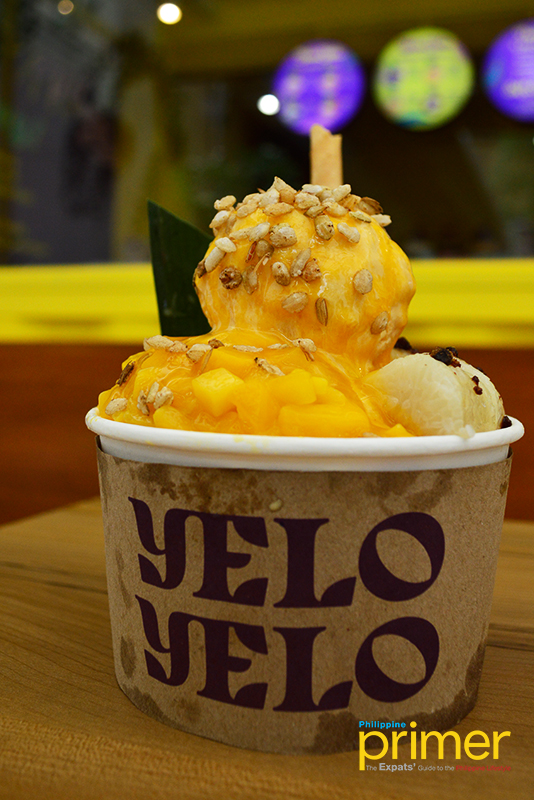 Mangga't Suman Yelo Yelo (Php 169)
Made with mango milk ice, mango, Batangas suman, muscovado, caramel latik, barquillos, and topped with mango ice cream, Mangga't Suman Yelo Yelo is a good way to beat the heat with friends as their servings are good for sharing.
Aside from Mangga't Suman, Yelo Yelo offers eight other unique Yelo Yelo flavors on their menu, including their classic Buko Pandan (Php 129). They also have their signature flavors, which includes their rendition of the OG Halo Halo (Php 169).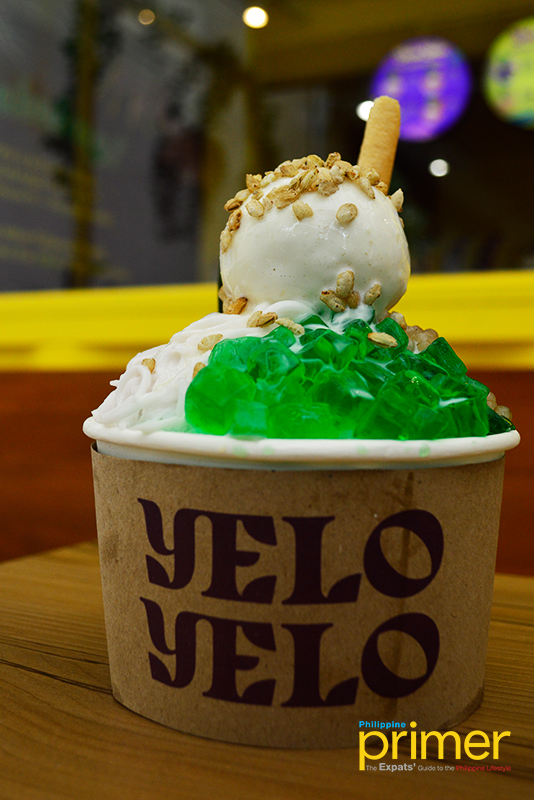 Buko Pandan (Php 129)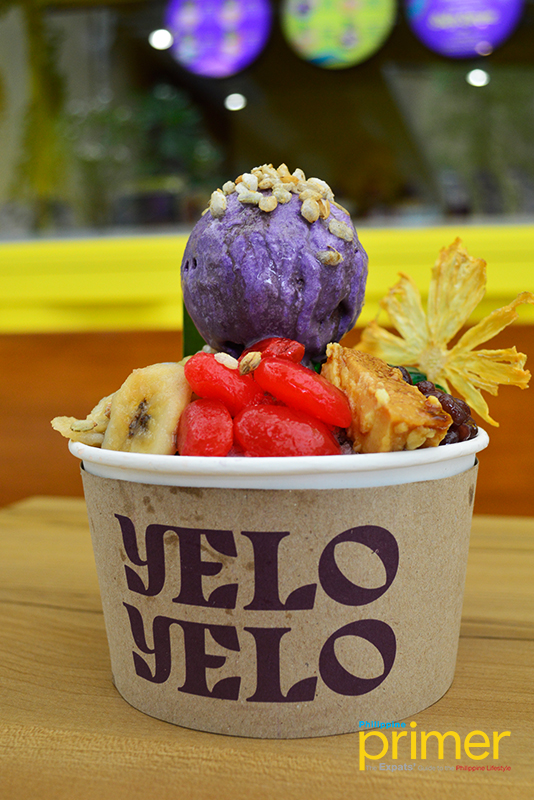 Halo Halo (Php 169) 
Their Halo Halo has the usual ingredients of the local iced dessert like beans, banana, langka, and leche flan but it is also drizzled in their in-house ube or purple yam sauce with a side of their homemade pineapple crisp.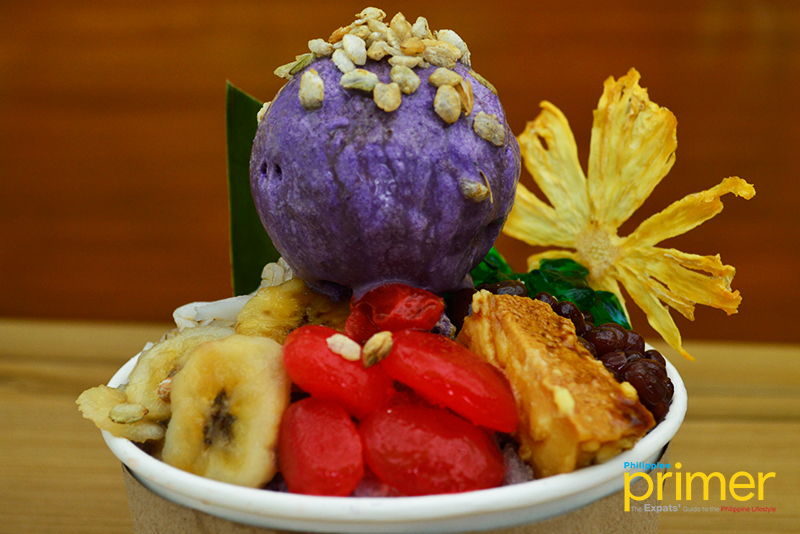 In addition to desserts, Yelo Yelo also puts a twist to well-loved merienda or snack staples like turon or fried banana rolls, which they aptly call prito prito, the Filipino term for fry. These rolls also make for the perfect afternoon snack to share with family and friends.  
They serve the classic Banana Langka (Php 99 for 5 pieces), trickled with their chocolate sauce and sprinkled with crunchy pinipig.
And if you haven't had enough of mangoes and sticky rice yet, they also offer a prito prito version of this for Php 99. The rolls are topped with the perfectly sweetened caramel latik and pinipig.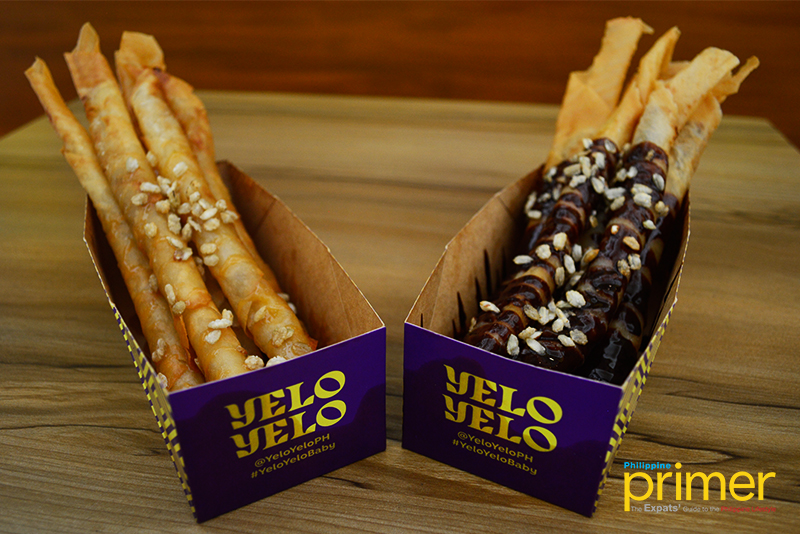 (L) Suman Mangga (Php 99 for 5); (R) Banana Langka (Php 99 for 5)
For those who enjoy a little spice should try the Dynamite Cheese (Php 99), which is green chili stuffed with cheese, topped with spicy mayo and sesame seeds.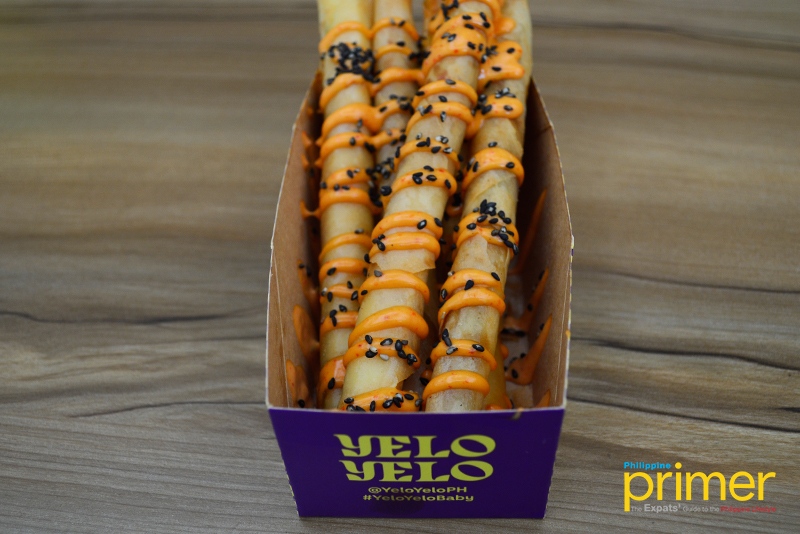 Dynamite Cheese (Php 99 for 5)
The cafe does not only highlight Filipino desserts and snacks, but it also pays homage to Filipino brands as it uses ingredients that are locally-made. Their chocolates, for example, are exclusively sourced from Davao.
It also serves hot and cold drinks, which are fondly dubbed as Mainit and Malamig. Mainit means hot in Filipino, while Malamig means cold.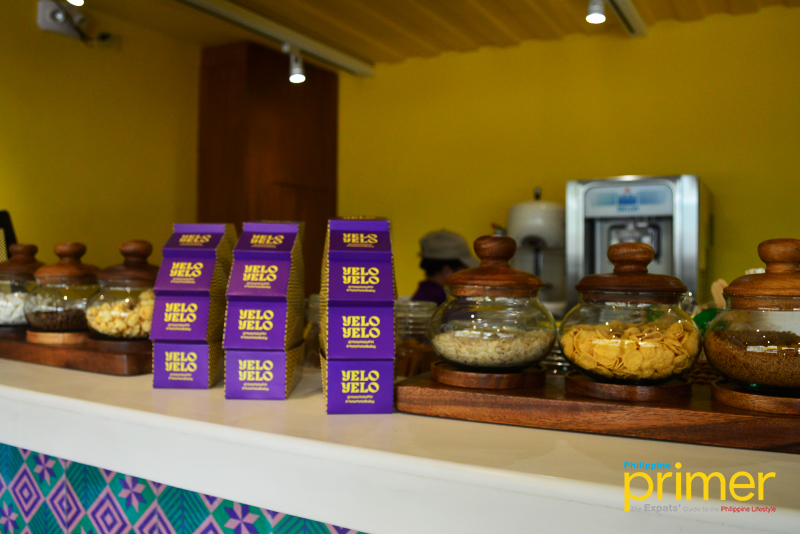 Yelo Yelo is located at The Courtyard of UP Town Center in Katipunan, Quezon City and though fairly new, the cafe is pretty hard to miss.
Since the whole idea was to reintroduce and promote Filipino desserts, especially to the younger generations, the whole vibe of the store is colorful, quirky, and retro–which makes for a good IG feed addition.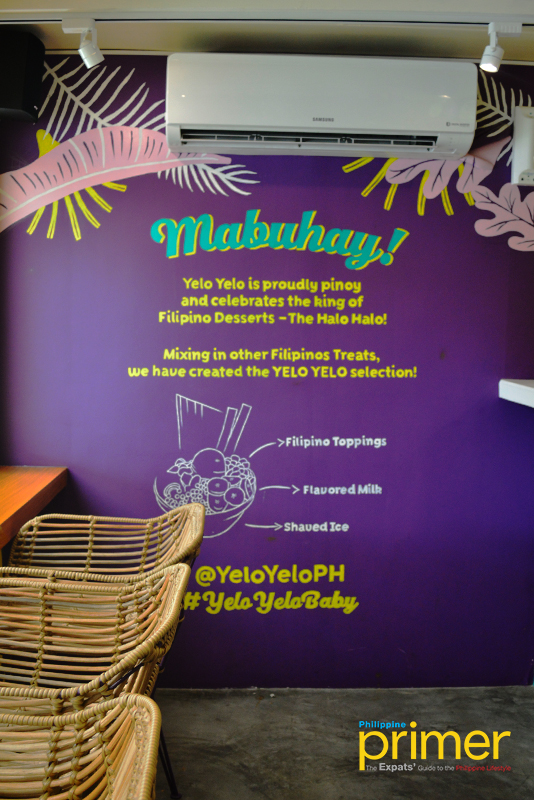 So go on, expand that Filipino desserts and snack palate and be a certified #YeloYeloBaby!
How to get here:
Yelo Yelo is at The Courtyard of UP Town Center in Katipunan Avenue, Diliman, Quezon City. The cafe is situated beside Yabu, in front of H&M.
General Information
The Courtyard, UP Town Center, Katipunan Ave., Diliman, Quezon City
11 am to 9 pm (Monday to Friday) / 10 am to 10 pm (Saturday and Sunday)
Restaurant Menu
You can scroll the image left and right.