The Black Bean in Makati: Pure Satisfaction Through Coffee, Food, and Great Service
Ever been stuck in a rut working in the office and just wanting to go somewhere else to recharge? It's understandable—sitting in one place staring at your screen for almost half a day can really take a toll on you. Well, we know a great place where you can stay and work all day accompanied by great coffee and food.
Hidden on the 2nd floor of Eton WestEnd Mall in Makati, The Black Bean is a hub for city dwellers who are looking for a café where you can get those creative juices flowing.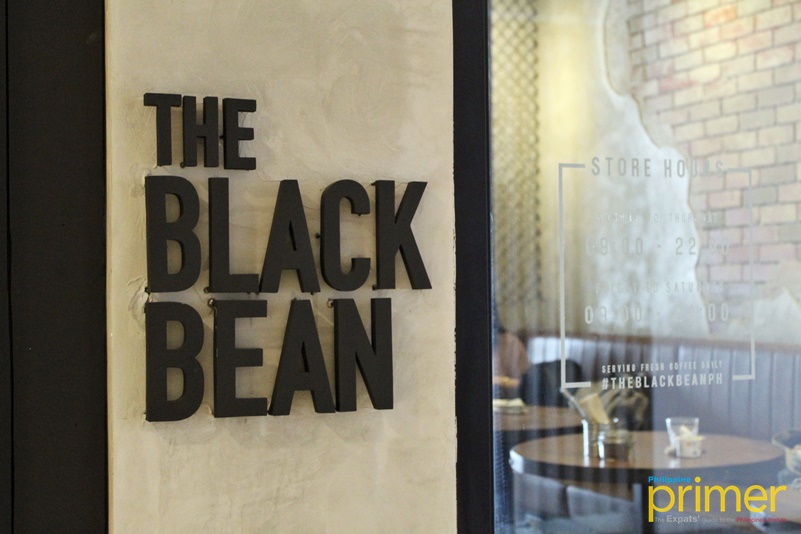 Philippine Primer had the chance to sit down and chat with The Black Bean's owners Christian Casino and Omu Camus. The pair shared what motivated them to open The Black Bean and why their Red Egg Chili Pasta is honestly too good for this world.
Coffee for all
The Black Bean opened November of last year anchored on the goal of being a go-to place not just for great coffee and food, but ultimately, of good service. More than just a business, it is an avenue for Christian and Omu to share their love and appreciation for coffee to their customers.
Instead of imposing onto others how they should take their coffee, they give importance in knowing your preference, making it a personalized experience for each and every one of their patrons. So when it comes to their coffee selection, all types of coffee drinkers (including non-drinkers) are considered.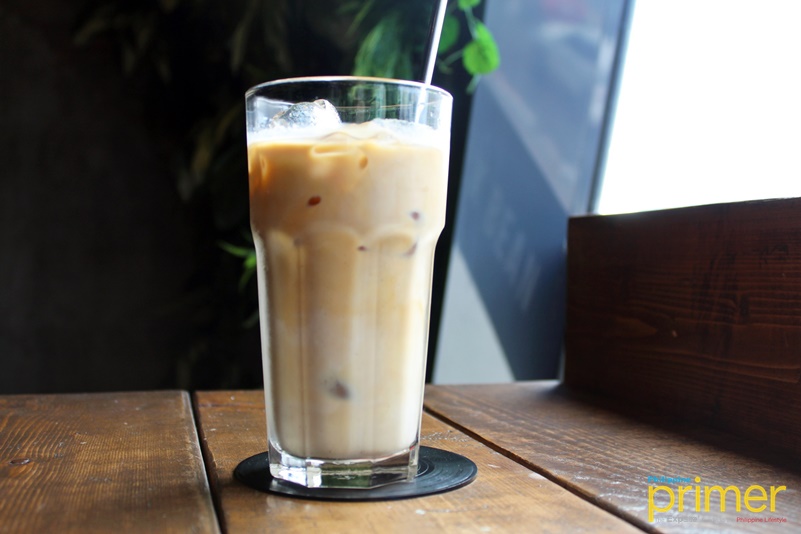 Iced White (Php 160)
Their espresso and cold brew drinks are for those who drink coffee on the regular and know a thing or two about it. They come in three simplified varieties, namely Black, White, and Mocha.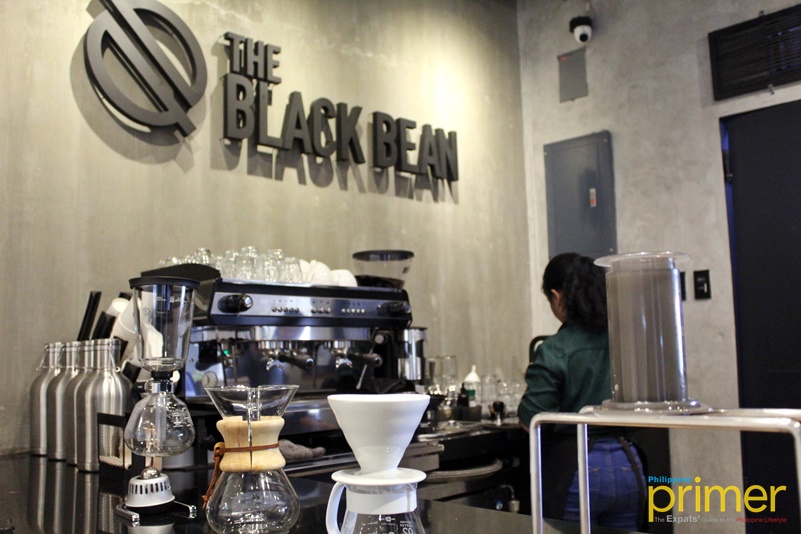 Equipment used for manual coffee brewing methods
For fans of coffee-making craft and are after the methods and beans used for their drink, they can opt to order from the Slow Bar selection and choose among Aeropress, V60 Pour Over, Chemex and Syphon.
Non-coffee drinkers, on the other hand, can choose drinks under the Tea Bar and Non-Coffee menu.
Are you someone who likes coffee but is still not keen on its strong taste? You'll surely love The Black Bean's Coffee Temptations, a selection of espresso-based dessert drinks.
For one, the Lazy Barista Iced Latte (Php 190), which can be mistaken for the famed brown sugar milk tea, is a drink perfect for a hot afternoon of chilling. The robust flavor of the muscovado syrup complements the equally strong taste of coffee from the espresso shot and bits of coffee jelly.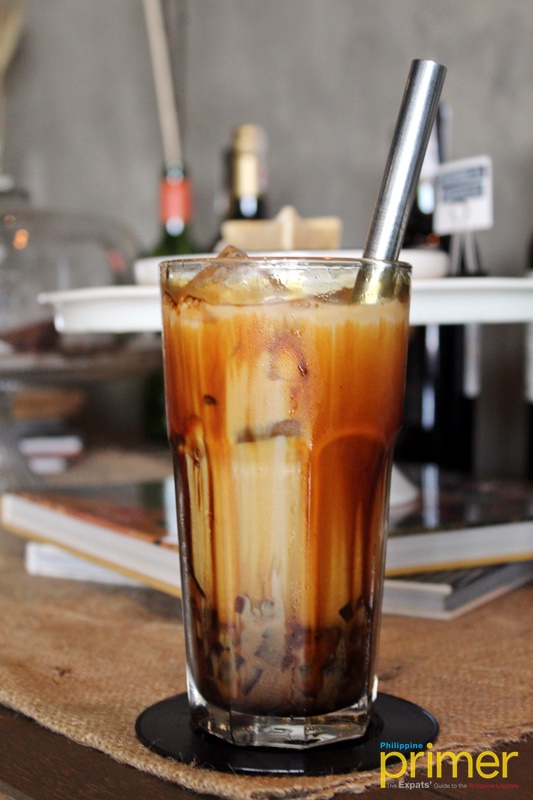 Lazy Barista Iced Latte (Php 190)
On the other hand, the Meringue Cappucino (Php 195) is undeniably pretty to look at and doesn't disappoint in the taste as well. The best way to enjoy this, according to Christian, is to drink directly without mixing or removing the meringue.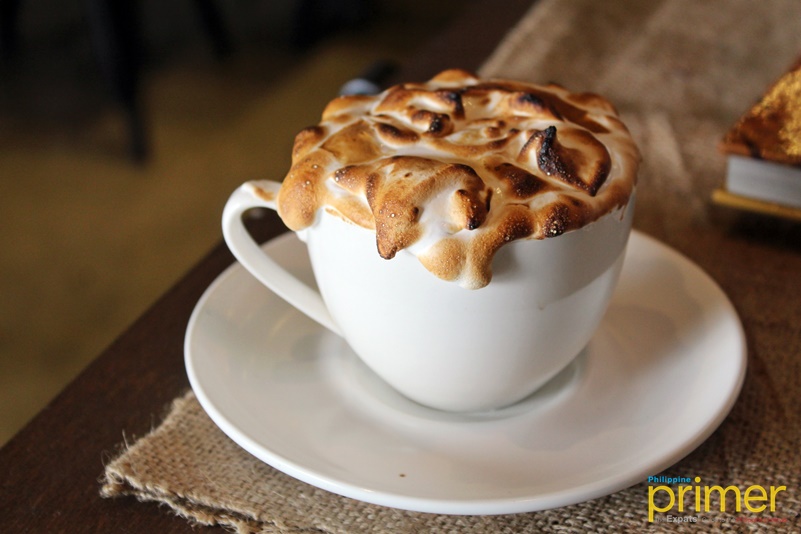 Meringue Cappucino (Php 195)
Food for the soul
Unlike other cafés and coffee shops, The Black Bean has complete choices for food on their menu. From starters to rice meals, everything is freshly made and prepared in their kitchen daily.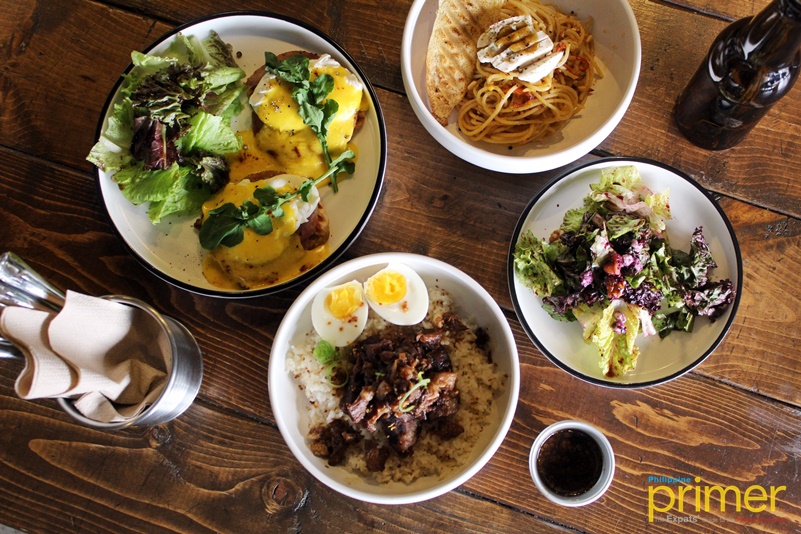 With the help of their in-house chef and input from the owners, they have come up with a dynamic menu that transcends breakfast, lunch, dinner, and snacks—even desserts and wine.
A refreshing take on the usual vegetable salad is the Raspberry Salad (Php 280). The heaping bowl is filled with a combination of mixed greens, arugula, feta cheese, and candied walnuts with raspberry vinaigrette as dressing, which results in a perfect blend of sour and sweet with a tinge of salty.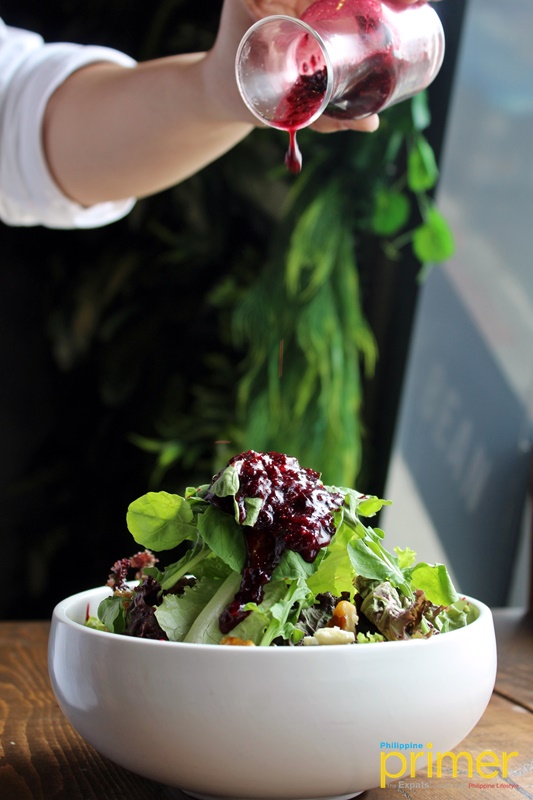 Raspberry Salad (Php 280)
You can also get the goodness of smoked ham, hollandaise sauce, and poached egg on top of a toasted pandesal bun with the classic Eggs Benedict (Php 325), which is an all-day breakfast special here! If you're not a fan of runny eggs, you can always request to have them done to your preference.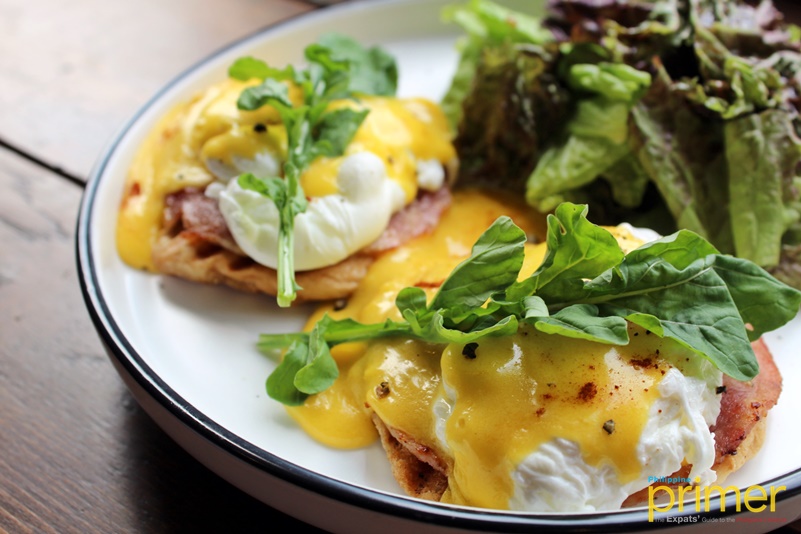 Eggs Benedict (Php 325)
For heavier meals, The Black Bean offers pasta and breakfast rice bowls to fuel your energy and help you finish your workload for the day.
Exquisite is one word to describe the Red Egg Chili Pasta (Php 260) they served. According to Christian and Omu, this is the most sought-after dish in the café so far. In fact, there are regulars who frequent The Black Bean just for this pasta.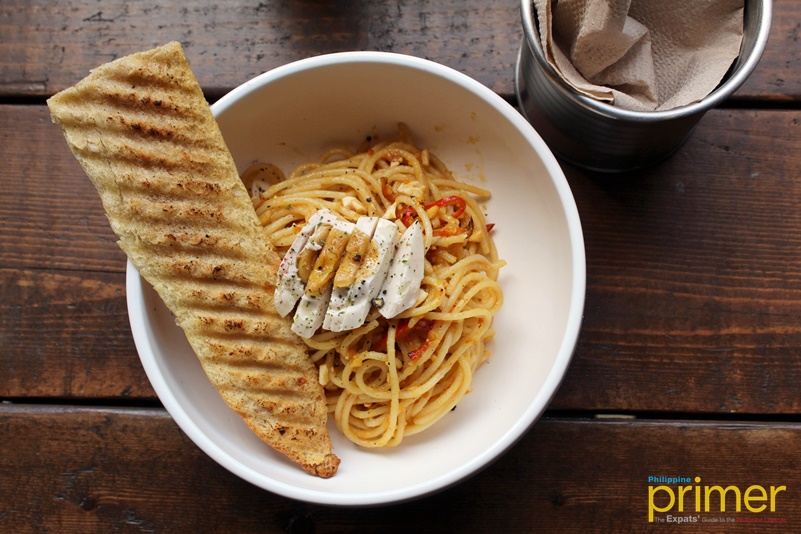 Red Egg Chili Pasta (Php 260) 
And it's no surprise why this is getting all the love from the customers. It just hits all the right spots—from the pasta to the gritty, umami-infused red egg and olive oil sauce. Not to mention, the spicy kick added into the mix did wonder for the dish.
We will go as much as to say you'll be dreaming of the taste for days after trying it out!
Another crowd-favorite is the Beef Pares Breakfast Rice Bowl (Php 350), a more upscale take on the classic Filipino braised beef stew. The beef is topped on a bed of garlic rice complete with soft-boiled egg and onion chives.
It also comes with a separate serving of pares sauce giving you more control over how much you want to put in.
Beef Pares Breakfast Rice Bowl (Php 350)
Stepping inside The Black Bean with its industrial but at the same time rustic interior peppered by touches of green, it is not hard to feel at home. In fact, this might just be our next go-to café in Makati!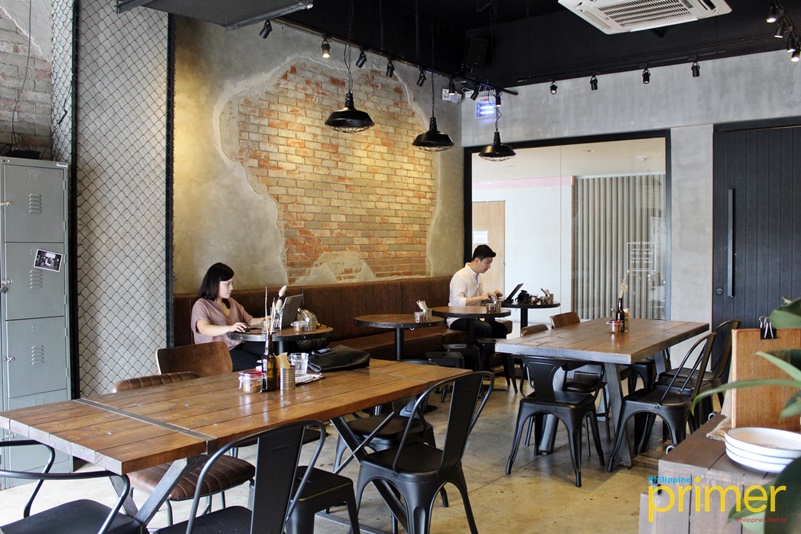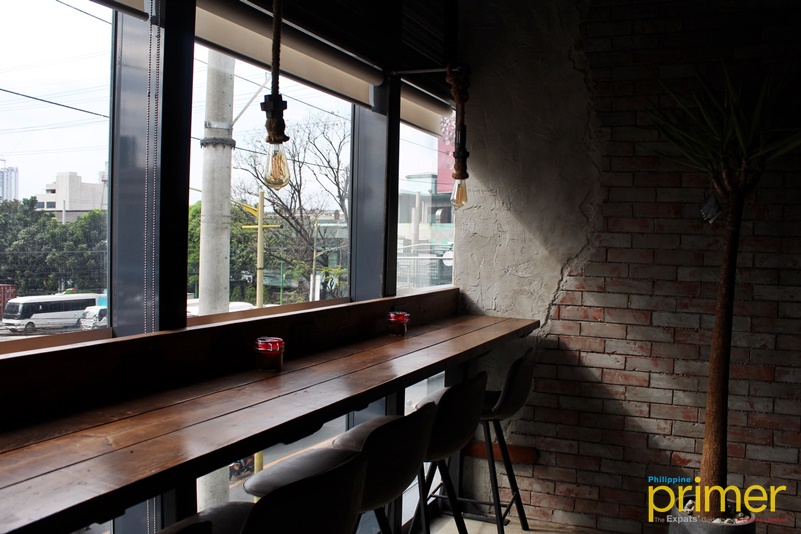 How to get here
The Black Bean is located at Eton WestEnd Mall on Yakal Street, Makati. Landmarks nearest to it are Assembly Grounds at The Rise and Chino Roces Avenue.
By car: From EDSA, take Ayala Avenue, drive straight and make a left at Yakal Street. Eton WestEnd Mall is located on the left side of the street.
Parking: Parking spaces are available at Eton WestEnd Mall.
By public transportation: From Ayala Triangle, ride a jeep with Ayala-Washington route and get off at Eton WestEnd Mall.
---
Written by Teresa Gatmaitan
General Information
Eton WestEnd Mall, Chino Roces corner Malugay and Yakal Streets, Makati City
9 a.m. to 10 p.m. (Sun. to Thurs.), 9 a.m. to 12 a.m. (Fri. and Sat.)
Cash, card
hello@theblackbean.ph