Maestro Fedeli Cafe—A Sweet Southern Spot
Heading to the south and hoping to find a feel-good café along the way? Maestro Fedeli Café in Binan provides this spot. There are not a lot of cafes in South of Luzon but Maestro Fedeli cafe is one of the few that's worth checking out.
The name of this small but cozy cafe is a combination of two languages: maestro, Italian for "master," and fedeli, Spanish word for "faithful." The name, then, translates to "faithful master," owing to the Christian beliefs of the young owner.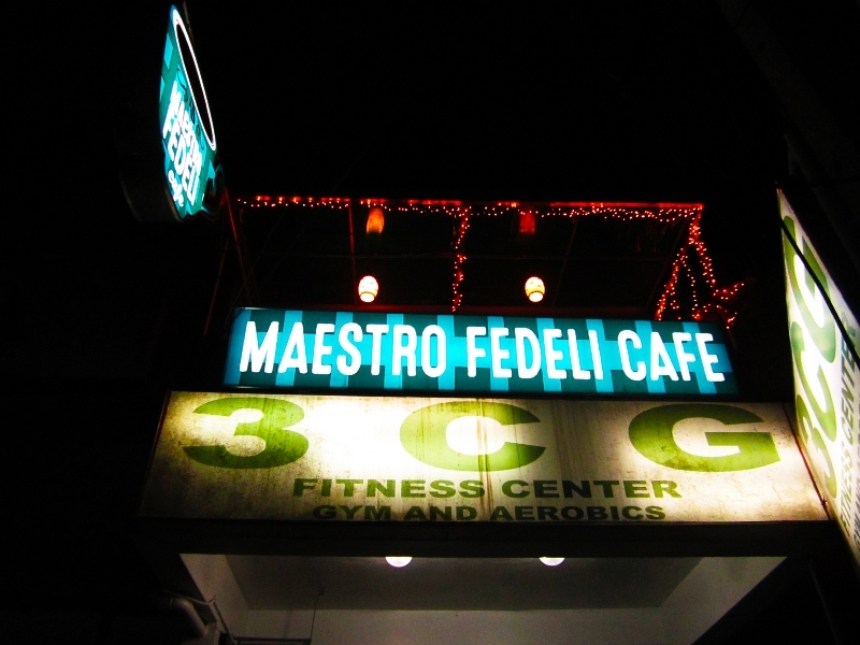 MAESTRO FEDELI. In the quiet and laidback streets of Canlalay, Biñan the cafe sign stands out.
Young owner Louie Gatdula manages the cafe along with his cousin and his sister. Having worked at a pub abroad, managing a coffee shop seemed familiar to him. His cousin and co-manager Ramil Coronado, who himself worked as a barista here and abroad for several years, believes that operating a coffee shop entails meticulous hands-on work and love for the craft. This mindset explains the success that the cafe enjoys, especially in a town where coffee shops are few.
The cozy atmosphere that one can experience inside this cafe owes much to the glossy wooden chairs and tables and the subtle lighting. Moreover, the chalk art and calligraphy on the walls are fitting decorations that are visually relaxing and creatively stimulating at the same time.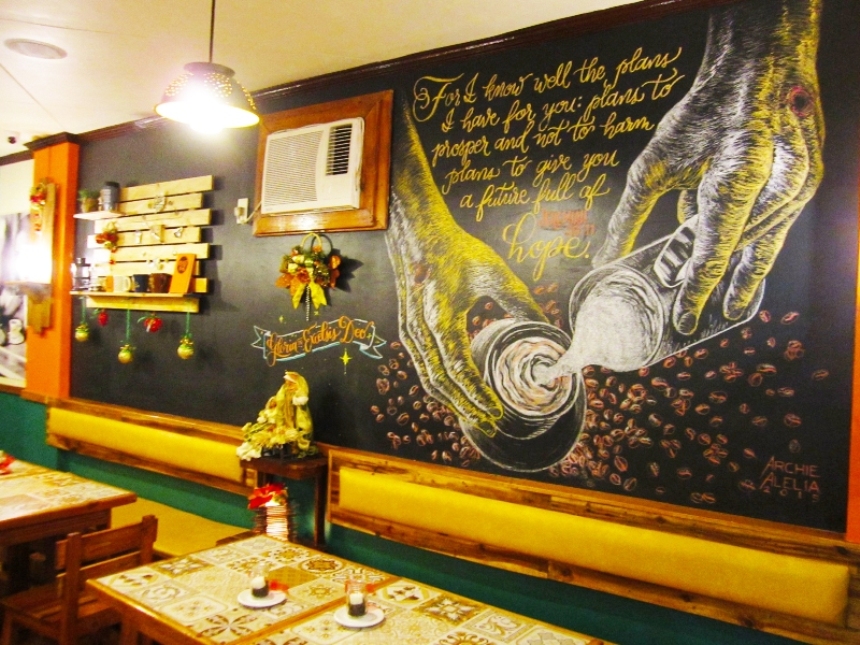 COFFEE AND ART. The pretty letters and art complement the café's relaxing country air with a creative feel.
Maestro Fedeli offers hot, iced, and blended beverages, as well as yogurt freeze drinks. Primer recommends its Iced Matcha Macchiato (P150/12oz), which you can also enjoy hot. This drink has both coffee and green tea in one, so if you are a lover of two, this is perfect for you. For weight-watchers, the Mixed Berries Yogurt Freeze is a wonderful surprise! This drink is neither too sour nor too sweet, and for an affordable price of P139, you can have a 16oz glass of it.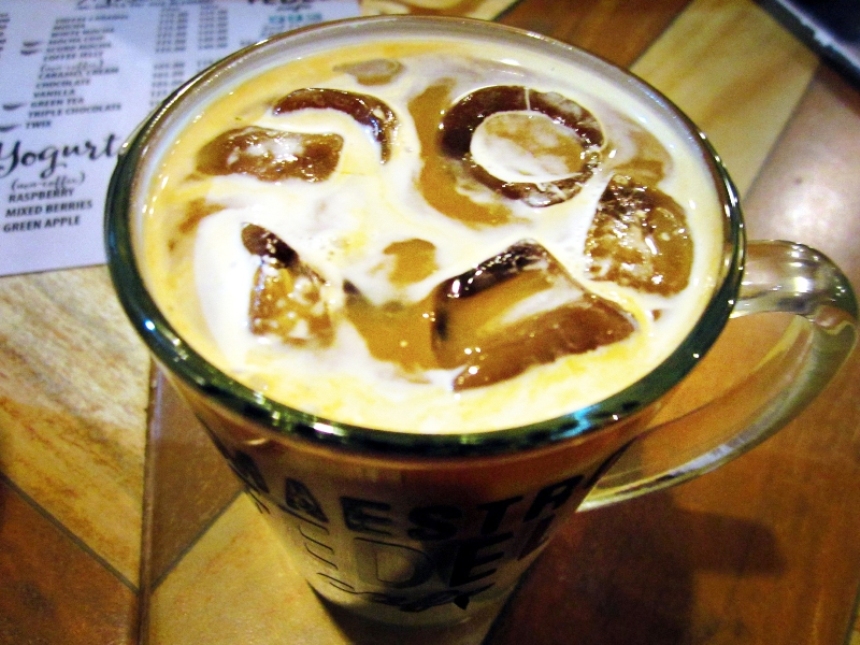 TWO-IN-ONE. The Iced Matcha Macchiato will surely delight coffee and tea lovers!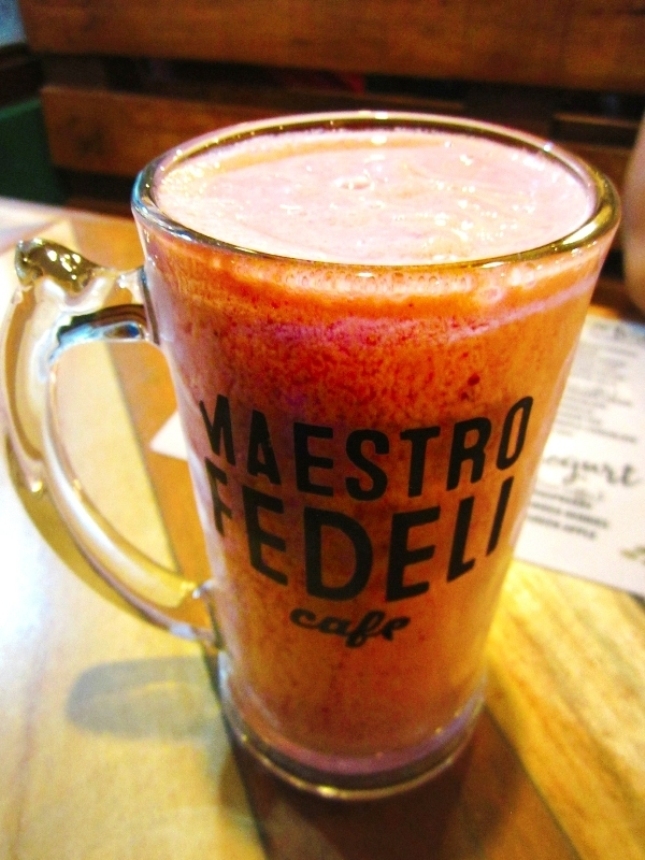 BERRY DELICIOUS. This yogurt freeze is a combination of raspberries, blueberries, and strawberries.
Maestro Fedeli also serves pasta, sandwiches, and desserts.  Try its Baked Chicken Pesto (P119). What is good about it is that the noodles are probably a minute earlier of being al dente, so they have a certain bite to them. It's also not overloaded with cheese making it just savory right. For the sandwiches, the Beef Pastrami (P149) can satisfy two hungry people. Weight-conscious ones wouldn't have to worry because the bread is wheat. Lastly, finish your meal with a heaven-made Sea-Salt Olive Oil Cookie (P35 each)—a soft, chewy cookie that tastes like pure dark chocolate instead of a cookie.
COOKIE DELIGHT. For only 35 pesos each, grab a piece of Sea-Salt Olive Oil Cookie and Oreo Cheesecake Cookie.
If you're looking for extraordinary and affordable coffee drinks and food in the south, Maestro Fedeli is the right stop. Visit their Biñan and Pacita branches.
Biñan Branch
ADDRESS: 2nd Flr. (Beside 3CG Gym), Areza Building, National Highway, Canlalay, Biñan City, Laguna (in front of LTO Biñan)
LANDLINE: (02) 463 7253
OPERATING HOURS: Mon-Sat, 10am-10pm; Closed on Sundays
Pacita Branch
ADDRESS: 7th Street Main Road, RJ TITUS BUILDING, Pacita Avenue, San Vicente, San Pedro, Laguna
LANDLINE: (02) 887 1933
OPERATING HOURS: Mon-Sat, 11am-11pm; Sunday, 3pm-11pm
FACEBOOK: http://facebook.com/MaestroFedeli
TWITTER: @maestrofedelicafe
INSTAGRAM: @maestrofedelicafe
Article by Jhoanne Kristine Vinuya
Photos by Jhoanne Kristine Vinuya