Movida Fashion Food+Club in Poblacion: Moving Towards Unconquered Entertainment
Poblacion in Makati City has since been one of the staple locations for F&B establishments centered on offering unrivaled entertainment. Wherever you go, you will definitely find yourself face to face with one that boasts of a concept most probably disparate to what you have seen in the previous corner.
And just as another year opened, there's already a recent addition to the area's collection of prime destinations: a hybrid of a restaurant and a club that goes by the name Movida Fashion Food + Club that directly translates to move.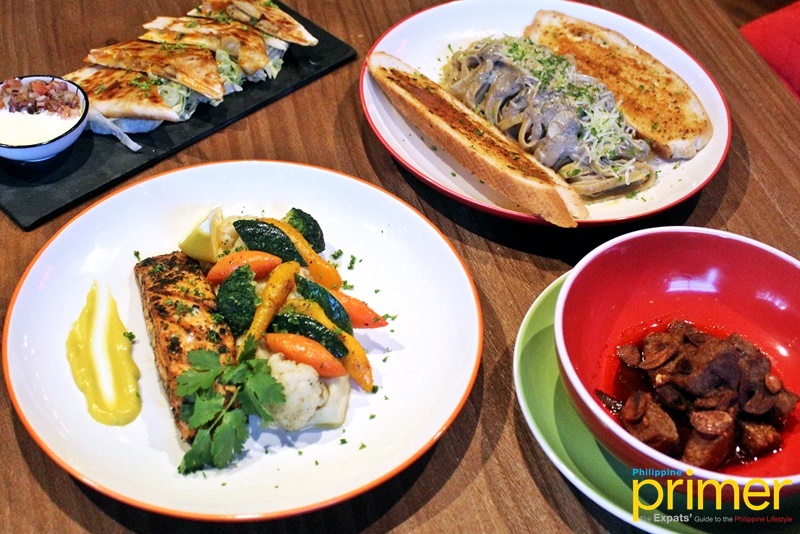 After two months of being on soft opening, Movida Fashion Food + Club finally and officially opened its doors wide last January 15, 2020, upon which the parent of the restaurant Ido Gurevich who is an Israel-born businessman slash cooking aficionado takes great pride in.
And as curated by Ido, Movida's fashion food menu is purposely not limited to just one cuisine. Instead, it is a trendy fusion of many others that prominently highlight that of Japan, Italy, and Spain.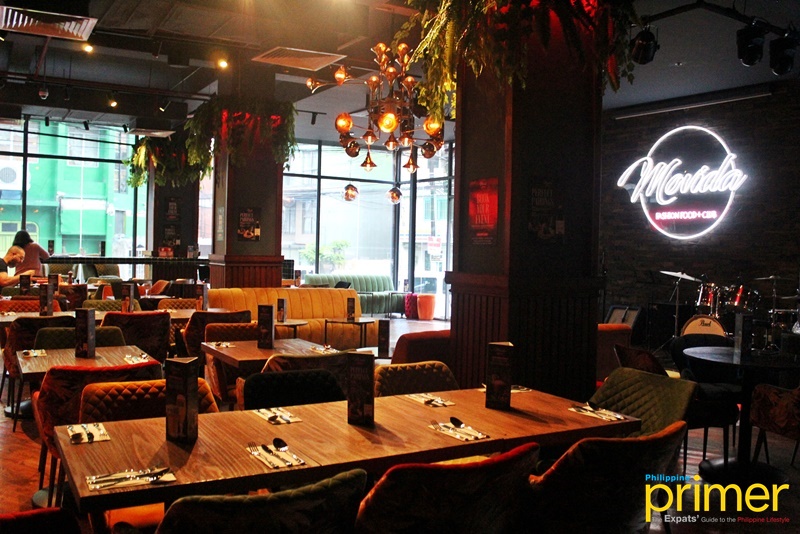 More so, they shift from the heavy meals and light drinks-laden day menu to the light dishes and alcohol-focused night menu by 9 p.m.—the time that also signals the start of a night-long vibing with each other!
To kick-start your sojourn upon the restaurant's food offerings, munch on their Chicken Quesadilla (Php 295) that lies atop a bed of shredded iceberg lettuce, whose pieces are stuffed with sizeable pieces of chicken meat that tightly knit with the rich tomato salsa.
Dip it on the sour cream together with a sufficient amount of lettuce and you'll simply find yourself finishing the whole plate of chewy goodness in no time.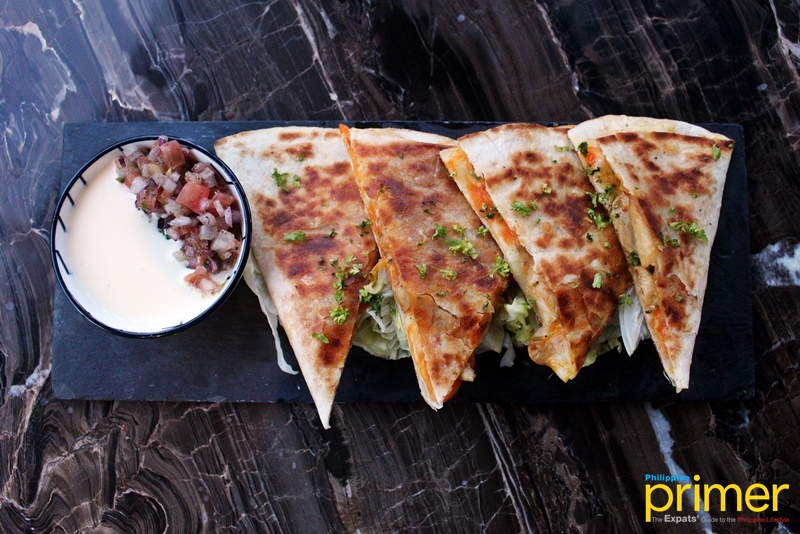 Chicken Quesadilla (Php 295)
There are other variants of the appetizer as well, so you could choose between Cheese Quesadilla (Php 270) and Shrimp Quesadilla (Php 340). Apart from these, Movida also offers Chicken Fingers (Php 340), Nachos (Php 345 for Jalapeño & Cheese/Php 390 for Fully Loaded), and Beef Carpaccio (Php 460).
Meanwhile, their Turkey Cheddar Sandwich (Php 340) features a pair of wheat bread that embraces the thick folded slab of turkey meat along with shredded lettuce, tomatoes, pickles, and of course, cheese.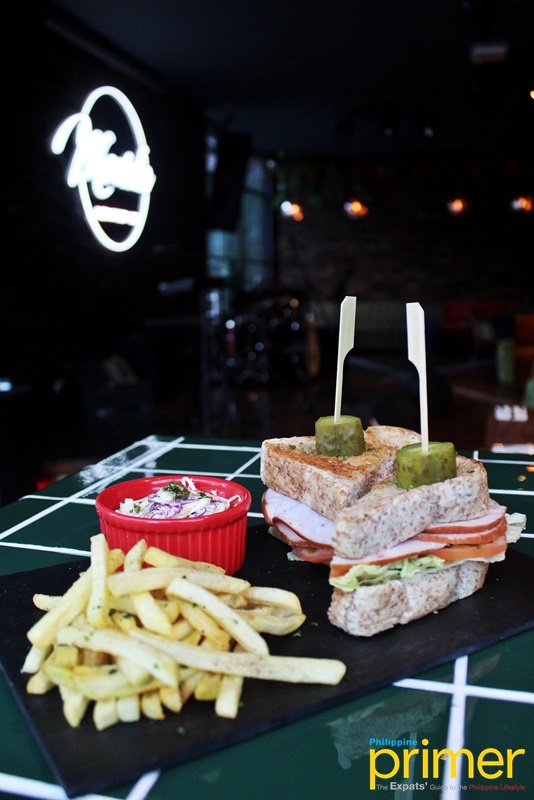 Turkey Cheddar Sandwich (Php 340)
The meat boasts of unmistakable freshness hence making this a truly enjoyable sandwich to delight upon. To fit other palates, the sandwich offerings also include Grilled Cheese Sandwich (Php 325), Chicken BBQ Sandwich (Php 375), and Cheeseburger (Php 420).
For the tapas, one must not miss Beef Salpicao (Php 480) that offers a hearty serving of cubed, perfectly-cooked beef tenderloin pieces that swim in the sweet and salty sauce.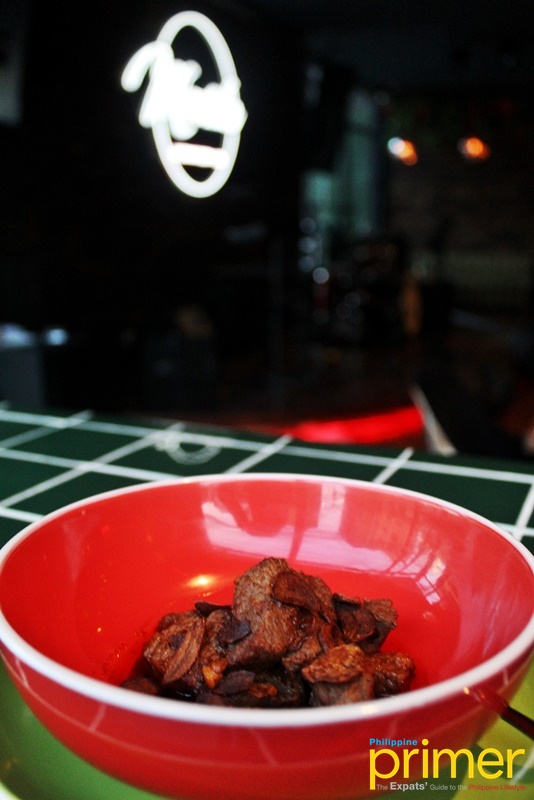 Beef Salpicao (Php 480)
This does not come with rice, but customers who would like it as their full meal may order so. Choose from their line of tapas that include Patatas Bravas (Php 230), Chorizo Honey & Red Wine (Php 350), Beef Meatballs (Php 360), and Garlic Butter Shrimp (Php 360).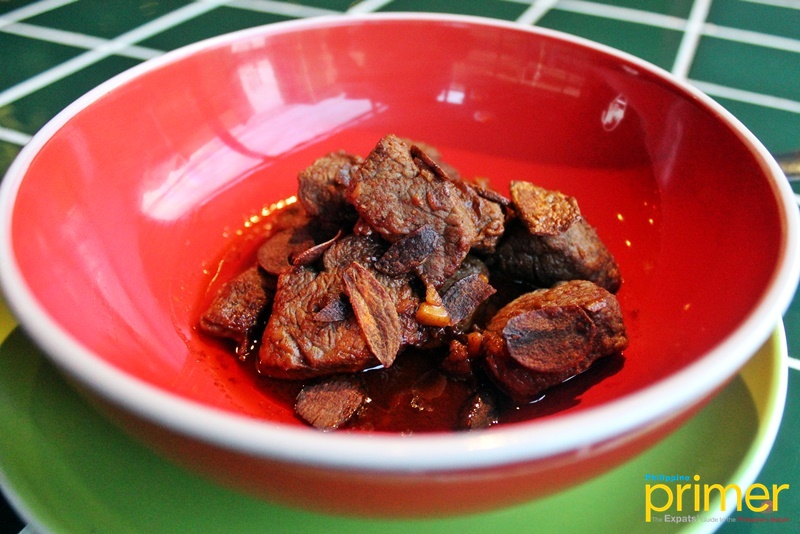 Unlike other pasta dishes that teem with such amount of flavor, their Truffle Mushroom Pappardelle (Php 325) will not overwhelm you with every bite, particularly with the first—instead, it will slowly settle within your mouth like a long-lost tenant that yet again made itself comfortable amid the expanse.
It is a fettuccini pasta dish that is grazed with creamy truffle mushroom cream and topped with grated parmesan cheese.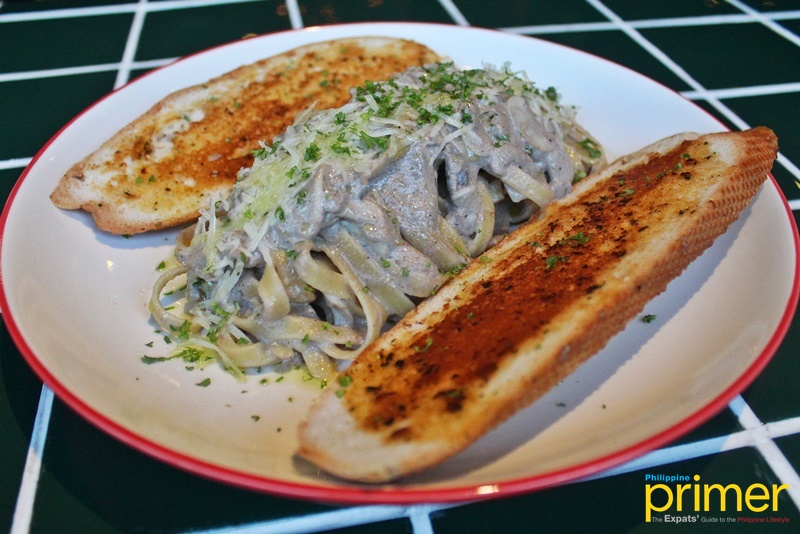 Truffle Mushroom Pappardelle (Php 325)
Movida's Grilled Salmon (Php 465), whereas, comes at just the right size, whether you are simply looking for something to treat your taste buds with or are tending to a growling stomach. Foremost because it comes with your choice of sauce as well as two side dishes: choose from mashed potato, fresh pasta, french fries, potato wedges, and fresh market vegetables.
A little tip: the combination of mashed potato, vegetables, and hollandaise sauce is a good one.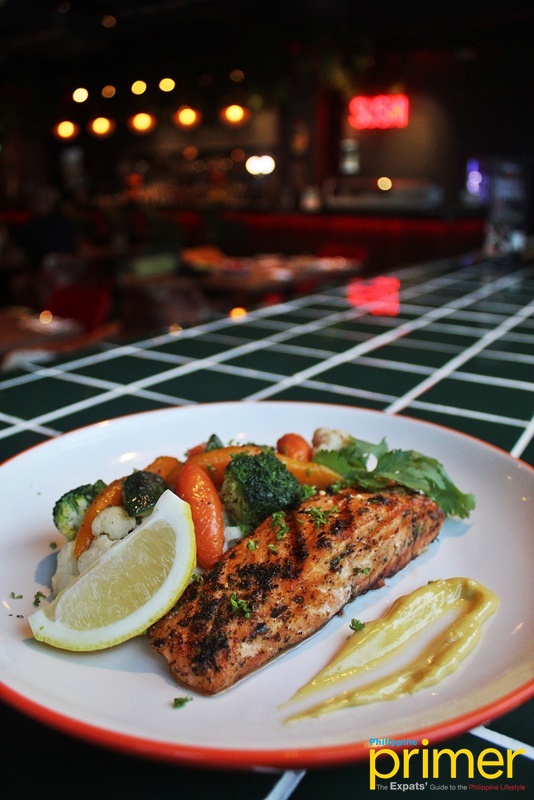 Grilled Salmon (Php 465)
Pretty much like its name, this healthy and refreshing mix of watermelon, pineapple, and orange will strike you as a lifesaver especially when you feel like you have been skipping too much of your fruits and greens. Fans of oranges will like this because it kind of takes the center stage in this concoction.
But basically, Lifesaver (Php 290) is the one for you whenever you feel damped by the humid weather of the country—which we will guess is almost every day.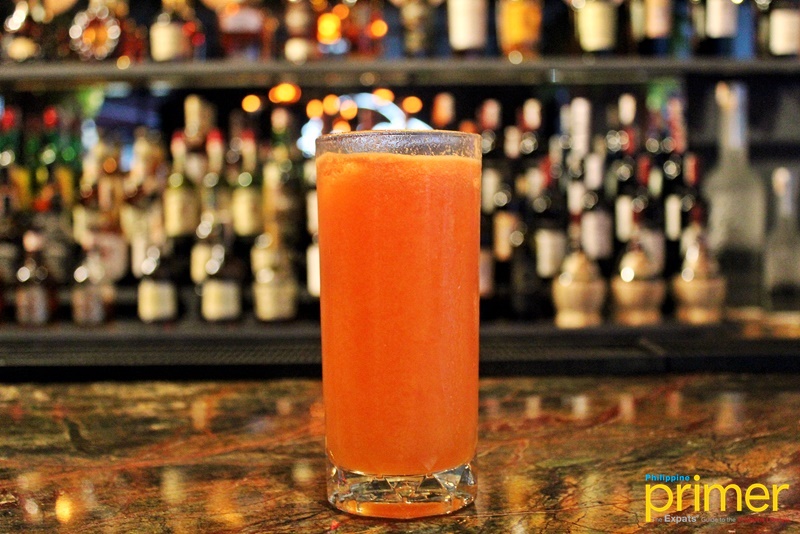 Lifesaver (Php 290)
From 11 a.m. to 9 p.m., Movida is a space induced with neon lights and bright-colored cushioned seats where you can simply slow down as you relish on their broad range of dishes and drinks.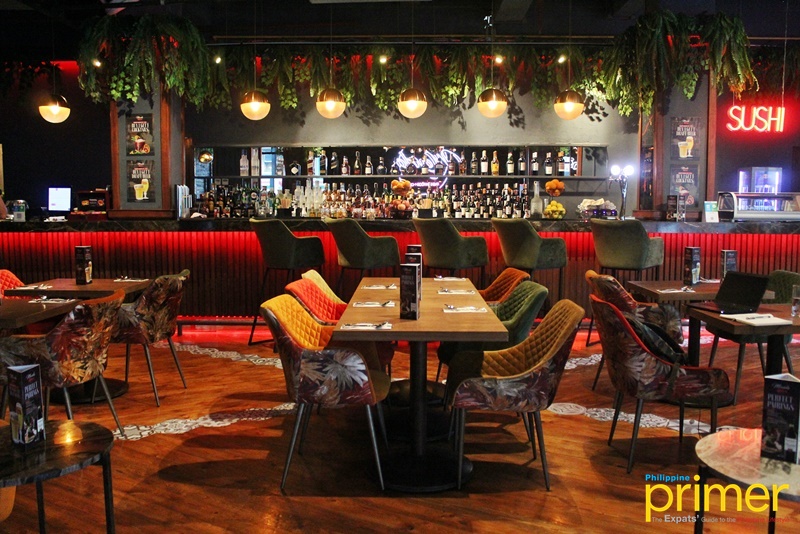 Movida can accommodate up to 160 people when some of the tables are put aside for the night
But once the clock ticks past 9 p.m., it transitions into an expanse where Latino music as played by live bands hypes up everyone until the wee hours of the morning.  Of course, with the great company of their alcoholic drinks, particularly of the Movida Signature Cocktails.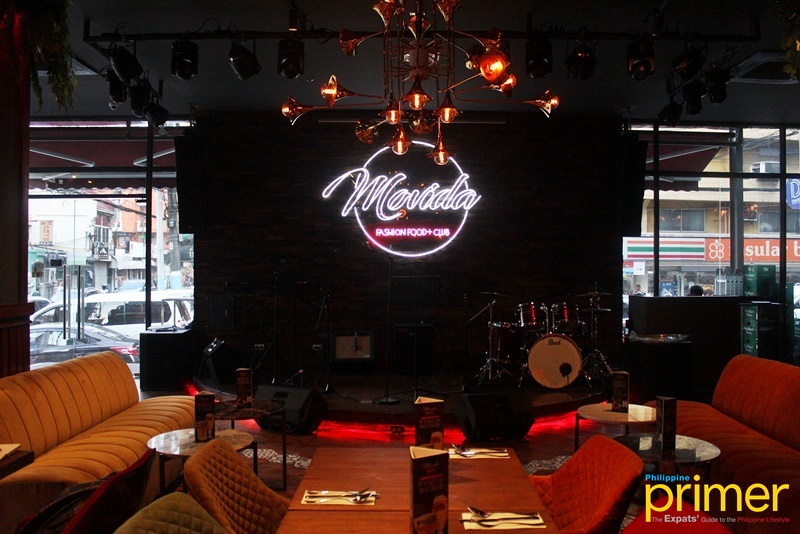 How to get here
• By public transport: From Landmark Makati, ride a Makati Loop jeepney and then get off at the Petron gas station. Head north on Makati Ave. toward Jupiter St. and then turn onto P. Burgos St. Movida Fashion Food + Club will be on your left.
---
Written by Shairah Nabong

5050 P. Burgos St., Poblacion, Makati City

Cash, AliPay, WeChat, Credit Card
Restaurant Menu
You can scroll the image left and right.