Terraza Martinez in BGC will Bring You to Valencia, Spain through its Mouthwatering Offerings
Terraza Martinez in BGC will Bring You to Valencia, Spain through its Mouthwatering Offerings
In the vibrant and cosmopolitan enclave of Bonifacio Global City, a treasure trove of Spanish gastronomy awaits. These places exude a warm and inviting ambiance, reminiscent of the lively tapas bars and intimate diners found on the streets of Barcelona, Madrid, and Seville. Each Spanish restaurant in this bustling food hub boasts a distinct character and culinary identity, offering a diverse range of traditional and contemporary dishes that capture the essence of Spanish cuisine. From the iconic and comforting flavors of paella to the tantalizing small plates of tapas, the menus are a testament to the rich culinary traditions that span the diverse regions of Spain.
Chief among them is Terraza Martinez, where Spanish cuisine is more than just food; it is an embodiment of the country's culture, history, and deep-rooted traditions.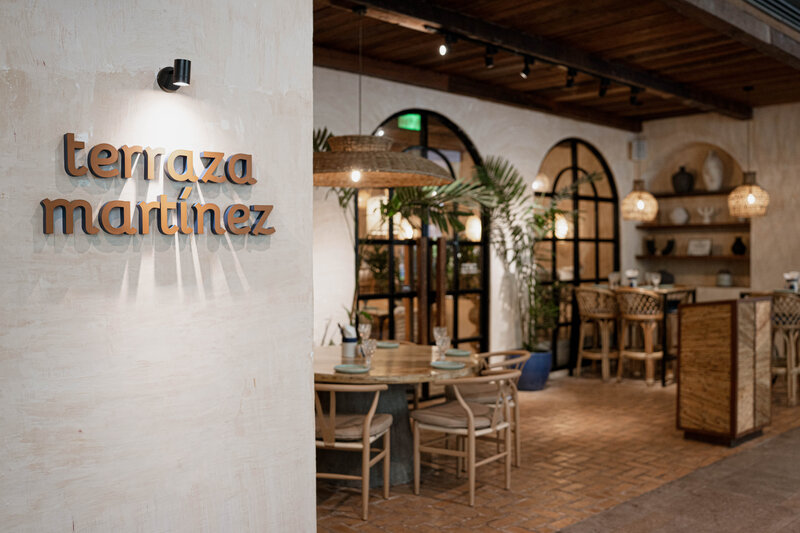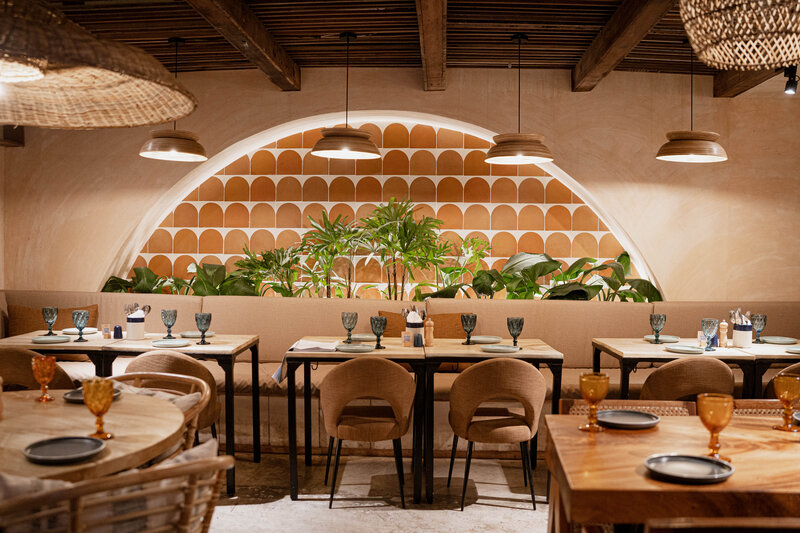 IMAGES from Terraza Martinez
The menu at Terraza Martinez serves as a love letter to the Valencian region, where the dashing veterinarian-turned-chef Luis Martinez came from. From traditional tapas bursting with vibrant colors and bold flavors to expertly grilled seafood sourced from pristine waters, each bite is a harmonious dance of authenticity and innovation.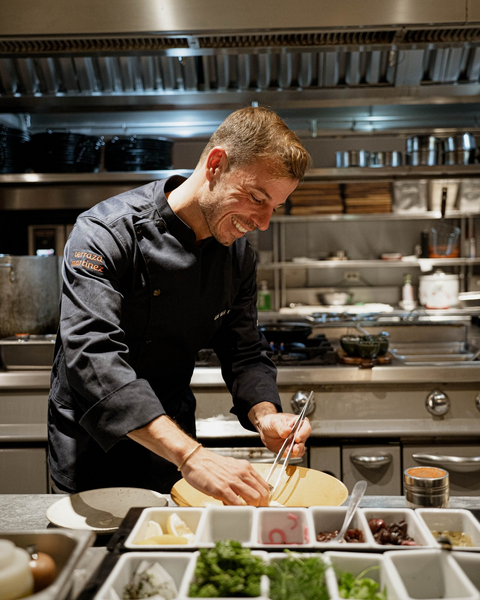 Chef Luis Martinez / IMAGE from Terraza Martinez Facebook page
Start your meal off with the Croqueta de Jamon Iberico, typically served as a popular appetizer or tapas dish in Spain. These fried morsels of goodness are beloved for their rich, smoky, and slightly salty taste, courtesy of the flavorful Jamon Iberico. The contrast between the crispy exterior and the creamy filling creates a delightful texture that makes them irresistible to many.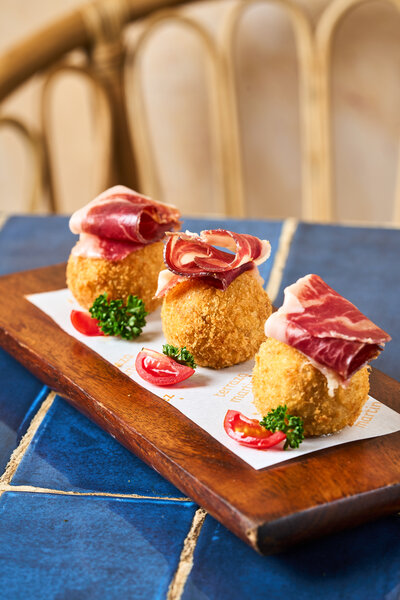 Croquetas de Jamón Iberico
The Piquillo Relleno de bacalao Y Gambas and Raviolo de Marisco are also excellent appetizers. The former is a delightful culinary creation that combines the smoky and slightly sweet flavors of piquillo peppers with the richness of bacalao (salted cod) and the succulence of shrimp. The combination of the seafood and natural sweetness of the piquillo peppers creates a harmonious blend of flavors that will leave you wanting for more.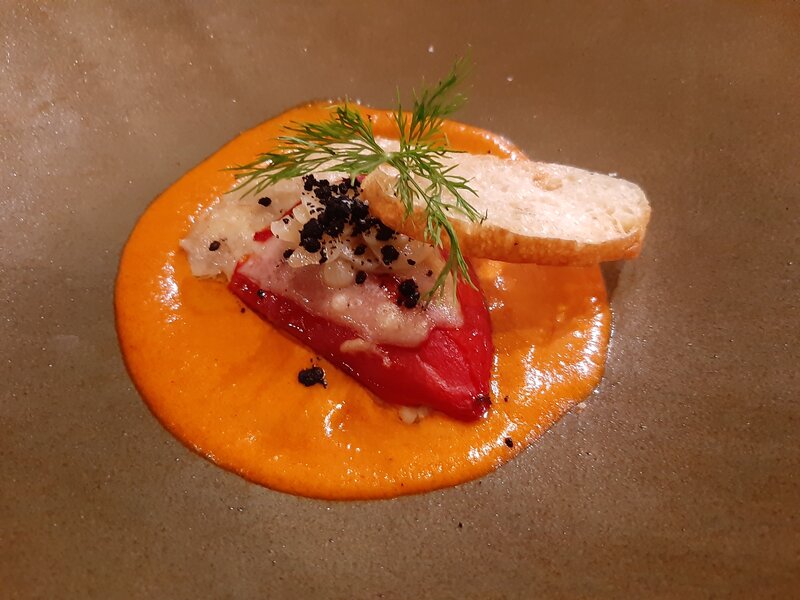 Piquillo Relleno de bacalao Y Gambas
Like the stuffed piquillo, the Raviolo de Marisco is a mouthwatering culinary creation also showcases the delicate flavors of the ocean wrapped in a delightful pasta pocket. This exquisite dish brings together a medley of juicy, sweet prawns and crab with expertly complemented with roasted veggies and cream cheese, encased in a hefty raviolo, and bathed in a savory bisque. Savoring this seafood masterpiece is an experience that combines elegance, decadence, and the essence of the ocean, delighting both the eyes and the palate.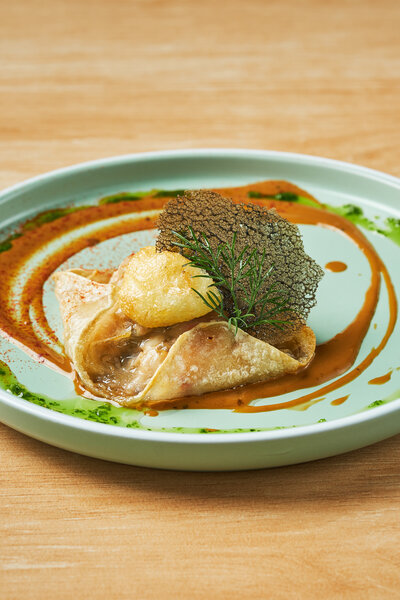 Raviolo de Marisco
Paella holds the esteemed position as the star of Spanish cuisine due to its deep-rooted cultural significance and its embodiment of the country's culinary identity. Originating in the fertile lands surrounding the city of Valencia, this iconic dish has become synonymous with the region and an emblem of Spanish gastronomy. For his part, chef Luis said he ensures Terraza Martinez honors this dish by sticking to his recipes.
One of the resto's best-selling paellas is the Paella Negra, also known as "black paella" or "arroz negro," is a traditional Spanish dish that originated in the Valencian region. It is a variation of the classic paella, but distinguished by its unique black color, which is derived from the addition of squid ink during the cooking process. Each spoonful brings together the harmonious marriage of flavors, combining the delicate seafood, the briny squid ink-infused rice, and the aromatic spices.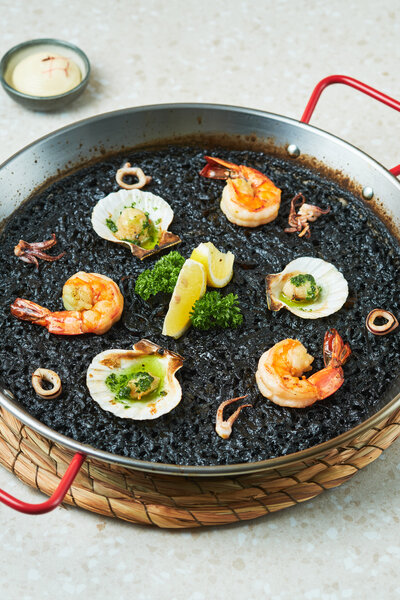 Paella Negra
Enhance your dining experience by indulging in Terraza Martinez's fine wines and signature cocktails. Whether you prefer a classic margarita, a fruity sangria, or a glass or two of its imported European wines, its skilled bartenders will craft a drink that complements your meal and adds a touch of excitement to your meal.
Don't forget to save room for dessert! Indulge in treats like Sorbete de Mango Y Pistacho, a sweet ending to your meal consisting of mango sorbet, orange slices, and dragon fruit carpaccio topped with crushed pistachio and dark chocolate bits drizzled with honey.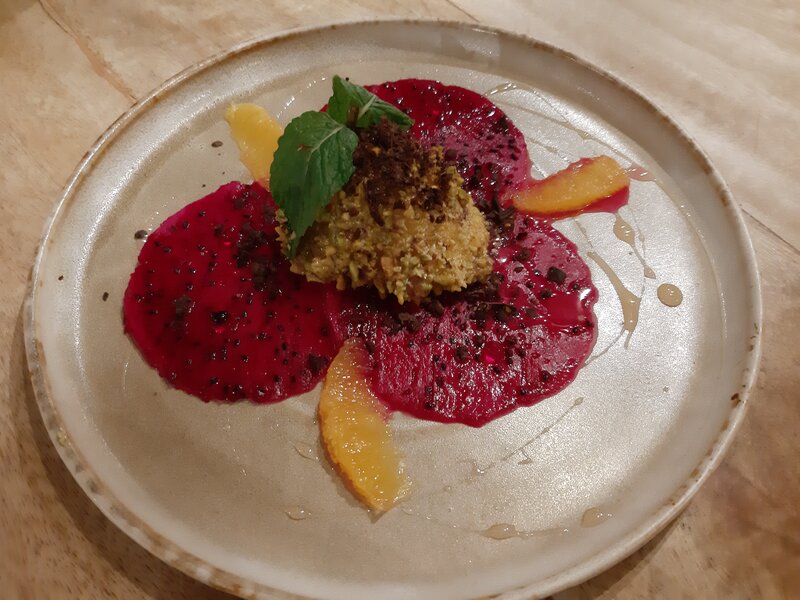 Sorbete de Mango Y Pistacho
Terraza Martinez is not just a place to enjoy delicious food and refreshing drinks; it's a celebration of life itself. It's a place where memories are made, laughter is shared, and the vibrant spirit of BGC comes alive. Whether you're visiting for a special occasion, a casual get-together, or simply to indulge in a culinary adventure, Terraza Martinez promises an experience that will leave you with a smile on your face and a heart full of joy.
GENERAL INFORMATION
Address: G/F The Arcade, Shangri-La at the Fort, 5th Avenue, BGC 1634 Taguig
Operating Hours: 11:00 a.m. to 12:00 a.m.
Contact Number: 0966-700-5801 / 0945-409-8120
Website: nikkei.com.ph
Facebook: Terraza-Martinez
Instagram: terraza.martinez
Store Information