Naxional South American Diner
Naxional brings the heart of South America to the Philippines with their sumptuous dishes coming from Brazil, Cuba and Latin America. Their food is born out of their partners' collective passion for food from these different countries, and inspired by home cooking and traditional family recipes.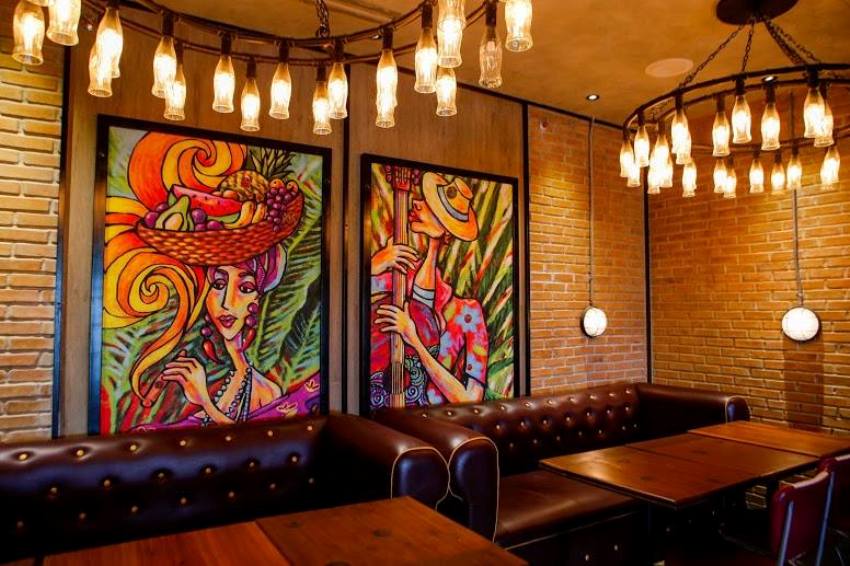 WALL MURALS inspired by the different stories of our partners and South America
Raymond Magdaluyo travelled the region of New York and had fallen in love with the Latin American cuisine he tasted there. Then, his friend Jun Sunga, together with his wife Vanessa Matsunaga and her brother Daniel Matsunaga, shared their interest with him of opening a Brazillian restaurant in the Metro.
The menu was developed by Matsunaga's mom Geralda Matsunaga, a Brazilian native, and Cynthia Patos, a Venezuelan celebrity chef. Both brought their cultures to the food selections. They did intensive research for them to capture the taste of food from other continents, such as Ecuador and Puerto Rico, which are part of the menu.
The menu is filled with authentic, traditional family recipes cooked by using both local and imported spices and seasonings. These recipes are all inspired by the most-loved dishes of the South American locals that can be enjoyed every day at Naxional's.
Best way is to start with their Starters or "Pasabocas" in Spanish. Try their Elote from Mexico, a char grilled sweet corn with crumbled cheese.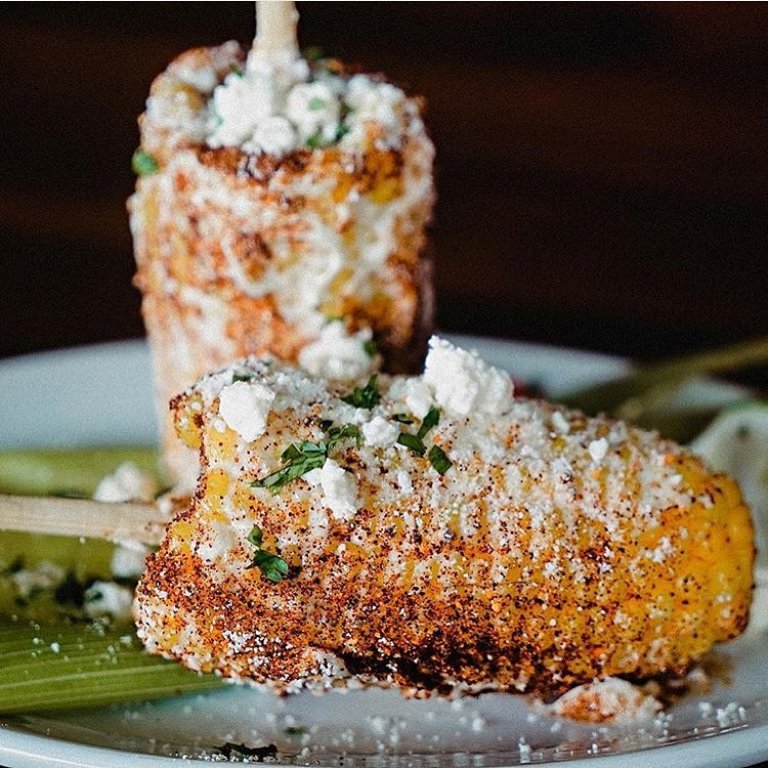 ELOTE. (P195)
For Brunch and Breakfast All Day, it's the Naxional Breakfast Platter that reigns the menu. It consists of Gaucho steak, Brazilian Sausage, fried eggs, corn arepa, black beans and rice.
Then for the main, their Carnes or Open Fire Grilled Meats is a must-try, especially the Picanha from Brazil, which is a 300g Brazilian Style Churrasco Steak, and Baco-wrapped Pollo, a grilled Chicken thigh fillet wrapped in with thick-cut bacon, citrus BBQ Sauce. All carnes comes with your choice of 2 sides.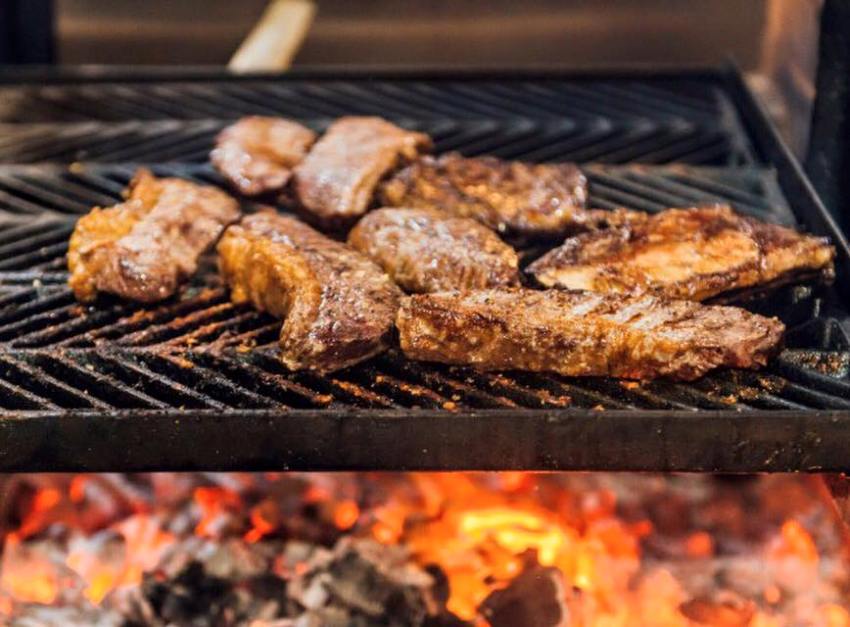 PICANHA or Brazilian style churrasco steak for P980.
Another part of the hot menu is their Rabo Encendido from Cuba, which is a slow cooked beef oxtail, pork hocks, mushrooms, and yummy chorizos.
RABO ENCEDIDO. P350
Lastly, never forget the Naxional Paella which is good for 2-3 persons. It's Sofrito and Black Bean Rice, House-made chorizo Morcilla Sausages, clams and mussles plus garlic shrimp to top off everything!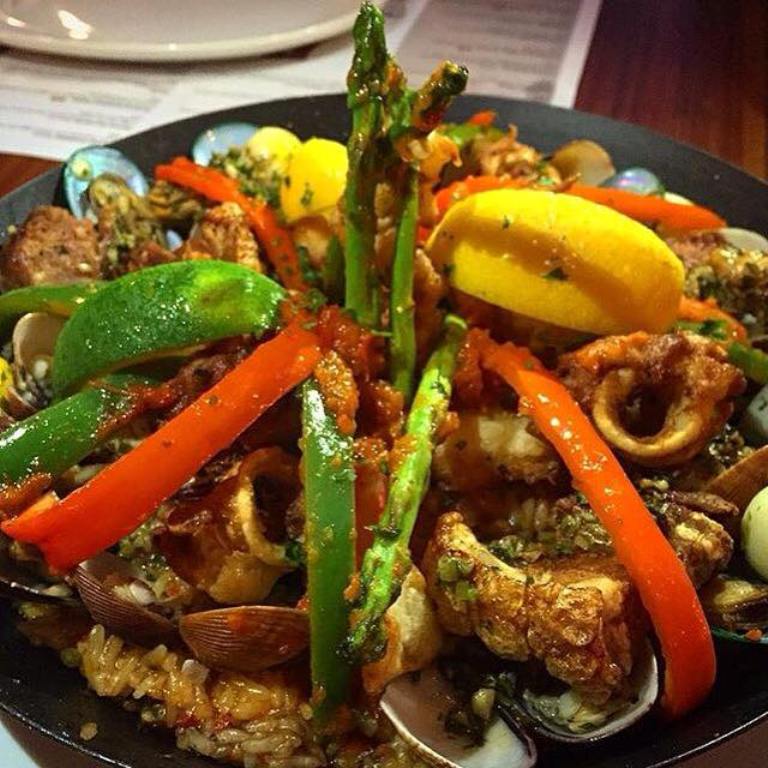 NAXIONAL PAELLA. Good for 2-3 persons for P760
For "Postres" or Desserts and Sweets, Tres Leches is for the win – a milk soaked sponge cake with Mango coulis and Passion Fruit Crème.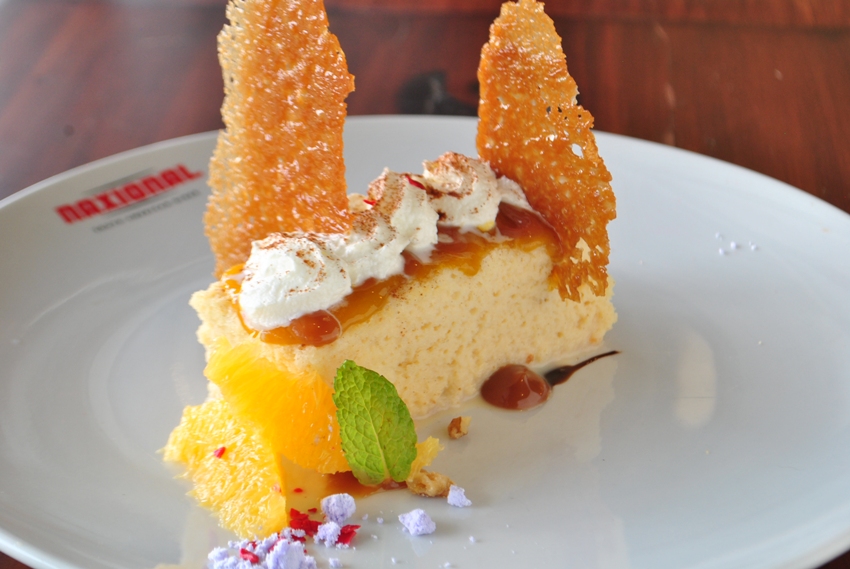 TRES LECHES. (P240)
Beautiful Latin American music will welcome the guests for a fancy-dancing vibe, large wall paintings fill the empty brick walls to make the look more vibrant, check board tiles for a retro feeling, plush red cushions to make it a cosy diner setting. Warm lights in Coca-cola bottles will make you smile because of its unique light set-up. Naxional South America is also open for corporate events as well.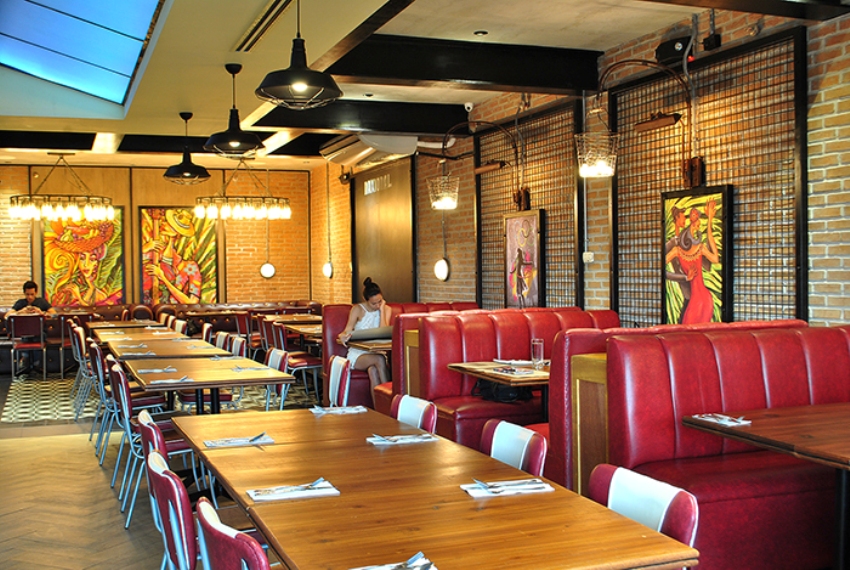 The whole place including the bar can hold up to 110 hungry guests.
2/F Uptown Parade, 9th Avenue Corner 38th Street, Bonifacio Global City, Taguig City
02-946-3419
11:00 am-1:00 am (Monday-Saturday); 8:00 am-10:00 pm (Sunday)