Indus Modern Indian Kitchen in BGC: Offering Exquisite Indian Flavors from Biryani to Lassi
Indus Modern Indian Kitchen in BGC: Offering Exquisite Indian Flavors from Biryani to Lassi
Going on culinary adventures in Bonifacio Global City has become incredibly convenient as the city brims with an array of diverse and exciting dining options that you may choose from! From trendy cafes to upscale restaurants, the lifestyle hub offers a melting pot of flavors to satisfy every palate.
Among these, the Indian cuisine steals the spotlight with its aromatic spices and exotic dishes that are sure to ignite your senses. To begin your culinary journey of this cuisine, head to Indus Modern Indian Kitchen at Icon Showroom along 25th Street in BGC, Taguig!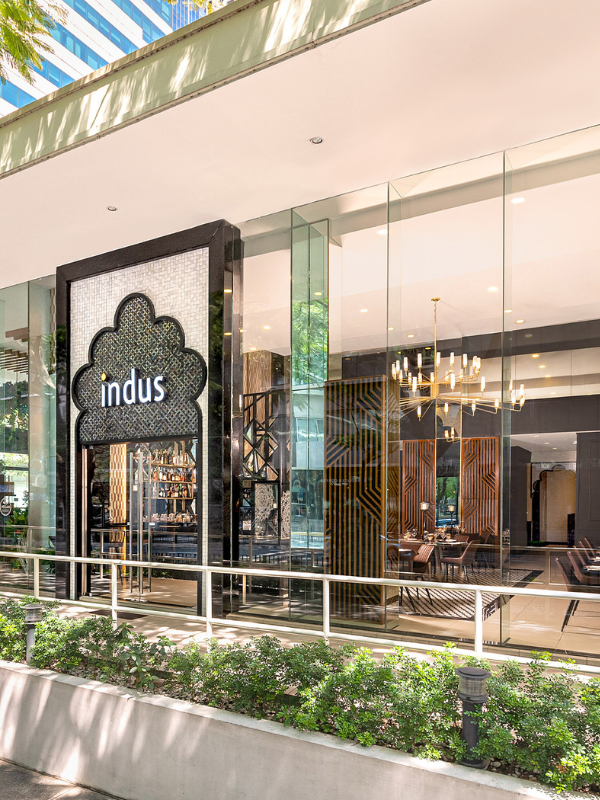 IMAGE from Indus Modern Indian Kitchen's Facebook page
You'll definitely be in awe upon entering as Indus Modern Indian Kitchen holds an elegant, contemporary appeal. With its graceful arches, vibrant centerpiece chandelier, and floor-to-ceiling windows adorned by white curtains, the combination creates an atmosphere of refined sophistication. Geometric lines also riddle the walls and floors, adding a modern touch to the space.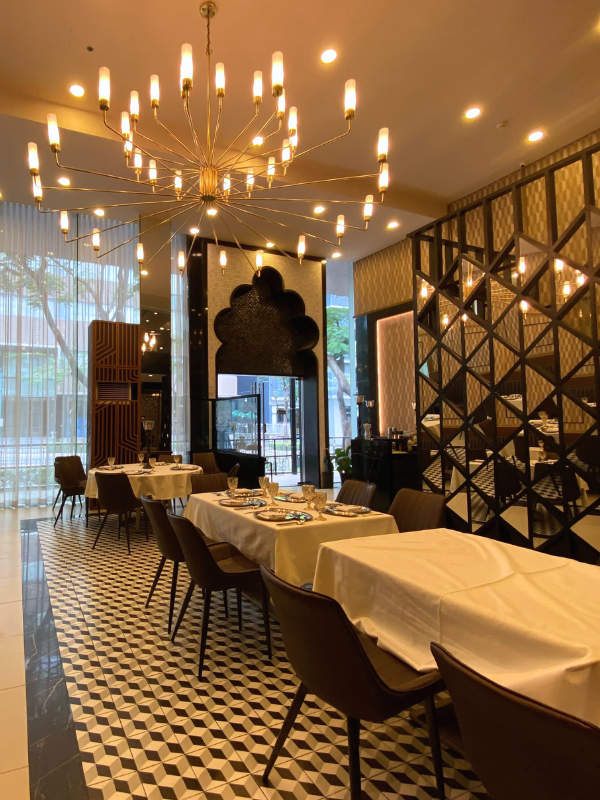 More than its interior design, Indus is recognized by many for its rich menu of sumptuous dishes from lunch to dinner. However, if you're craving for an afternoon snack, you may always stop by at Indus from 2:00 p.m. to 6:00 p.m. for their casual meals which include chicken or paneer wraps and biryani, as well as a selection of coffee, tea, cocktails, and lassi!
For lovers of hot and spicy flavors, you will certainly like Indus' version of Paneer Wrap made of tandoori paneer, a type of fresh cheese mixed in with aromatic spices. This delectable paneer is then wrapped in roomali roti, a soft and thin Indian bread known for its delicate texture.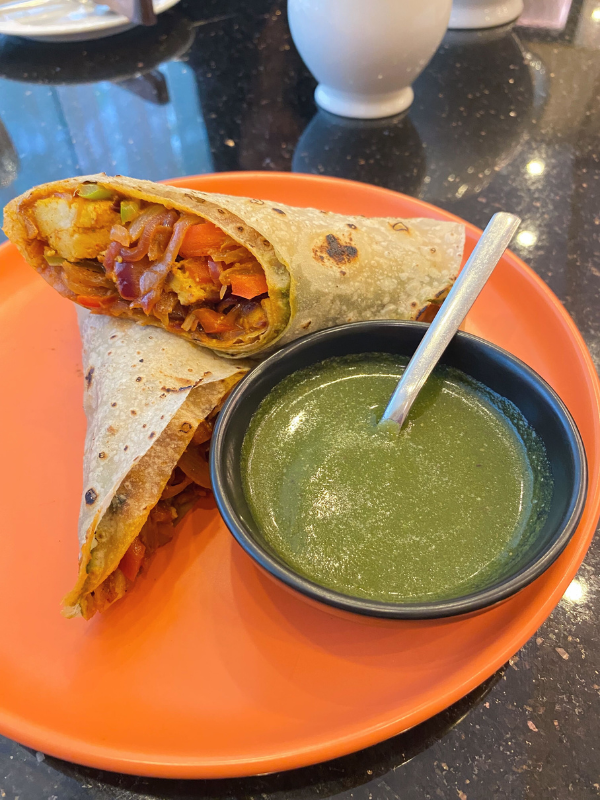 Paneer Wrap (Php 350)
Indus' Chicken Biryani, on the other hand, features lighter spices with its fragrant basmati rice, tender chicken pieces, and a blend of aromatic herbs and spices. You may also try it with its special sauce made of yogurt that adds a creamy and tangy element to the dish.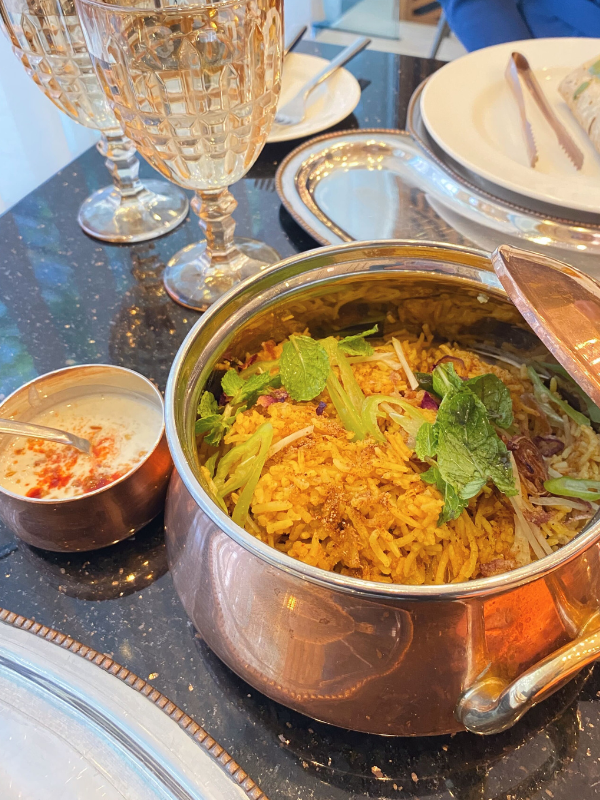 Chicken Biryani (Php 485)
You may partner these dishes with hot tea, just like the Bollywood Masala Chai that offers a comforting warmth with the gentle touch of ginger. You may also try Indus' selection of flavored lassi, a yogurt-based drink with Mandala candy paper on top that lends sweetness to the end of your meal.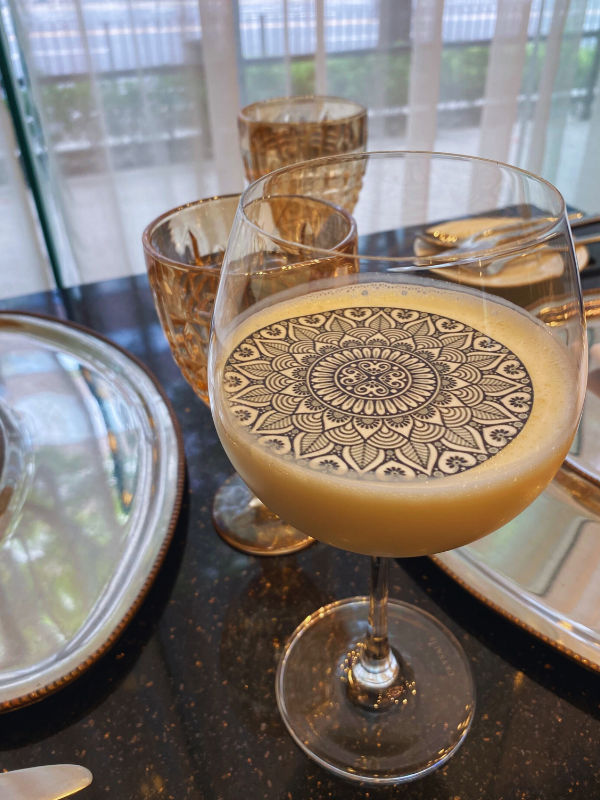 Mango Lassi (Php 180)
While Indus can also be a perfect venue for special events such as birthdays or anniversaries, the Indian restaurant also has private spaces for intimate meetings or gatherings.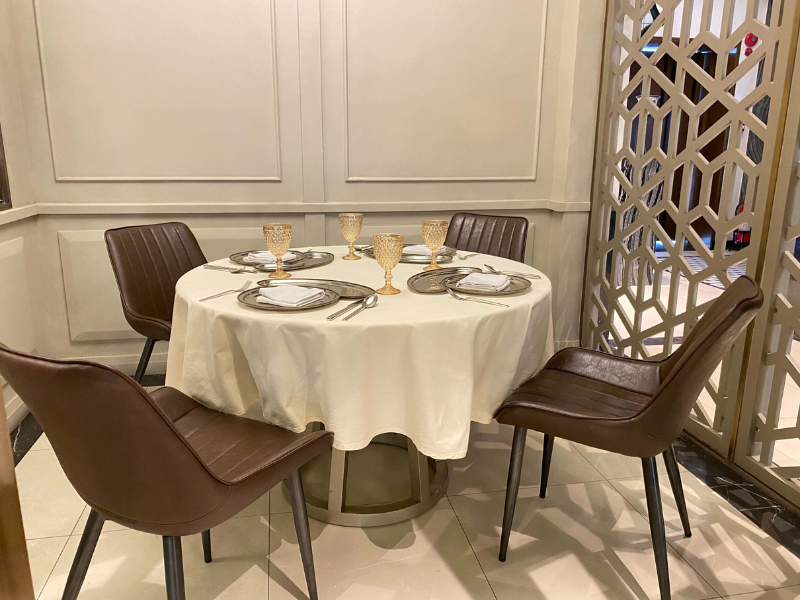 Have you tried Indian cuisine yet? Visit Indus Modern Indian Kitchen to embark on a culinary journey that will delight your taste buds and introduce you to the rich flavors and vibrant spices of Indian cuisine.
GENERAL INFORMATION
Address: Icon Showroom, 25th Street, Bonifacio Global City, Taguig City
Operating Hours: 11:00 a.m. to 2:00 p.m. (Lunch); 2:00 p.m. to 6:00 p.m. (Snack Time); 6:00 p.m. to 10:30 p.m. (Dinner)
Contact Number: 0917-311-1312
Website: www.indus.ph
Facebook: Indus Modern Indian Kitchen
Instagram: @indus.ph
General Information