White Banana in Siargao: The Best Cocktail Bar Serving Pescatarian Menu Outside Metro Manila
White Banana in Siargao: The Best Cocktail Bar Serving Pescatarian Menu Outside Metro Manila
There were two things missing in Siargao when Gian Luca "Jimi" Casaccia, a winsome cultural and travel photographer who hailed from Italy, arrived in the beautiful tear-shaped island: a proper cocktail bar where guests can really drink and a place to chill in the afternoon.
Gratefully, Jimi had seen to it to anchor the White Banana Beach Club just right along the shores of Siargao's Tuason Beach to make sure that the majestic island will not lack in superb spirits and great company!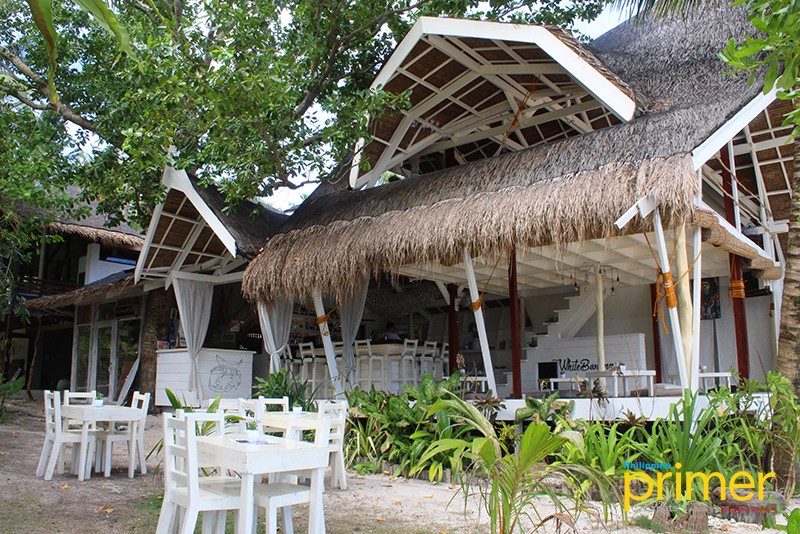 White Banana Beach Club by Jimi Casaccia sports a genuine, relaxing vibe brought about by white painted walls and ceilings, as well as the gentle blow of the wind
Calling it a "BROB" or a "bar with rooms on its back", Jimi, who had been staying in the Philippines for about four years now and has never come back to his homeland ever since, has a lot on his sleeves when it comes to the White Banana.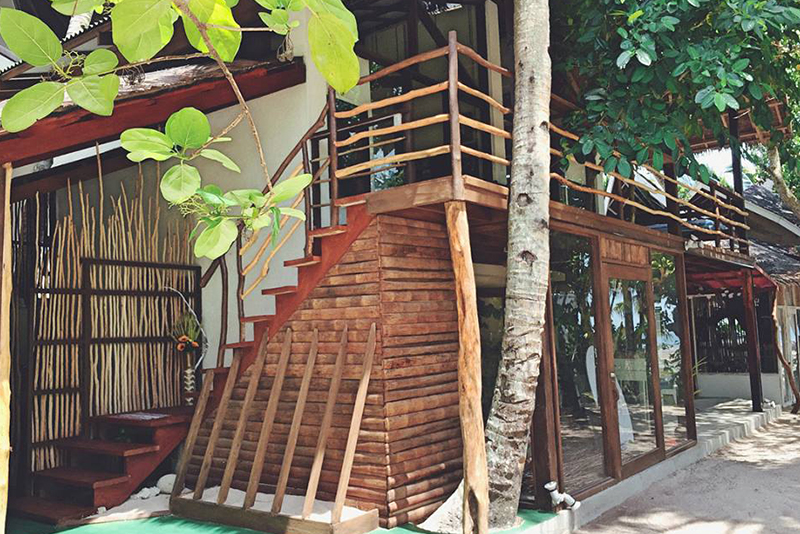 White Banana Beach Club is basically a bar with luxury dorms, where guests can stay in for the night to enjoy the life on the beach from sunup 'til sundown./ IMAGE White Banana Beach Club Siargao Facebook Page
For one, the beach club boasts not only of its luxury dorms, but most especially, of its sultry cocktail bar that sports spirits from around the world.
Within his selection of liquors are Japanese whiskeys and gin from the Suntory brand, as well as other cocktails that they mix with the Kombucha tea, which they ferment on their own.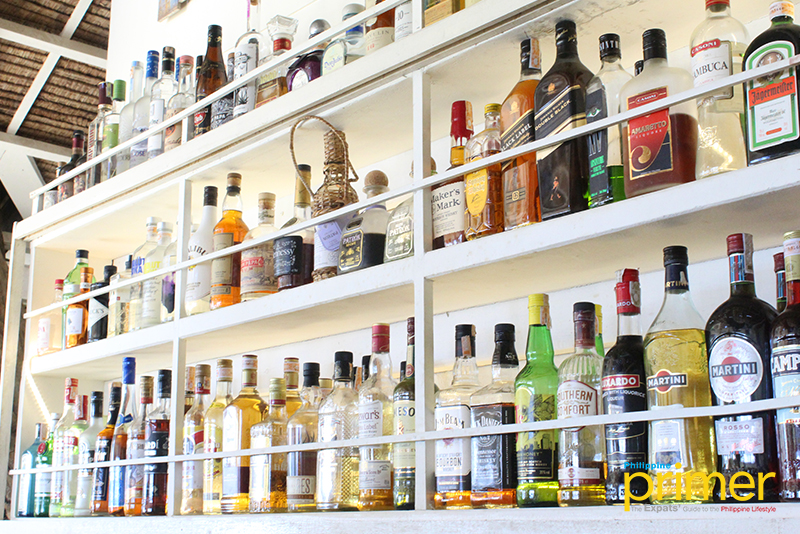 White Banana Beach Club's cocktail bar makes sure you get what you want by personally asking you for your drink preferences!
What's more is that White Banana also ventures into food with a pescatarian menu, which means that they do not serve pork, chicken, and beef, but specializes instead on mock meats and the freshest fishes they can find in the island.
This ultimately makes the White Banana a vegan and vegetarian-friendly place to chill at with your friends and family.
With this, Jimi recommends their Hummus Treats (Php 310), which is comprised of pita bread and strips of cucumber and carrot sticks that are best dipped on three kinds of hummus dressings made of porcini mushroom, bell pepper cream, and olives with truffle oil.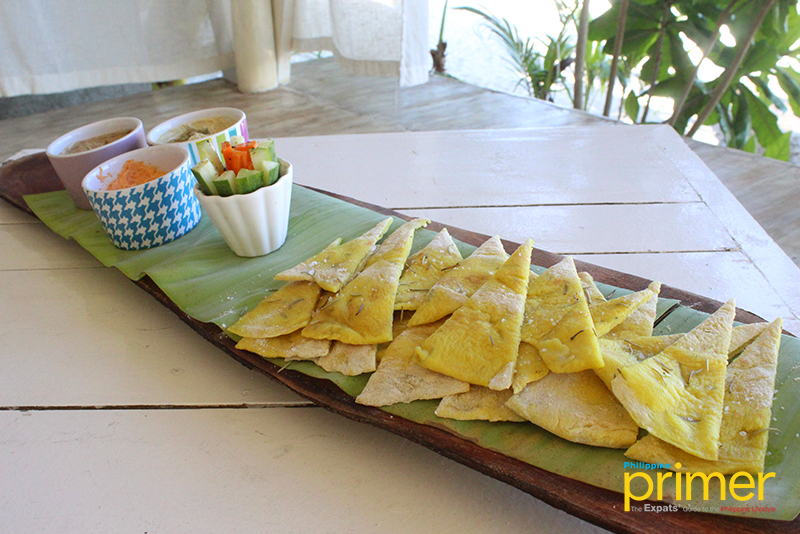 Hummus Treats (Php 310)
This treat, which seeks to energize you with its savory and fresh taste, is best paired with their special White Banana Shake (Php 140) that refreshes with its healthy and fruity flavor.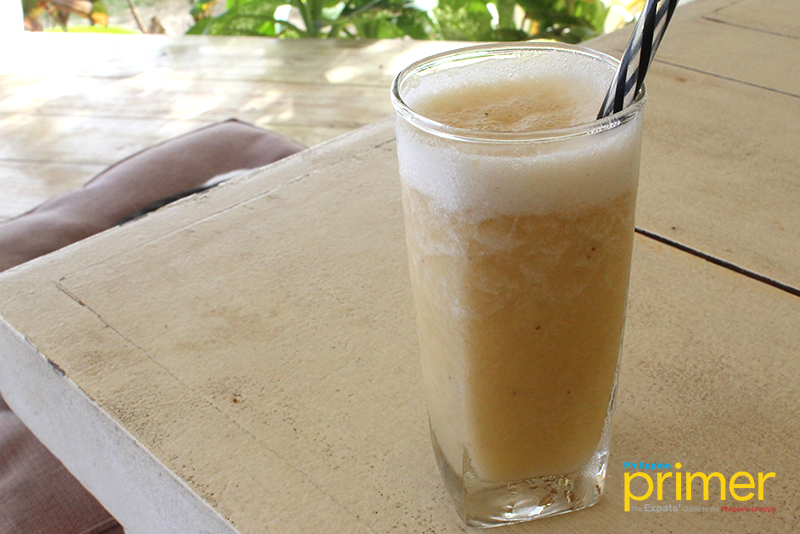 White Banana Shake (Php 140)
Plus, with their location at Tuason Beach, White Banana is just about the best place to witness the exact setting of the sun and the subsequent rising of the full moon, with an acoustic night happening every Tuesday, Friday, and Saturday each week during the peak seasons.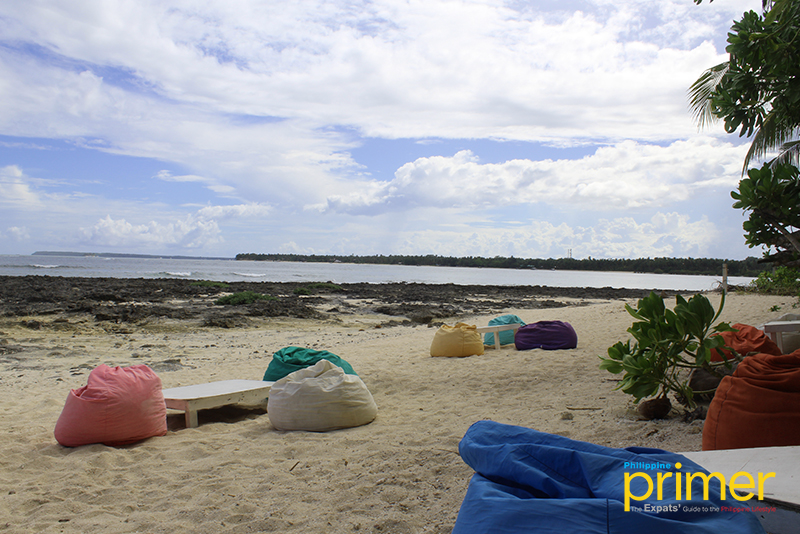 From here, Jimi described how magical the island mood can be with the reflection of the sun on the clear ocean.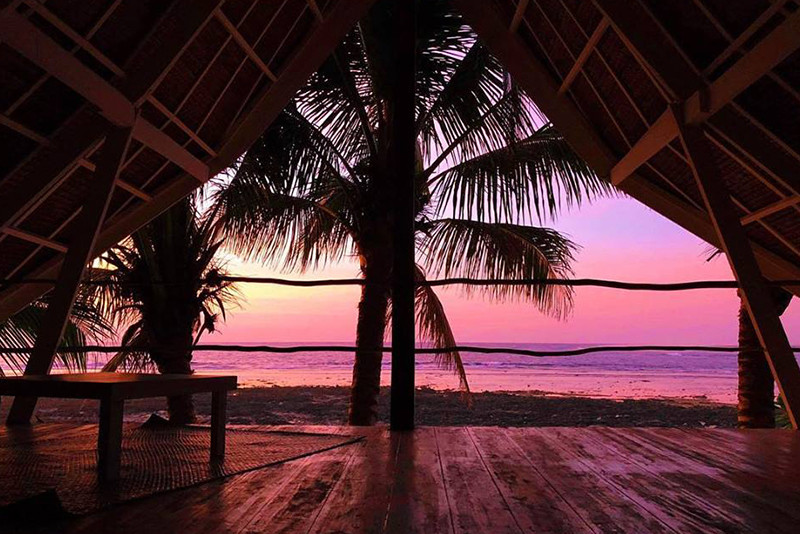 Here is a sneak peek of the majestic sunrise just beyond White Banana Beach Club!/ IMAGE White Banana Beach Club Siargao Facebook Page
Therefore, White Banana, which was inspired by the white sandbars in Europe, Jimi's Andy Warhol body painting of bananas, as well as his amusing passion with the fruit brought about by his cure from his 25-year battle with banana allergies, can easily be the best bar, not only in the island, but also outside Metro Manila and Cebu!
So visit what perhaps may be the only proper cocktail bar in the island, where you can drink high-quality cocktail mixes with your friends, chill with acoustic music, and eat hearty and healthy food only from White Banana!

---
This first appeared on Philippine Primer Japanese Magazine's December 2018 issue.
Written by Chin Sanigan

Tuason Beach, Tourism Rd, Brgy. Catangnan, General Luna, Siargao Island, Surigao del Norte

8 a.m. to 11 p.m. (Mon. to Sunday)

whitebananasiargao@gmail.com