Boulangerie22
Classic artisan method meets state of the art baking machines  —  Boulangerie22 is a fusion of traditional principles with a modern twist, bringing forth melts-in-your-mouth bread and pastries, with a commissary that's first of its kind here in the Philippines.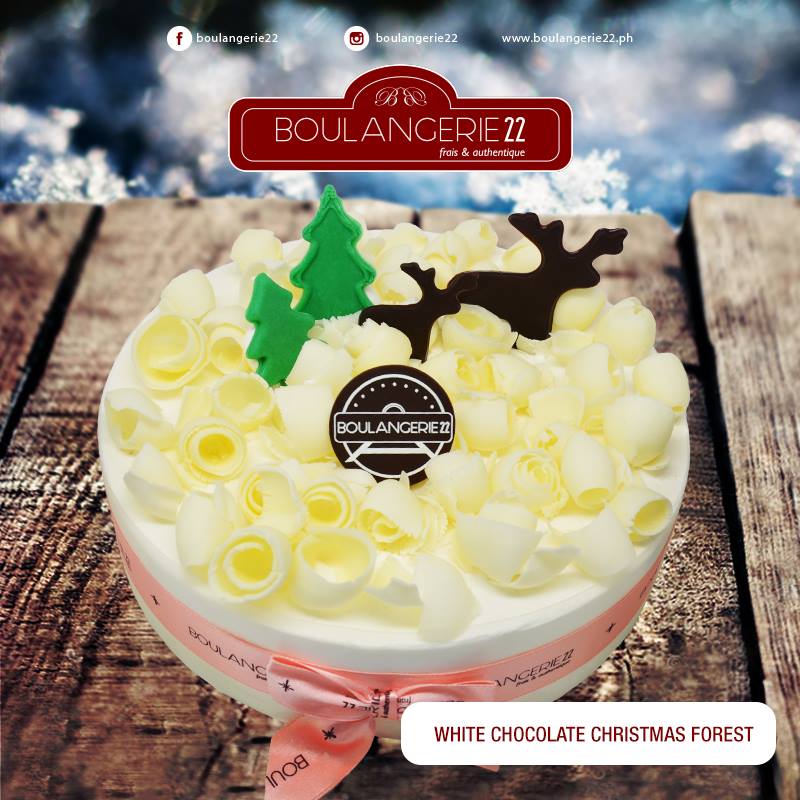 White Chocolate Christmas Forest (P699)
Set to open in four key areas in the metro, Boulangerie 22 is here to spoil you with mouthwatering croissants, crispy baguettes, and decadent cakes ̶ all, which are made fresh daily by a group of dedicated bakers, making their masterpieces from scratch. The passion poured into each recipe is enough for anyone to surrender to these savory treats. Open up your senses and let Boulangerie22 entice and excite your palate from the first bite!
Get a taste of Boulangerie22 with these goodies!
1. Korean Black Sesame Red Bean Bread (Sweet Bun filled with Korean Red Bean)
2. Mozzarella Sausage Tteok Bread (A Must-Try B22 Original! Mozzarella Cheese, Hungarian Sausage and Rice Cake Bread)
3. Hungarian Sausage Mozzarella Bread (Hungarian Sausage wrapped in Sweet Bun, topped with Mozarella Cheese)
4. Cheddar Chicken Floss Bread (Chicken Floss with Sharp Cheddar on a Sweet Bun)
5. White Chocolate Christmas Forest Cake (Vanilla Chiffon in Vanilla Buttercream with Loads of White Chocolate Curls)
6. Dark Chocolate Christmas Forest Cake (Chiffon in Chocolate Buttercream topped with Dark Chocolate Ganache)


This is a press release from Boulangerie22
SOON TO OPEN:
1. Madison Galleries, Alabang
2. SM San Lazaro

Ground Floor, Eton Baypark Manila, TM Kalaw cor Roxas Blvd, Manila

Ground Floor, Natividad Building, Chino Roces Ave. Extension, Makati City

GL2 One Legaspi Park Condominium, Rada St, Legaspi Village, Makati City

Unit 26 The Portal, Mayflower cor United Street, Greenfield District, Mandaluyong City