Romulo Café in Makati Embodies History and Delicious Filipino Flavors
Updated as of July 10, 2023. 
Embodying both history and old fashioned Filipino cuisine, Romulo Café in Makati elevates your dining experience. Popular for its elegant and sophisticated interiors, highlighting the artistic aspect of the Filipino culture is why guests wear their best outfit whenever they visit the café.
The restaurant got its name from the family patriarch, the late Carlos P. Romulo. The man known to his colleagues as "Mr. United Nations" is seen as the most important figure in international relations for the Philippines, serving the country for 27 years.
Today, Romulo Café is owned and operated by Sandie Squillantinim, granddaughter of the man they call "The General".
Apart from the decorative interior, Romulo Café also features a mini-museum, with photographs and memorabilia that can be seen on the restaurant's walls but what keeps the customers coming back is the delicious homecooked dishes, which will remind you of your childhood favorites. 
One of the must-try dishes in Romulo Café is the Lola Virginia's Chicken Relleno (Php 740/half chicken),  a flavorful roasted chicken stuffed with ground pork, raisins, chorizo, and peas. This special dish is the very first meal that Lola Virginia served to her guests in Washington, DC, introducing Filipino cuisine across the continent.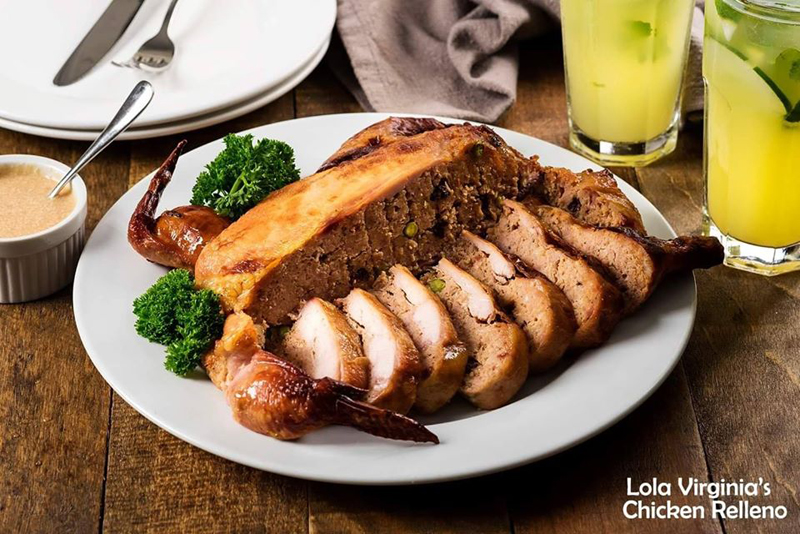 Lola Virginia's Chicken Relleno (Php 740/half chicken)
Another Filipino favorite is the classic Boneless Crispy Pata Binagoongan (Php 665), which consists of deboned deep-fried pig trotter or knuckle, served with eggplant-and-tomato shrimp paste sauce.
Boneless Crispy Pata Binagoongan (Php 665)
You might also want to try the Chicken Inasal Sisig (Php 368) which brings together two Filipino favorites—the sisig and the Chicken Inasal! It's a meal that you surely wouldn't want to miss out on.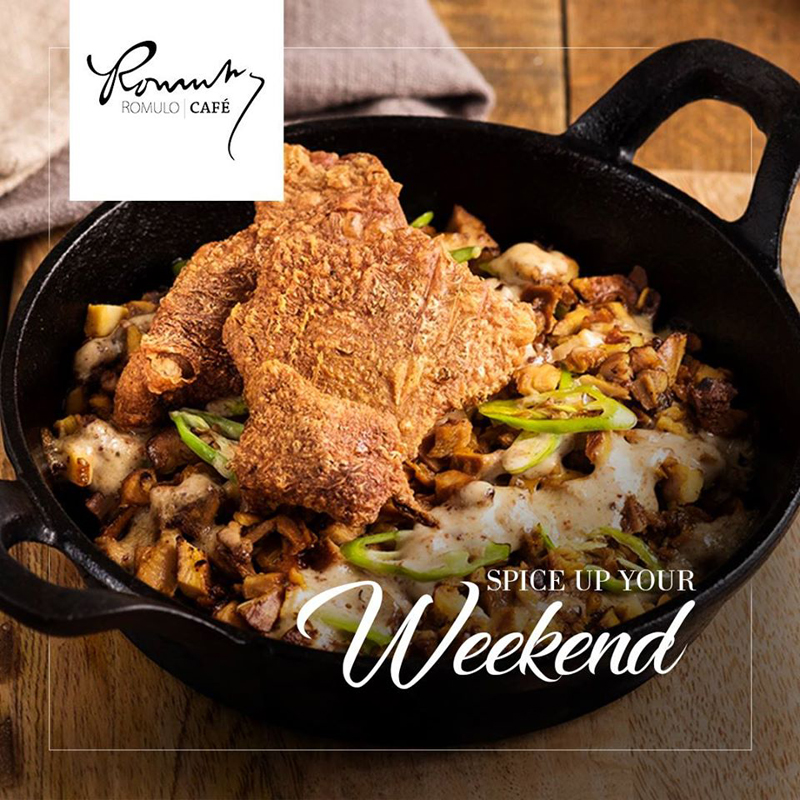 Chicken Inasal Sisig (Php 368)
Apart from that, the restaurants also serves other Filipino favorites that will that will definitely satisfy your appetite and have you craving for more!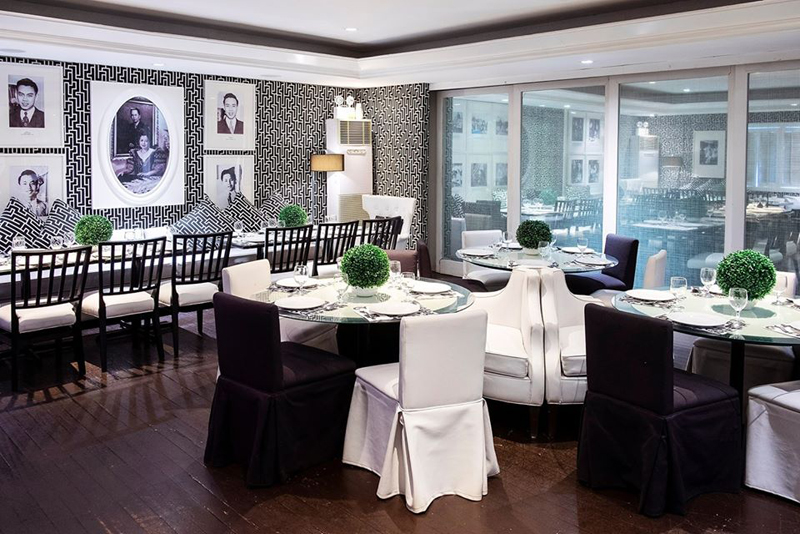 Visit the nearest Romulo Café branch and experience elegant yet old-fashioned Filipino dining experience!
How to get here
Romulo Cafe is located in Jupiter Street, Makati City.
From Ayala Avenue, head towards Paseo de Roxas and make a right onto Buendia. From there, continue onto Nicanor Garcia and then to Saturn. The restaurant is along Jupiter Street.
---
Images grabbed from Romulo's official Facebook page. 
Store Information
148 Jupiter St. Bel-Air Village, Makati City
02-8478-6406
11 a.m. to 3 p.m. (Lunch); 6 p.m. to 10 p.m. (Dinner)
32 Dr. Scout Lazcano cor. Scout Tuazon Tomas Morato, Quezon City
02-332-7273, 02-332-7275
Azumi Hotel 2205 Market St. Muntinlupa
02-556-1443
6 a.m - 10 p.m