CLOSED: 8 things you shouldn't miss at The Yard StreetFood Cinema
Update: The Yard StreetFood Cinema in Timog Avenue, Quezon City is closed.
When it comes to food parks, no other name packs the same punch as The Yard. What started as a food park for the hungry students of Xavierville Subdivision in Quezon City has now branched out to places like Pasig (The Yard Underground) and, most recently, Timog Avenue.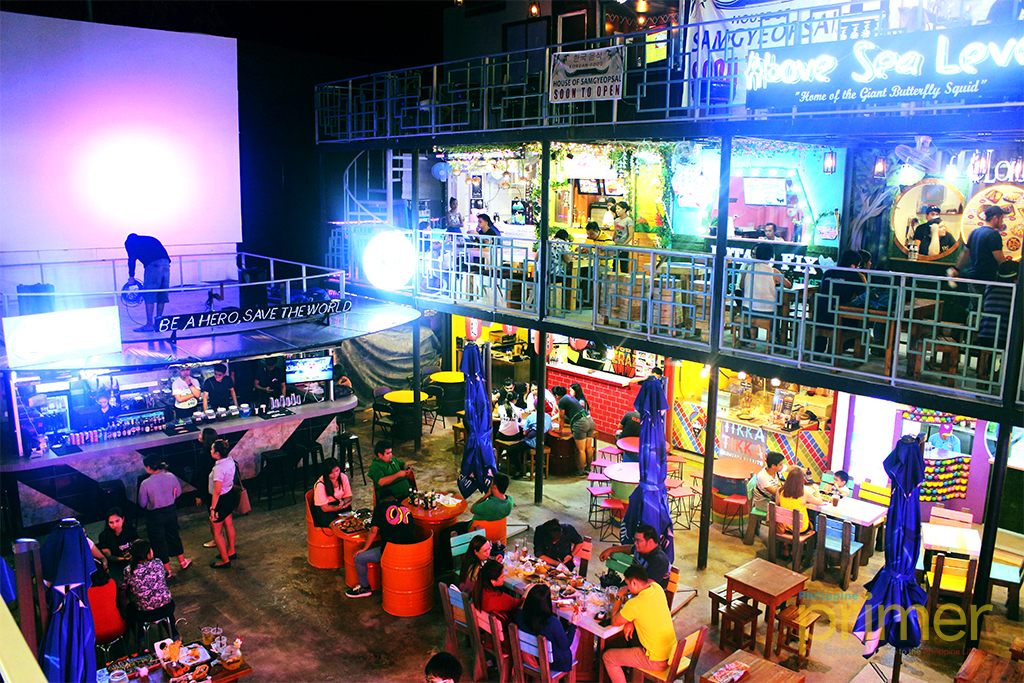 The aptly-named StreetFood Cinema fits the area like a glove. Timog is a hub for entertainment mainly because of its bars. It's also home to two of Philippine TV's biggest networks: ABS-CBN and GMA.
StreetFood Cinema plays into all of this with its biggest way of attracting the oftentimes tired and hungry crew of ABS-CBN and GMA: good movies paired with amazing food. It's barely a month in existence (it opened last November 3) and it already has its fair share of following, especially after dark.
With over 20 vendors, you'll never run out of choices at The Yard StreetFood Cinema. It will get daunting, as every vendor sells something you won't find anywhere else. With that in mind, here are our picks for the best grub at The Yard StreetFood Cinema, in no particular order (because they're too good to be ranked):
PIPA House's Lily TACOllins
When you think of movies and food, it's usually popcorn. However, that only happens in cinemas. At home, you usually order a double (if you're on a diet) or large pan pizza and chow down in front of your TV screen.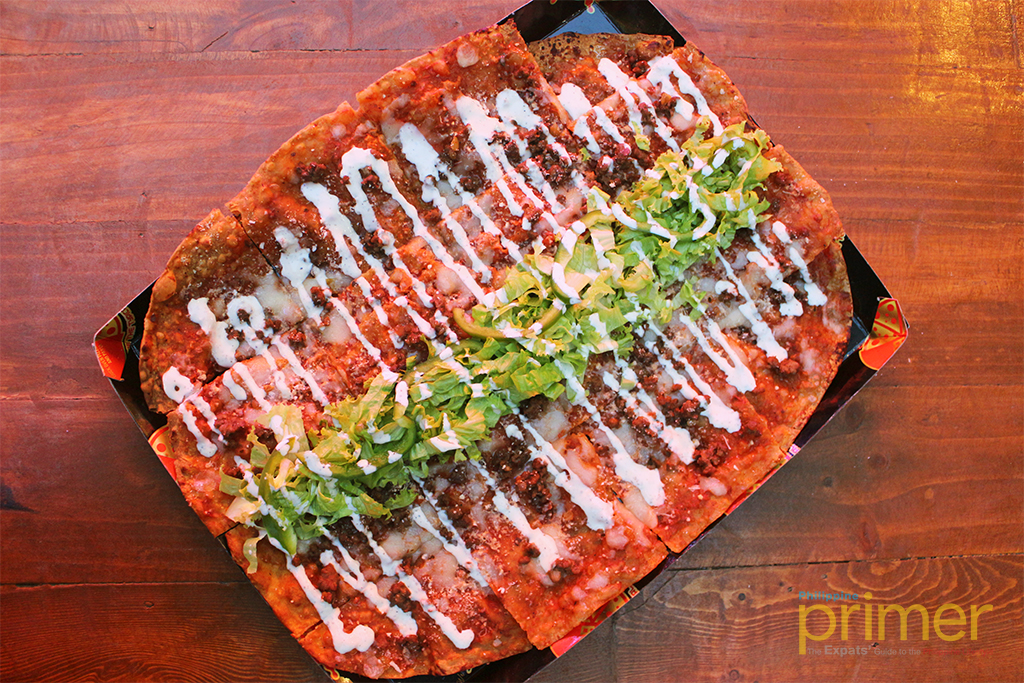 Well, you get to do just that with PIPA House's brick oven fried pizza. At Php 270, you can enjoy a crispy, thin crust pizza topped with things you will never see in popular pizzerias, like their Lily TACOllins.
It's for those who are absolute fans of tacos and pizza. You've got the flavors of tacos with a drizzling of ranch sauce on top of a ridiculously crunchy thin-crust pizza. It's good for 2-3 people, but we're betting you can finish one all by yourself.
The GodPasta by Daddy's Sisig Pasta
If there's pizza on the menu, then there's bound to be pasta. At StreetFood Cinema, no one does pasta better than The GodPasta by Daddy's. Known for their themed pasta, they have some pretty unique takes on an Italian classic, and one of the variants that people keep on coming back for is their Sisig Pasta.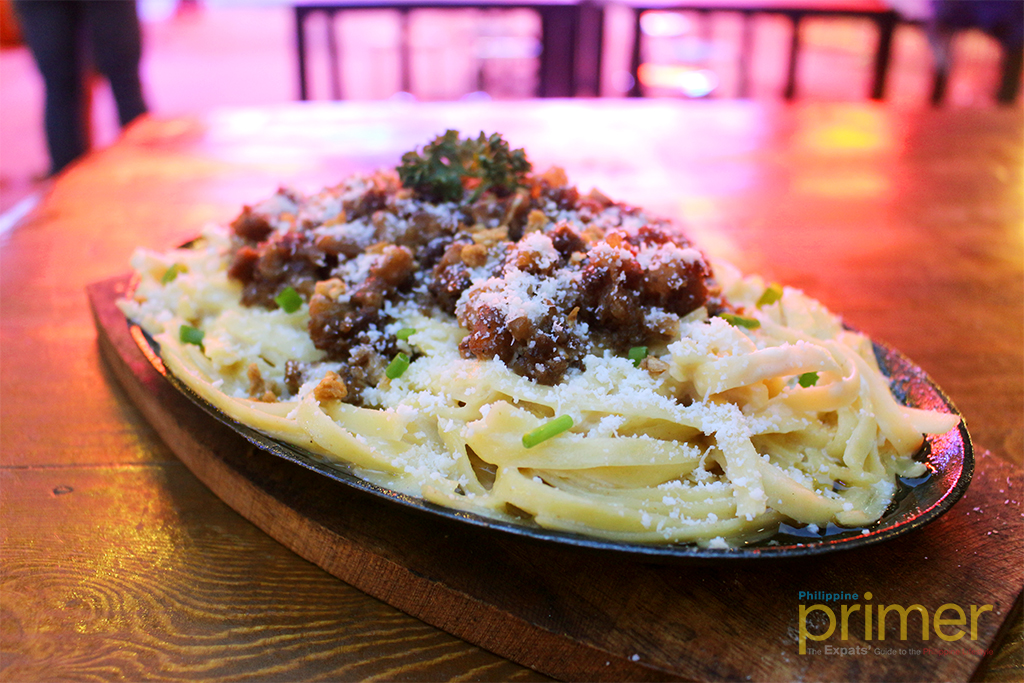 At Php 250, this monster of a pasta is something you will really go back for again and again. It's a marriage of sisig, a Filipino staple made with parts from a pig's face, and a creamy fettuccine alfredo, or at least a white sauce-based pasta. We couldn't ask because it was already in our mouths before we thought of asking.
The serving is big enough for two to three people and stays warm since it's laid out on a cast iron sizzling plate.
Cheesy Chimichanga by Consuela's Cheesy Chimichanga Gigante
Fans of the Merc with a Mouth, a.k.a. Deadpool, should (and probably would) be flocking to this place if they know it serves chimichangas. For the uninitiated, it's a deep-fried, meat-filled burrito that's popular in Southwestern US cuisine.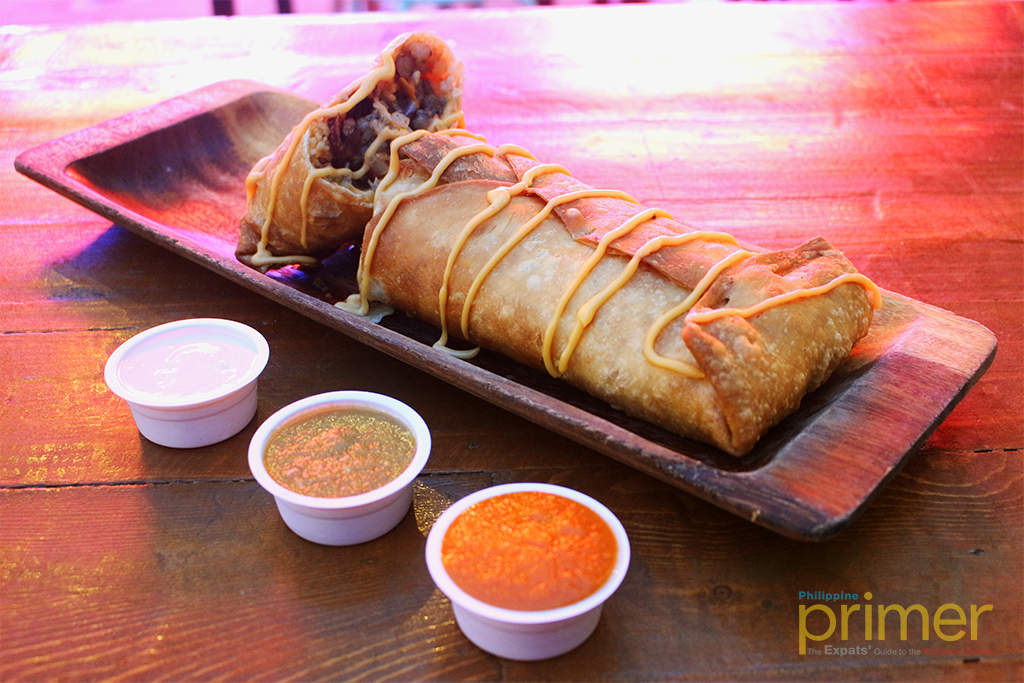 The Cheesy Chimichanga Gigante (Php 429) from Cheesy Chimichanga by Consuela's will not disappoint fans of Deadpool or Southwestern US cuisine in general. It's a huge (hence the Gigante in the name) chimichanga that's filled with Mexican rice, refried beans, pico de gallo, meat (your pick between sisig, beef, chicken, or chorizo) and cheese. Lots and lots of cheddar cheese.
It also comes with three sauces: a sweet and spicy chili tomato sauce, the creamy crema de ajo, and a sour salsa verde with a kick at the end. It's good for at most five people, but we're willing to bet three could finish this bad boy without batting an eyelash.
Crazy Sushi MNL's Crazy Ramen-Long
Yes, we're a Japanese company, so it shouldn't come as a surprise that we picked out Crazy Sushi MNL. Our Japanese staff might scoff at what these mad geniuses have come up with, but we're not complaining, especially with their Crazy Ramen-Long.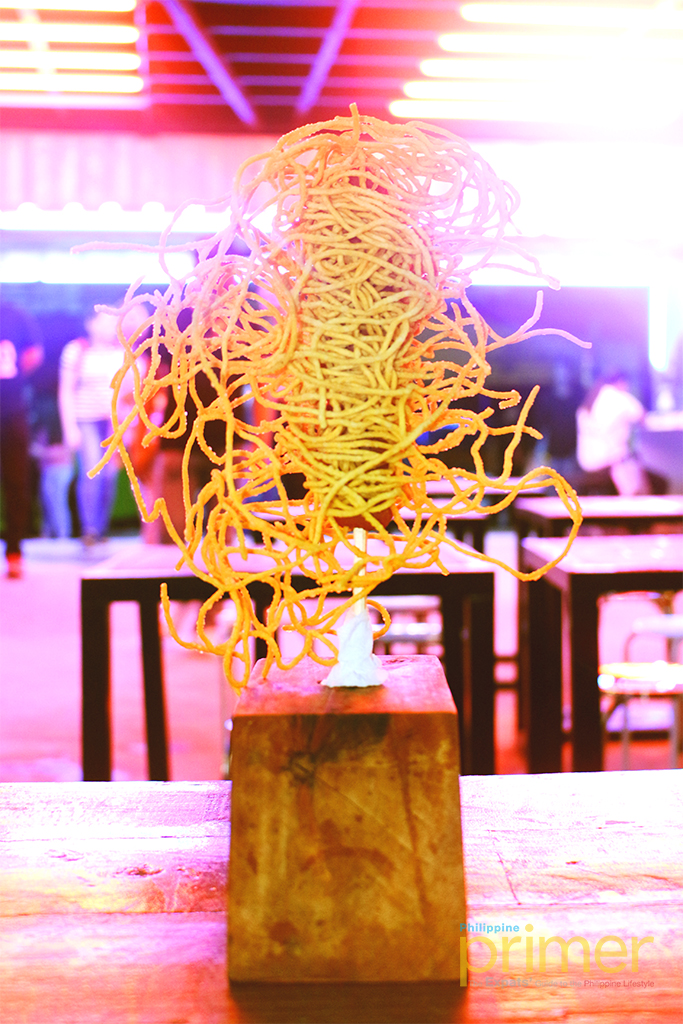 In case you're wondering, yes that is a hot dog wrapped in fried ramen noodles. See what we mean by mad geniuses? It's a weird concept, but one that works because of what they've done. At Php 140, it's good only for one person, but that's not a deal-breaker because you're probably not sharing this with anyone else.
The savory sausage-on-a-stick goes hand in hand with the fried ramen wrapped around it. The crunch from the ramen gives it an entirely different flavor from your bog-standard hot dog-on-a-stick. Again, weird but works wonders.
Hakuna Patata's Beef Potato Balls with Garlic Ranch Shots
Yes, it's a play on Timon and Pumba's wonderful phrase, but it's an apt one at that. You literally don't have to worry about the flavors at Hakuna Patata because they are all on point, and let's face it, who doesn't like potatoes?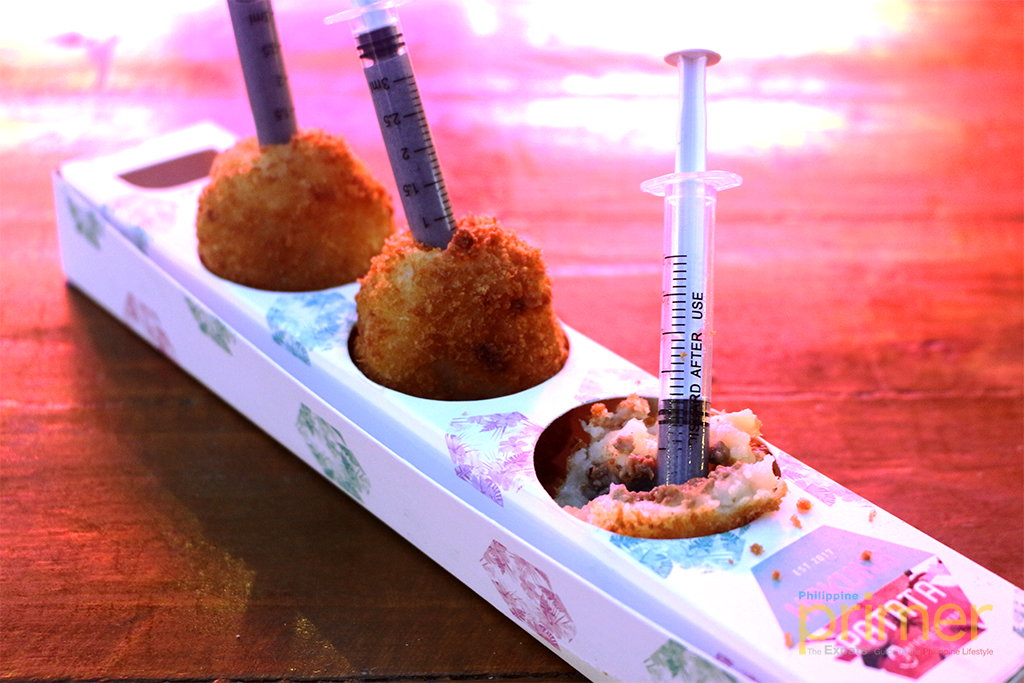 Case in point? Their Beef Potato Balls with Garlic Ranch Shots (3 pcs for Php 149) is the bomb. The savory croquettes are served with garlic ranch shots inside a syringe. A SYRINGE. Don't worry, though, because they only use clean ones.
The beef is savory and the garlic ranch sauce doesn't overpower the flavors you'll get once you bite into the croquette. As a matter of fact, it enhances it.
They also serve fries in ways you might not have thought of at home, like their Vanilla Sundae Fries (Php 199). Think of taking your salted french fries and eating it with a vanilla sundae. Yup. It's that simple, yet it's also that delicious.
Waka Waka – A Taste of Afrika's Quarter Chicken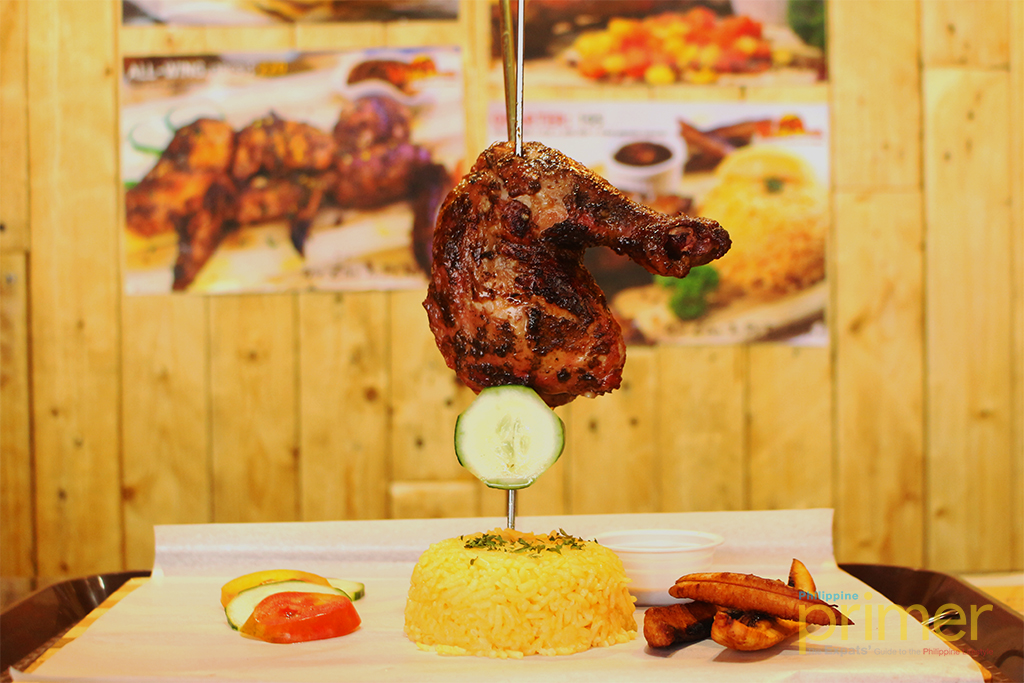 So there's this debate about chicken and whether it's best served fried or grilled. We're leaning towards the grilled side of the scale, and Waka Waka's Quarter Chicken (Php 195) is what we will present as proof.
Their spicy peri-peri chicken is perfect for anyone looking to have a good evening meal. It has the right amount of heat to stimulate your appetite without utterly burning your taste buds so you can still appreciate the way they cooked their chicken.
Want to amp up the flavor? Dip it in their chili sauce and give it a little more kick. Trust us, you'll end up asking them for seconds.
Q'urros Spanish Donuts' Matcha de Triple
The matcha craze hasn't died down as much as we would expect, and Q'urros Spanish Donuts is a good place to get your matcha fix.
Why, you ask? Well, they've taken a Spanish street favorite, the humble churro, and given it their own twist by serving it with matcha on matcha on matcha with their Matcha de Triple (Php 170).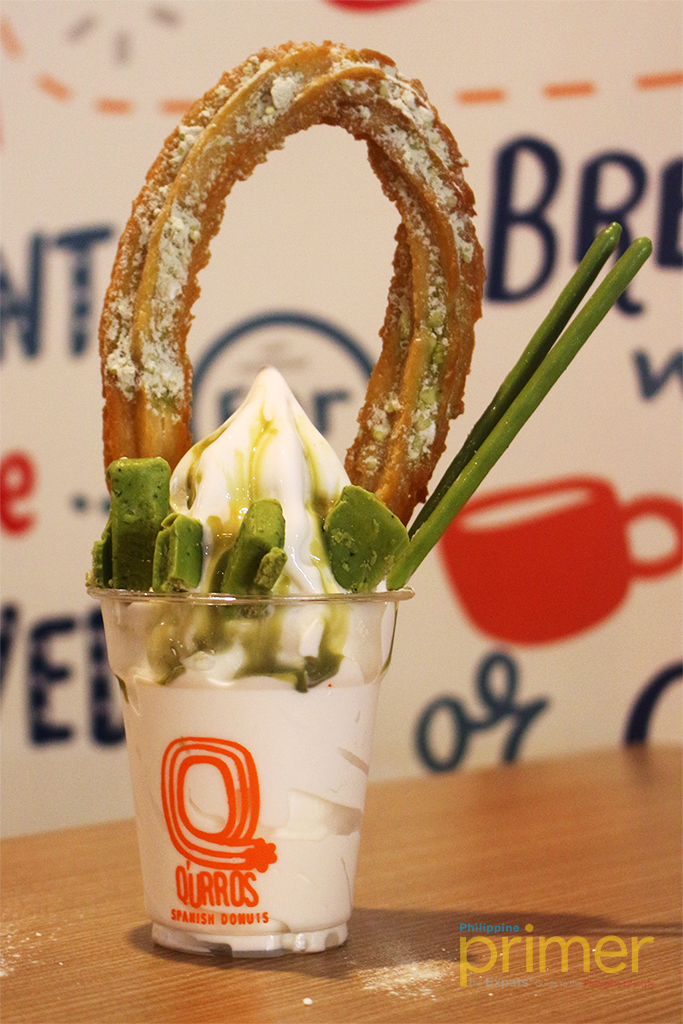 They take the classic churro, give it a loop, sprinkle it with powdered matcha. They then pop it inside a cup filled with soft-serve ice cream that's laced with matcha. To top it off, they put in one matcha-flavored wafer bar. See what we mean by matcha on matcha on matcha?
The many drinks of The Yard Quenchers
StreetFood Cinema never lets up with references to movies, and their main drink hub leads the charge. One look at their logo and you'll immediately know where they got their idea from.
Now, they're called Quenchers because they specialize in quenching your thirst. Every item on their menu pays homage to members of the Marvel Cinematic Universe's mightiest, and two of their drinks caught our attention: Hulk Smash and Iron Man.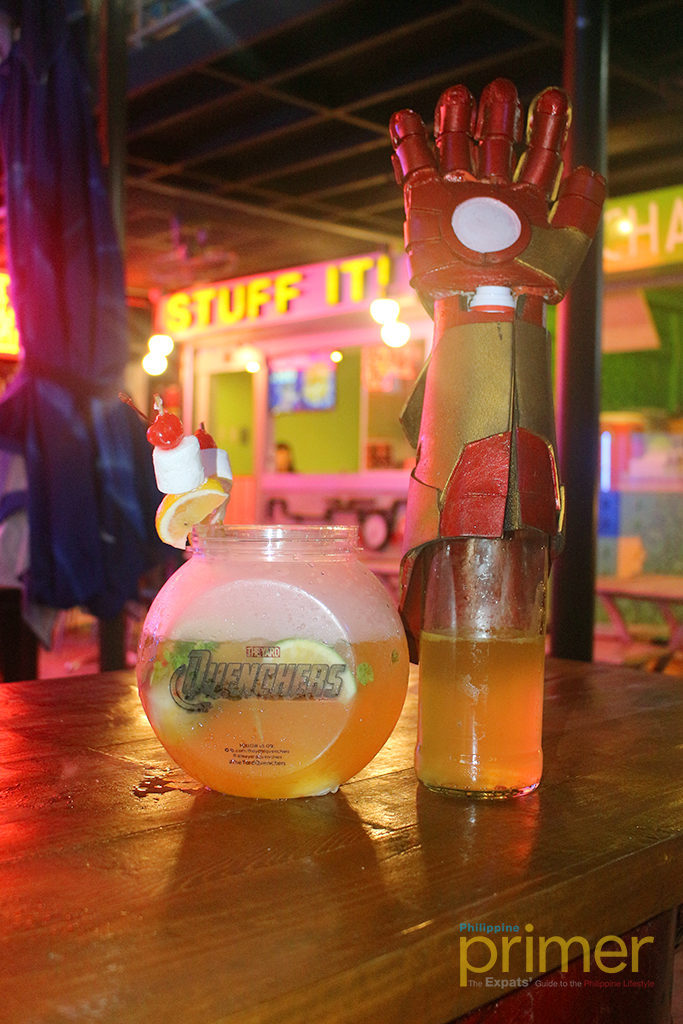 At Php 350 each, these drinks quench your thirst and tickle your fancy with how they serve it. Iron Man is simple enough: it's a cocktail served in a rather big jar with the spirit poured out of – you guessed it – Iron Man's hand.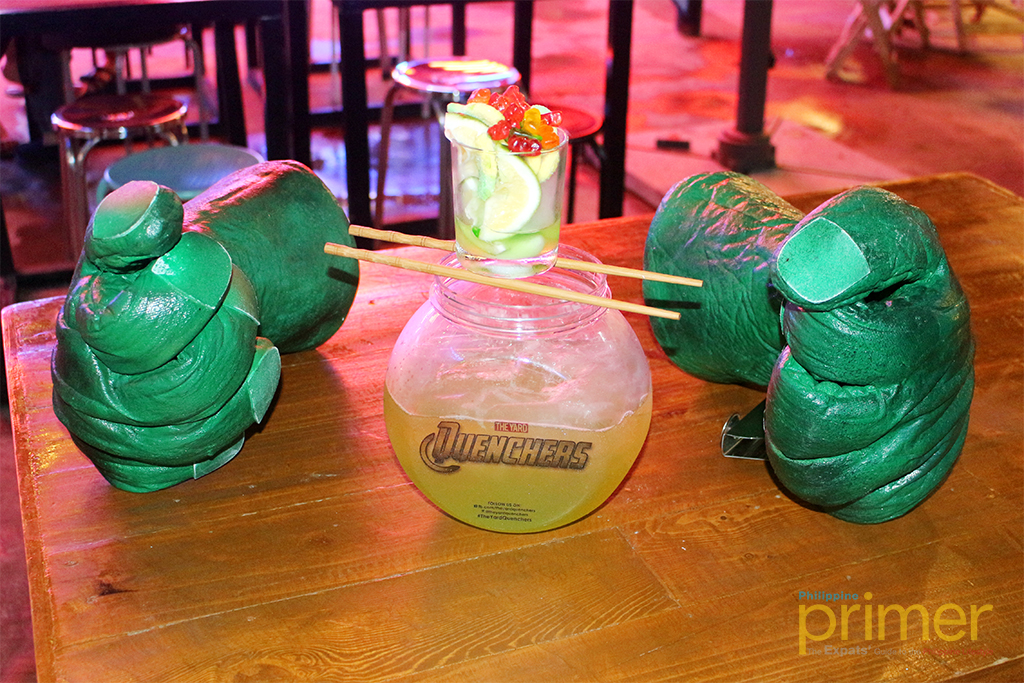 Hulk Smash, on the other hand, lets you vent out your frustrations before taking a sip. You see, there's a unique way of prepping this drink. They bring the jar to you and prop a shot class on top of it with chopsticks. They then give you a pair of Hulk hands and have you perform The Hulk's signature move on the table to complete the drink.
We'd love for you to finish the drink yourself, but please share it with at least two of your friends.
Remember, these are just eight of the amazing grub you can find at The Yard StreetFood Cinema. Swing by their place located at #18 Timog Ave., Quezon City, right in front of Laffline. They're open from 4 pm to 2 am daily.
---
Written by Andronico Del Rosario

18 Timog Ave., Quezon City