Takashi Japanese Restaurant: Home of the Panda Sushi
Fans of Chef Takashi Kawasaki's Takashi Japanese Cuisine in Kapitolyo, Pasig City can now experience his creations in a new setting, as it opens its second branch in Elizabeth Place, Salcedo Village, Makati City.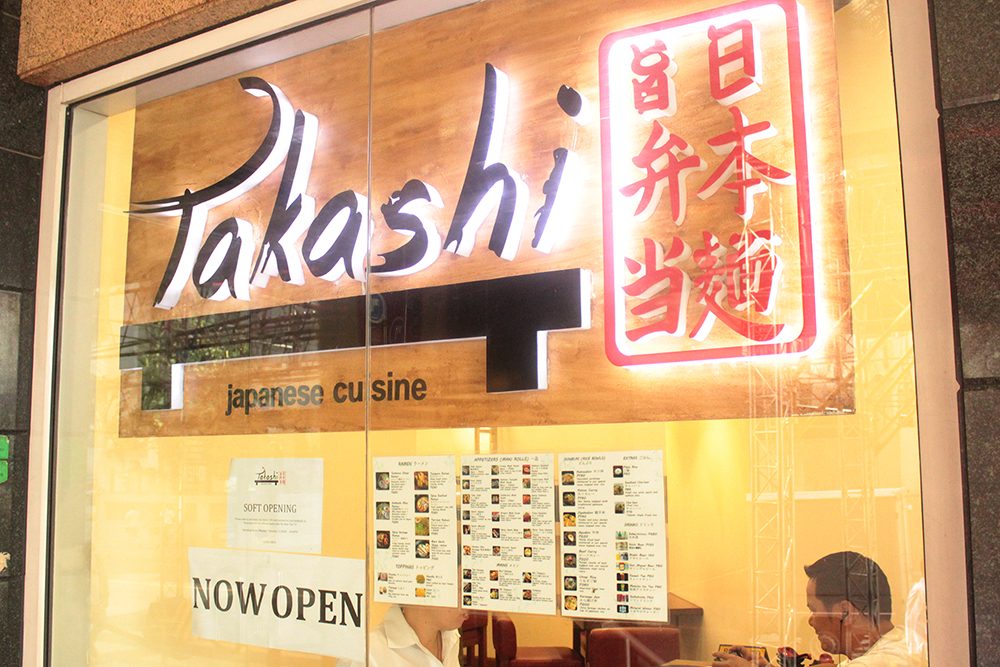 TAKASHI'S LANDS IN MAKATI. Chef Takashi reaches out to Makati workers with his 2nd branch.
Takashi Japanese Cuisine Makati is as authentic as a Japanese restaurant experience as you can get. Chef Takashi takes his cue from traditional restaurants you'd see in Japan and gives it his own twist. What he comes up with is something that has the look and feels of a Japanese restaurant yet is not alienating for Filipinos who just want to dine on Japanese cuisine.
ALL JAPANESE. It's as close to Japanese as you can get.
Most of the dishes from his Kapitolyo branch have made the trip. Chef Takashi, however, has a few surprises in store for Filipinos looking to dine at this branch.
Filipinos who come in and expect a full Japanese experience will not be disappointed (or anyone else for that matter). The menu is as authentic as it gets, with a couple of tweaks the chef put in. Spam is featured in three appetizers: gyoza, musubi, and maki. Chicken skin, a popular street food, is fried Japanese style, known as karaage.

CHICKEN SKIN KARAAGE. Quite possibly the best chicken skin you'll have. Yours at only Php 90.
According to Chef Takashi, he sees the Spam appetizers (Gyoza at Php 165, Spicy Maki at Php 215, and Musubi at Php 150) and the Chicken Skin Karaage being his best sellers. He also said the Spicy Karaage Ramen (Php 295) is sure to be a hit, especially with Filipino diners.
JAPANESE GOODNESS. (L) Spicy Karaage Ramen with a bowl of Cha-han (Php 85) or Takashi-style fried rice. (R) One of the restaurant's best-looking dishes: Chirashi Sushi (Php 290).
Volcano Rabbit Curry (Php 280)
Don't let their cute curry fool you, the Volcano Rabbit Curry is quite spicy. Also, instead of pork cutlets, it uses thick spam cutlets and fits well with the curry and slightly eases the hotness. Don't worry, customers can choose from Takashi's 5 levels of spiciness.
Beef Curry Rice (Php 245)
Other curries include the Beef Curry Rice, Katsu Curry Rice (Php 225), and the interesting Curry Cha-han (Php 99) which is a curry flavored fried rice.
Takashi Japanese Cuisine has another thing up its sleeve that's a perfect fit for Makati: the popular Japanese bento. Chef Takashi says because of the many offices located in Makati, people rarely have time to sit down and eat a full meal. Bento solves this by giving diners an option to have their meal to-go or for delivery (yes, Takashi Japanese Cuisine in Makati delivers).
A JAPANESE STAPLE. Takashi Japanese Cuisine Makati has bento meals for people who are always on the go; a perfect fit for the Central Business District.
Takashi Japanese Cuisine can be found at Ground Floor of Elizabeth Place Bldg. 332 H.V. Dela Costa St, Salcedo Village, Makati or their first branch at 8006 Pioneer St. cor. United St, Pasig City.
Drop by their restaurant today and experience the best in Japanese cuisine!
---
This also appears in Philippine Primer Japanese magazine's June issue.
General Information
8006 Pioneer St. Cor. United St, Pasig
0905-510-9554
Mon – Friday: Lunch 11:30am – 2pm , Dinner 5:30pm – 10pm / Sat – Sun: 11:30am – 10pm
1/F Elizabeth Place Bldg., 332 H.V. Dela Costa St, Salcedo Village, Makati
0995-321-0951