Ichiba: Japanese Market
There are a lot of Japanese restaurants in the country, but none are quite like Ichiba: Japanese Market at Newport Mall. If their grand opening last Friday, March 4 is any indication, it will be one of the mall's most sought-after restaurants.
WHO'S WHO OF THE PHILIPPINES. VIPs, including celebrities, were spotted during Ichiba's grand opening.
Ichiba: Japanese Market is the first Japanese Seafood Market Concept restaurant to hit Philippine shores. Taking its cue from the wholesale Tsukiji Fish Market in Tokyo, the very popular Kuromon Ichiba in Osaka (known to the locals as Gastronome), as well as Kyushu's and Hokkaido's multitude of seafood, Ichiba: Japanese Market will surely redefine your dining experience.
A PORTAL TO JAPAN? Perhaps.
Like any Japanese market, there is no "door" to speak of: you're welcomed instead by an expansive sign of the restaurant along with the warmth of the staff. From the time you enter the restaurant, you'll feel like you've been transported to the streets and markets of Japan. If you're looking for privacy, Ichiba: Japanese Market has three function rooms at the back, great for meetings and private gatherings.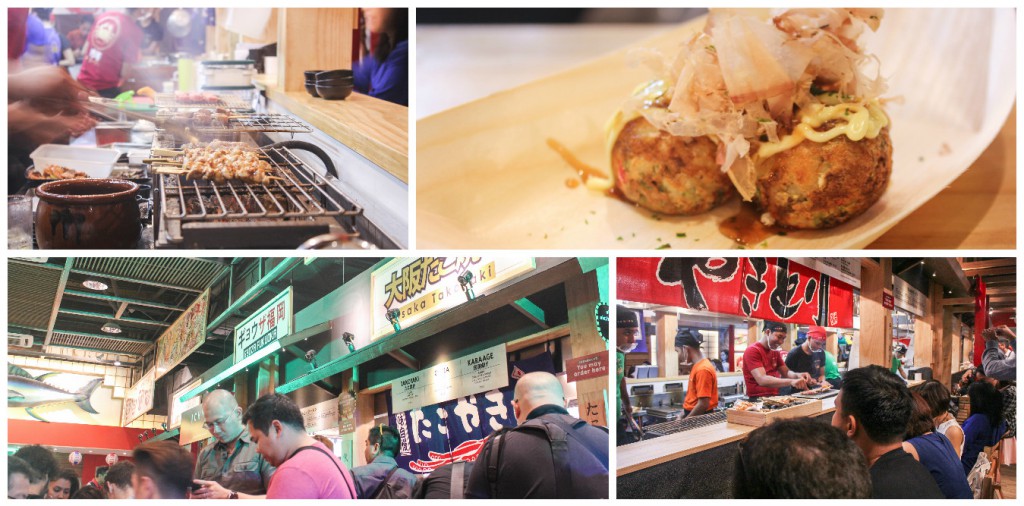 COMFORT FOOD. Every Japanese street food you've wanted to try.
Once inside, you can take your pick from the many options available. The middle of the restaurant is home to Japanese comfort food like tempura, gyoza, yakitori, ramen, and takoyaki. Towards the right, you will see a live aquarium display, where you can choose whichever seafood catches your fancy.
EXCELLENCE. Highly-trained chefs give you a taste of Japanese culinary excellence.
Quality is at an all-time high, as all of their ingredients are sourced straight from Japan. Their chefs are also trained by a former sushi master from Midori Sushi, making the prep stage as authentic as it gets.
If you're not a fan of seafood, you can still get your fix at Ichiba: Japanese Market. Besides the wealth of Japanese comfort food, they also serve high grade steaks and meats. Have your pick of Wagyu or Angus beef prepared just the way you like it.
CAP OFF YOUR NIGHT.
Fancy a night out? How about spending it at Ichiba: Japanese Market? Featuring the first Asahi Bar in the Philippines, Ichiba ups the ante by partnering with the popular Japanese beer brand. A serving of yakitori goes really well with the crisp, dry taste of Asahi Beer.=
With all these options, you'd think it's fairly expensive to eat at Ichiba: Japanese Market. With prices ranging from P200 to P400 per person, a full meal will never leave a hole in your pocket, especially with the quality of food they serve.
A GUIDE TO ICHIBA. So you don't get too lost in all its goodness.
Ichiba: Japanese Market is located at the 2nd floor of the Newport Mall in Resorts World Manila. They're open daily from 11 a.m. to 11 p.m.