Meat Depot in Parañaque City: Home of High Quality and Tender Steaks
Updated as of February 12, 2020
BF Homes in Parañaque City had needed a proper butchery for the longest time. There are rows upon rows of restaurants in Aguirre Street alone, but there used to be no place where residents can get high-grade, nicely-marbled cuts of meat and fresh fish that's already cut and ready for cooking and serving. The neighborhood groceries, if they ever sold meat cuts at all, hardly sold them for cheap. This is why the opening of Meat Depot brought such joy into BF Homes' residents and steak-lovers alike.
–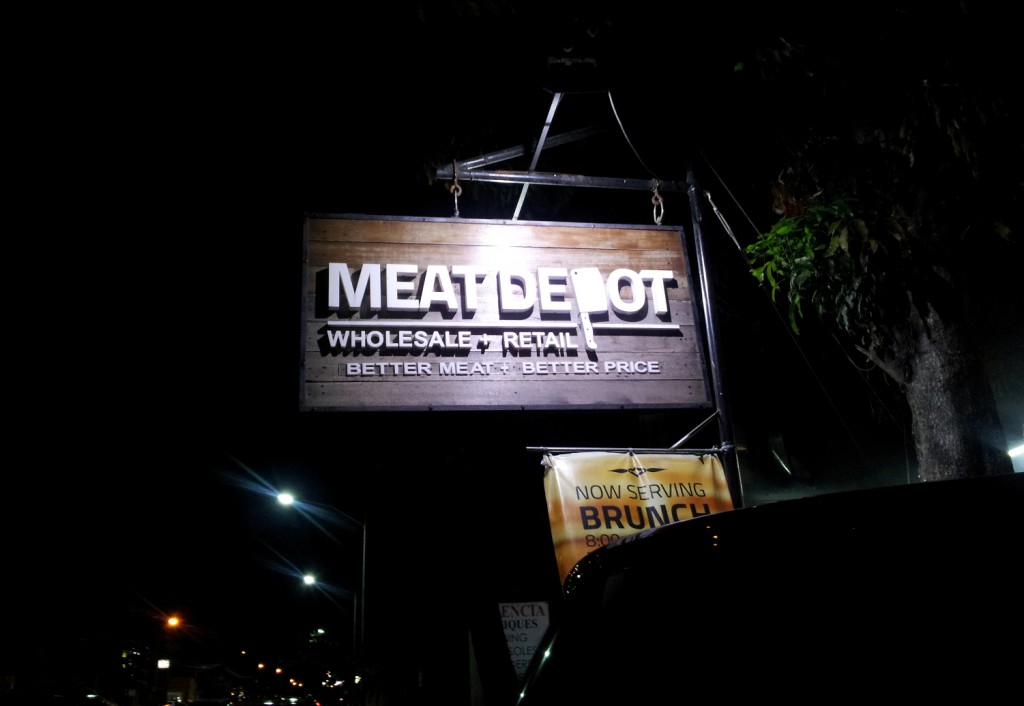 Meat Depot's signage along Aguirre Street
–
The butchery – which also doubles as a diner – sells the following steak cuts: Wagyu beef, Angus beef, premium local beef (which is sourced from grass-fed cows in Batangas), pork, lamb, meat trimmings and seafood. They also sell processed meats such as different types of longganisa, burger patties, corned beef and tapa, as well as pre-cooked and frozen dishes such as lamb curry and Korean beef stew. Every cut of meat and fish – be it ribeye, tenderloin, or T-bone – is guaranteed fresh, tender and of high quality. Add to that the fact that Meat Depot's prices are less expensive than most regular supermarkets, and you've got yourself a great deal.
–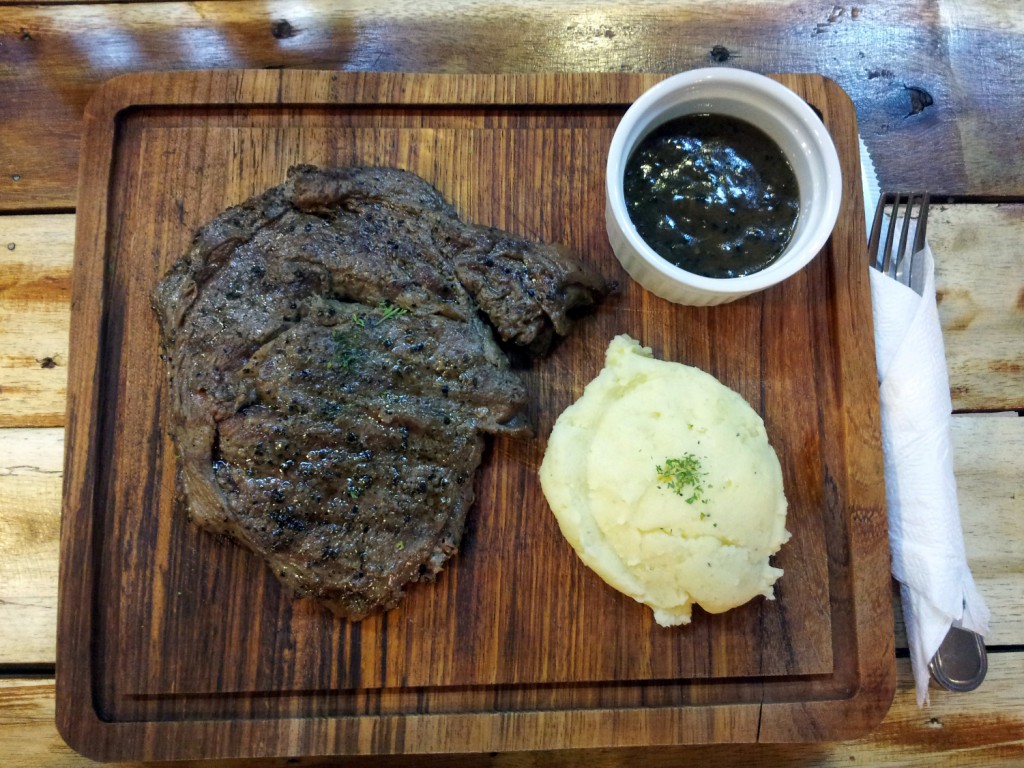 Beef Ribeye Steak with Spicy Pepper Sauce and Mashed Potatoes (imported: Php 650 to Php 1,000+, local: Php 200 to Php 300 + Php 125 for cooking service)
–
But don't just take our word for it – if you really want to know how good Meat Depot's offerings are, the best way to find out is to taste them right on the premises. Meat Depot serves brunch and dinner, made by corporate chef Mikey. You only have to pick a cut of meat or seafood from Meat Depot's freezer, choose the doneness from rare to well-done, pick your side dish and steak sauce, and wait for your glorious grilled steak to be served. Try their mashed potatoes and their excellent mushroom gravy, and get an order of their famous Chilak (chicharon bulaklak) – and we assure you, you'll have no regrets.
–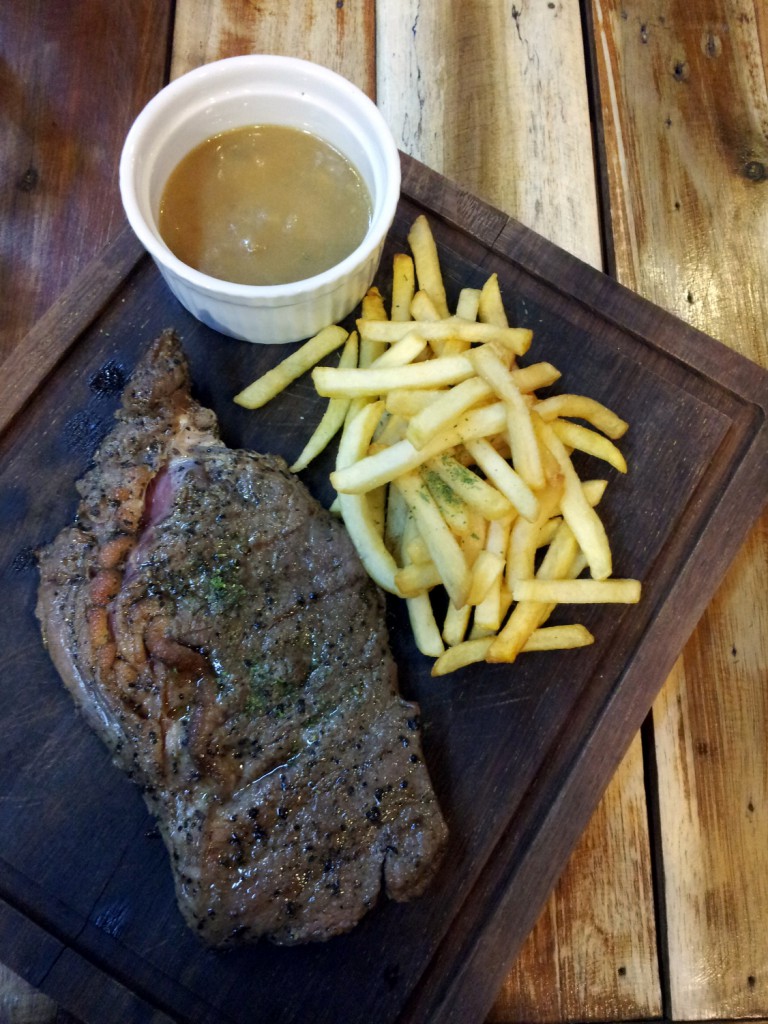 Beef Ribeye Steak with Mushroom Gravy Sauce and Fries (imported: Php 650 to Php 1,000+, local: Php 200 to Php 300 + Php 125 for cooking service)
How to get here
From V.A. Rufino St., take Skyway going to San Antonio, Parañaque

Exit onto 

Dr. Arcadio Santos Ave

/

Paranaque – Sucat Rd

/

Route 63

Then f

ollow 

Dr. Arcadio Santos Ave

/

Paranaque – Sucat Rd

/

Route 63

Make a left turn in Filipinas Ave.
Head straight to Kyoto
Then another left turn to Aguirre Ave. the destination will be on the right side
---
–Photos and article by Jess Jacutan
A version of this appeared in Philippine Primer Japanese Magazine Vol. 117, Vol. 138, Vol. 141 and English Magazine Vol. 47
–
General Information
283 Aguirre Avenue, BF Homes, Sucat, Paranaque
(02) 7759 4181
0926 647 4778
Shop: 8 a.m. to 10:30 p.m. (Mon to Sun) Diner: Breakfast- 8 a.m. to 11 a.m. Lunch and Dinner- 11: a.m. to 1 p.m. (Mon to Sun)