Derive Café in Alabang: Classic Arcade, '80s Pop, and Comfort Food
Did you know that the classic arcade game Pac-Man was released in the '80s? The same decade Michael Jackson started haunting the night with "Thriller" and Madonna making people groove to "Like a Virgin."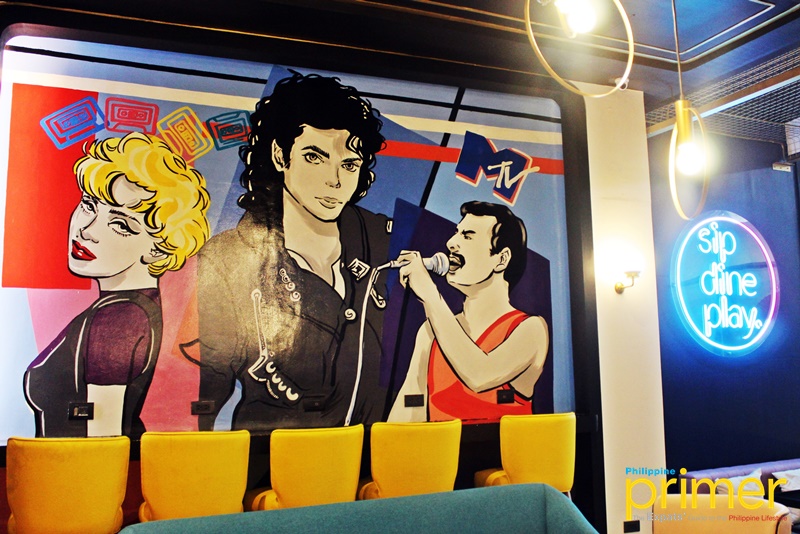 These are just some of the many things that made the '80s a glorious era that many people in the present can't stop looking back to. 
And Derive Café in Madison Galeries is deriving from this nostalgia by bringing back the best of the '80s through food and fun!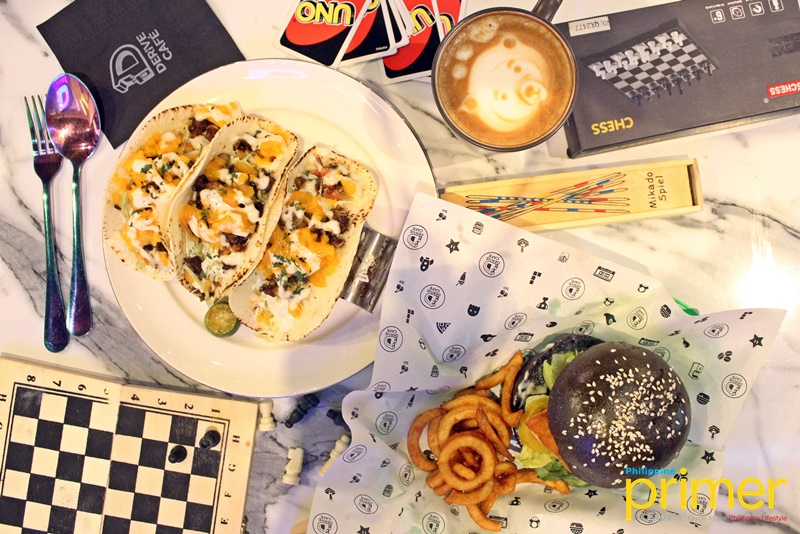 Time Travel at Its Finest
At Derive Café, it don't matter if you're black or white as everyone can find their own color with its splashes of pop colors and neon lights that fill you with a unique kind of energy.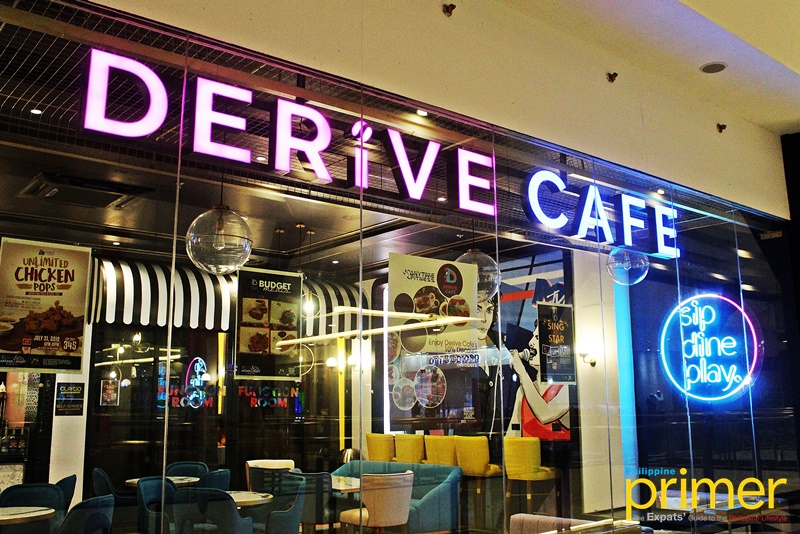 Inside, you'll immediately get stunned by an awesome mural of Madonna, Michael Jackson, and Freddie Mercury, who are perhaps the holy trinity of '80s pop music. The mural is adjacent to the Function Room-slash-KTV Room.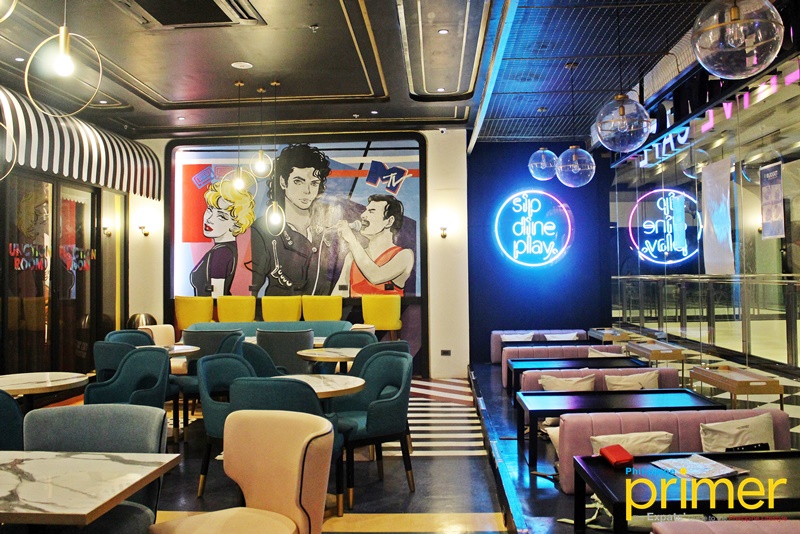 Derive Café is laden with comfortable, stylish chairs perfect for a fun, dining experience
Across the mural is what might become your most favorite part of the café—the Game Room.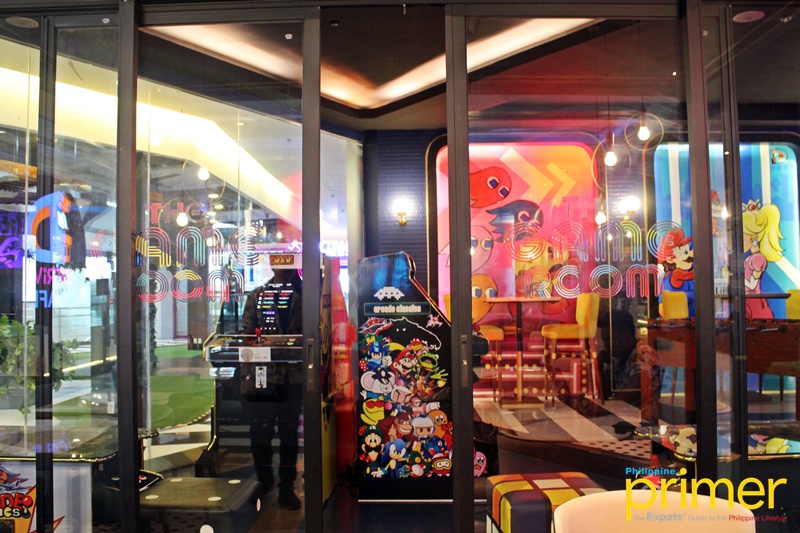 Game Room
The room is set just as you would imagine a classic gaming arcade to be. Each machine is loaded with several games like Pac-Man, Metal Slug, Marvel, Street Fighter, Donkey Kong, Galaga, and everybody's all-time favorite, Super Mario—their all pixelated forms add to the level of amusement and thrill you'd feel. 
Inserting a five-peso coin into the machines will instantly bring you back in time, with pixels forming images right in front of your eyes and the hypnotizing melody of the classic machines drifting through your ears.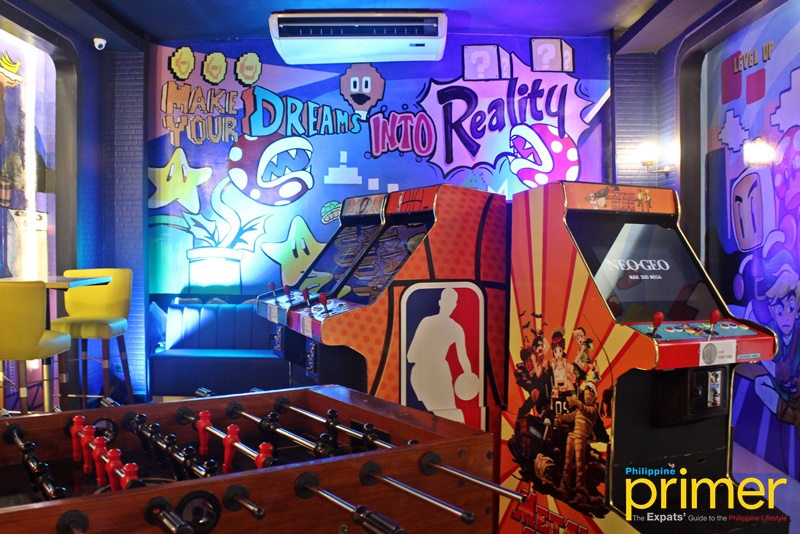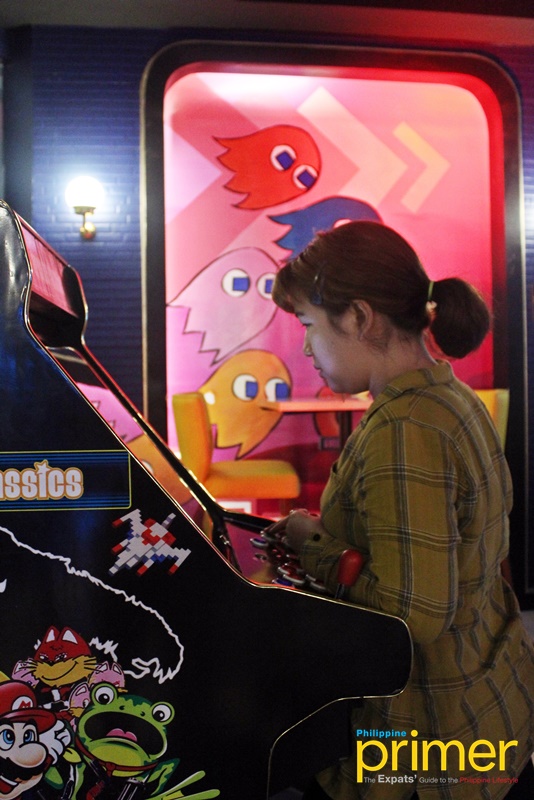 Fun, Funky, Full
Derive Café is named such as it takes on the concept of literally "deriving" an idea from something, evolving as the time changes. This time, their focus is on bringing back the '80s through arcade games and '80s-inspired hearty American comfort food with a Filipino twist. 
Their Porky Sisig Tacos (Php 220 for 3 pcs), for example, marries the Filipino-favorite pork dish, usually seasoned with calamansi, with three different kinds of cheese—Monterey Jack, cheddar, and mozzarella.
Wrapped as one snack, the ensemble surprises the tongue with a burst of flavors and texture, drawn from the cheeses and the crunchy bits of meat.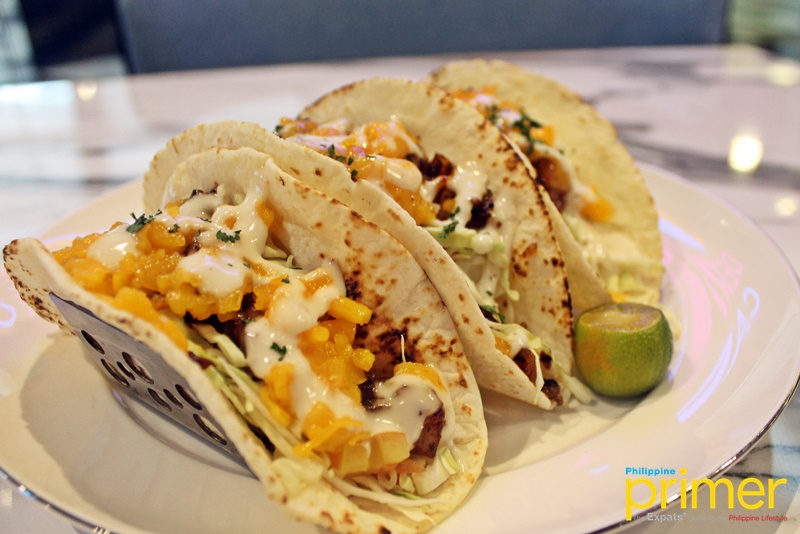 Porky Sisig Tacos (Php 220/3 pcs)
Another must-try is the Next Level Salmon Burger (Php 195) with a thick slice of flavorful salmon on a bed of lettuce and tomatoes, enveloped between black, fresh-tasting buns. The burger goes with a side of curly fries, crunchy and chewy to the bite.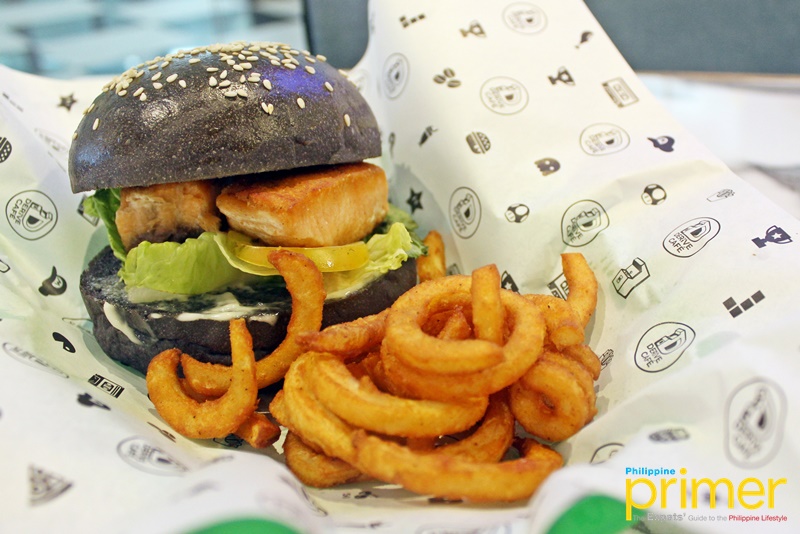 Next Level Salmon Burger (Php 195)
For main dishes, one of their best-selling plates is the Bowzer Adobo BBQ Ribs (Php 250).
Named after Mario's long-time enemy, this dish will totally climb its way to your list of favorites through its balance of sweet, slightly sour, and salty taste—resembling the crowd-favorite adobo. Paired with turmeric-garlic rice, the flavors are toned down, leaving you wanting more.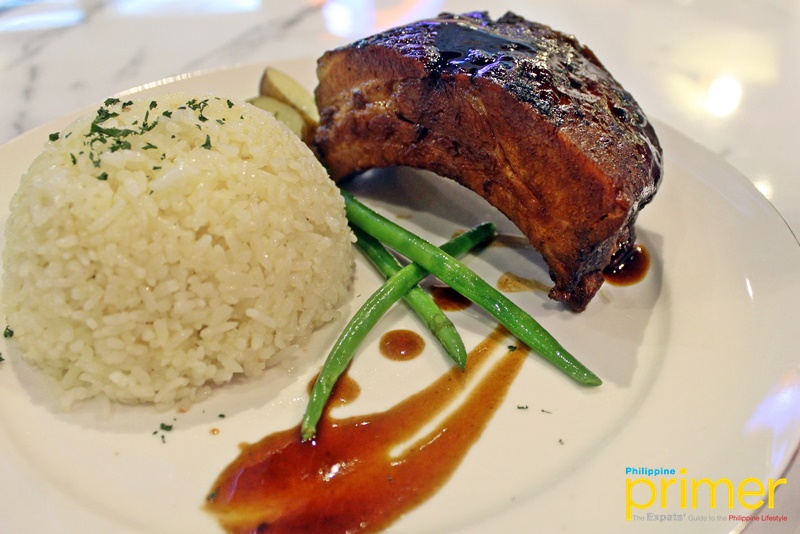 Bowzer Adobo BBQ Ribs (Php 250)
Another heart-stealer, especially for coffee fanatics, is the Café Latte (Php 120 for 12 oz; Php 140 for 16 oz) complete with a special latte art should you want an artsy cup coming your way. 
With a combination of 80% Arabica and 20% Robusta, the hot cup of coffee is the right blend of bitter and sweet, with a chocolatey after-taste.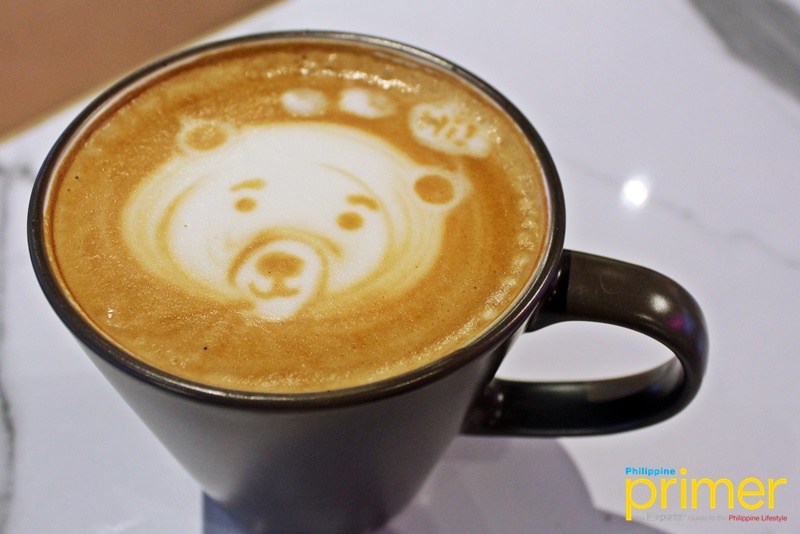 Café Latte (Php 120/ 12 oz., Php 140/16 oz.) 
For non-coffee drinkers, Derive Café also offers milkshakes like their irresistible Ivy Strawberry Rush (Php 266), a powerful kiss of milky strawberry that fills your mouth with just the right amount of sweetness.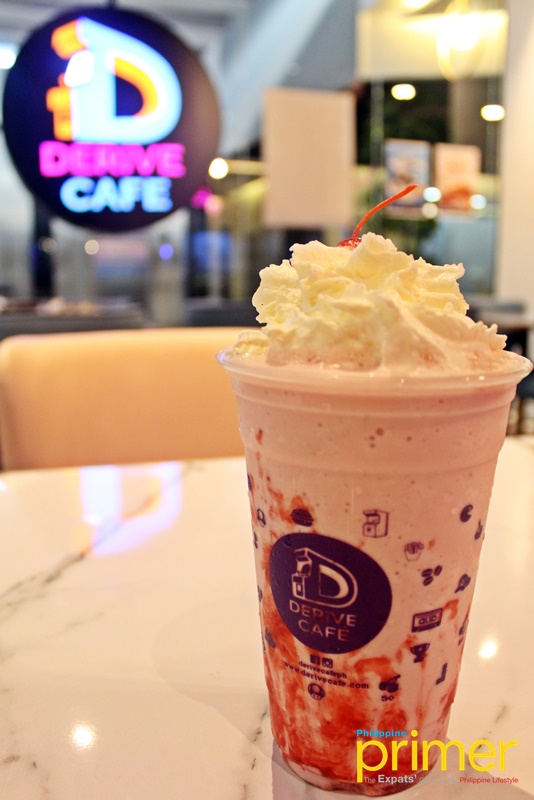 Ivy Strawberry Rush (Php 266)
You may munch and gulp on these treats while enjoying a chess battle with your friends or defeating them on a round of Snakes and Ladders and other classic board games!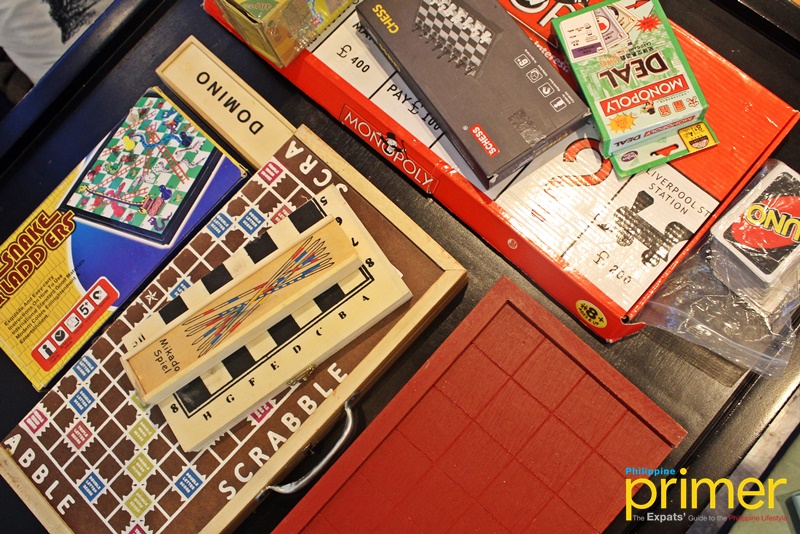 Classic Board Games
More Surprises to Come
Derive Café is not done spoiling us as they will soon carry beers on their menu.
Also, don't forget to drop by the cafe on July 31 as they are offering unlimited Chicken Pops with unlimited rice and red iced tea for one day only!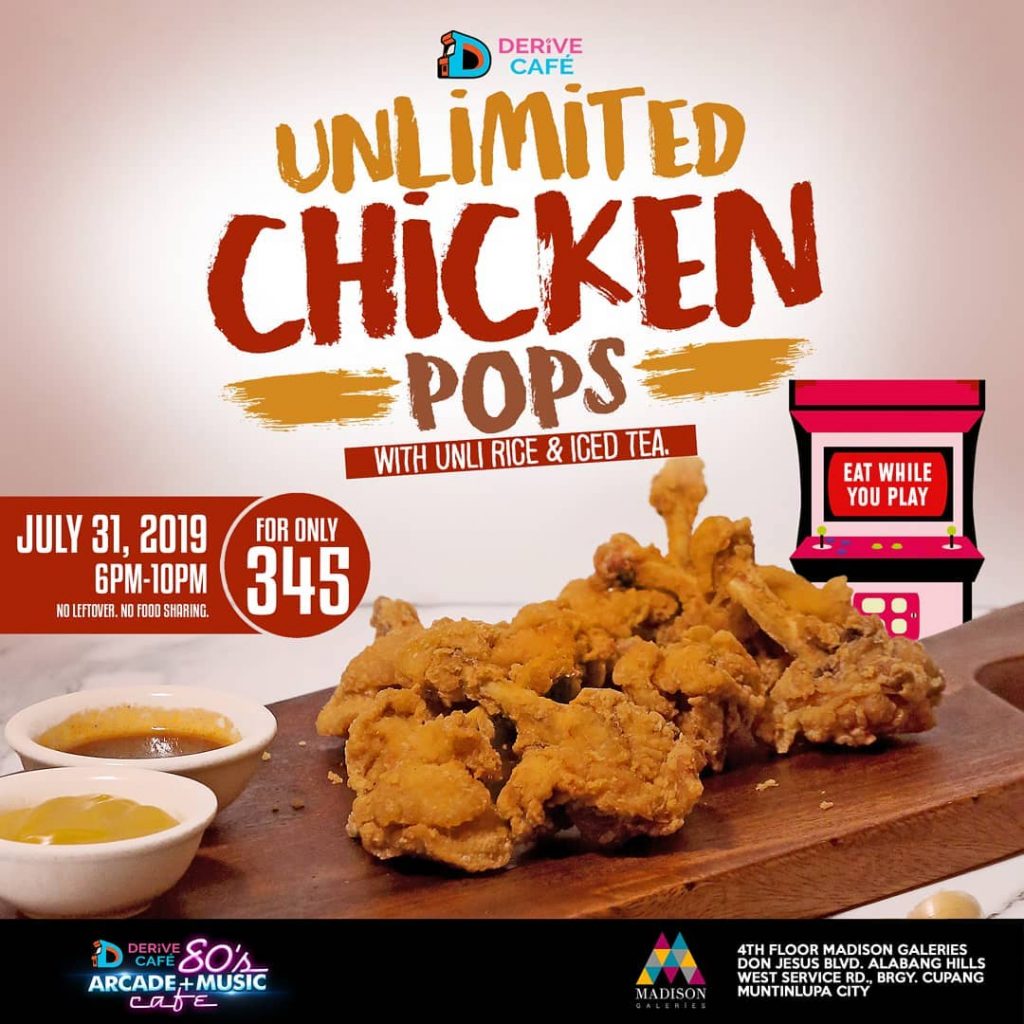 For a nostalgic, time travel to the '80s, enter Derive Café at Madison Galeries—your portal to making dreams into reality. 
How to get here:
By public transport: Most buses coming from the north and south, stop at the South Station in Alabang to drop off their passengers. From the South Station, walk to the market place and ride a jeepney with a "Sucat" signboard and stop at the Total gas station. A jeepney ride costs Php 9 only. 
From the gas station, walk towards Madison Galeries located at 398 Don Jesus Blvd. Derive Cafe is located on the 4th floor. 
---
Written by Chin Sanigan
General Information
4/F Madison Galeries, 398 Don Jesus Blvd. cor. West Service Rd., Alabang Hills, Brgy. Cupang, Muntinlupa City
0917-711-4937
10 a.m. to 9 p.m. (Mon to Thur); 10 a.m. to 11 p.m. (Fri to Sat); 10 a.m. to 10 p.m. (Sun)
marketingcafe@derivecafe.com