Zark's Burgers
The first thing people should know about this burger joint is their motto: the greasier, the better. With that in mind, no one should ever mistake it for a healthy establishment.
Zark's Burgers is a popular homegrown joint that serves American comfort food, especially huge, greasy burgers – and no other joint can beat them in freshness, size and taste.
What sets Zark's apart from other places is their constant dedication to innovation and freshness. The patties are all made and grilled from scratch. Aside from the classic cheeseburger and mushroom burger, Zark's menu contains over-the-top burgers that sound like the toothsome results of some crazy science experiments. A lot of them have dizzying, intriguing descriptions, making it hard to pick the best burger to spoil yourself with.
…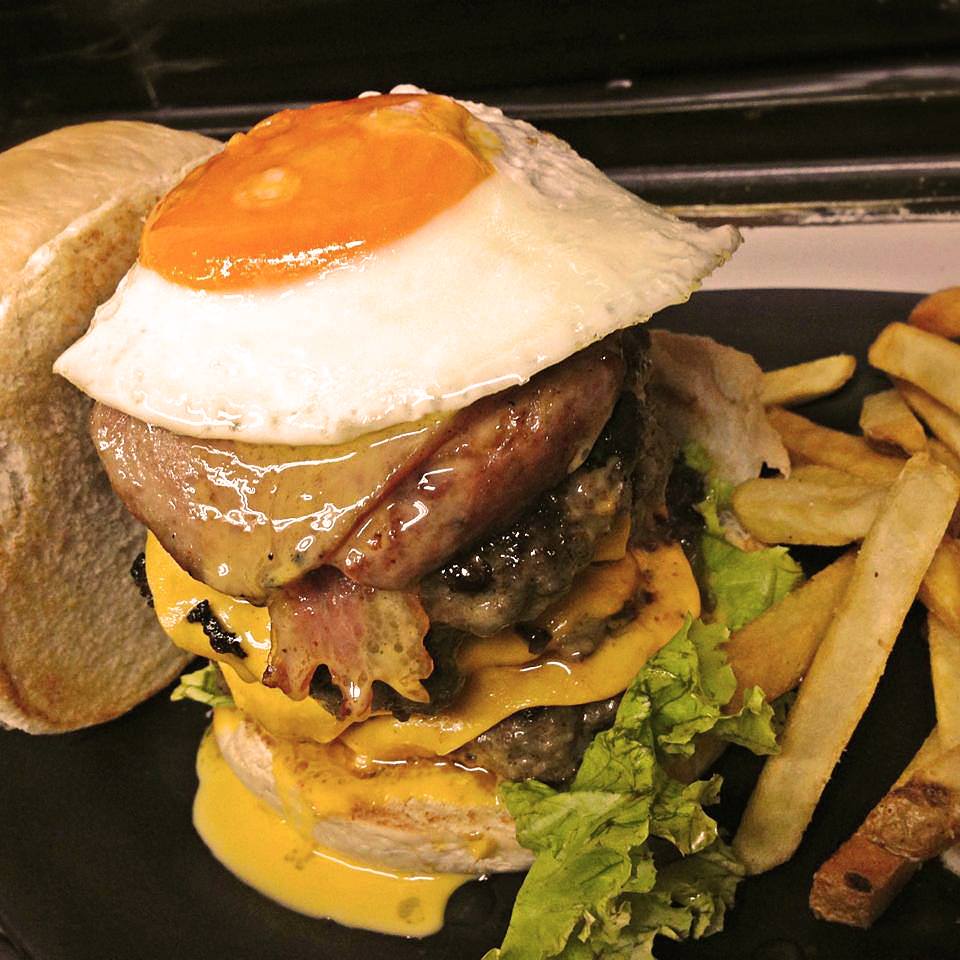 The Chokeslam Burger
…
On their Minor and Major League section alone, both of which containing burgers with one-fourth and one-half pound patties, there are a lot of must-tries. There's El Loko Baka (P105), a Tex-Mex-style burger with homemade tomato salsa and cheese sauce. They also have Black Mamba (P125), a cheeseburger with sautéed mushrooms, caramelized onions and a generous topping of Zark's own barbeque rum sauce. But if you want something in excess, Zark's Pound for Pound section will leave you speechless.There's the Bacon-Wrapped Burger (P230), which is exactly what it says on the tin: a deep-fried bacon-wrapped cheeseburger served with barbeque rum sauce. There's Chokeslam (P300), a quadruple-patty burger with bacon, Spam, egg and cheese sauce. And there's the infamous Tombstone (P500)- a humongous, ominous two-pound cheeseburger with 300 grams of fries. The Tombstone is strictly not for sharing, and people are even made to sign waivers when they order this monstrosity.
…
The Tombstone Burger
…
Zark's also serve appetizers, rice meals, hotdogs, sandwiches, and various deep-fried chocolate bars with ice cream.
Zark's mission is to help you find what you love and let it kill you (slowly and deliciously, at least). If it's messy, finger-licking indulgence you want, there is no better place.
…
Photos and article by Jess Jacutan
…
Archer's Nook, 2464 Taft Ave, Malate, Manila
(0923) 737-2517
Monday to Thursday, 9 am to 10 pm; Friday to Sunday, 9 am to 11 pm
Katipunan Ave, Loyola Heights, Quezon City
(02) 294-9971
Presidents Ave, BF Homes, Parañaque City
(0923) 737-2515
3/F SM City North EDSA, North Ave cor. EDSA, Sto. Cristo, Quezon City

(0905) 192-4422
Eastwood Mall, Eastwood Ave, Bagumbayan, Quezon City
(02) 570-0585
The Venice Piazza, Upper McKinley Rd, McKinley Hill, Taguig
(0906) 940-4490