Le Bellevue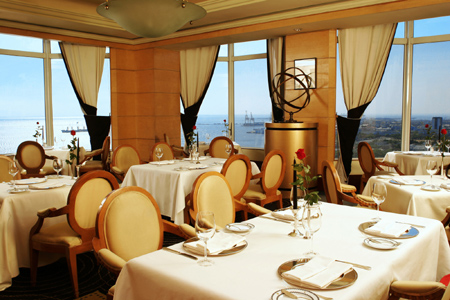 Diamond Hotel, where celebrities, executive leaders, and other well known personalities  stay, is also a famous luxury hotel for many Japanese. Its European restaurant, the "Le Bellevue", is located on the 27th floor of the hotel.
It was also introduced in the Philippines as 2007's best restaurant. It has a superb view overlooking the panoramic Manila Bay with courteous service led by a manager full of hospitality.
You will surely enjoy eating your food especially with its romantic and sophisticated atmosphere.
They are popular for their meat dishes like the beef Australian ribs and desserts such as the cheese cake that comes with a sweet and sour berry sauce.
You should also try their roasted duck in orange-ginger sauce. They also have a marbled Japanese beef menu.
Anyone who visits Le Bellevue will surely forget the heat in this southern country because of the studded night view of the Manila Bay sunset and the delicious and authentic European dishes.
This is the perfect place for business or formal meetings and get together as well. Budget starts at PHP 2000
Recommended menu:
Braised Australian beef ribs with herbed gravy served on garlic mashed potatoes. (PHP 510)
Apple Raisin Cheesecake with berries and raspberry coulis (PHP 250)
DIAMOND HOTEL PHILIPPINES, Roxas Boulevard Cor Dr. J Quintos Street, Metro Manila
632) 528 - 3000, (632) 305-3000