Eng Bee Tin in Chinatown, Binondo Offers Timeless Chinese Delicacies
The iconic purple signage of Eng Bee Tin can only be associated with one thing: good quality Chinese treats.
In their flagship store located at Ongpin St., Binondo, you can get a whole look at their wide range of products that is not only known here in the Philippines but in other countries as well.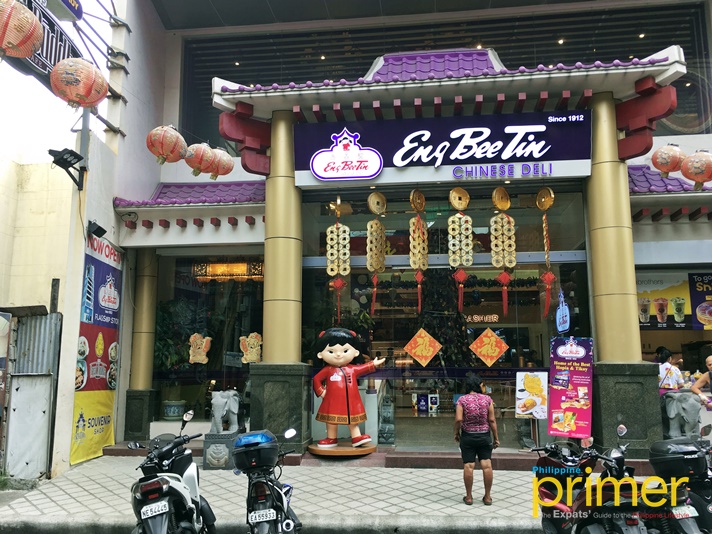 Eng Bee Tin is best known for its selection of hopia, a kind of flaky pastry often filled with monggo paste. In fact, they were the first to innovate the flavors of hopia amounting to over 20 variants ideal for all kinds of tastes.
Further, the company is also one of the biggest international exporters of hopia, delivering to Asia, the Middle East, Europe, and the USA.
While the classic ube and monggo are still the frontrunners, we suggest you also try the Mocchachino and Golden Pork Floss variants. Their hopia costs from Php 42 to Php 250.
Another staple in Eng Bee Tin is their tikoy or sweet and sticky glutinous rice cake that is mostly in-demand during the celebration of Chinese New Year. Just like their hopia, the brand found ways to innovate not just the flavor but also the serving size of tikoy.
Aside from those that come in boxes, Eng Bee Tin also offers individually-wrapped tikoy rolls starting at Php 38.
Just outside the flagship store, you can avail of their freshly-steamed savory Ube Asado Siopao (Php 50) generously stuffed with meat, chorizo and egg. This is a perfect snack for when you get tired and hungry from exploring Chinatown!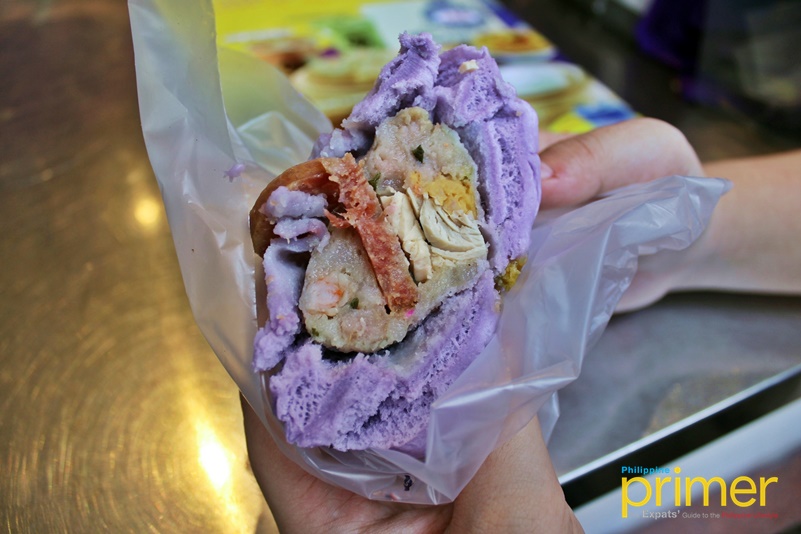 Ube Asado Siopao (Php 50)
It was in 1912 when Eng Bee Tin was founded by Mr. Chua Chiu Hong. He opened a simple stall at the heart of Ongpin selling traditional Chinese delicacies that we are still loving today.
Despite setbacks, the brand has relied on innovation and quality to keep them afloat in such a competitive market and eventually making Eng Bee Tin the most popular producer of hopia in the country.
Eng Bee Tin Flagship Store is NOW OPEN!Visit us at 628 Ongpin Street Binondo ManilaSee you there!!!

Eng Bee Tin Chinese Deliさんの投稿 2018年7月31日火曜日
From a humble stall, Eng Bee Tin's products are now locally sold at various mall kiosk, groceries, restaurants, offices, and even school canteens. They have also expanded their product line by adding frozen products, Filipino treats, processed seafood, and bread and cakes under their label.
How to get here
Eng Bee Tin Chinese Deli's flagship store is located at 628 Ongpin St., Binondo, Manila. It's just a few steps away from the Binondo Church.
By car: Take Taft Avenue (from South and North) and cross via McArthur Bridge and follow Rizal Avenue until you reach Recto Ave. Take a left at the intersection to reach Binondo.
Parking: Parking spaces are available at Eng Bee Tin or the nearby Binondo Church
By public transportation: The nearest LRT station to Chinatown is Carriedo Station, a 5-minute walk to the Arch of Goodwill on Ongpin Street. From the MRT line, you can connect to LRT Line 1 at Taft Station.
---
This first appeared in Philippine Primer's Japanese and English magazine January 2020 issues
Store Information
628 Ongpin St., Binondo, Manila
02-8241-9999 / 02-8288-8888
6 a.m. to 10 p.m.
info@engbeetin.com