Caffe Bene in Salcedo Village: Good Coffee and Korean Desserts
Good coffee can sometimes be hard to come by so good thing there is Caffe Bene in Salcedo Village, which literally means good coffee. Tucked in a building away from the busy main roads is this Korean coffee shop that also offers Korean pastries and cold desserts.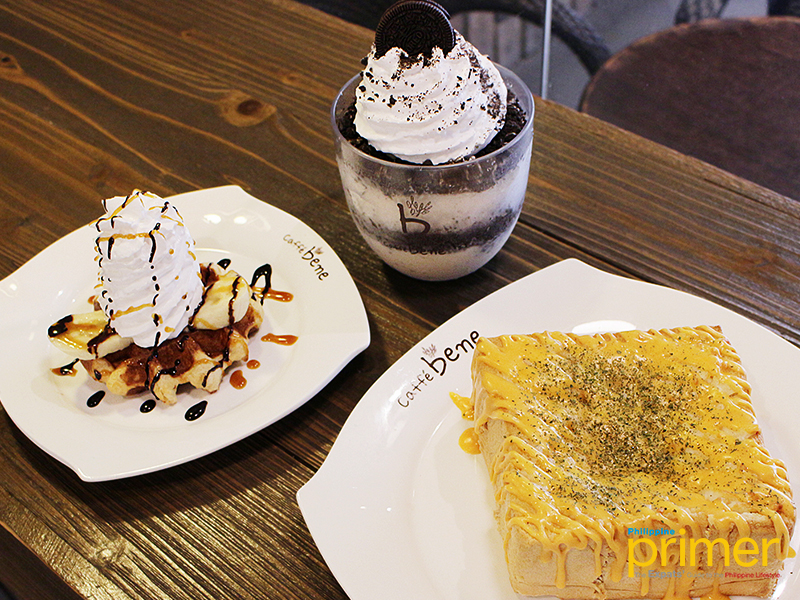 Other than coffee, their Korean pastries and bingsu are very popular
Caffe Bene is a coffee chain from Korea with three branches in the Philippines located in SMX Convention Center Manila, SM Clark Pampanga, and in Salcedo Village in Makati. They import all raw ingredients from Korea and they make products like the coffee, pastries, and gelato in store.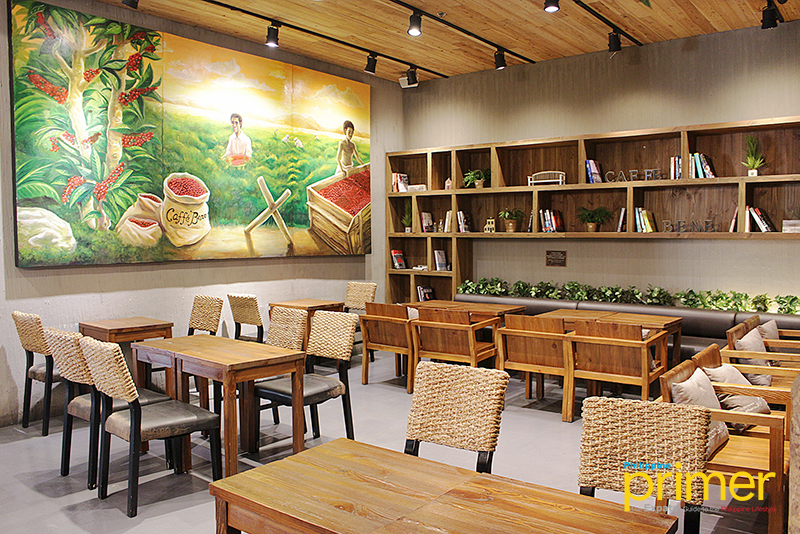 Subtle and quiet is how Caffe Bene in Salcedo Village feels like. Perfect for those stopping by for a timeout
Coming into the store, the atmosphere quickly changes into something very relaxing. The shop is very spacious that it has been a venue for many meetings, small events, and even pre-nuptial photoshoots due to Caffe Bene's pleasant interiors and interesting menu.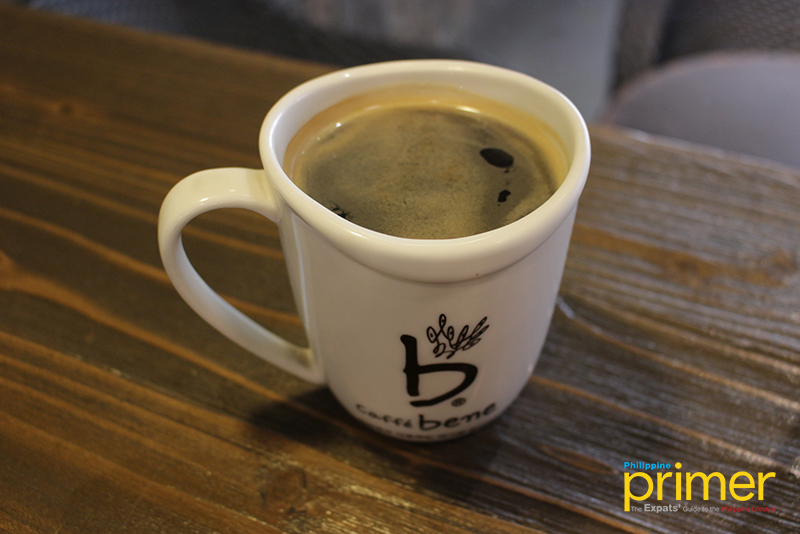 Americano (Php 125/R – 12 oz, Php 140/L – 16 oz)
The company owns a coffee farm in Brazil to maintain profile and flavor as well as a uniform coffee bean for all their stores. However, one thing that they only do in the Philippines is that they make the coffee stronger knowing that many will appreciate the darker, aromatic coffee. They also have Misugaru, a drink made from rice, which in itself is breakfast in a cup– making it a favorite of many customers in the morning. All Caffe Bene drinks can be made hot or iced.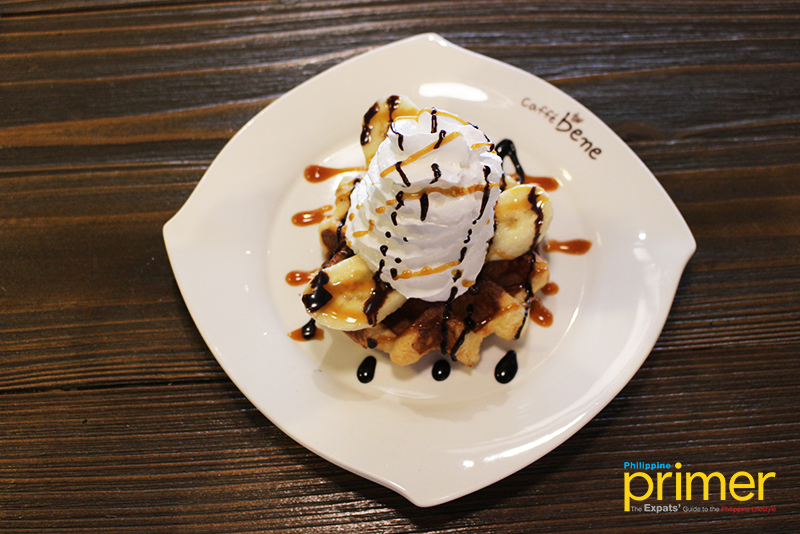 Caramel Banana Cream Waffle (Php 185)
Pair your coffee with pastries from Korea such as the waffles and the honey bread. The dough type waffle is freshly made in the store making it very chewy and soft but also does not get easily soggy from the fruit and cream toppings.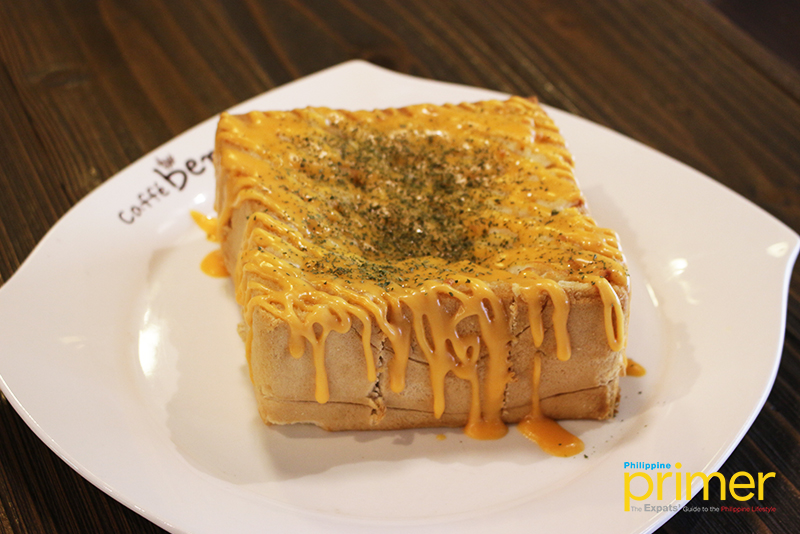 Honey Bread Garlic & Cheese (Php 255)
Caffe Bene's honey bread comes in two sizes: solo and for sharing. The bread itself is buttered and seasoned before they sprinkle the cheese and the toast the bread. The bread has a dense crust but inside is soft and savory.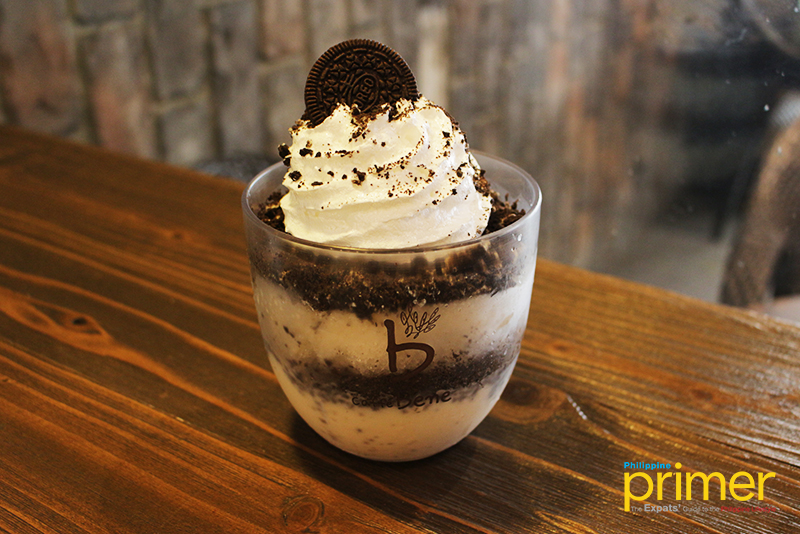 Cookies and Cream Bingsu (Php 270/Large, Php 350/Huge)
Bingsu is a Korean shaved iced dessert usually topped with fruits or red bean paste. In Caffe Bene, bingsu could be either be large or huge in size and it comes in flavors of red bean, strawberry, or cookies and cream. It has coarsely shaven ice, cream cheese, gelato, and the fresh toppings.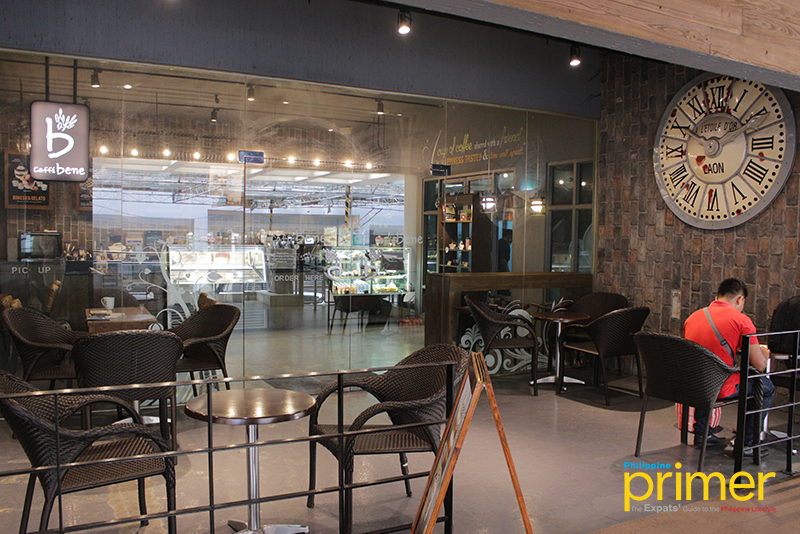 Every branch of Caffe Bene includes the vintage clock wall ornament that shows the adaptation of a Western and European design
For those looking for a quiet place to enjoy personal time or to work outside the office or find a good cup of coffee, Caffe Bene is an ideal place. Just behind Three Central in Salcedo Village, this Korean coffee shop awaits coffeeholics and Korean dessert lovers.
---
This also appears in Philippine Primer Japanese Magazine's October 2018 issue.
General Information
6805 G/F Multinational Bancorporation Bldg. Ayala Avenue, Makati
02-511-1435
7 AM - 9:30 PM Monday - Friday
Weekends