Mudpie Heaven in Circuit Makati: Comfort food reinvented
Where do you go if food's the only thing that can make your day? There's only one place: Mudpie Heaven at Circuit Makati.
MISSISSIPI MUDPIE (P250). A cold Mississippi cake with homemade gelato.
Opened in September, Mudpie Heaven's original recipe of the owner's mother became a hit which gathered them a strong following in such a short period of time. Trivia: Ashley Cayuca, owner, got the name of her restaurant when one newspaper reporter described her grandmother's restaurant as a Mudpie Heaven because of the said treat. Thus, the restaurant was born.
BONE MARROW STEAK PIE AND MASHED POTATO SALAD (P550). For the hungry guests out there.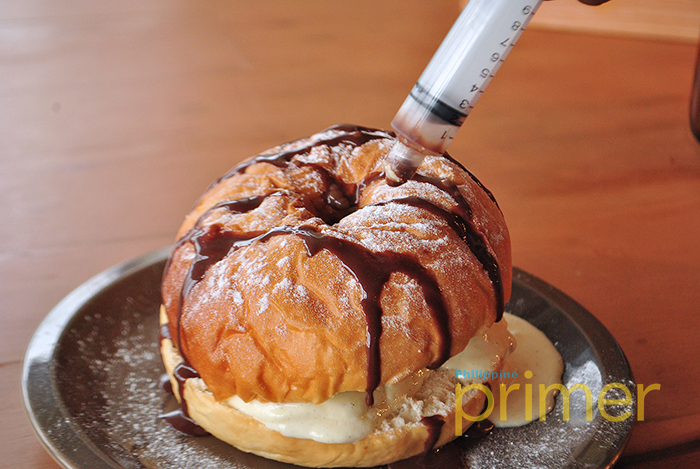 VANILLA BEAN MILKY BUN (P200). Chocolate-injected pastry, you say?
With all their affordable and American-inspired cuisine offerings in this restaurant, food lovers will surely love the place where one can get a taste of comfort food like burgers, mudpies, cakes, and more.
Now, what makes Mudpie Heaven something worth the visit, is their original take on popular comfort food which is a cut above the rest. It's not only just a place for the sweet tooth, rather, it's a place for everyone who wants their daily dose of comfort through their gustatory offerings that totally make them "heaven."
Aside from that, aside from being tasty, Mudpie Heaven's dishes are truly nutritious and healthy, so if you have a friend who's conscious when it comes to what he/she eats, you'd easily have Mudpie Heaven as your place to go to, as it has a variety of food from sweets to healthy ones.
INTERIORS. Mudpie Heaven's heaven-like space
The interior of the place is also worth mentioning too! Its industrial designs and warm lighting make the place look more comfortable, closer to home which makes it an "it" place for hangouts. This is definitely one of Makati's best new discoveries in town.
Are you ready to try how heaven tastes like? Visit Mudpie Heaven at Circuit Makati now!

2/F Circuit Lane, Circuit Makati, A.P. Reyes St., Makati City

12:00 pm to 9:00 pm (Monday to Thursday); 12:00 pm to 11:00 pm (Friday and Saturday); and 11:00 am to 10:00 pm (Sunday)