Liberation Shawarma
Get ready for a different shawarma experience.
If you are tired of your usual, standard fare when visiting Hole in the Wall at the new Century City Mall, then it's about time to try something new. This is the appeal of Liberation Shawarma, a unique and refreshing take on the usual Middle Eastern fare. Perhaps aware that shawarma is exotic fare that's been hashed and rehashed countless times, the people behind Liberation Shawarma are on a mission to re-imagine this familiar comfort food.
The difference lies in the use of a thick round slab of pita bread where the meat and the vegetables are stuffed inside. Meat choices are pork or beef, with a vegetarian option for those who'd rather skip their meat. .
–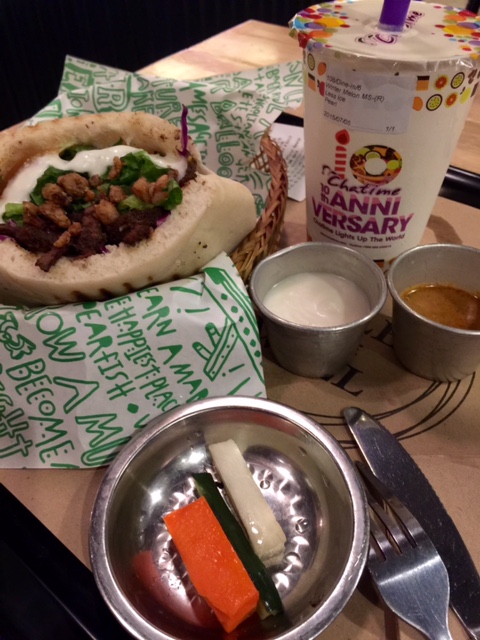 Beef Shawarma (PHP250) is thick round pita stuffed with choice beef cuts and vegetables, served with a side of cold pickled vegetables. The diner has the option of choosing between two sauces: the garlicky Toum made from Lebanese yoghurt and the spicy Shatta

–
The best part about Liberation Shawarma is the tenderness of the beef that complement the crunchy vegetables stuffed inside the pita. For those who prefer a more filling meal for the day, you can opt to order rice instead of the pita bread. Add PHP70 to get a side of French fries. Aside from the shawarma, they also offer salads, Dipitas (pita bread with dip) plus an assortment of Middle Eastern dips like Baba Ganoush (mashed smoky eggplant), hummus (mashed garbanzos) and tabouleh (veggies in herbs, olive oil and cumin).
Prices are a bit steep for shawarma, but the unique take on this tried and tested common grub is worth the try.
–
Article by Melanie Suzon

4F Hole in the Wall Restaurant, Century City Mall, Makati