Watami in Ayala North Exchange: A Taste of Exquisite Japanese Specialties
Updated as of November 12, 2019
With over 700 branches in the Asia Pacific Region, Watami brings you a wide variety of authentic Japanese cuisine.
Watami offers distinct flavors of dishes that will surely satisfy your palates such as hotpot, sushi, ramen, sashimi, skewers, rice bowls, salads, and many more!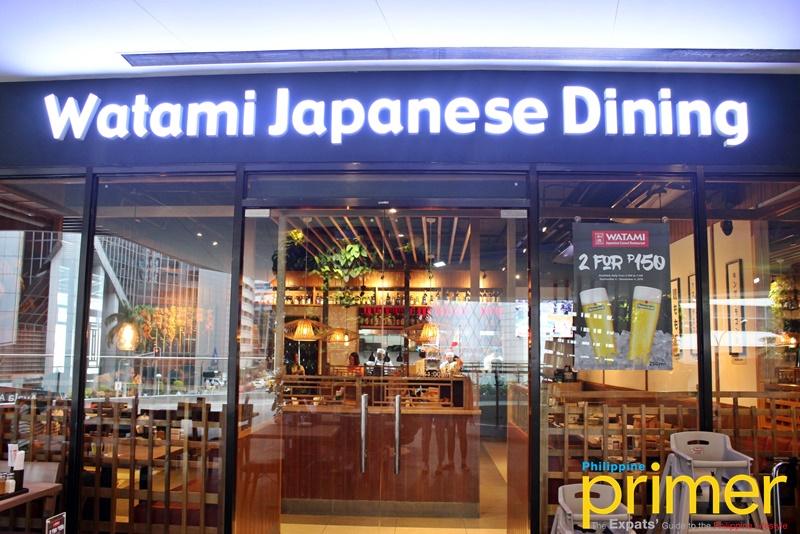 Watami Japanese Dining at Ayala North Exchange
Based on its brand name Watami, "Wa" stands for people while "Tami" means harmony. The casual restaurant values the importance of having a harmonious relationship with customers by offering enjoyable Japanese delicacies and comfortable dining experience.
Watami also has a warm and welcoming vibe emanating from its decorative interiors of wood and hanging lamp lights, letting guests feel as if they're dining in Japan. This atmosphere is ultimately complemented by the waiters and attendants' enthusiastic greetings in Nihongo.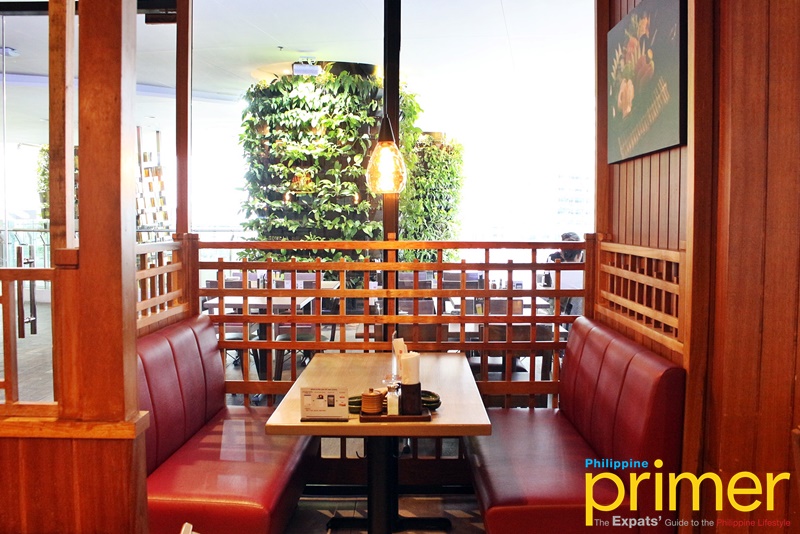 One of the must-try specialties is the Spicy Salmon Maki, a maki consisting of thinly- sliced salmon served with sriracha mayo and tempura flakes. You can ask for more wasabi if you're in for a hotter treat!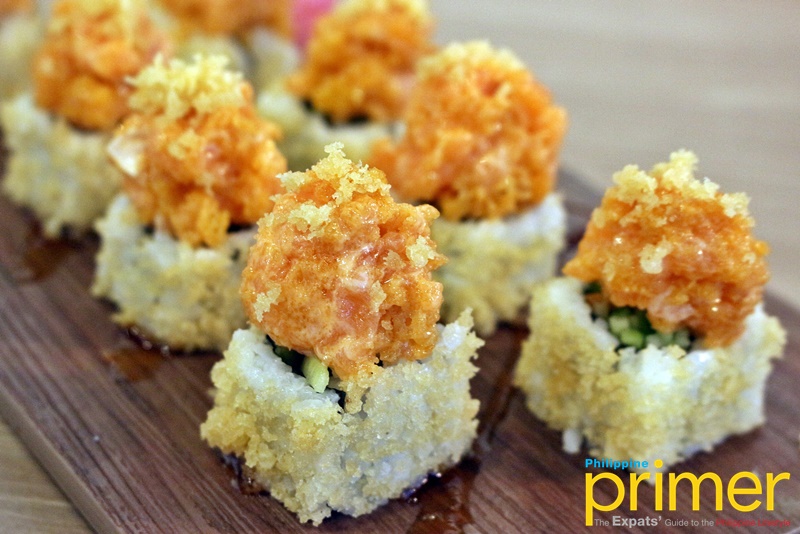 Spicy Salmon Maki (Php 295)
Another mouthwatering treat worth-trying is the Tuna Taco Maki Aburi, partially grilled tuna with sriracha mayo topped with chopped spring onions.
The searing of tuna adds an exciting flavor to the maki, enhancing its natural taste. You will definitely devour this Tuna Taco Maki Aburi with great enjoyment!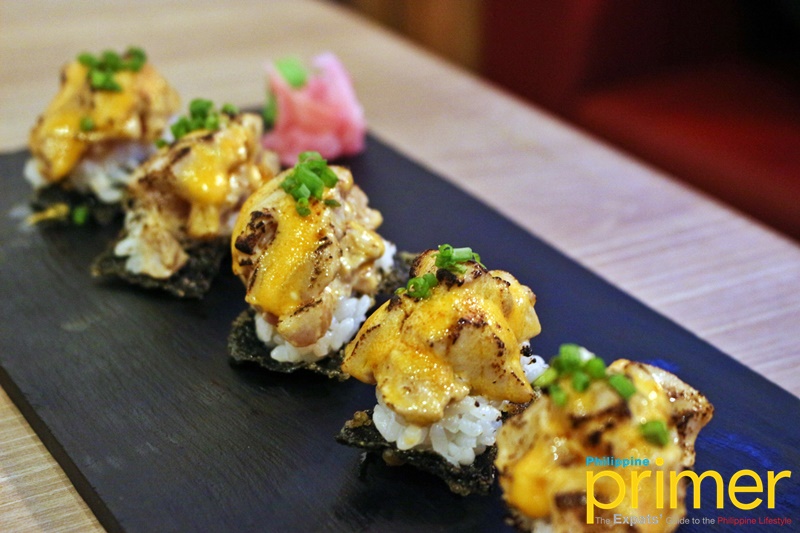 Tuna Taco Maki Aburi (Php 325)
This Japanese ramen is perfect for your cold-weather craving! Watami serves the crowd-favorite Tonkotsu Chasu Ramen, tasty pork broth with tender pork chasu, flavored egg, and beansprouts, topped with fresh leeks and spring onions.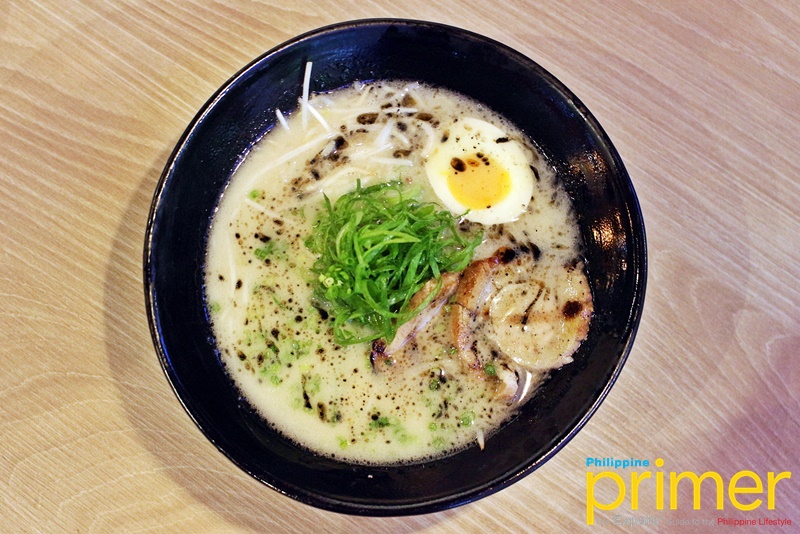 Tonkotsu Chasu Ramen (Php 395)
You will definitely love the rich aroma and flavor of the meat!
Aside from serving tasty appetizers and noodles, Watami also offers a wide selection of rice meals.
One of which is the Pepper Beef Rice on Stone Pot, a bowl of rice with a generous serving of pepper beef, Sirloin beef, topped with corn, spring onions, served with pepper beef sauce. This hearty meal is best eaten and stirred immediately after serving to avoid crusted rice.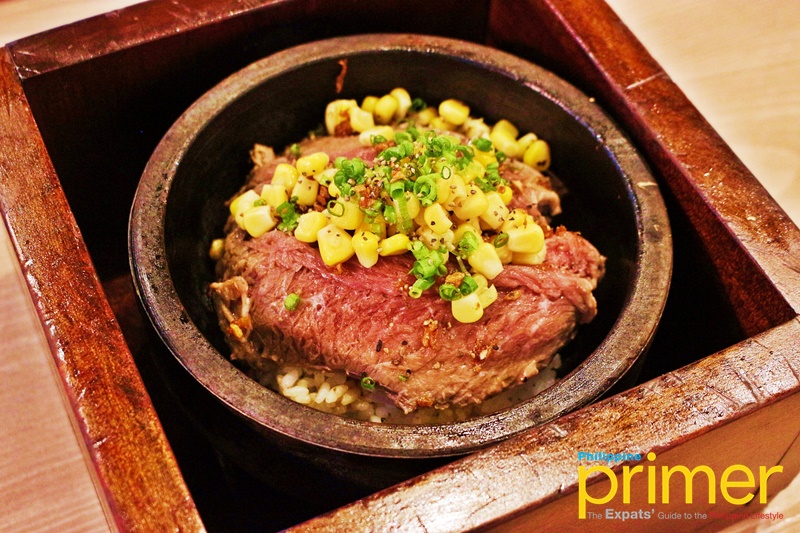 Pepper Beef Rice in Stone Pot (Php 295)
For late-night outs, Assorted Creative Skewers is the perfect pair for your drink. It is comprised of grilled pork and enoki, beef spring onion, chicken thigh, liver, and chicken wing served on one plate.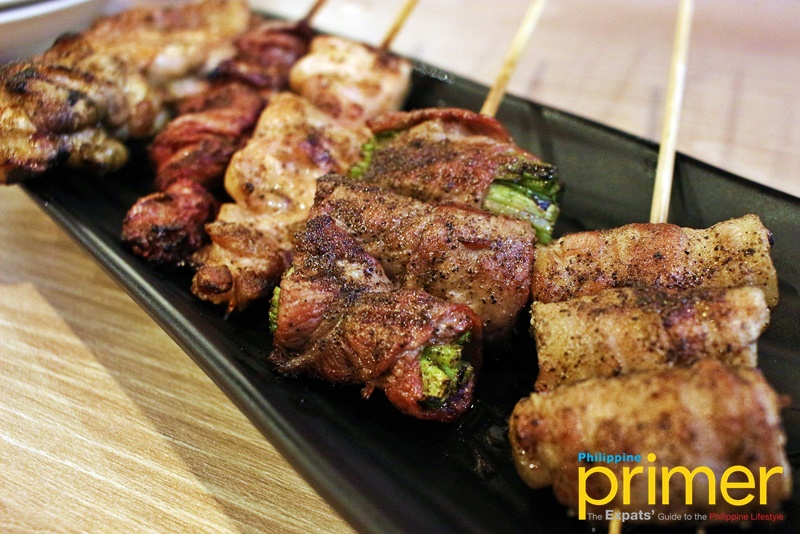 Assorted Creative Skewers (Php 395)
Further, Watami has introduced an affordable lunch set meal—Tendon Lunch Bowls, which starts at Php 275. The promo comes with a special upgrade wherein you can choose other varieties. This item is available every Monday to Fridays from 11 a.m. to 5 p.m. at any Watami branches in the metro.
You'll also be delighted to know that Watami now also serves Sushi Platters that are good for 4 to 5 people. The platters come in three types, first is the Salmon Tempura Aburi Roll (Php 595).
What's unique about this roll is that it's fried in tempura batter and has a salmon-center. It is guaranteed that you won't get enough of this dish because of the explosion of flavors that the dish poses.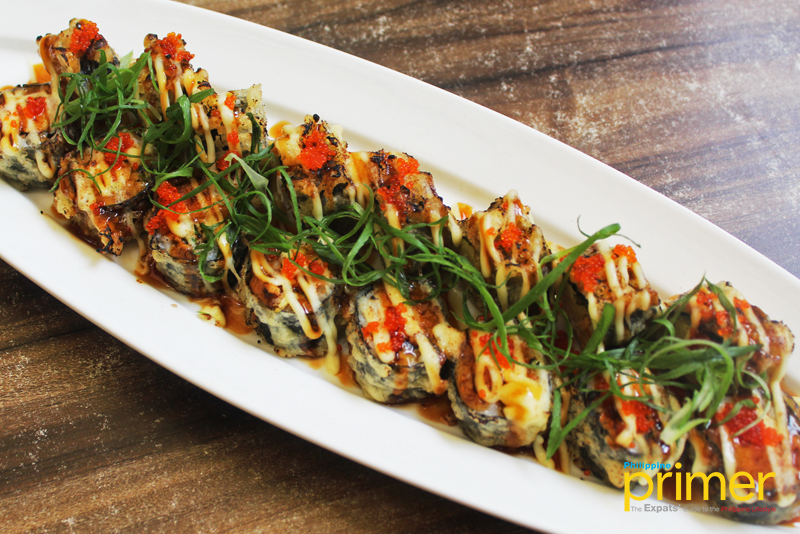 Salmon Tempura Aburi Roll (Php 595)
Next up is the King Dragon Feast Roll (Php 725). The King Dragon Feast Roll is the extended version of Watami's delectable King Dragon Roll. This platter is perfect for those who can't get enough of Watami's King Dragon Roll.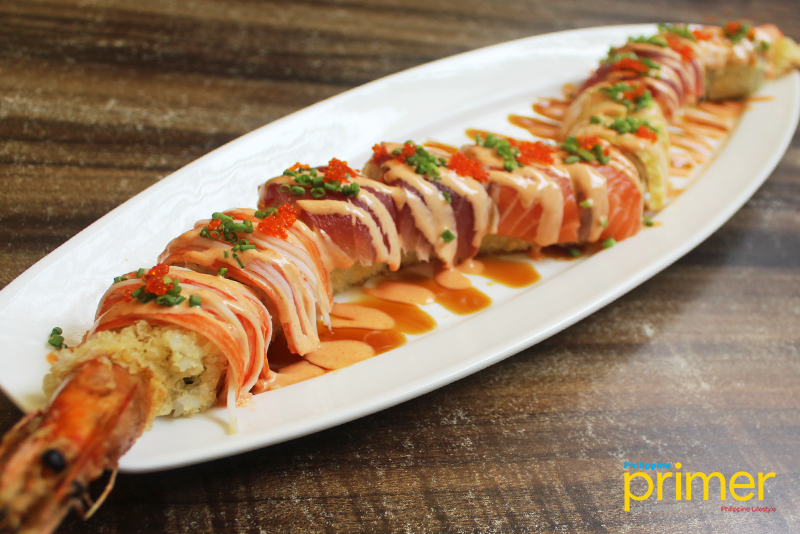 King Dragon Feast Roll (Php 725)
Finally, the Tokyo Beef Roll (Php 425) is quite different from the first two and is the ideal platter for meat lovers. The traditional roll is topped with succulent beef that will surely give you a different look on the traditional roll.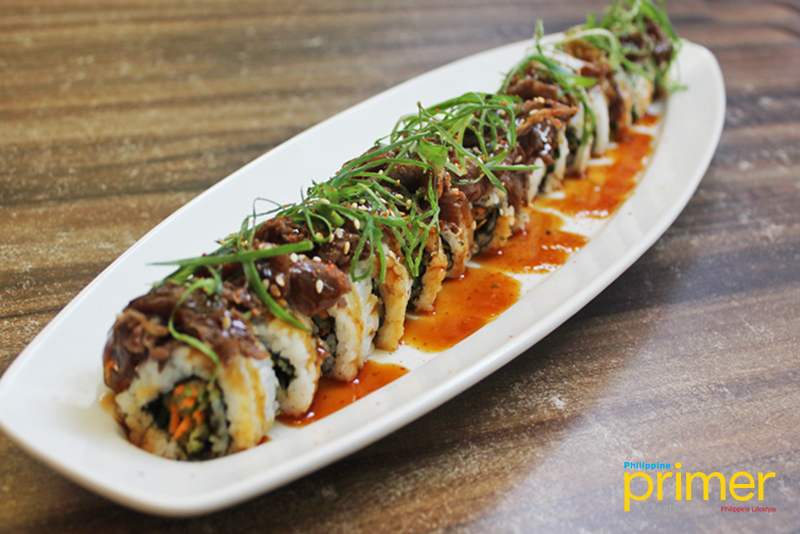 Tokyo Beef Roll (Php 425)
Watami also highlights their Sake Mix-Up Series, which are composed of the Sakeria (Php 245/500mL) and the Sakejito (Php 225/500mL).
The Sakeria is essentially a variant of a traditional Sangria complete with red wine, lemons, oranges, apples, sprite, and sake. The Sakejito, on the other hand, is a variant of Mojito that's made with sake, lime, and sprite.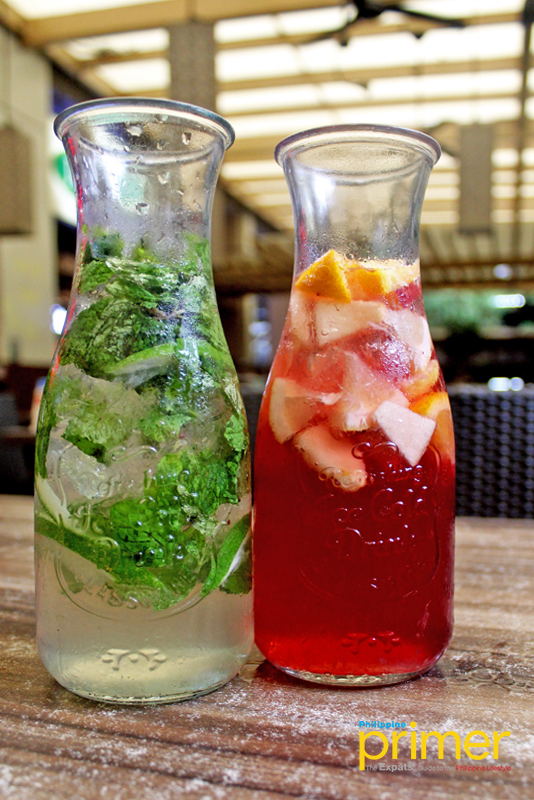 Sakejito (Php 225/500mL) and the Sakeria (Php 245/500mL)
Watami at Ayala North Exchange is the newest branch in the Philippines, with other branches located in Greenbelt, Mall of Asia, Shangri-La, Uptown Mall, and Ayala Cebu.
How to get here
Watami is located on the second floor of Ayala North Exchange along Ayala Avenue.

By car: Drive to Buendia exit at Gil Puyat Avenue. Turn right to Ayala Avenue and to Salcedo Street. Here, you will see the parking entrance of Ayala North Exchange.

By public transportation: Go down at Ayala MRT Station. Ride a jeepney going to Ayala Avenue and get off at RCBC Plaza. Cross using the underpass, and Ayala North Exchange will be on the right side.
---
This also appeared in Philippine Primer Japanese and English magazine December 2019 issues.

2/F Ayala North Exchange, Legaspi Village, Makati City
Restaurant Menu
You can scroll the image left and right.