The Wine Club in Legaspi Village Boasts An Arsenal of California Wine
Situated in the bustling Legaspi Village is a quaint wine shop and restaurant that specializes in wine pairings and ambrosial fare.
The Wine Club is a family joint owned by Michael Reyes and managed by his son Mike Reyes. It was born out of a passion for wine—California wine to be exact.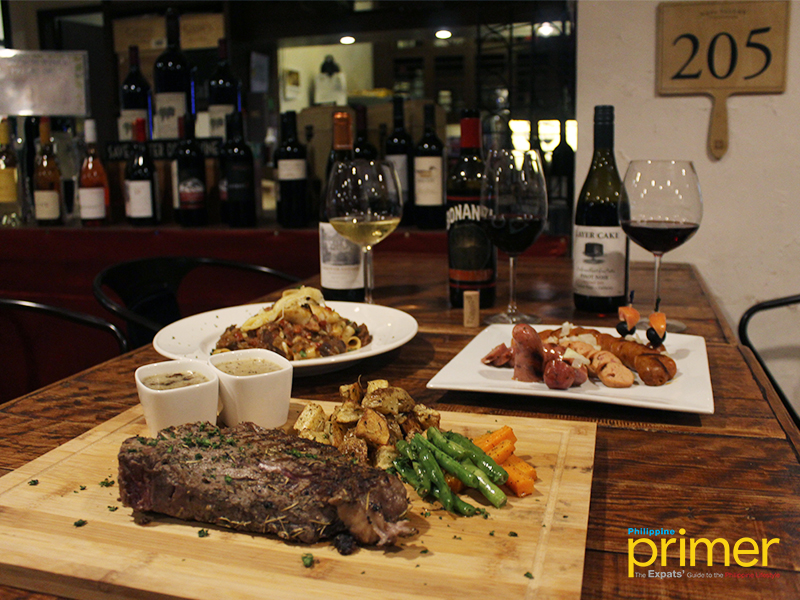 It started as a wine distributor in 2006 when the Filipino-born Reyes patriarch thought of bringing fine California wines to the country.
They are devoted importers of premium California wine from the regions of Napa Valley and Sonoma—the only place that focuses solely on such selection of wine.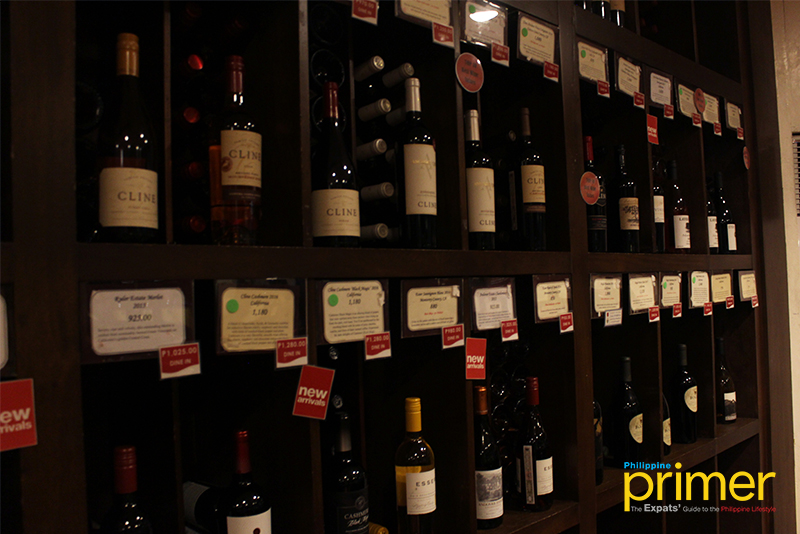 The labels they carry include top-rated brands hailing from California's Napa Valley, Santa Cruz and Central Coast, and Oregon's Willamette Valley. They distribute most of the wines to restaurants and hotels like Shangri-La, City of Dreams, and Solaire.
"Being in Manila, you can find some really, really expensive wine out there. It's very easy to find expensive wine and I don't necessarily believe that you can find a good valued wine," General Manager Mike Reyes shared.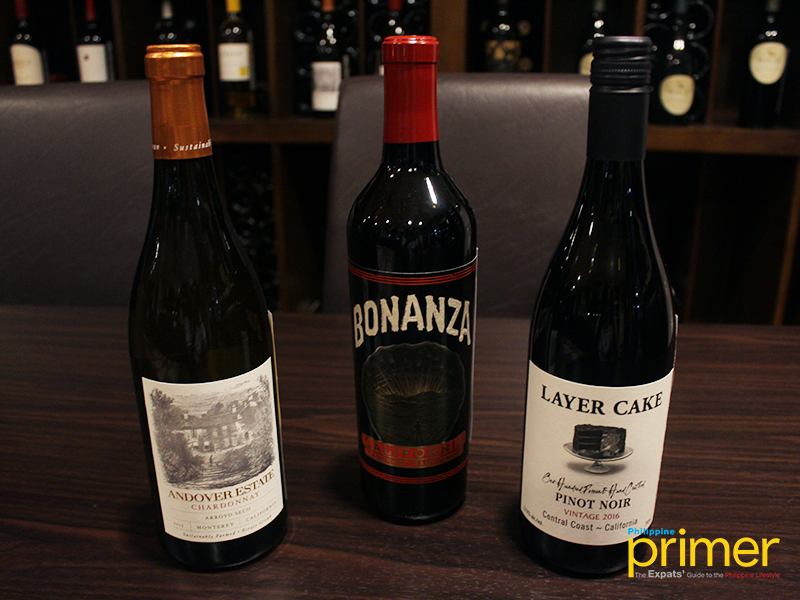 Andover Estate Chardonnay (Php 925), Bonanza California Cabernet Sauvignon (Php 2,450), and Layer Cake Pinot Noir (Php 1,190)
The wine lounge and restaurant only came about in 2013 as an extension of their distribution business. Its concept of adapting the nonpretentious aura of Napa Valley lures guests to peek at the spellbinding appeal of California wines, paired with a good slab of steak and pasta.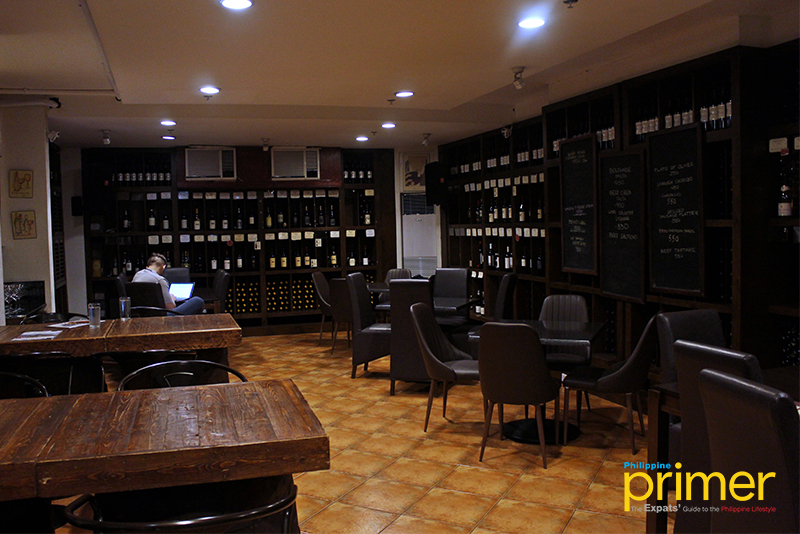 Upon entering, you'll easily notice the rustic elements of the interior that replicates an old California wine cellar, complete with an elegant display of wine surrounding the four corners of the lounge.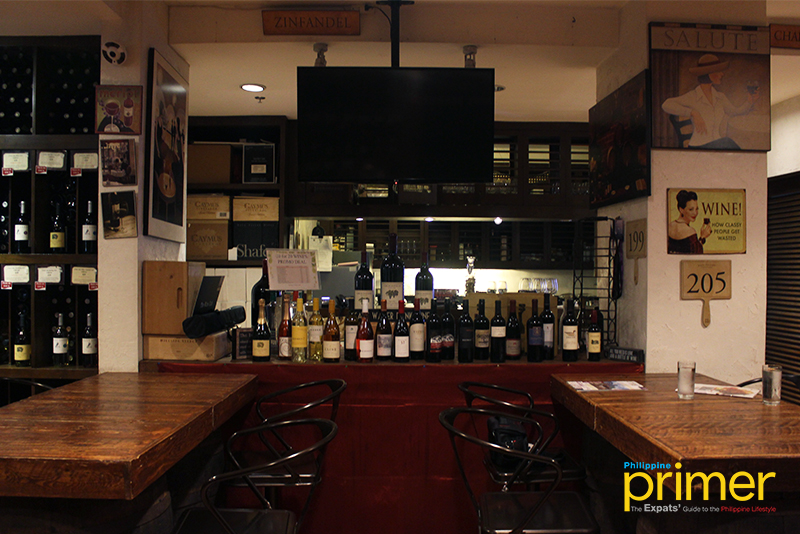 Their menu is not only limited to wines as it also includes a well-curated entree that complements their wine offerings.
Start your meal with a serving of Beef Cheek Pasta (Php 950) from their pasta selection. This light meal is made with soft pappardelle pasta, tender chunks of beef, and light tomato sauce.
It is best paired with the Andover Estate Chardonnay (Php 925), a full-bodied handover white wine from Arroyo Seco. Every sip of this wine gives off a little oakiness to the palate with a tinge of buttery flavor, which matches any pasta dish.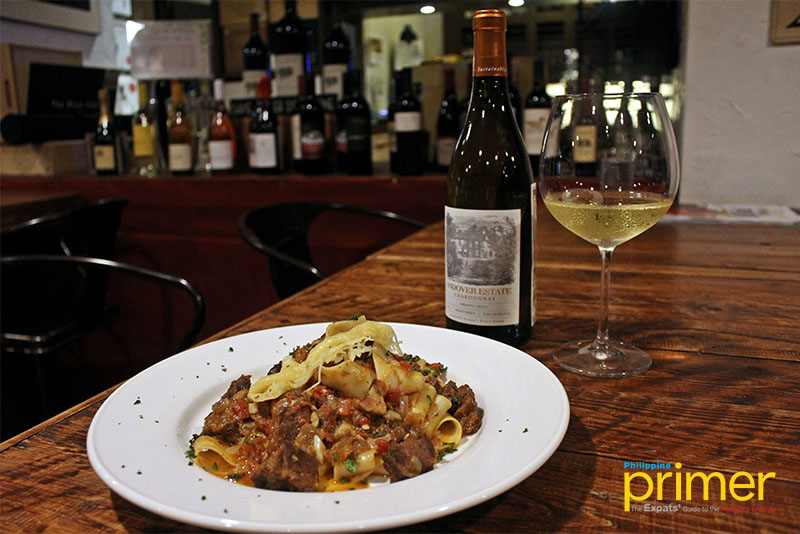 Beef Cheek Pasta (Php 950) and Andover Estate Chardonnay (Php 925)
If you are dining with a group, a dish made for sharing is their famous Grilled Sausage Platter (Php 880). This plate is comprised of sliced Italian sausage, chorizo, and Bratwurst—absolutely great for pica-pica! 
Mike specifically recommends a bottle of Layer Cake Pinot Noir (Php 1,190) to pair with the pork dish. This red wine from Central Coast balances the smoky grilled flavor of the sausages with its fruity tang that holds a bit of boldness.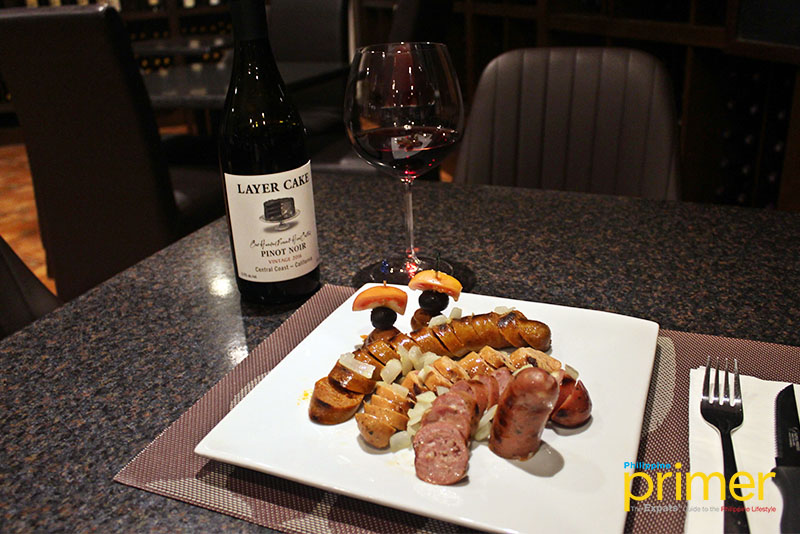 Grilled Sausage Platter (Php 880) and Layer Cake Pinot Noir (Php 1,190)
One of their prime dishes is the Wagyu T-Bone Steak (Php 4,200) made of 800 grams of premium T-Bone meat and served with roasted potato and sauteèd vegetables on the side. It also comes with a pepper sauce and truffle mushroom sauce to add flavor.
Complementing the wagyu is a bottle of USA's powerhouse Bonanza California Cabernet Sauvignon (Php 2,450). Compared to Pinot Noir, this red wine is lighter but has a full bright currant flavor that rounds off the strong taste of spiced wagyu.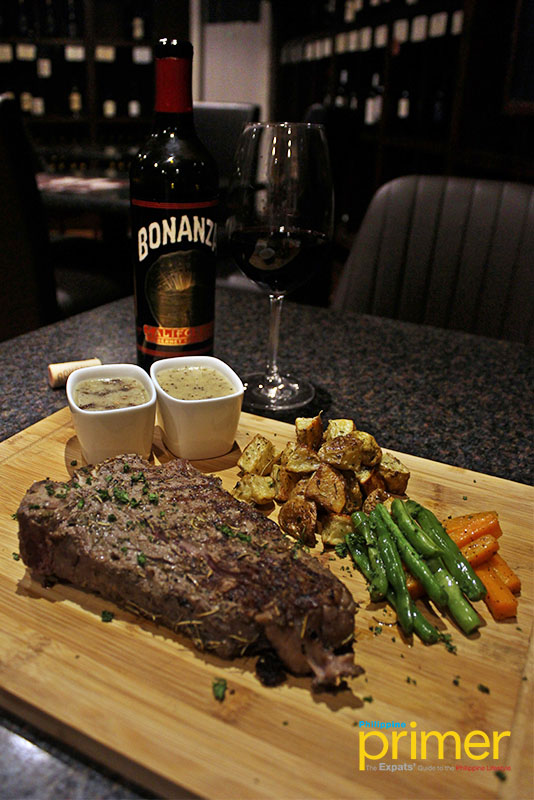 Wagyu T-Bone Steak (Php 4,200) and Bonanza California Cabernet Sauvignon (Php 2,450)
To make the most out of your wine, you can avail a bottle and share it with your group for up to five glasses.
All in all, The Wine Club is the right place to enlighten oneself with good California wine, matched with excellent food pairings. 
"We're all about coming in here, making sure that when you spend your money, you're getting a good product which we can guarantee being from California wineries and the food is there to support that at a good value," Reyes said.
How to get here
The Wine Club is 5 minutes away from Greenbelt 1. It is located in front of The Coffee Project and Xception.

From Ayala Avenue, turn left after PBCOM ATM – Makati Banking Center towards V.A. Rufino St, then make a left turn onto Salcedo St. If you are coming from Greenbelt 1, take the Gamboa Street then turn right at Trassiera Street.
---
Written by Deneca Ordinanza
General Information
B/F Cacho Gonzalez Building, 101 Aguirre co. Trasierra St., Legazpi Village, Makati City
(632) 8893-7784
10 a.m. to 8 p.m.