Restoran Garuda in Makati: Live Life with a Bit of Spice
It must have been fate that brought Restoran Garuda in front of the Indonesian Embassy in Salcedo, Makati. Amidst, the busy lifestyle in Makati, a true gem nearby the corner is serving great-tasting, authentic Indonesian Cuisine. Brought by the love of food by brothers, owners, Ashwin and Kamlesh Budhrani, they decided that it was time to introduce proper Indonesian food to the country and locals. A trip to Indonesia led them to franchise their own branch of Restoran Garuda with the goal of continuing to spread the flavors and spices of Indonesian cuisine.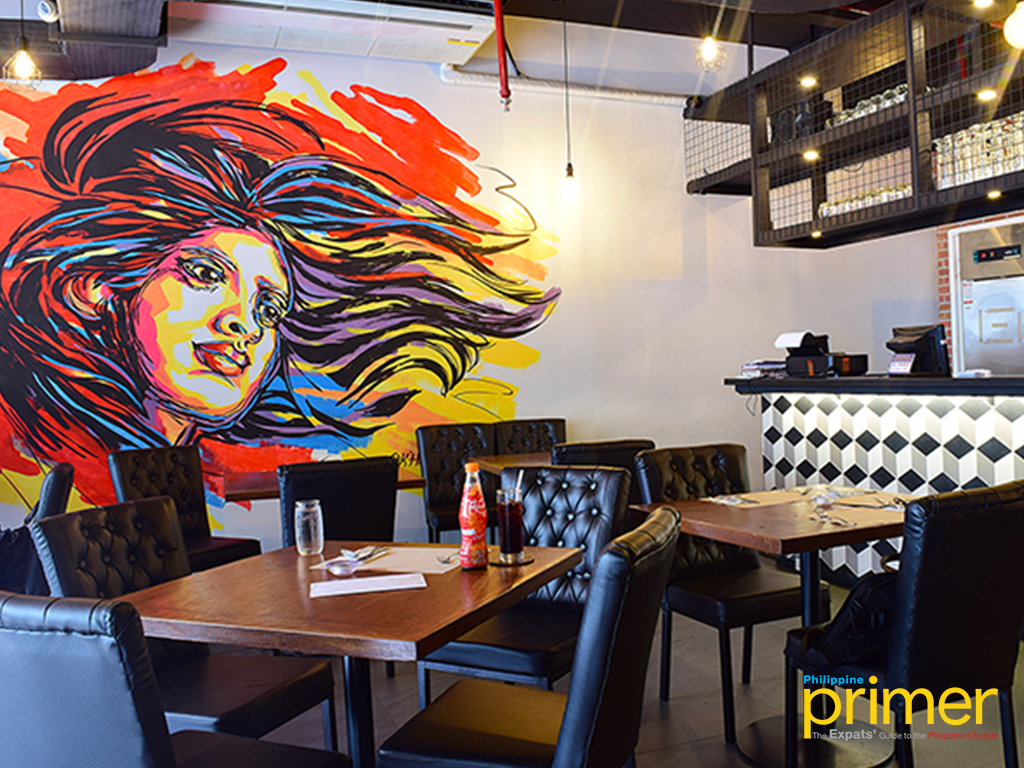 The mural is made a Filipino artist, it symbolized a Free Bird (Garuda) in a form of a woman 
Painted in black while highlighted with red, Restoran Garuda has a laid back, modern, high-end, and minimalist vibe. They've added murals to the walls to enhance their interiors without making it overwhelming for the customers. The owners wanted to focus on the food while still keeping the Indonesian tradition alive. With the same menu, they've managed to keep the recipes and flavors in tact. Although the spices are all imported in Indonesia, they assure that they keep the dishes as authentic as possible.
Restoran Garuda has around 50-60 branches in Indonesian, Singapore, making this the first and only branch in the Philippines. The restaurant opened in April 2017, aside from dine-ins they also cater for events especially those who want to taste a different cuisine to their guests. Garuda means, "free bird" in English, they've flown in Indonesia chefs to deliver authenticity and by the traditional way. As a newcomer in Legazpi Village, they promise to seat around 80 people who are looking for a hip place to eat.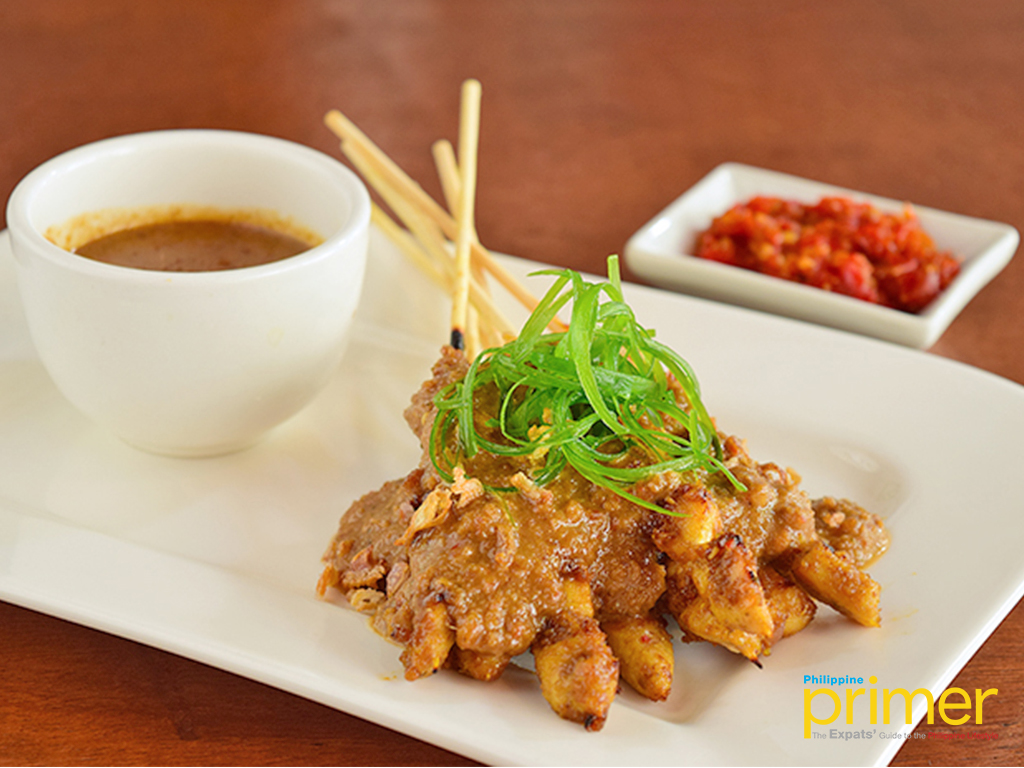 Chicken Satey Ayem with peanut sauce and sambal for dip (Php 290)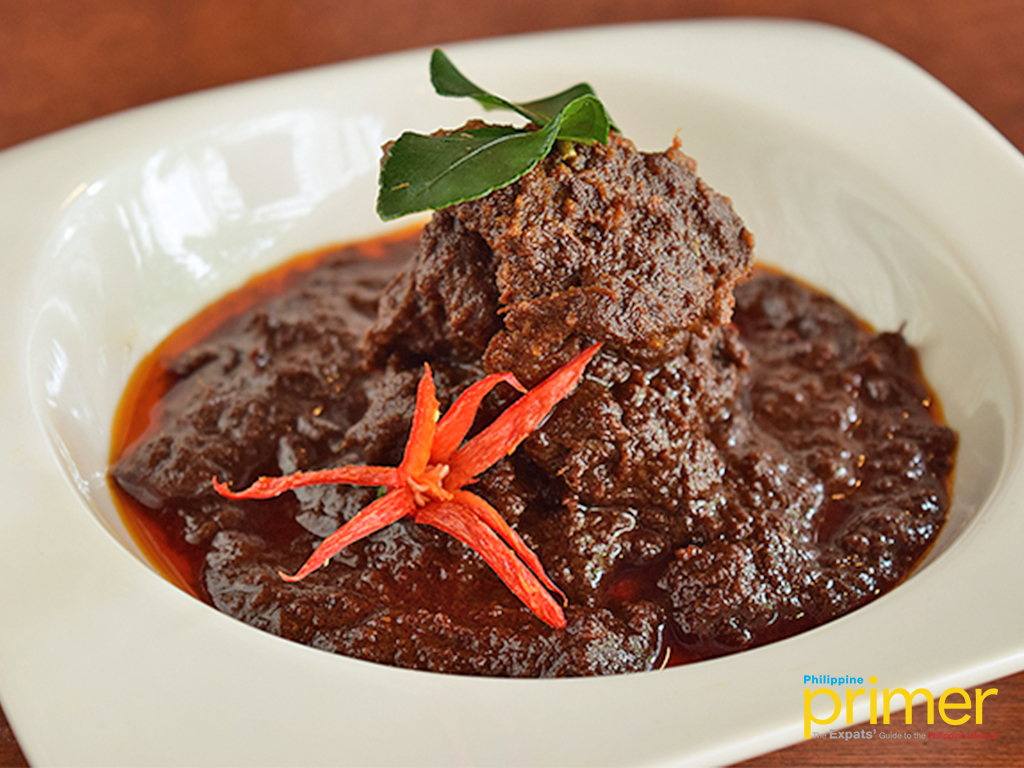 Beef Rendang, cooked for eight hours in coconut milk and Indonesian spice (Php 435)
The food is something every expat and locals should try,  a mix of heat and spices are found in every bite. Their best sellers include their famous Beef Rendang (Php 435) and Chicken Satey Ayem (Php 290). The Satey Ayem are tender skewered chicken meat that is dipped into their savory peanut sauce. For a punch of heat, their Beef Rendang is the way to go. Tender and extra flavorful beef cooked for eight hours in traditional Indonesian spices and simmered in coconut milk with a side of sambal. You can choose from their beef sirloin, chicken, boneless chicken, and vegetarian.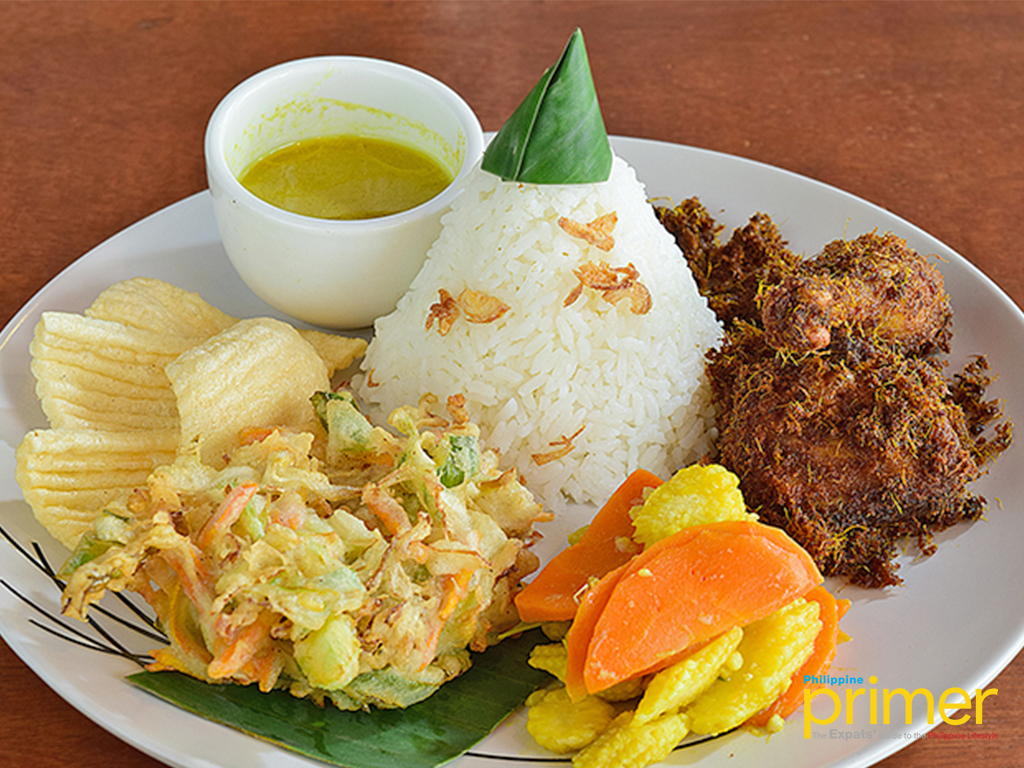 Restoran Garuda's set meal that varies every month or promo (Php 199)
Indonesian Cuisine is known for their spices such as lemongrass, candlenuts, and coconut milk. Other than most of the dishes being spicy, their focus is not about the heat but the flavors coming from the chilies when added. For a people who are into sweet, don't forget to try their light and moist Pandan Cake (Php 220) or their Salted Chocolate Cake (Php 220), topped with rock salt to balance out the sweetness from the chocolate; a perfect sweet ending to every meal.
Just like any neighborhood restaurant, Restoran Garuda is something customers will come to love during the weekend or weekdays. You can now try authentic Indonesian cuisine at GF Beneficial Life Bldg., 166 Salcedo St., Legazpi Village, Makati City. They are open at 11:00 am to 10:00 pm daily. Reach them at (02) 824 3440.
General Information
G/F Beneficial Life Bldg., 166 Salcedo St., Legazpi Village, Makati City
(02) 824 3440
11:00 am to 10:00 pm daily