Trufa Pasta Bar in Legaspi Village, Makati: Never Go Wrong with Do-It-Yourself Pasta
A new dining spot sited in one of the laidback streets of Legaspi Village in Makati is about to excite your taste buds and let you experience pasta in many ways!
Trufa Pasta Bar is the brainchild of a cocky Catalan guy and a true-blue Filipina who both share the same passion for pasta. Trufa means "truffle" in Spanish, and the reason behind the name of the restaurant is that it is the favorite ingredient of the owner. But more than that, she likes how this ingredient makes everything special.
Smooth and earthy with a hint of nuttiness in the end – this is how one aptly describes the flavor of truffle. Indulging in truffle is an experience in itself; at first bite, you're hit with an indescribable rich flavor that tells you that, "Hey, this is something special." The second says, "This taste amazing."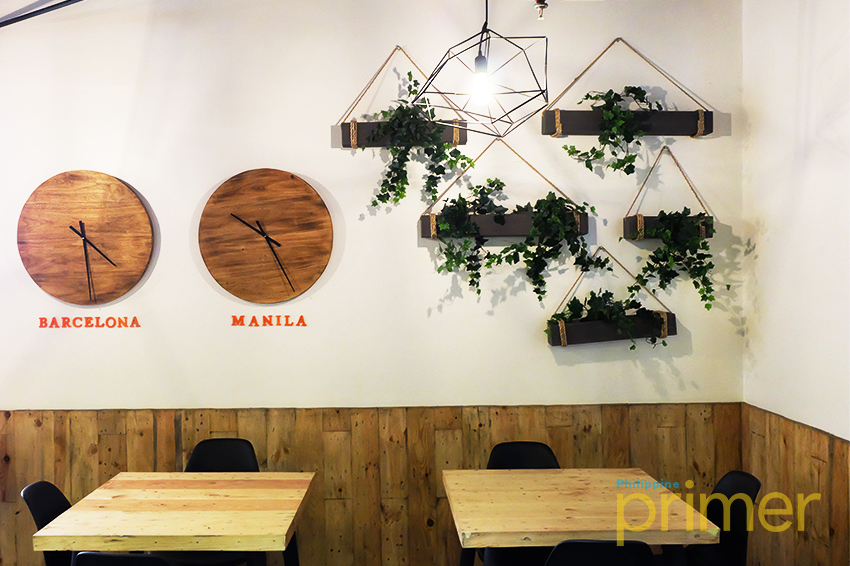 The pasta of Trufa is made from scratch and sauces are whipped up on the spot depending on the way you like it.
"What we want is that every time they're here (the customers), they'll have a completely new memorable experience; just like the truffle – it gives you new experiences every time, and that's what we want here," says Patricia Espino, one of the owners of Trufa Pasta Bar.
The whole place can accommodate over 50 diners.
Aside from the luscious taste and quality of the food they serve, what makes this pasta bar even more special is how they give diners complete freedom by allowing them to actually create their own pasta in just three easy steps: choose La Salsa, choose La Pasta, and choose La Alegria.
Better set aside your indecisiveness first because there are 12 sauces, 11 kinds of pasta, and 13 toppings to choose from – for over 2,000 mixes that can be crafted! The price range is also surprisingly reasonable, given the fact that they use only quality and fresh ingredients to ensure the scrumptious taste of their food.
Owner Patricia Espino, who's very hands-on and passionate about her craft, introduced us to two pasta mixes that she customized herself for us. Topping the list of their never-to-be-missed La Salsa or pasta sauce is the 4 Quesos – a classic sauce with mozzarella, parmesan, stracchino, and one that is very similar to blue cheese with Farfalle as its La Pasta, topped with Crispy Dilis (anchovy) as La Alegria. This one's bursting with flavor. Definitely a must-try!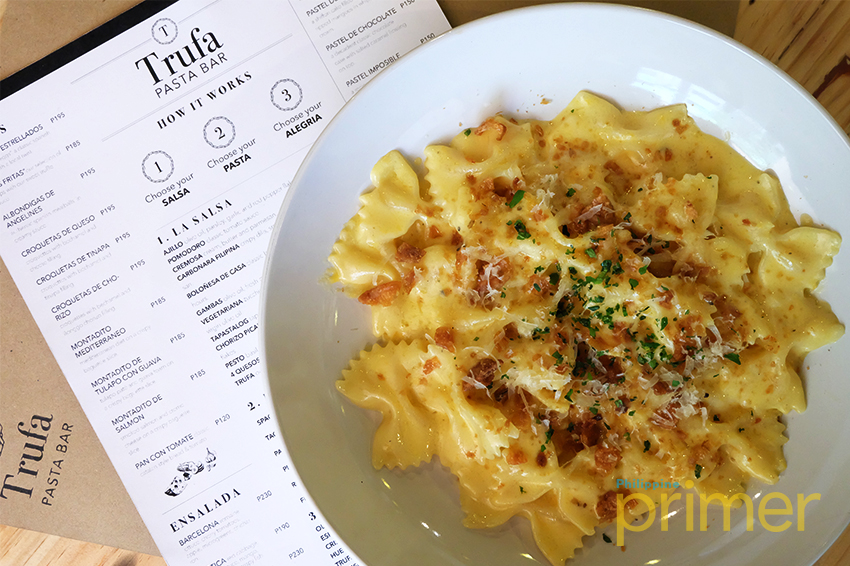 4 Quesos (Php 340) + Farfalle + Crispy Dilis (Php 50) = Php390
Try also their Bolonesa de Casa sauce with Penne as its pasta topped with their own Chorizo de Ana.
Boloñesa de Casa (Php 280) + Penne + Chorizo de Ana (Php 60) = Php 340
Under their "Tapas" menu, try their Huevos Estrellado, a classic Spanish snack with a local twist.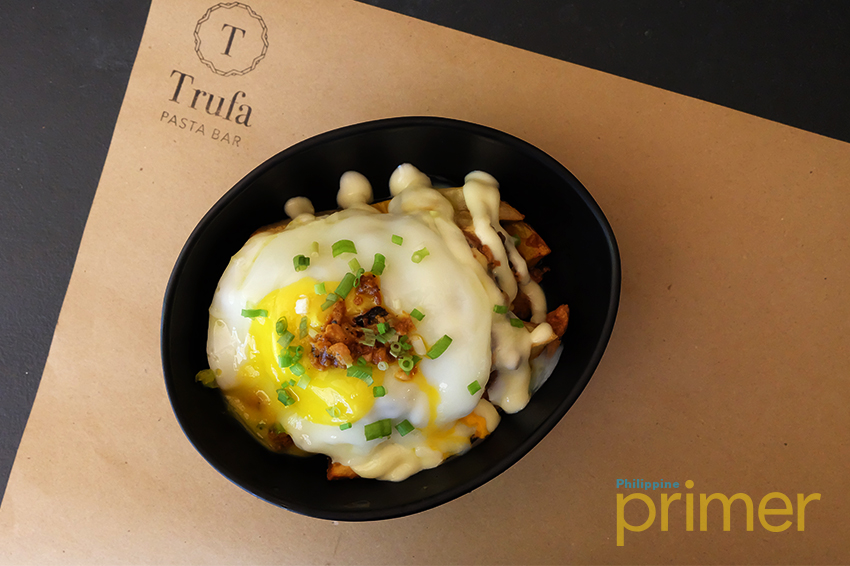 Huevos Estrellados (Php 195)
If you like seafood delicacies, their Montadito de Salmon, smoked salmon bites and crème cheese on a crispy baguette will definitely satisfy your in-the-deep cravings!
Montadito de Salmon (Php 215)
For a crispy treat, try their Las Fritas – Trufa's own selection of crisps with sweet truffle sauce.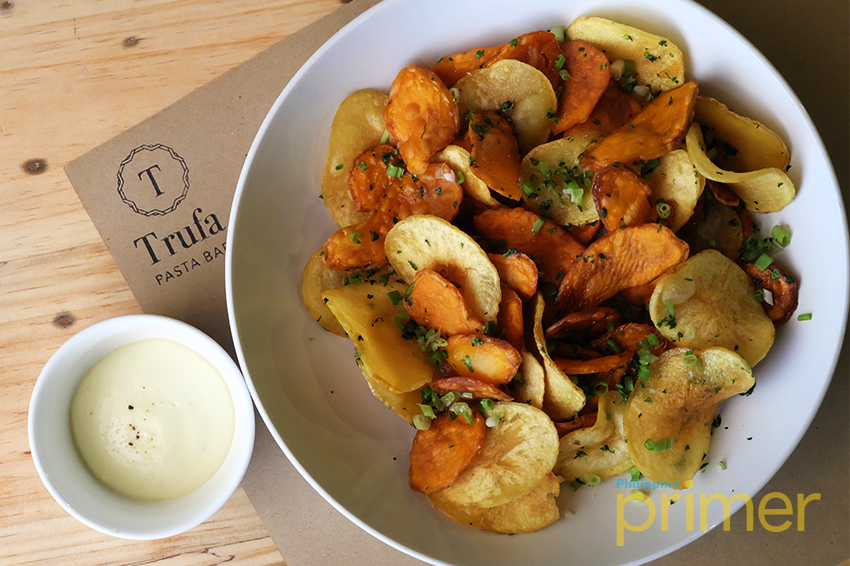 Las Fritas (Php 225)
Aside from being a full-time gastronome and being able to manage her own business at a very young age, Patricia is also a strong advocate of progressive education, thus the Trufa Water – for every bottle sold, part of the proceeds will go to MoveED foundation to give underprivileged children the best ingredient they need for a better life.
"I really believe in investing in the children's future. If there's one thing in life I would spend on, it's the quality of education for children," said Patricia. "As much as possible I really try to encourage the people to buy a bottle of water because there's a reason for that bottle of water." 
Trufa Pasta Bar also offers a wide variety of Italian wine and craft beer. They also accept reservations for private events and celebration.
General Information
Planters Bldg, 109 Esteban Street, Legaspi Village, Makati City
02-771-2581
Paseo Parkview Suites G/F, Valero corner, Valero st. cor, Sedeño, Makati, City
830 07 21 / 0917 804 5011