Kondwi in Poblacion: Sanctuary of Amusing Arts and Indulging Food
Who's a fan of both arts and good food here? If you have been wishing to sit down and indulge in a great plate in front of amazing art pieces, Kondwi in Poblacion, Makati City must be your most awaited sanctuary.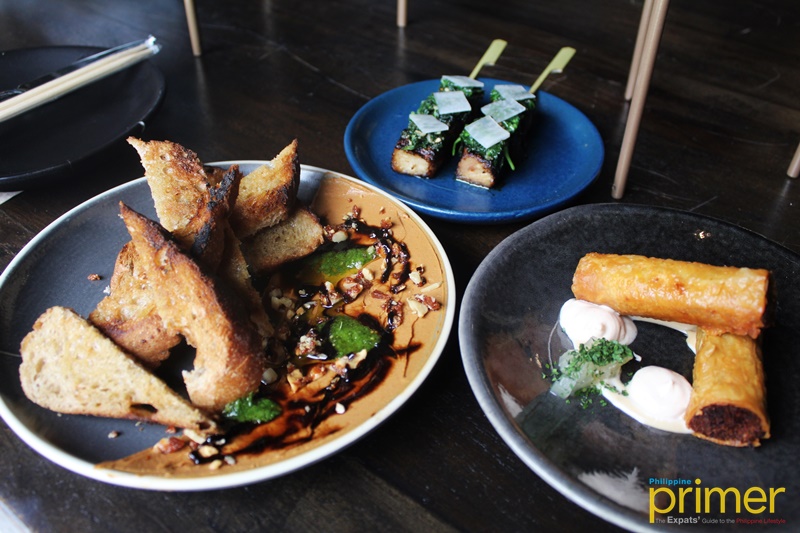 Owned by Filipino actor turned chef and entrepreneur Marvin Agustin, Kondwi is a combination of Agustin's love for art pieces, acting, and food.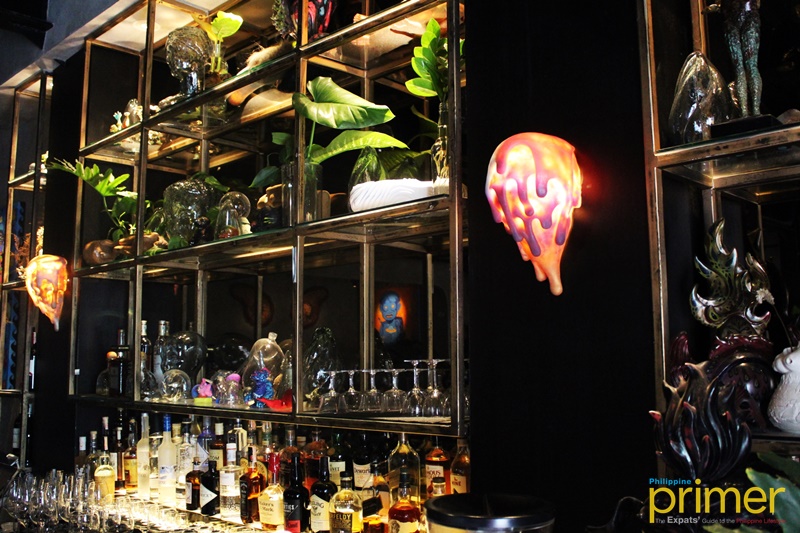 Kondwi's bar and cafe
The name "Kondwi" came from the English term "conduit" which means channel. And since Agustin and his co-owners want to make it look and sound differently, they changed its spelling from "conduit" to "Kondwi".
Assuming that they invented the word itself, they were surprised to find out that "Kondwi" is a Haitian Creole word that means "driven". This made the term even more appropriate as the restaurant's name since they also aim to be a channel to connect themselves, their costumers, and the artists to each other.
Not only that, but they also aim to be driven when it comes to giving excellence to their customers and guests through their ambiance, food, and beverages, most especially, their good customer service.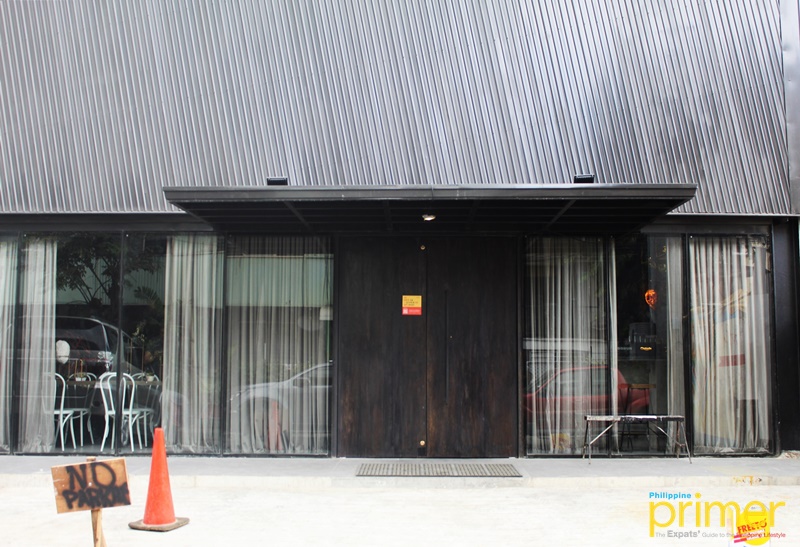 Kondwi's exterior
Opened in December 2019, Kondwi's inspiration for their aura, image, and branding also comes from the artists here in the Philippines who are looking for space where they could showcase their pieces.
That is why, its exterior comes in a minimalist look while the interior is filled with astonishing pieces like vintage-looking furniture, paintings, plants, figurines, glass sculptures, strange-attention-seeking items, and many more!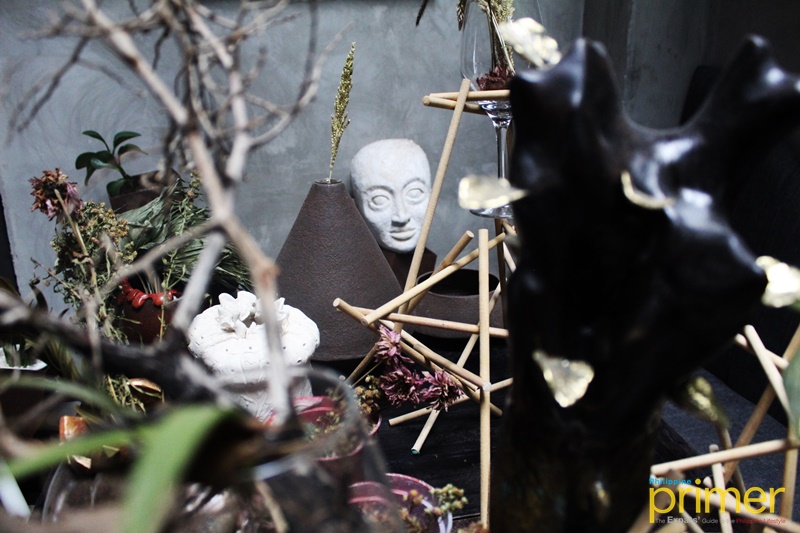 Kondwi's interior displays
To get your mind-blown, some of the things that you could see inside Kondwi are for sale! Other than these pieces, Kondwi also has an exhibit area where you could purchase some great items like paintings, sketches, framed pieces, etc.
Every month, the exhibit area changes its theme, and for the month of February, they came up with "Love Not Love".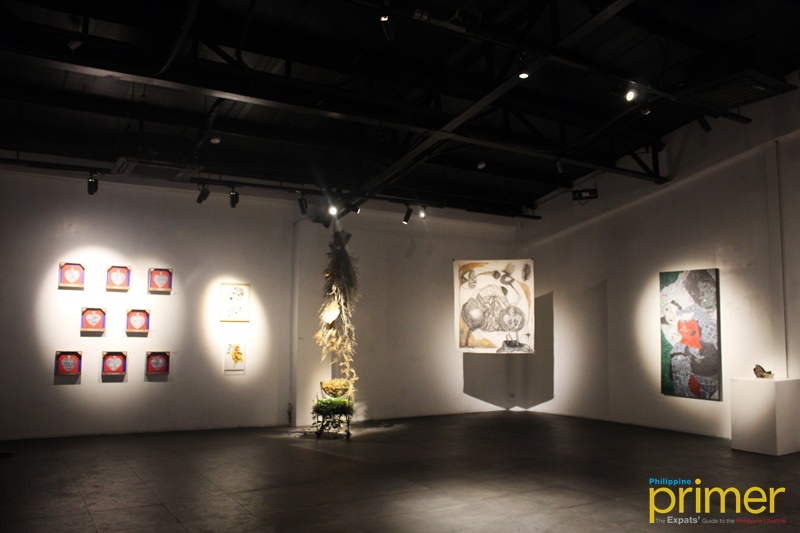 Kondwi's Exhibit Area, 2nd floor
Aside from helping artists to sell their pieces, Kondwi's goal with their set-up is to give their customers a great experience by being surrounded by art. Knowing that most of the restaurants have a typical set-up of chairs and tables, lights and frames on the wall, Kondwi wants to give their customers an ambiance that is quite different from all other restaurants in Makati.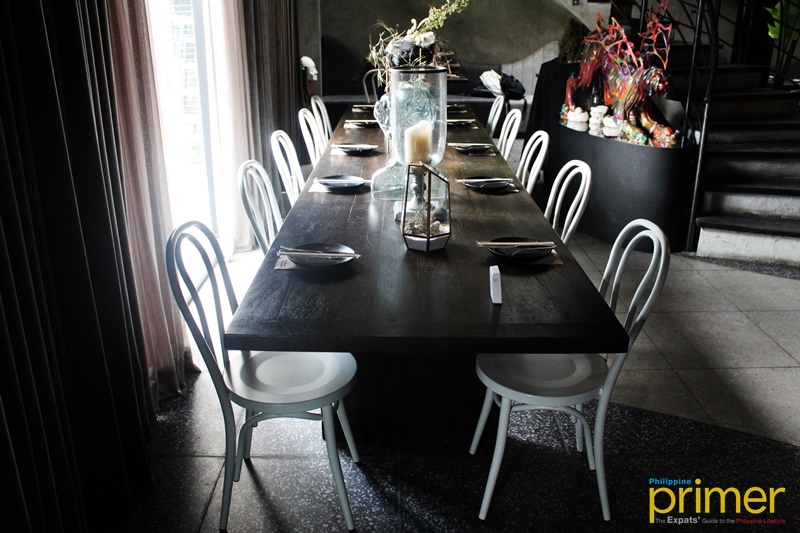 Kondwi's Dining Area, 1st floor
Art + Food
Combining both arts and food, Kondwi's dishes come from their chefs' experiments, too! Blending the recipes that they have learned all together and coming out with a new dish out of it is basically what makes Kondwi's recipes similar to art pieces.
As one of their topmost priorities, serving unique recipes is a must for Kondwi, too. Three of these unique recipes are Pork Sinigang, Duck Confit Rolls, and Chicken Liver Mousse.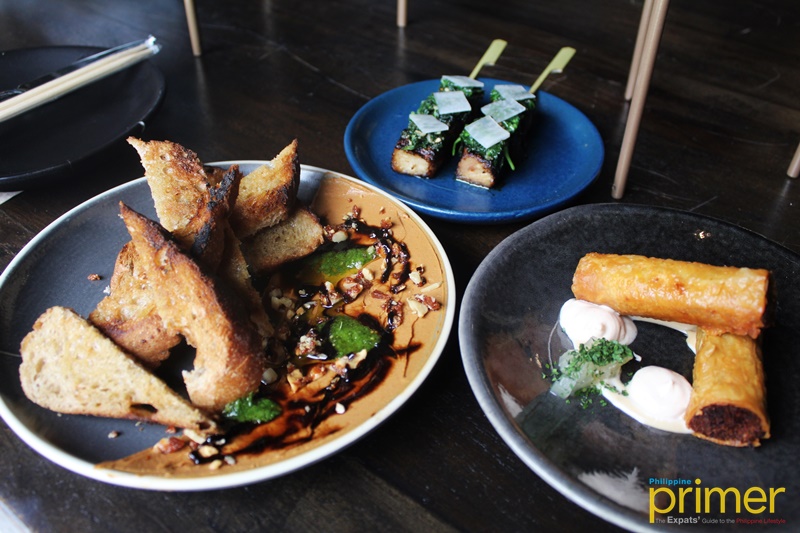 Pork Sinigang (Php 250), as we all know, is a classic Filipino dish. But for Kondwi, it can be turned into something that's more than just a "classic", so they did.
Their version of Pork Sinigang does not come with rice and soup. Instead, it comes in a stick that you can savor the way you enjoy a barbecue.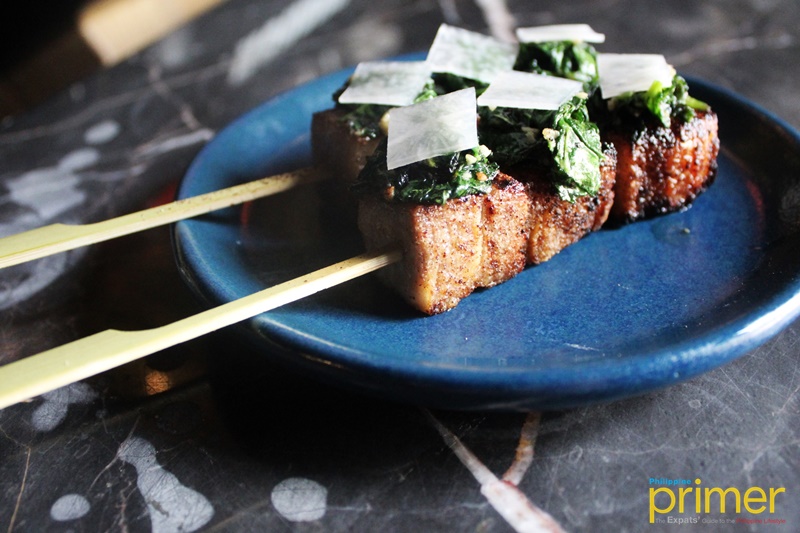 Kondwi's Pork Sinigang (Php 250)
But of course, not omitting that sourness of this Filipino dish, its meat is marinated in tamarind powder overnight and is served with water spinach or kangkong and radish on top, keeping the Pork Sinigang vibe on a stick.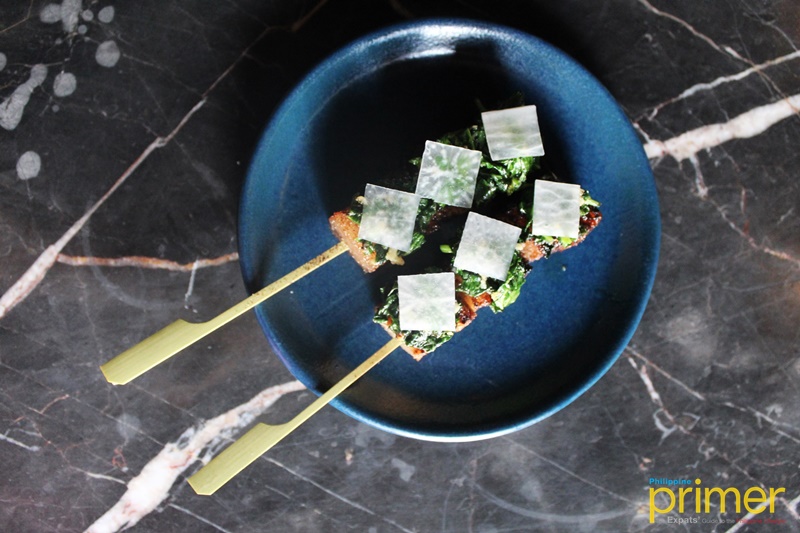 Often mistaken as Lumpiang Shanghai, one of the costumers' favorites in Kondwi too is their Duck Confit Roll (Php 300). This is a lump of tender duck meat wrapped with chili and yogurt giving you that rich, bold, and tasteful bite in a roll.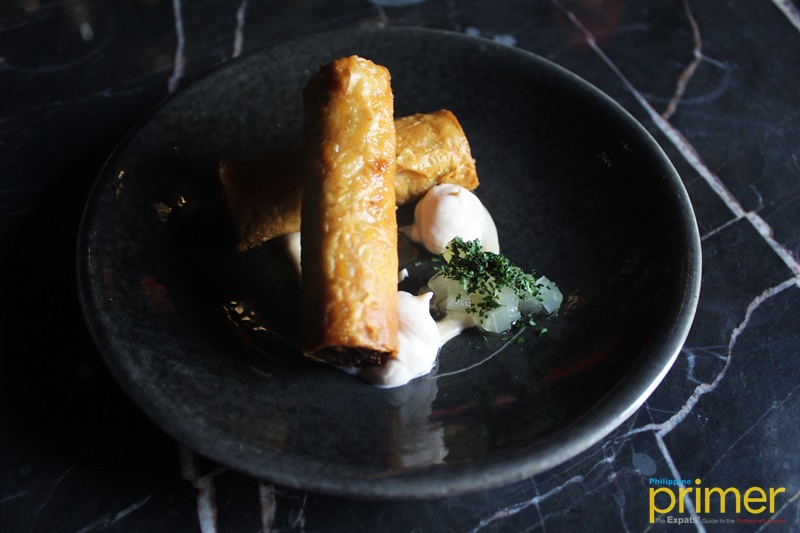 Kondwi's Duck Confit Roll (Php 300)
And even if not everyone likes the taste of liver, Kondwi's best-seller is their Chicken Liver Mousse (Php 320). Their liver mousse serves as a spread that you can enjoy with a sour toast. No worries about the taste of the liver because it also comes with arugula and walnut, which will surely give you a playful taste.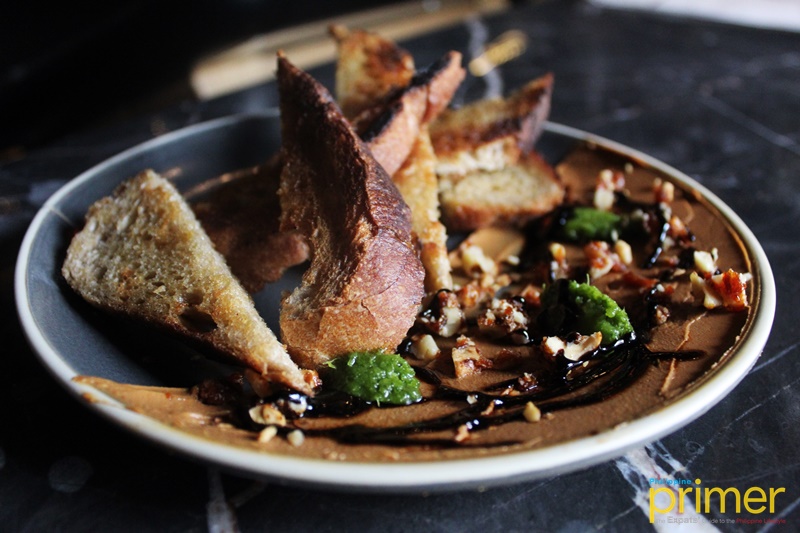 Chicken Liver Mousse Php 320
Serving not only unique recipes, Kondwi also serves exhilarating drinks from their bar and cafe. One of the good blends in their cafe is Long Black and from their bar, you can have Kondwi Sour cocktail.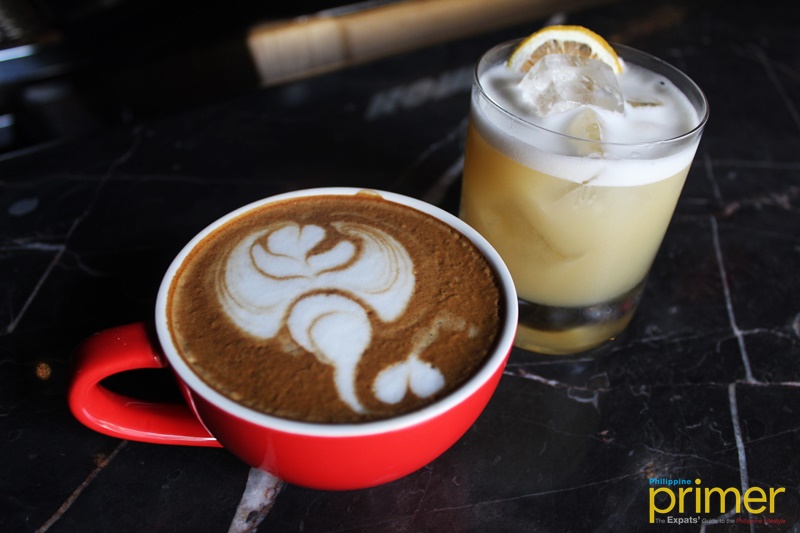 Kondwi's Long Black (Php 120) and Kondwi Sour (Php 400)
Kondwi Sour (Php 400), is a combination of Laphroaig 10 years and Bourbon whiskey, giving you that strong punch. Other than these two whiskeys, it also has egg white and ginger shrub for a relaxing after taste that's quite spicy, too.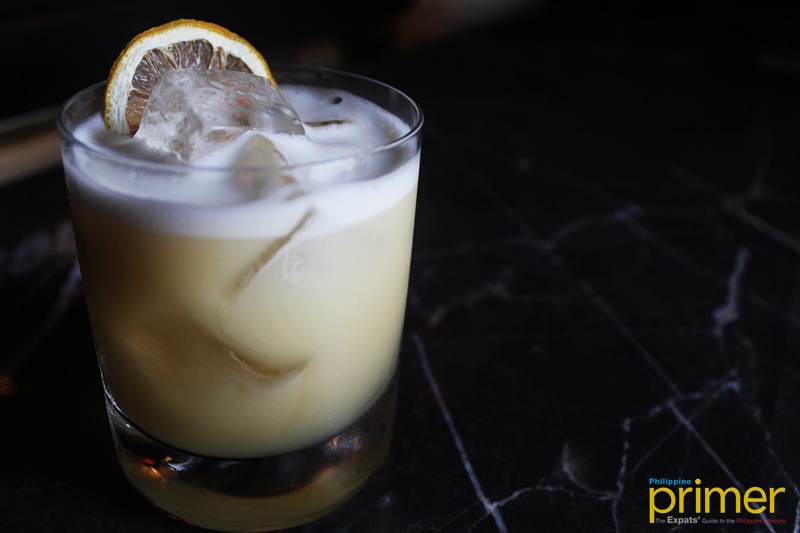 This drink can be followed by Long Black (Php 120) to give you warmth and diminish the cocktail on your body with its slightly bitter and sweet, creamy slurp.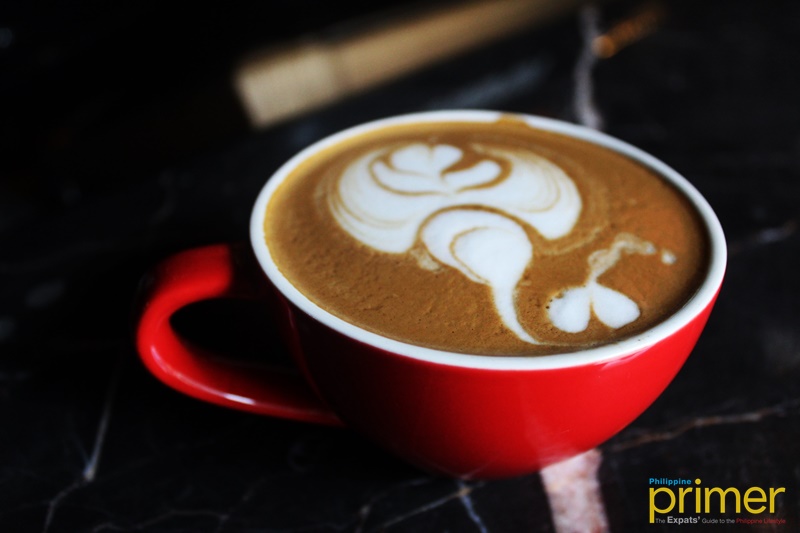 Aside from the variety of art pieces, dishes and beverages, Kondwi also welcomes events in their space! In fact, they also have Salsa Nights and many more to help their customers and guests be filled with extra fun!
They're open on Mondays to Thursdays from 6 p.m. to 1 a.m., on Fridays and Saturdays from 12 p.m. to 2 a.m., as well as on Sundays from 12 p.m. to 6 p.m. To get you more excited to try this place, you can also check them on Facebook and Instagram.
Offering a chance to enjoy amusing arts, mouth-watering dishes, and relaxing drinks, Kondwi should be one of your must-visit places in Poblacion.
How to get here
• Kondwi is located at 6109 Albert St., Brgy. Poblacion, Makati City
• From Ayala Ave. head to northwest Ayala Ave. Turn right onto Paseo de Roxas and make a left turn on Makati Ave. passing by Metrobank on the left side. Turn right onto P. Burgos before making another right turn to General Luna. A left turn onto Escuela and right turn onto Albert, you will reach Kondwi on your right side.
• The parking area in front of the restaurant is still under construction as of writing and will be available soon.
---
Words and photos by Hannah Carmona

6109 Albert St., Brgy. Poblacion, Makati City 1210

6 p.m. to 1 a.m. (Monday to Thursday); 12 p.m. 2 a.m. (Friday to Saturday); 12 p.m. to 6 p.m. (Sunday)