Ganso-Shabuway in Makati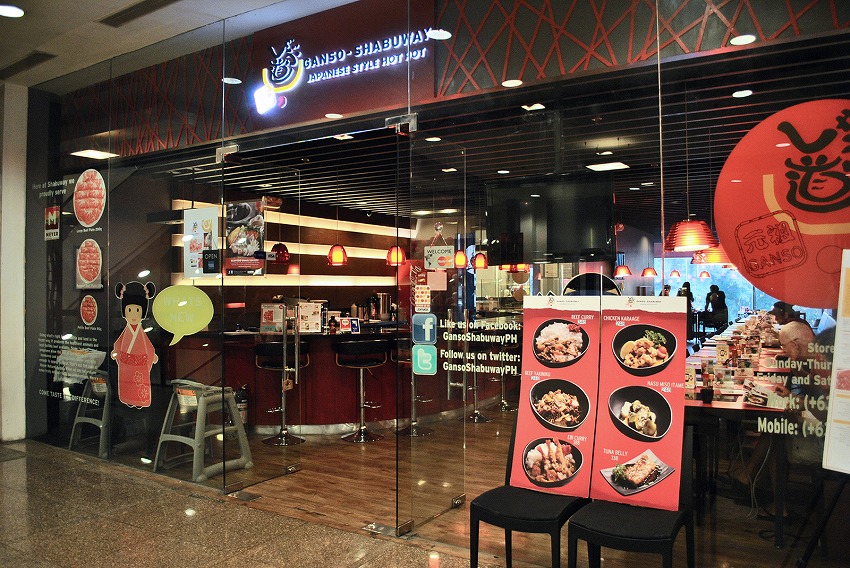 Ganso-Shabuway is a shabu-shabu restaurant that has branches in Greenbelt, Alabang Town Center, Power Plant Mall in Rockwell and Shangri-la Plaza Mall. Since their opening in 2011, they have been loved by many. Last year, they increased their non-hotpot menus. A la carte menus for appetizers and rice bowls are now available!
Primer introduces the lead role, shabu-shabu, as well as the non-hotpot menus!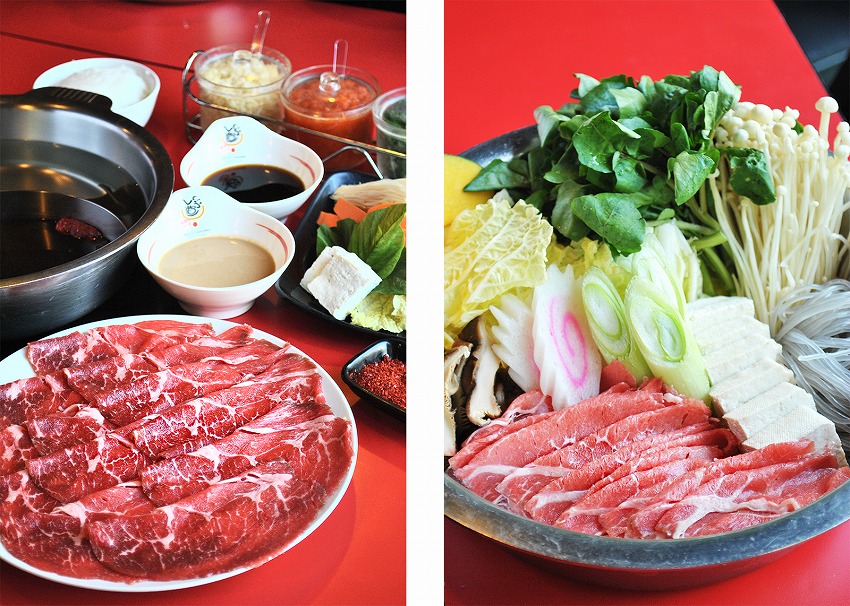 Meyer Natural Angus Beef (Regular-P595, USDA Choice Angus Beef Sukiyaki Set (P588)
Their popular shabu-shabu set, Meyer Natural Angus Beef regular uses Natural Angus Beef from the US. The beef comes from cows that are fed with healthy and natural foods and not with the ones that  have additives or growth hormones. They use a double pot or a pot with 2 compartments. With this pot you can have 2 different soups in 1 order. It makes you feel somewhat lucky.
As for the dipping sauce, they have 2 varieties: Ponzu and Sesame. It's fun to try all the different combinations! USDA Choice Angus Beef Sukiyaki Set uses Choice Beef as determined by the US Department of Agriculture (USDA). It has a different flavor from the Natural Beef, so see which one you like.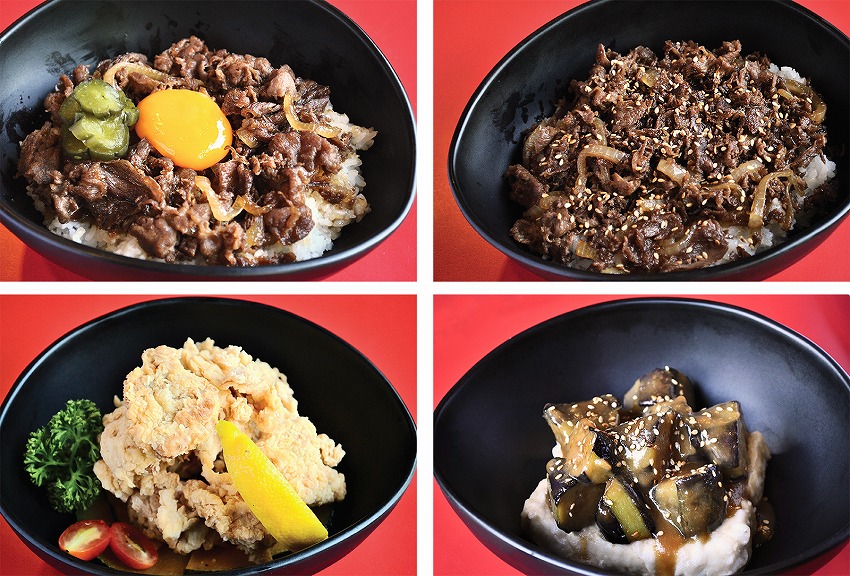 Clockwise, from top left: Beef Gyudon Donburi (P288), Beef Yakiniku (P348), Nasu Miso Itame P248, Chicken Karaage (P248)
These are the new appetizers and rice bowl menus. Nasu Miso Itame has a perfect combination of fresh tofu with well-flavored eggplant.  The crispy coating and tenderen of the Chicken Karaage is also a delight.  Beef Yakiniku and Beef Gyudon Donburi also use US Beef.
Mango Mochi Tempura (P80), Mochi Kinako (P100)
The desserts are also highly satisfying. Mochi Kinako is made by deep frying pieces of mochi, and coating them with Kinako. Mango Mochi Tempura is a Tempura with mango and mochi inside. Recommended to be eaten while still hot! (I'm getting an urge to taste their food again as I write this!)
Stamina is important during hot summers. So, all you office workers, why not have some shabu-shabu for lunch today?
The friendly staff of Shabuway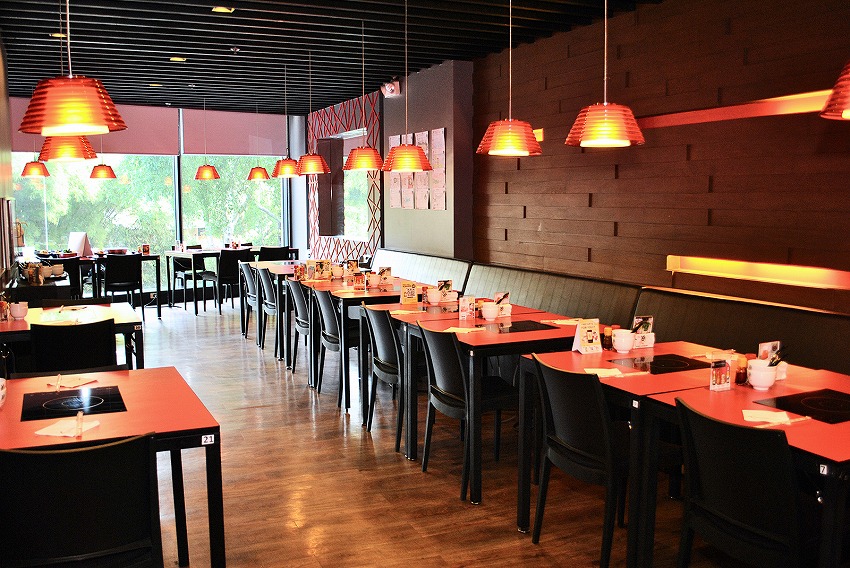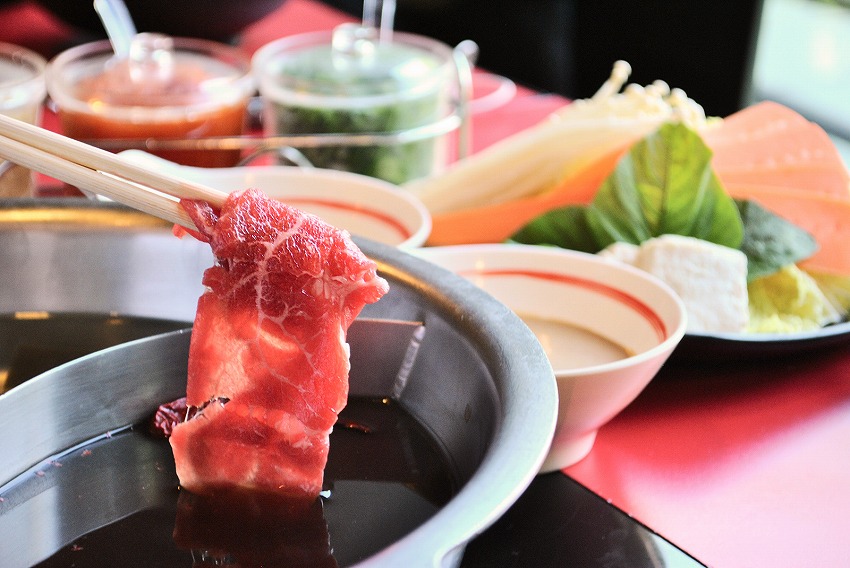 Greenbelt 5 Branch
Address: Greenbelt 5 Ayala Center, Makati
Phone: 02-903-6763, 0917-541-8181
Business Hours: Sun – Thurs 11am – 9pm/Fri & Sat 11am – 10pm
Credit Cards: Visa, Mastercard, AMEX, JCB
Power Plant Branch
Address: P1, Power Plant Mall, Rockwell Center, Makati
Phone: 02-822-4864, 0917-822-1400
Business Hours: Mon – Thurs 11am – 9pm/Fri 11am – 10pm/Sat 10am – 10pm/Sun 10am – 9pm
No Holidays
Shangri-la Plaza Branch
Address: Level 5, East Wing, Shangri-la Plaza, Mandaluyong
Phone: 02-655-7812、0917-873-1640
Business Hours: Mon – Thurs 11am-9pm/Fri 11am – 10pm/Sat 10am – 10pm/Sun 10am – 9pm
No Holidays
Alabang Town Center Branch
Address: Corte delos Palmas Expansion, Alabang Town Ceter, Mutinlupa
Phone: 02-552-3778, 0917-833-3730
Business Hours: Mon – Fri 11am – 2:30pm, 6pm – 9pm/Sat & Sun 11am – 10pm
No Holidays
Google Map:
Greenbelt 5 Branch