Washoku Musashi Maru: A Tonkatsu Destination in Japan Town, Glorietta
Heads up foodies! Washoku-Musashi Maru just opened in Japan Town, Glorietta. They are the only Japanese restaurant to use the automated sushi conveyor in Metro Manila.
The restaurant belongs to the Tonkatsu Musashi Group of restaurants along with Washoku-Musashi Tei, which opened in 2017  in BGC, specializing in tonkatsu, ramen, sushi, among others.
Also read: Musashi-Tei in BGC: The go-to place for tonkatsu, ramen, and coffee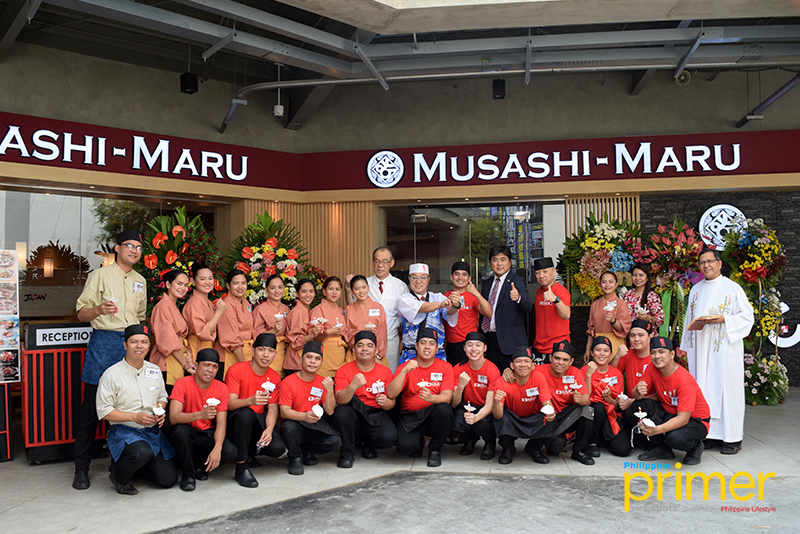 The opening was held on June 22, with a ribbon-cutting and blessing of the new restaurant at the Top of The Glo, the innovative outdoor concept at the roof deck of Glorietta.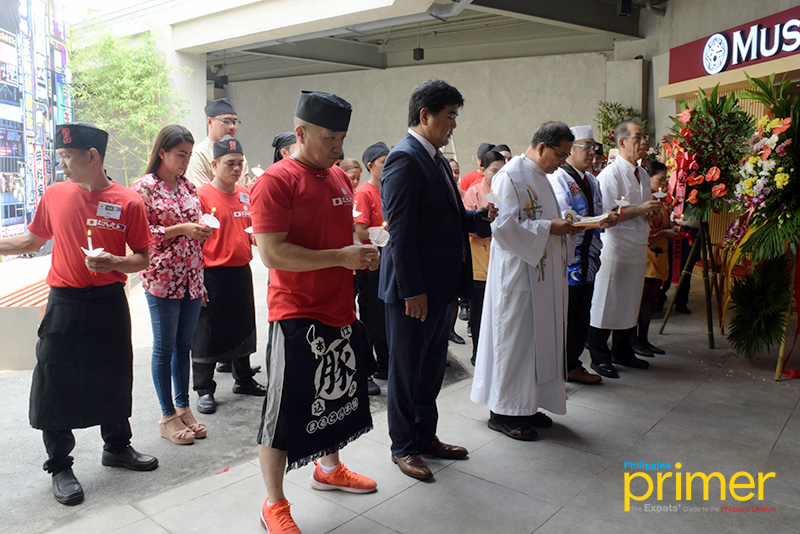 The blessing was attended by the whole staff, owners, and Musashi Maru's ramen and tonkatsu masters.
Following the concept of Japan Town, Musashi Maru wanted to offer a unique experience for diners.
The new Makati branch features the same favorites, but with an even bigger space and their High-Speed Sushi Conveyor Lane that brings you small plates of sushi, sashimi, and kaisen straight to your table!
During our experience, we ordered the assorted sushi, Gunkan Zanmai (Php 280), and it came through the conveyor lane. It will stop in front of your table, and there will be beeping sounds to inform you the order has arrived. Just press the red button on your table to send back the tray.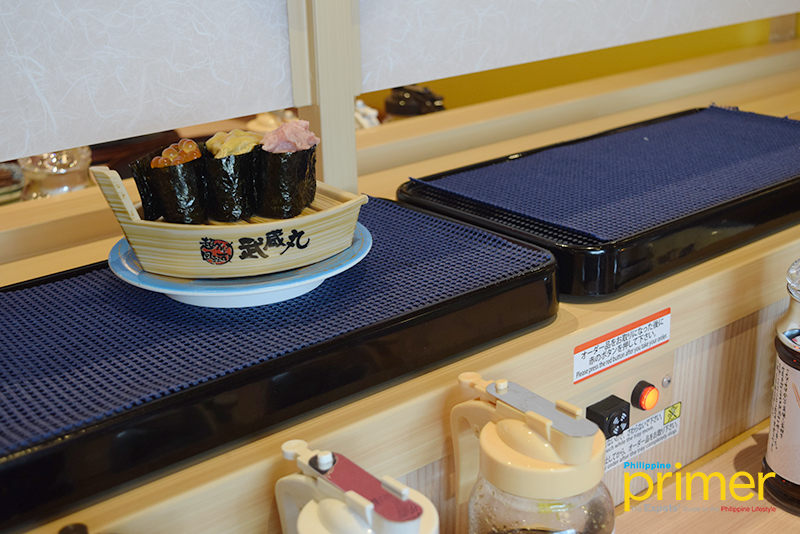 Gunkan Zanmai (Php 280)
Knowing that Musashi Maru has tonkatsu masters at the helm, be sure to try the very generous Ebi-Fry and Rosu Tonkatsu (Lunch Php 480; Regular Php 540). It's comprised of shrimp and pork tenderloin, served on a bed of shredded cabbage.
This basketful of goodness can be paired with rice and sides like the Tonjiru set (Php 100).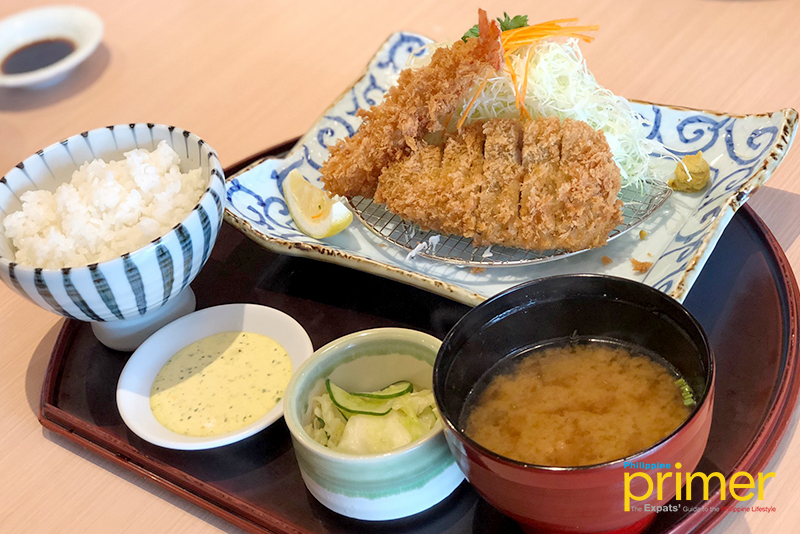 Ebi-Fry and Rosu Tonkatsu  (Lunch Php 480; Regular Php 540)
A Japanese restaurant would not be complete without sushi, and thankfully, Musashi Maru has plenty of varieties to offer!
Sample the Nadeshiko (Php 750), which has 7 kinds of sushi along with Miso Kushi Katsu and Zaru Udon. A full meal in itself, this set truly hits the spot with hot steamy udon and fresh sushi.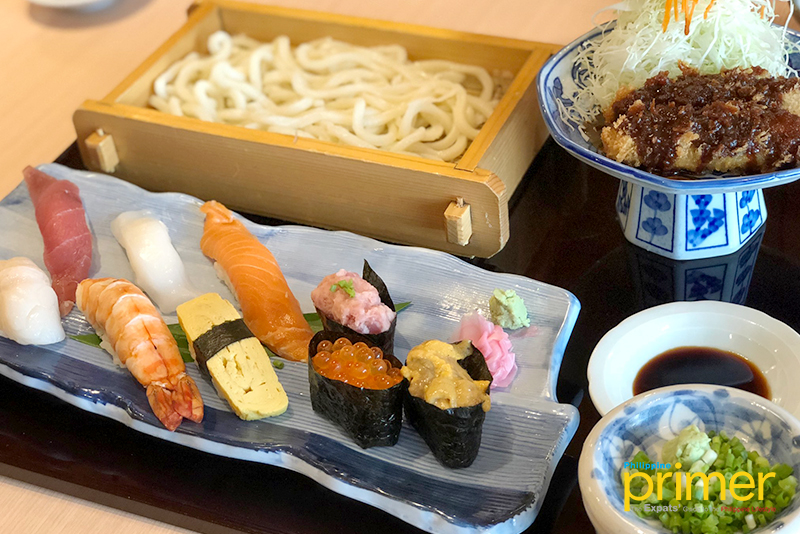 Nadeshiko (Php 750)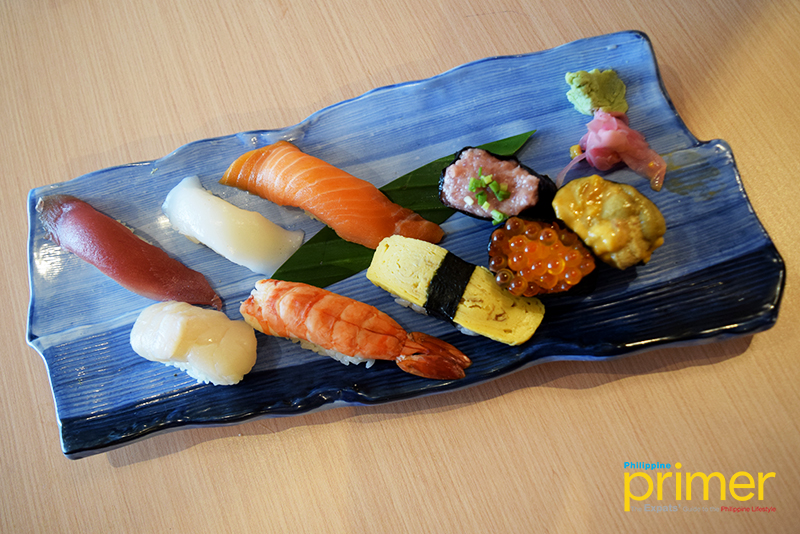 9pcs Assorted Nigiri Sushi (Php 700)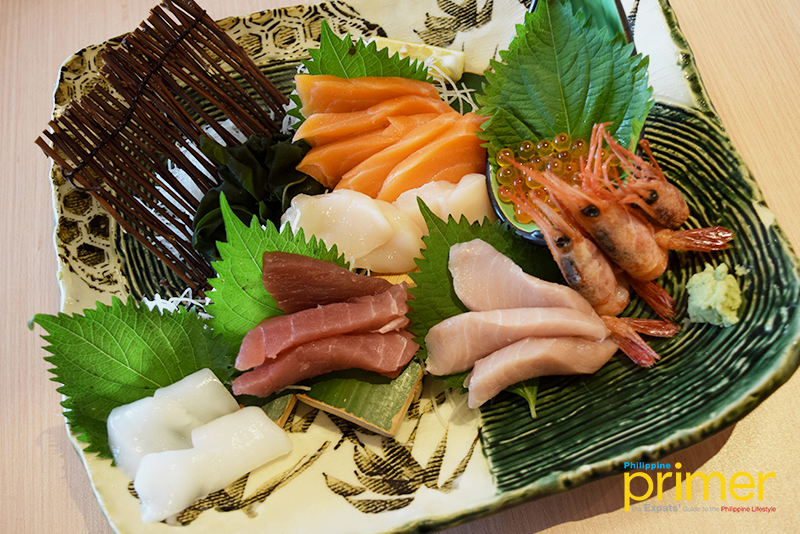 Osashimi 7 Shu Mori (Php 1,200)
Don't miss out on their hearty ramen—which is based on the recipes from a restaurant in Japan, Maruton Honpo—crafted to perfection using local ingredients. Miso Tonkotsu Ramen (Php 370), for example, has the perfect balance of salty with savory ramen noodles.
The mix of toppings worked so well with the broth, too!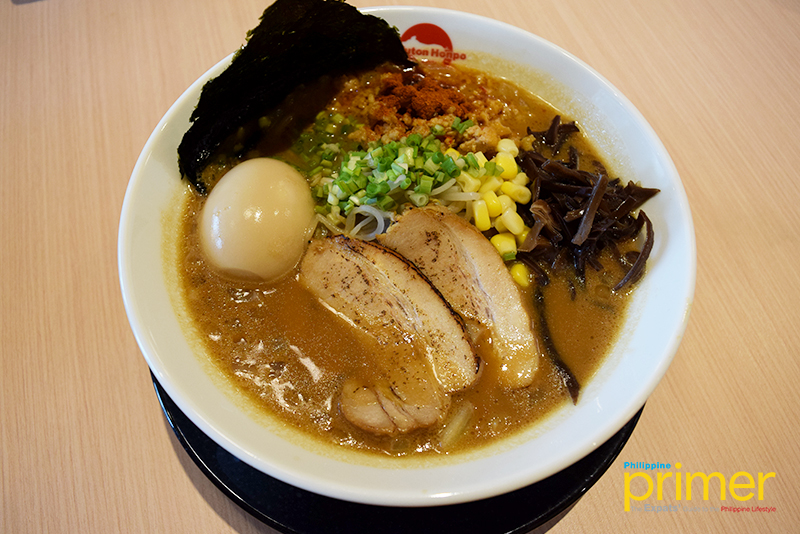 Miso Tonkotsu Ramen (Php 370)
Inside the restaurant, there are tables for small families and booth tables, where an automated sushi lane can serve your food at the table. There are also semi-private and private areas for intimate gatherings.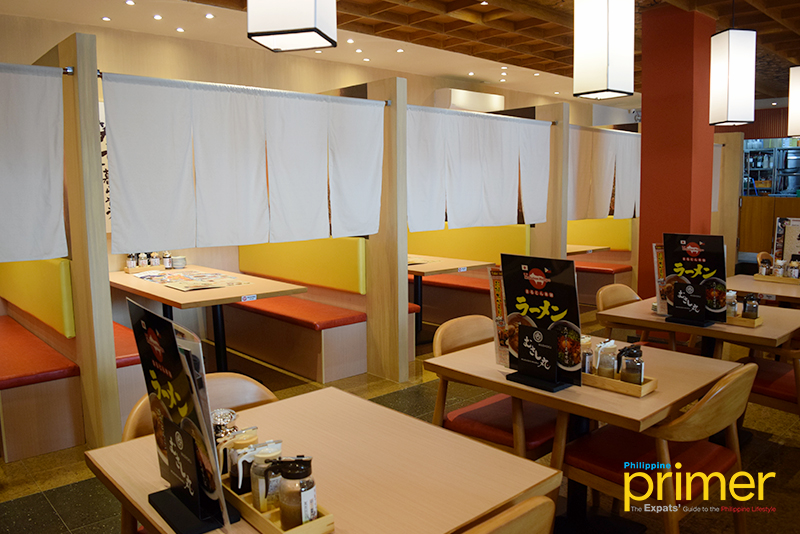 Only select seats can be served using the automated conveyor lane, and they're generally made for a maximum of 6 people. The branch has a private function area good for 30 people but the whole restaurant has a seating capacity of 134. Of course, reservation is highly recommended.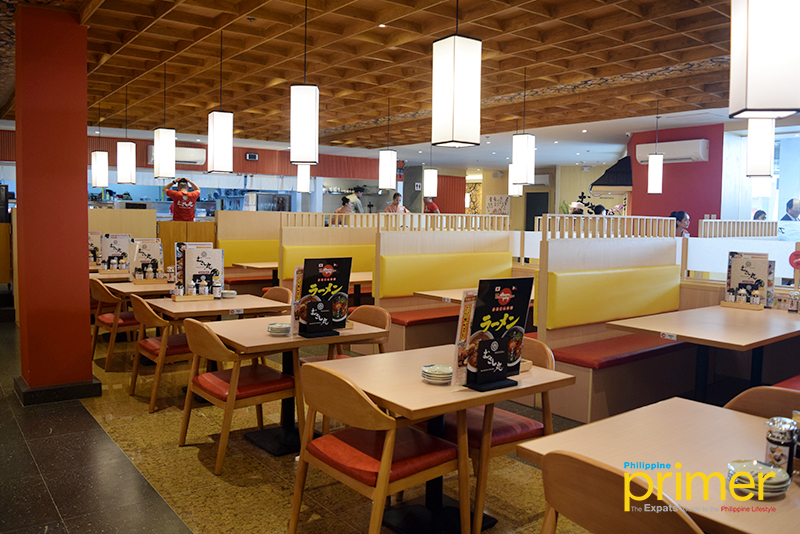 With their all-time favorites and unique technology, Musashi Maru in Japan Town, Glorietta is truly an exciting destination for all.
Other than Musashi Maru, other Japanese restaurants are set to open at Japan Town—so watch out!

408-409, Roofdeck 2, Japan Town, Top of the Glo, Glorietta 2, Makati City

10 a.m. to 9 p.m. (Sun to Thurs); 10 a.m.- 10 p.m. (Fri to Sat)