FRNK Milk Bar: Manila's First Authentic Japanese Milk Bar Opens in Glorietta!
Manila's first authentic Japanese Milk Bar is finally opening today at Glorietta 3, Makati, and we got first dibs on the new drink! FRNK Milk Bar is the newest concept in the country, and we're here to give you more reasons to try it now!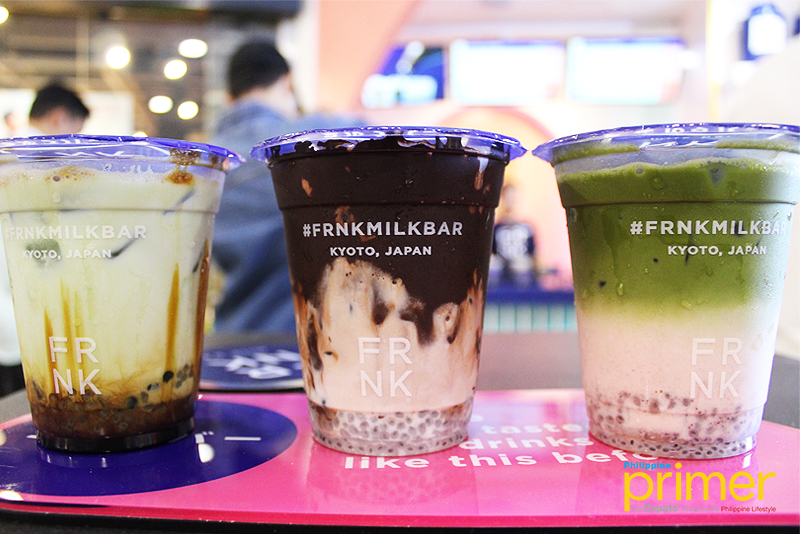 Blue Lava Miruku, Ichigo, and Kokoa Miruku
Frostfive Inc., in partnership with Isabelle Daza and in collaboration with Morihan, one of Japan's largest producers and exporters of maccha, introduces a new beverage concept that provides guilt-free drinking experience for everyone. The team reimagined a beverage concept by incorporating the various health needs of the people, thus, paving the way to a plant-based milk brand—FRNK.
FRNK is not going after the "milk tea" chain. Instead, they brand themselves as a "craft milk bar", where milk is the front and center while chocolates, teas, fruits, and other ingredients are just there to complement and further add flavors. Meanwhile, their teas are sourced from Morihan, which comes straight from Kyoto, Japan.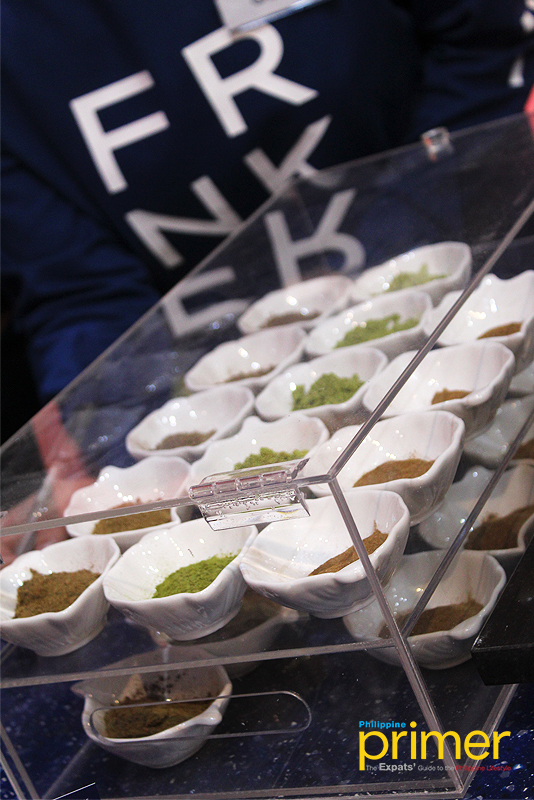 Maccha powders and other ingredients used for the drinks
Milk Reimagined
With all the dietary restrictions that people have to face on a daily basis, getting a cup or trying out a new drink in town with milk may be hard. But with FRNK, they offer both dairy and non-dairy, letting their customers customize their own drinks according to their liking.
Most of their drinks are made with whole or coconut milk, but Isabelle came up with an idea to introduce the vegan-friendly almond milk.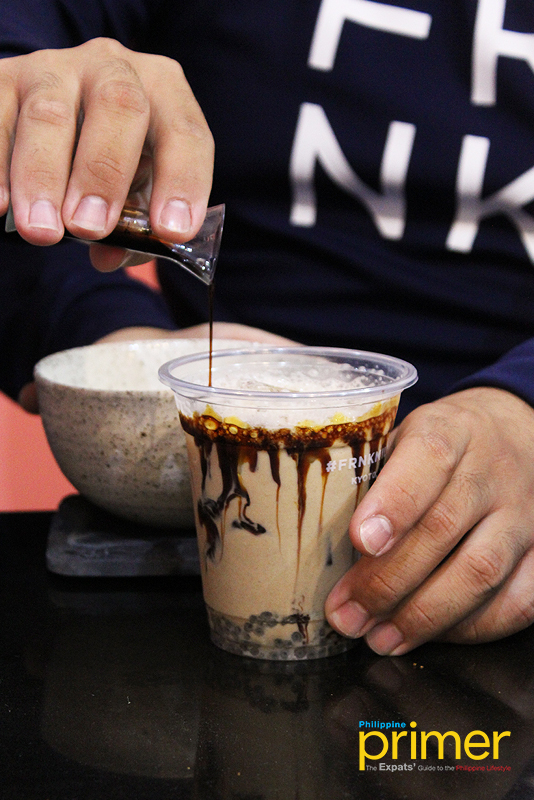 Guests can even watch how their drink is being made!
With all these choices, customers now have the freedom to choose what they'd like to consume without sacrificing too much. Not to mention that some of the drinks also have lower calorie count!
Since we got to try it first, here's a sneak peek on what you can order at FRNK Milk Bar!
If you're looking for something similar to a milk tea drink, you might as well get their Blue Lava Miruku (Php 85/Php 105). Unlike your usual milk tea, this one is not too sweet and it goes well with the blue tea pearls, almost similar to tapioca balls but smaller. The tapioca balls are infused in butterfly flower tea that adds more flavor to the drink.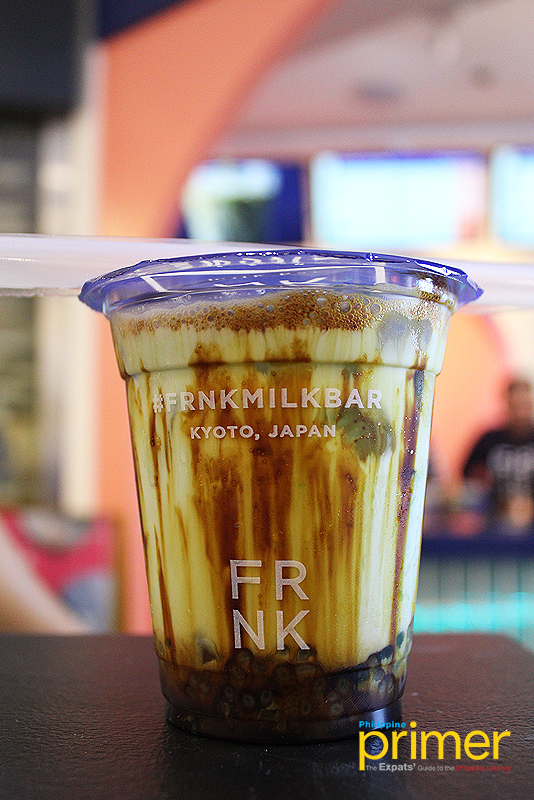 Blue Lava Miruku Php 85 (small); Php 105 (tall)
If you're one who loves maccha drinks, the Ichigo Php 115 (small); Php 140 (tall) is definitely one you should try. It is hand-whisked Uji Maccha, with homemade strawberry jam and basil drops. The maccha flavor definitely stands out the most here. It's a little strong but it is well complemented by the milk and the blue tea pearls—perfect drink for your bittersweet tastebuds!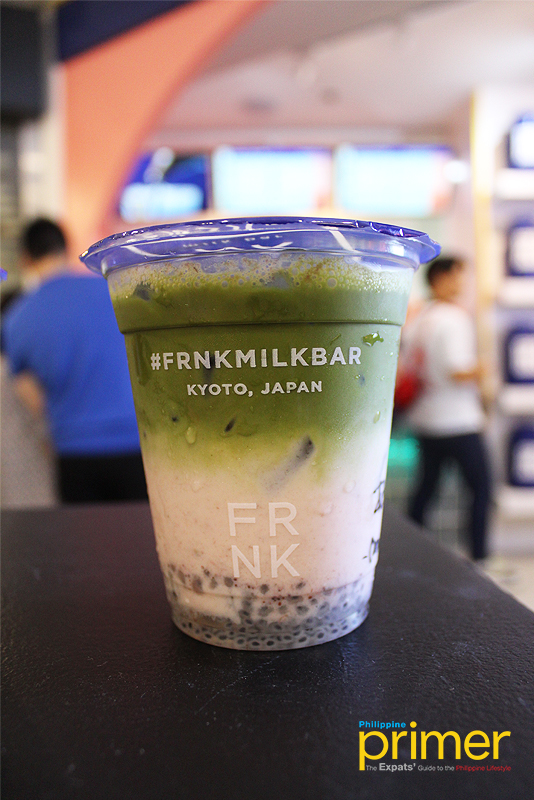 Ichigo Php 115 (small); Php 140 (tall)
Of course, what's a milk drink without its popular partner, chocolate? If you're one who loves chocolate, the Kokoa Miruku Php 95 (small); Php 105 (tall) is perfect for you. It has fresh milk and cocoa, plus blue tea pearls. This is the perfect drink for anyone's sweet tooth because it has a good amount of chocolate inside!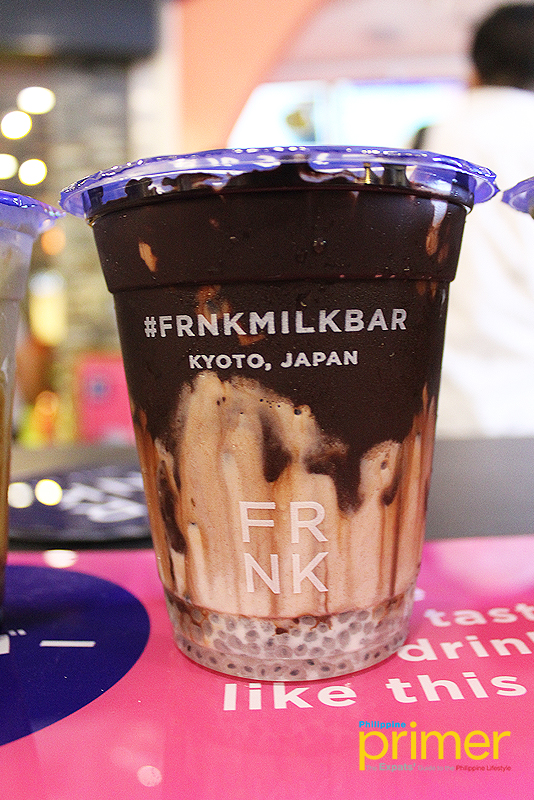 Kokoa Miruku Php 95 (small); Php 105 (tall)
Those who would like to customize their own milk can request for either dairy or plant-based milk. For the dairy milk, you can choose from the fresh or non-fat milk while for the plant-based, you can try out their almond milk or brown rice milk. Just add Php 10 for small and Php 15 for tall. Fun fact: most drinks are also gluten-free.
One of the best parts here? Customers can watch how their drinks are made, from whisking down to cupping and shaking. Plus, you can also bring your own reusable cup, straws or tumblers, and even request your drink to be completely plant-based!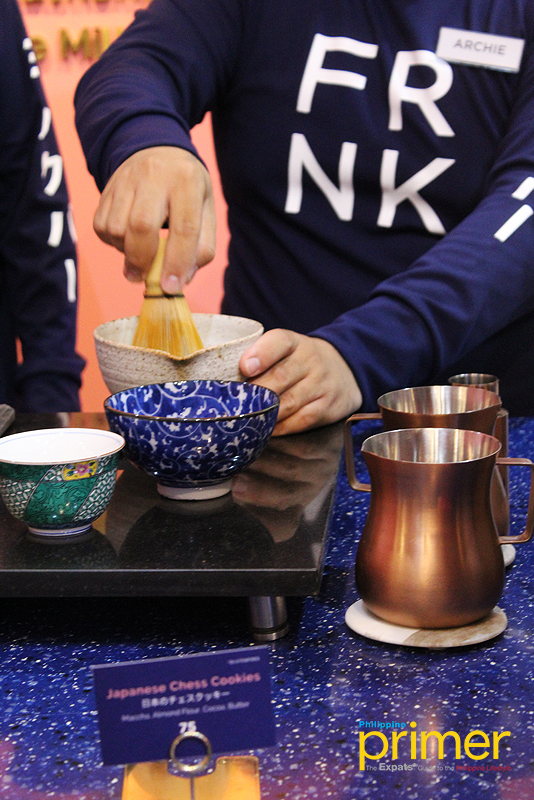 Apart from the drinks, FRNK has currently four baked goods on their menu. They have the Flourless Kokoa Cake, Flourless Chizu Cake, Japanese Checkered Cookies, and Japanese Coco Macaroons.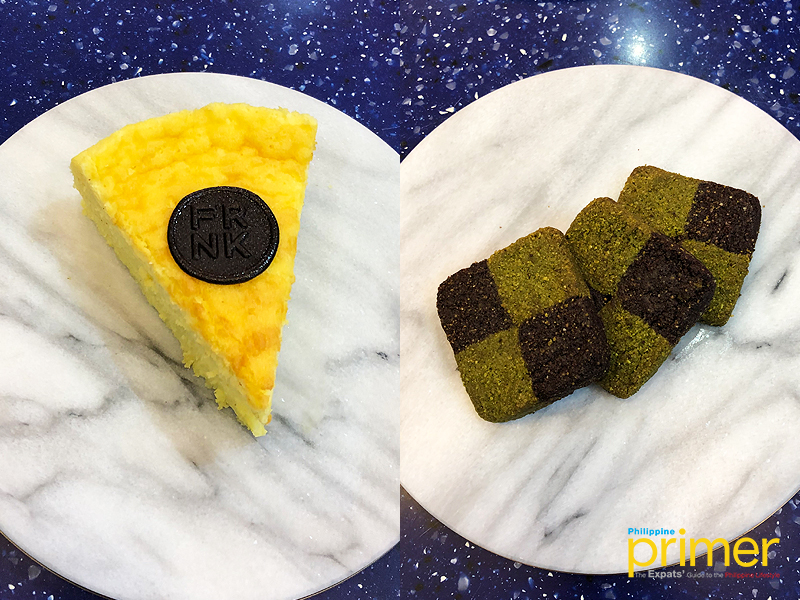 Flourless Chizu Cake and Japanese Checkered Cookies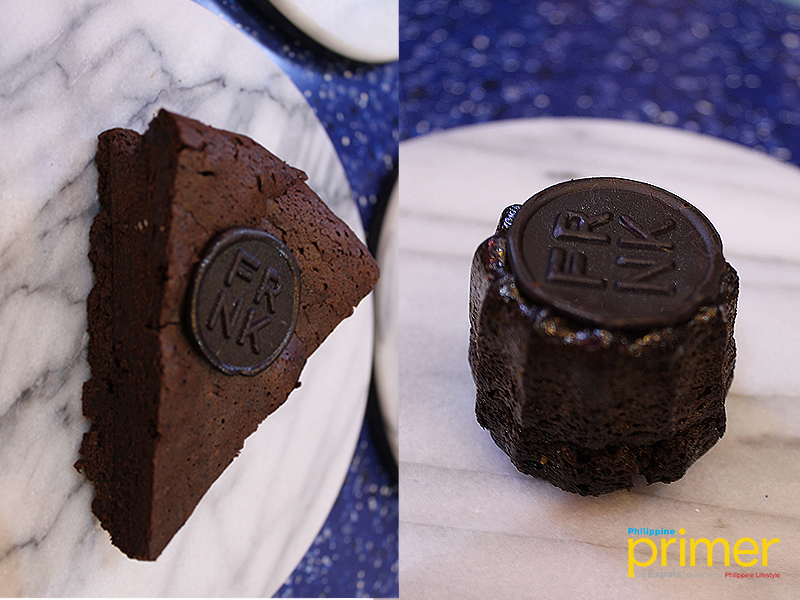 Flourless Kokoa Cake and Japanese Coco Macaroons
If you're looking for your next go-to milk drink, then head over to FRNK Milk Bar in Glorietta 3, and grab some guilt-free crafted milk drinks. Bonus to that, the place is also very Instagram-worthy so strike a pose with your drink and enjoy the bright pink and pastel-ish interiors inside!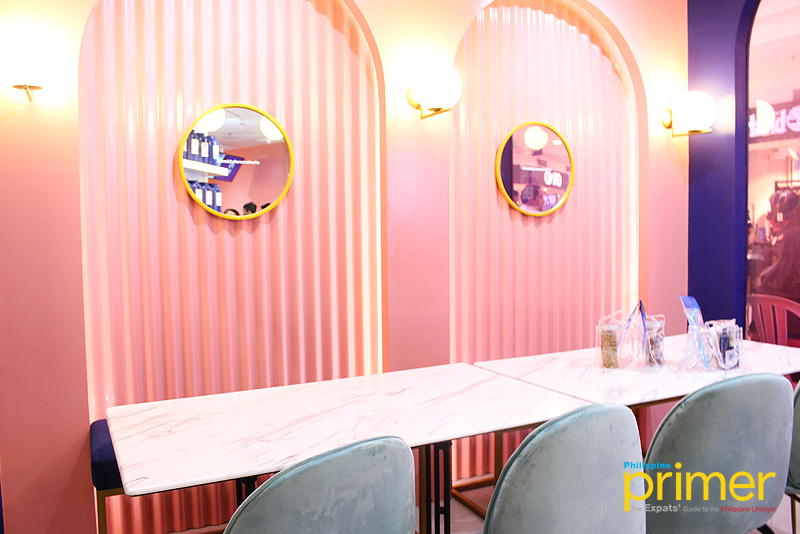 the milk bar has bright pink walls with pastel-ish seats perfect for hanging out and picture-taking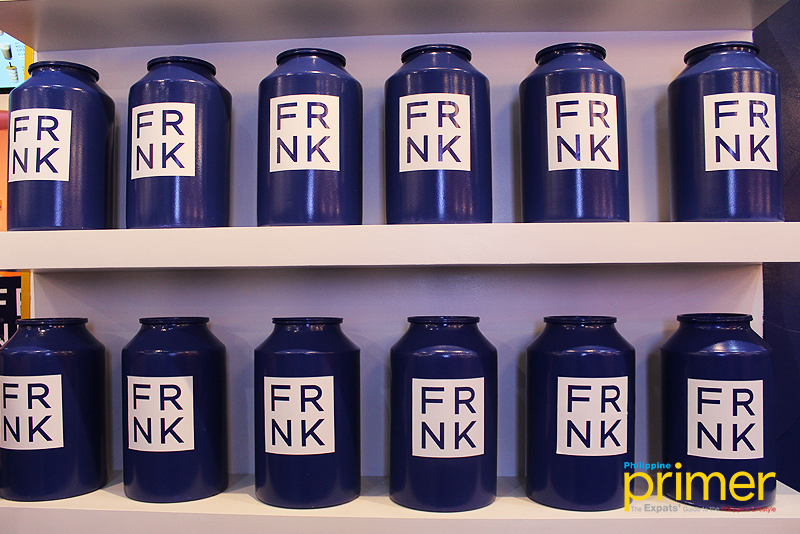 on the side of the counter is the FRNK jars on display that can also serve as a backdrop for your Instagram posts
You may visit FRNK Milk Bar at the G/F of Glorieta 3, Makati City. Take the first left after Coldstone! For more information and updates, you may follow them on Facebook at facebook.com/frnkmilkbar. They have also opened a pop-up stall in Bonifacio High Street, BGC, in Taguig.

G/F Glorietta 3, Makati City
Restaurant Menu
You can scroll the image left and right.