Caffe Pascucci
Caffe Pascucci is a global chain of authentic Italian Coffee. What makes Café Pascucci unique and distinct from other coffee shops around is the special blend of their coffee that focuses on their special roast–a perfect component for a dessert coffee that bears the Italian roast flavor. It has branches in the posh New Glorietta Mall, Ayala Makati City and in Robinson's Galleria Ortigas Center, Pasig City.
The shop features an upbeat and bubbly setting that blends well with the vibrant metro. Some of the catchy attractions are the graffiti-inspired artwork and designs on some parts of the wall and the exceptional bright interiors in a black and red contrast with neat, relaxing and well-arranged tables and chairs.
Upon entrance, you'll be welcomed by their freshly-baked pastries and cakes, coffee and desserts menu printed on the wall and the friendly staff on the ground floor. A balcony-inspired second floor welcomes you further inside with more tables and chairs and colorful wall decorations. They also have a relaxing ambience outside with cozy seats and large, outstretched umbrellas. It's a lovely and comfortable place to hang out in, study (for students), work (online job or after office hours), and simply relax and chill with family or peers.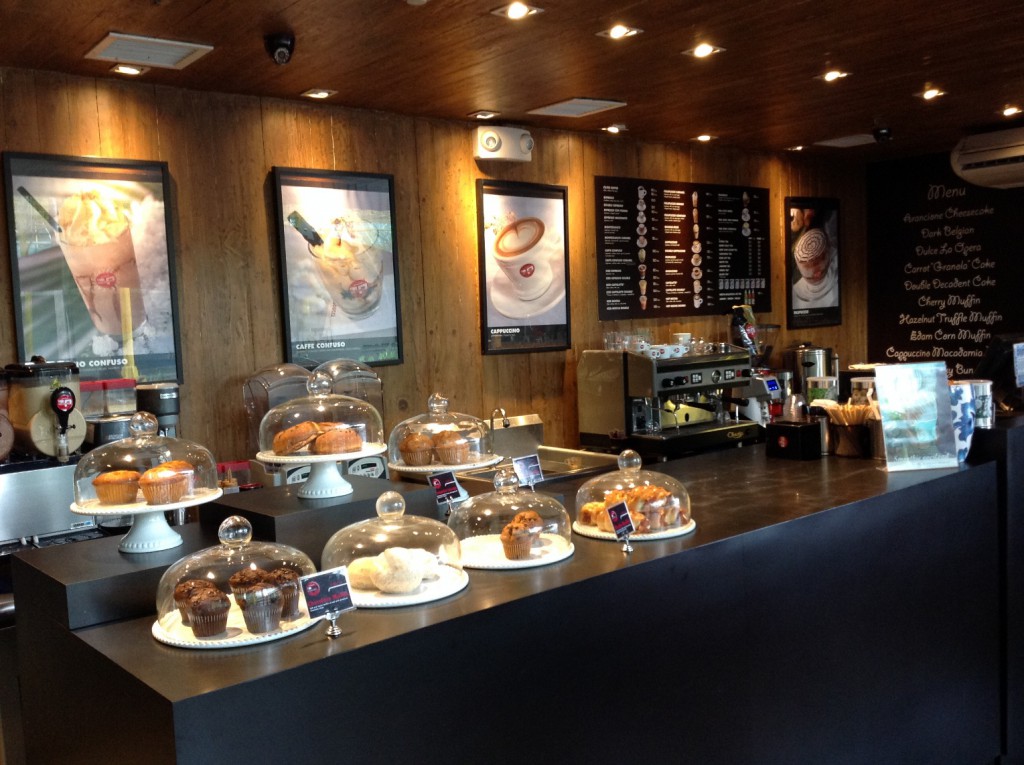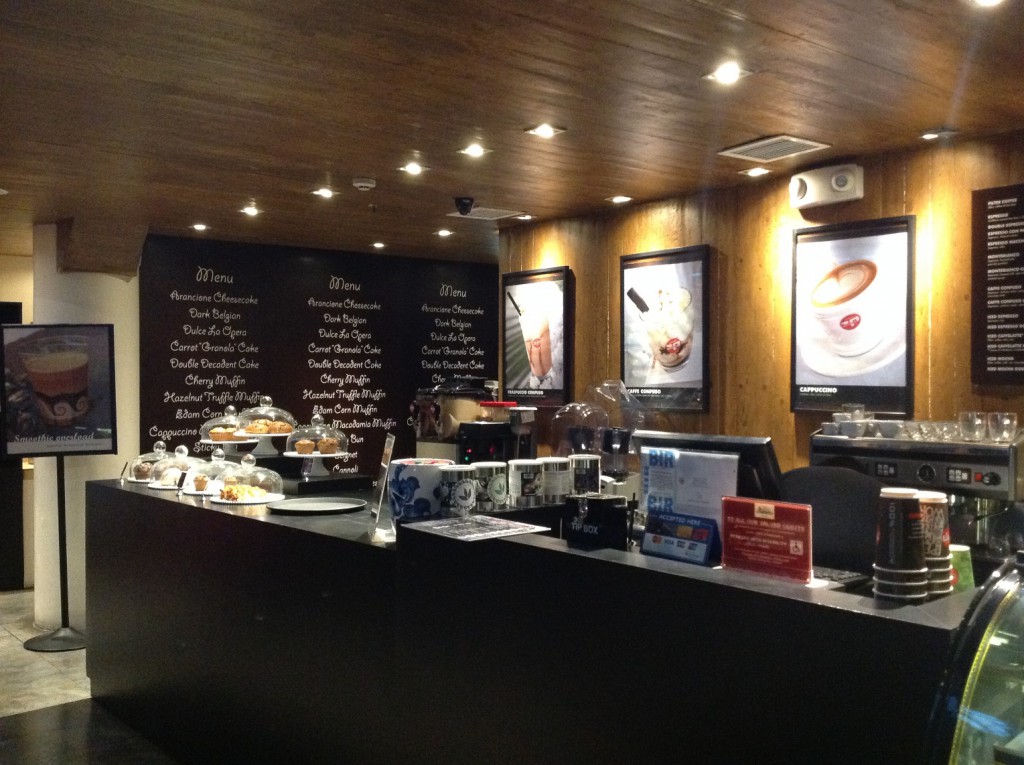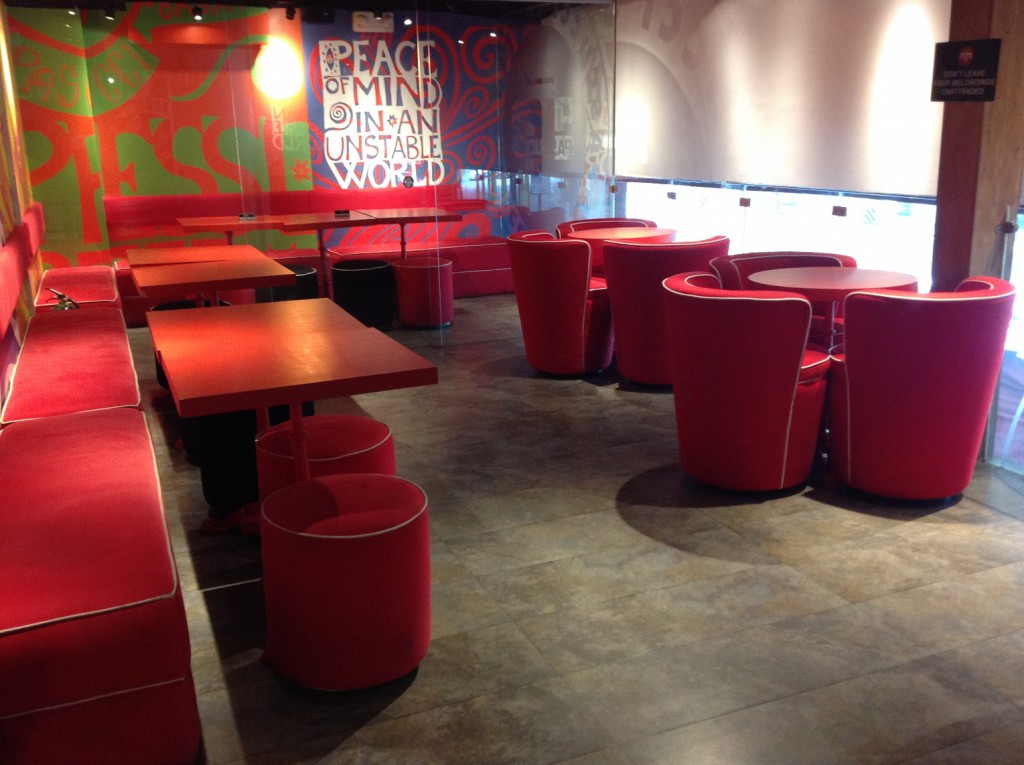 As it's always wonderful to try out something special like having the fanciest desserts in your food list, you will absolutely love their newest smoothie overload, the flavorful and velvety Coffee Smoothie Banana (P180), a pleasant refreshment made from the finest banana puree, liquidized coffee, yogurt and ice blended coffee. It's just the right kind of smoothie to jumpstart your day in a sweet way. If you are looking for a standard bistro dessert, try the best-seller, silky smooth and super tasty Dark Chocolate Mousse (P155 per slice/P 1, 240 whole) and you will surely feel the luxurious melt-in-your-mouth experience of the real chocolate taste and perfect texture.
Another best-seller is the lightened luscious dessert Light Cheesecake (P145/slice, P1,160/whole), one of the crowd favorites because of the cream cheese's true flavor, fluffy and soft texture. For some afternoon delight, you can enjoy the popular and coffee-based Iced Caffe Latte Double (P130), a flavorful and delicious drink with a choice of vanilla, caramel and amaretto syrup to make it even more special.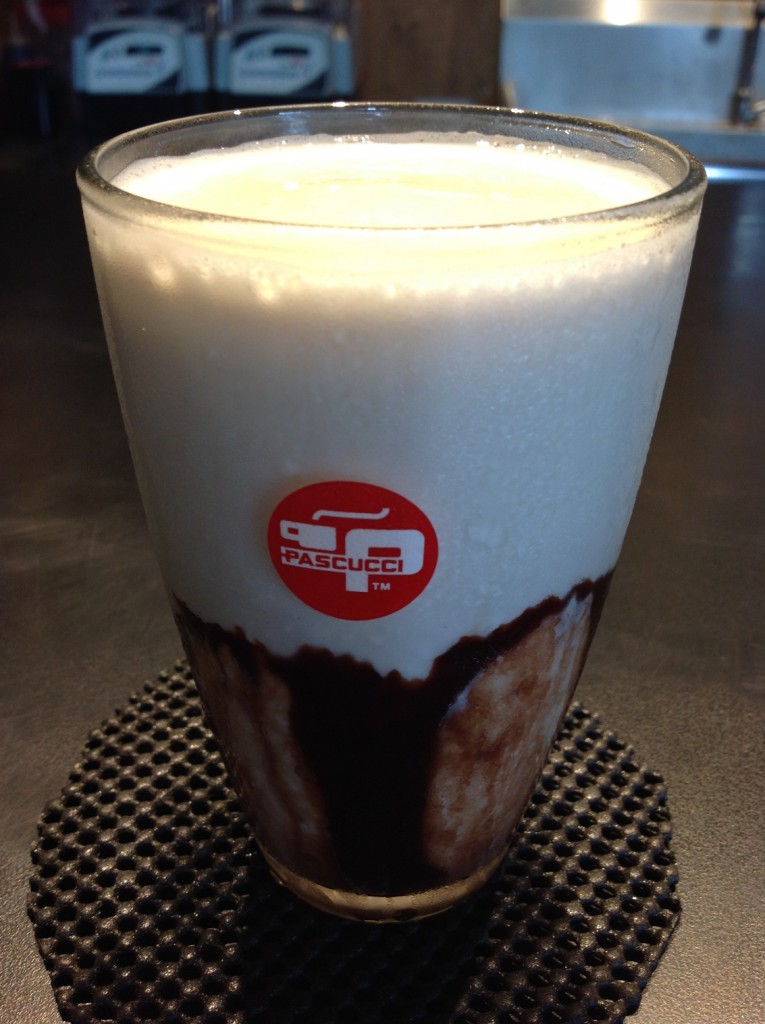 Coffee Smoothie Banana (P180)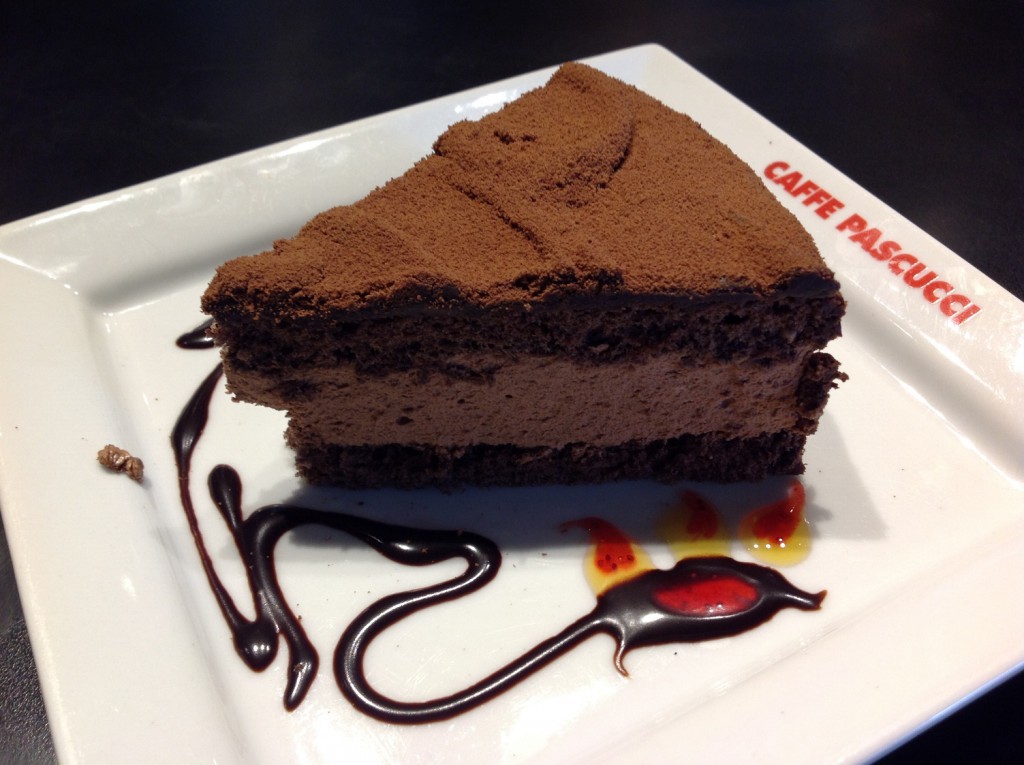 Dark Chocolate Mousse (P155 per slice)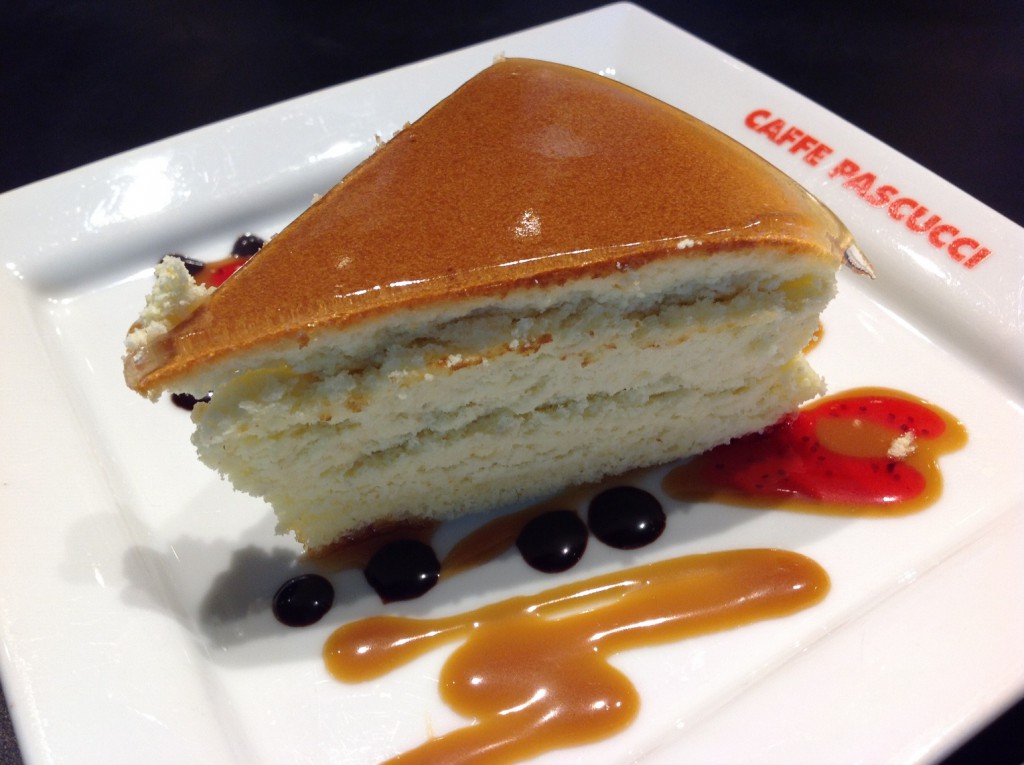 Light Cheesecake (P145 per slice)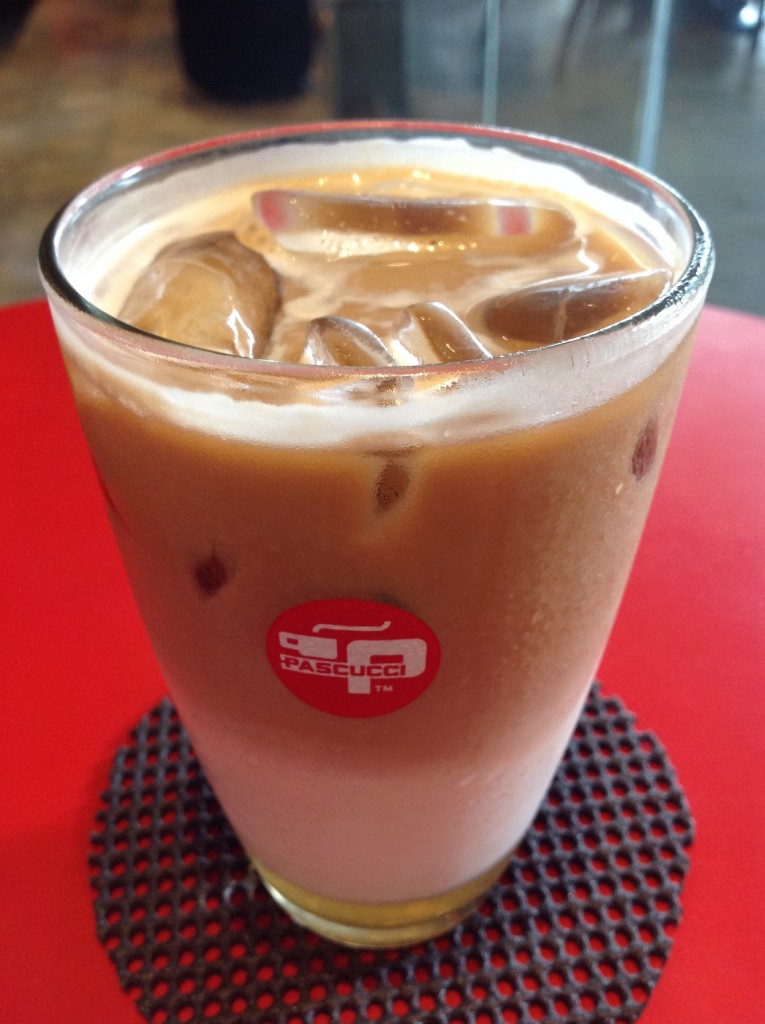 Iced Caffe Latte Double (P130)
If you are hoping to discover a great mix of fabulous coffee and delightful sweets and pastries in a convenient place where you can stay and do your serious work or study stuff, or simply spend your chill hours in, Caffé Pascucci is the perfect find.
–
Photos and article by Adrian Pempena
G/F Glorietta 2, Ayala Center, San Lorenzo, Makati City 1224
(+632) 955-1556
7:00 am to 12:00 midnight (Monday-Sunday)
Unit 2447, Robinsons Galleria, ADB Avenue, Ortigas Center, Pasig City
(+632) 631-7800