Cu Chi Bar: Makati Hangout That Oozes Vietnam
Cu Chi Bar is a balcony bar holed up on the second floor of a commercial building on Ebro street in Poblacion that screams Vietnam all over. From the spray-painted walls and patterned woven seats and cushions to the delicious dishes on the menu, Cu Chi Bar will surely have you soak yourself in a Vietnamese hangout experience.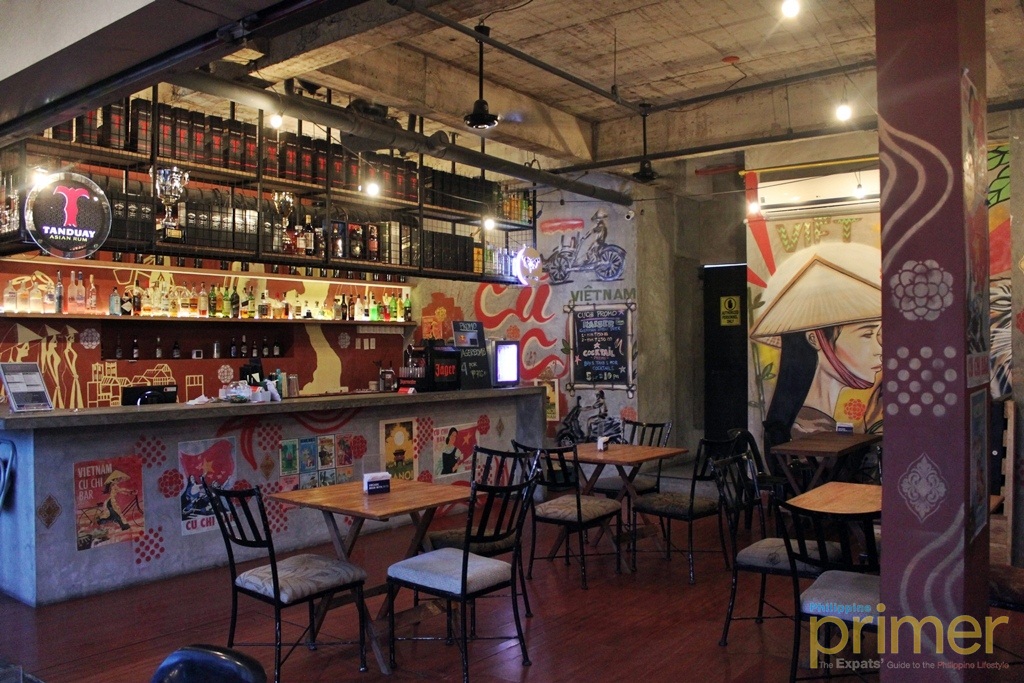 Cu Chi Bar is a Vietnamese-themed balcony bar in Poblacion, Makati.
The name of the bar itself was inspired by a famous landmark in Vietnam – the Chu Chi tunnels. These historic underground tunnels located in Ho Chi Minh City used to serve as hideouts and living quarters for troops during the Vietnam war.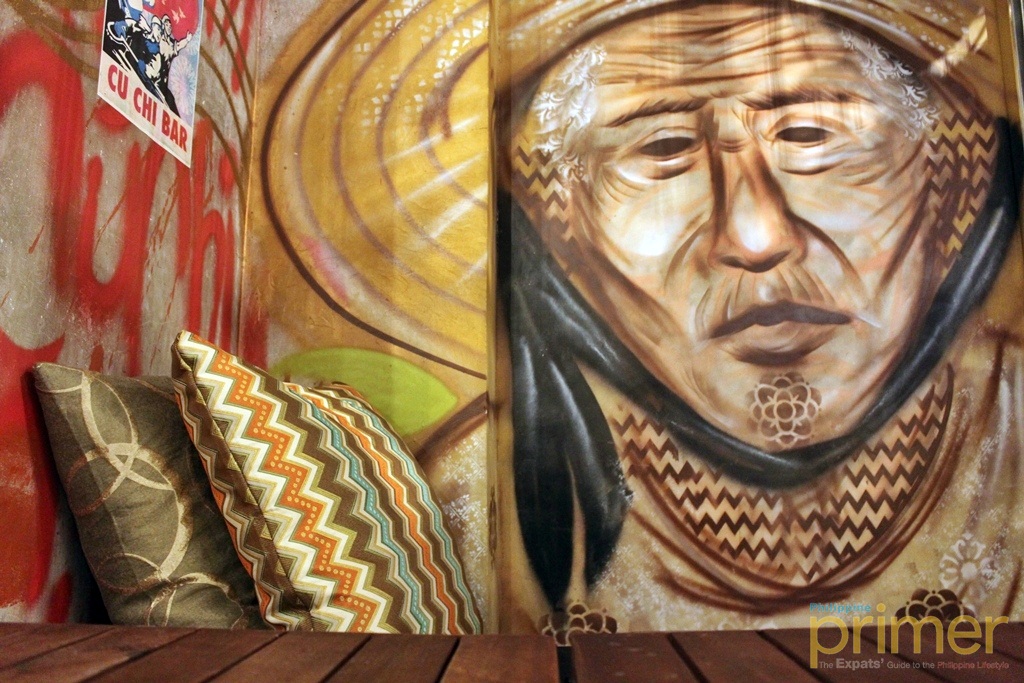 The Vietnamese conical hat is a traditional symbol of Vietnam.
Everywhere you look, you'll find a lot of images that will remind you of Vietnam: a motorcycle rider, a man and a woman wearing Vietnam's traditional conical hat, vintage-style posters of Saigon and Hanoi and a lot more.
Whether you're on for an Asian food trip or a good night of beers and cheers, Cu Chi is a good choice for an after-work or late-night hangout.
This Vietnamese-themed bistro and bar offers a lot of healthy and affordable home-style comfort food, with the food preparation led by Vietnamese Chef Ryan Tung.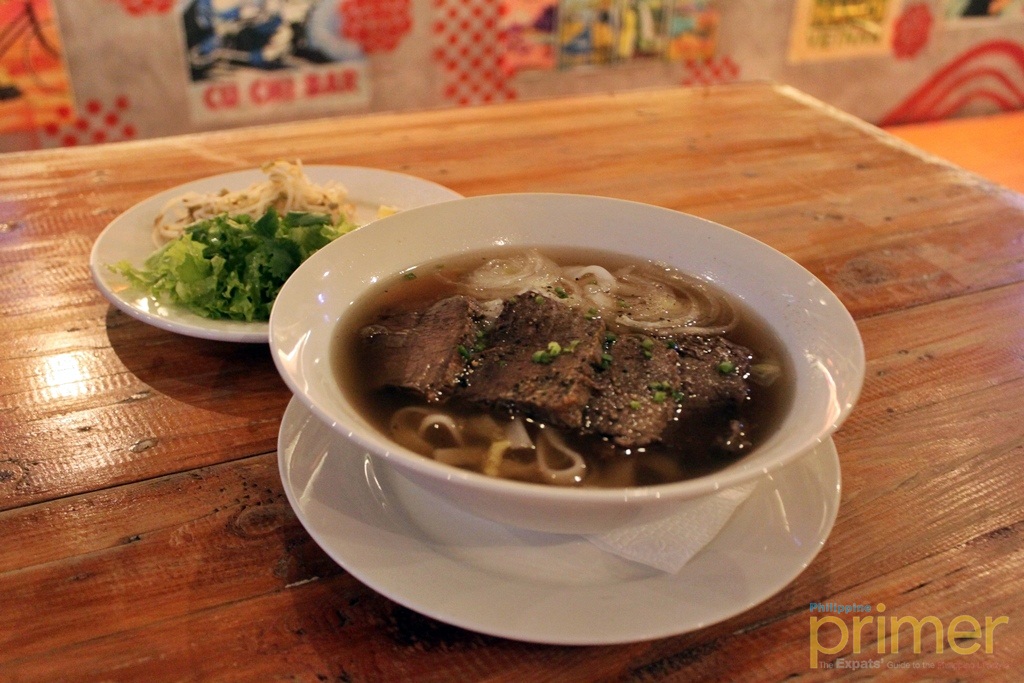 Pho Bo (Php 220)
Their Pho Bo (beef noodle soup) is made with thin slices of beef and noodles with the vegetables served separately, in consideration of people who don't like to mix them in. This mildly spicy soup is a nice satiating meal for dinner or as recovery food after a night of drinking.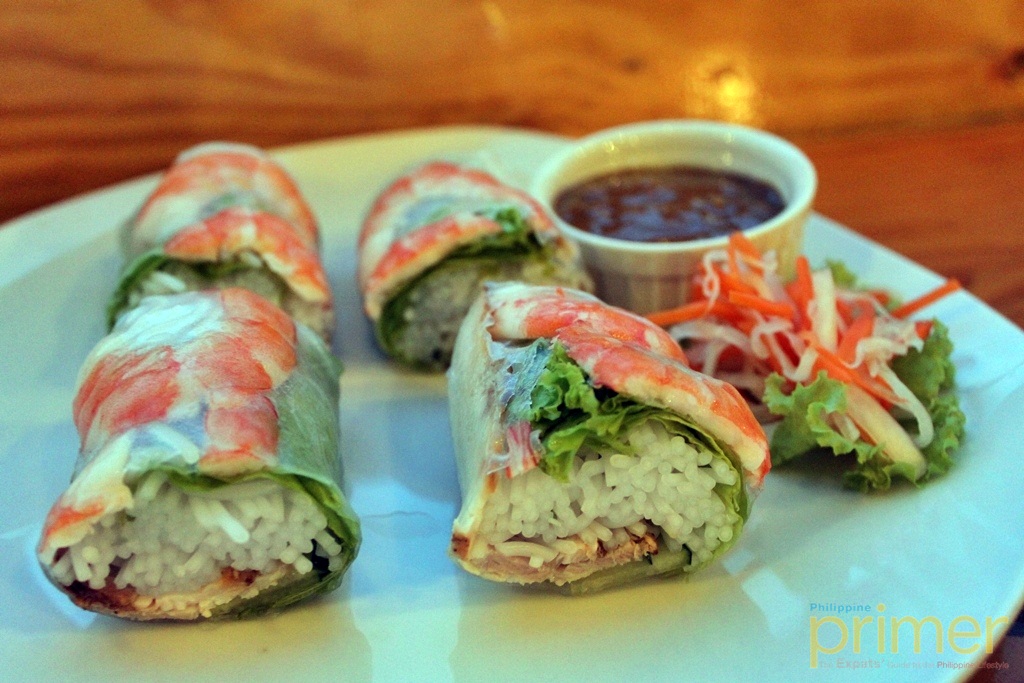 Fresh Spring Rolls with Prawn (Php 195)
The Vietnamese spring rolls of Cu Chi are enjoyable finger-food appetizers and also a great accompaniment to your beer or cocktails. Fresh Spring Rolls with Prawn (Gỏi Cuốn) would remind one of maki rolls, except that it is filled with thin sticky strips of rice noodles and pork char siu and wrapped with lettuce and shrimp fillet. It's served with a special peanut butter sauce.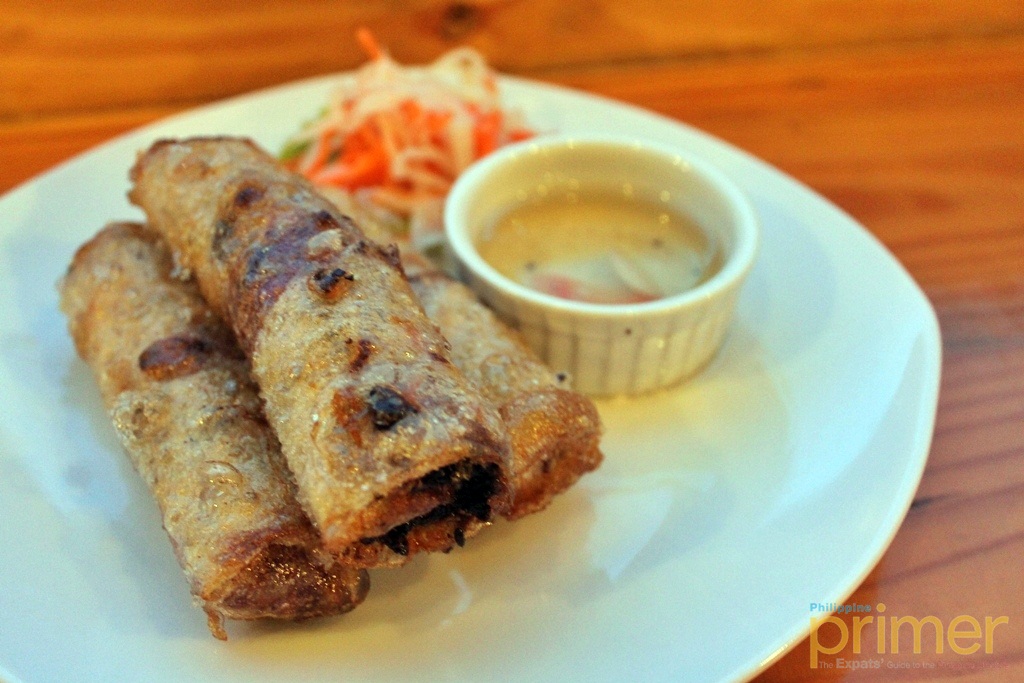 Fried Spring Rolls with Pork (Php 180)
Their Fried Spring Rolls are made with ground pork, mushroom, and special spices, which are wrapped with thin rice wrapper which makes it crispy yet easy to bite when fried.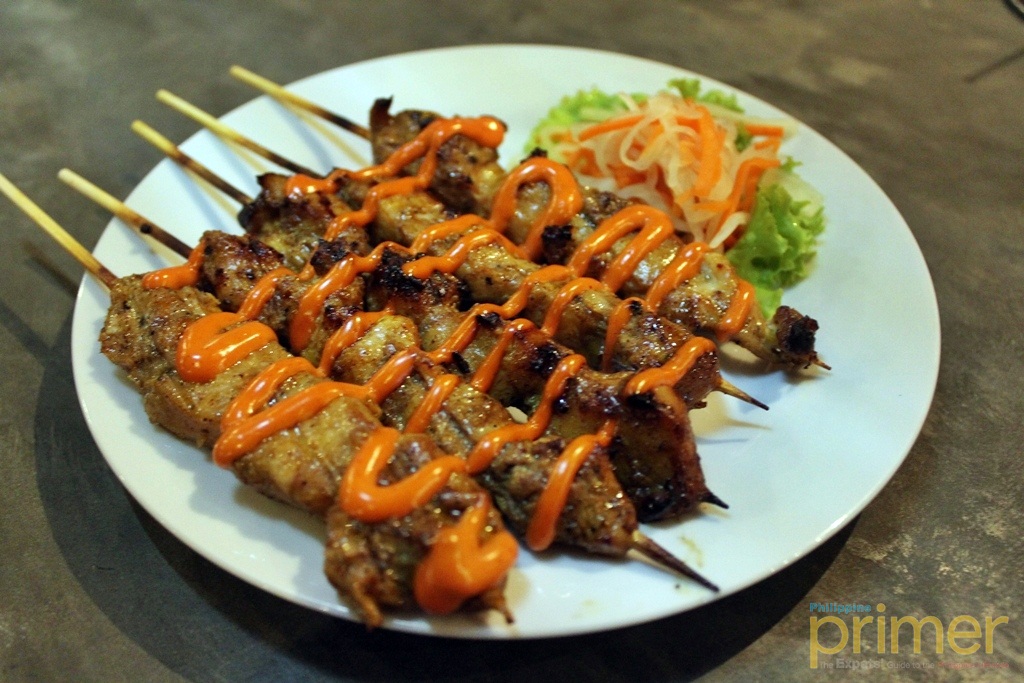 Pork BBQ Skewers (Php 180)
Cu Chi also offers pork, chicken and seafood skewers to pair with a nice round of beers or cocktails.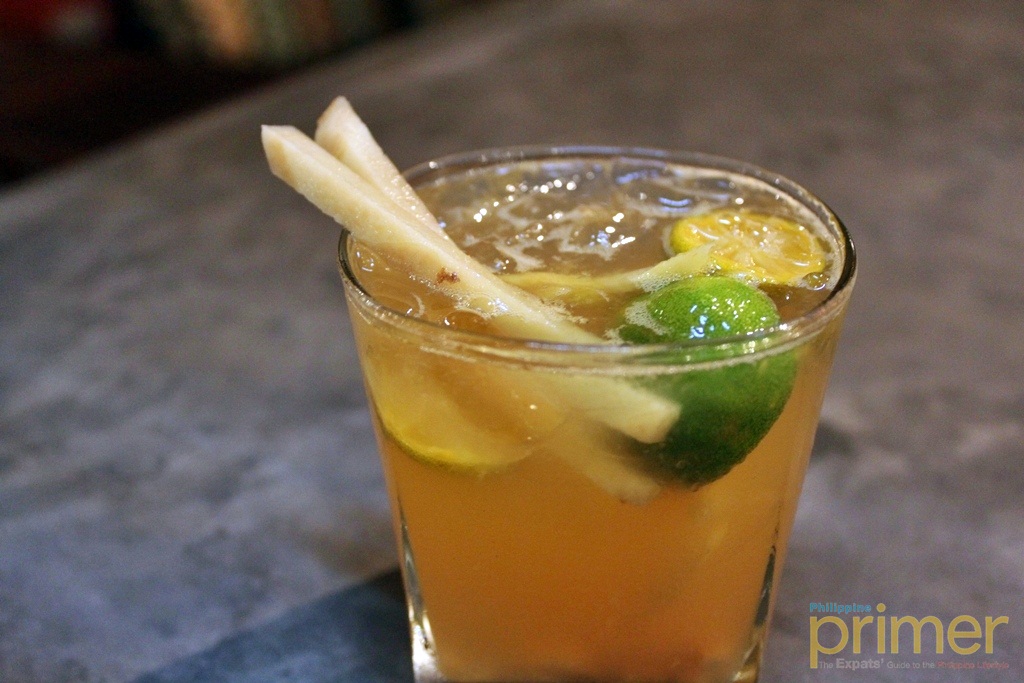 Cu Chi Mule (Php 250)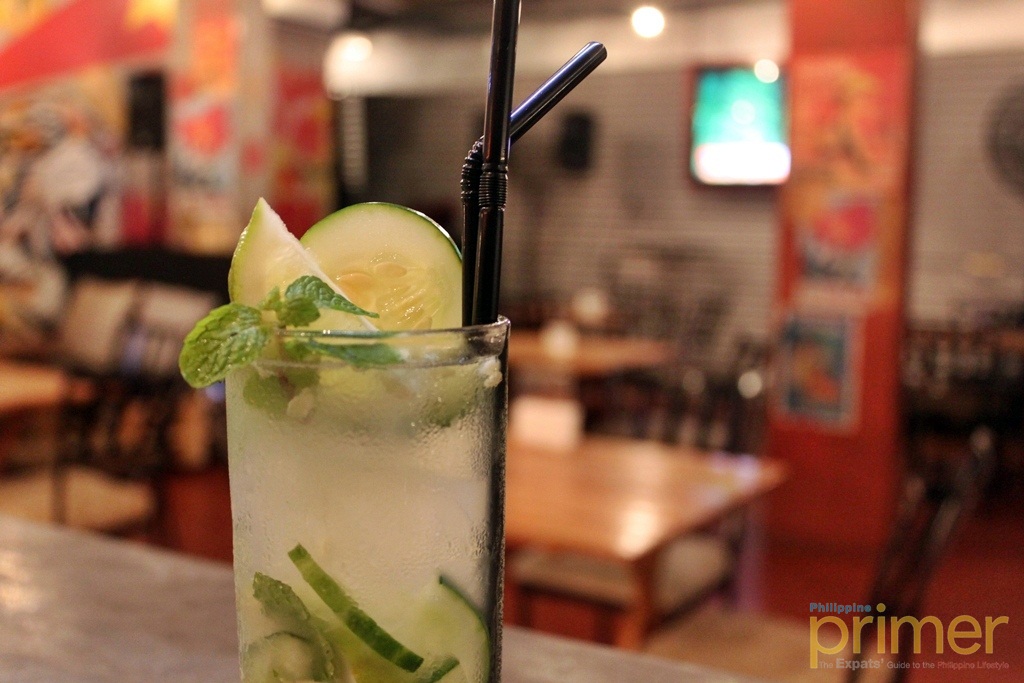 Cu Chi Mojito (Php 220)
The best selling cocktails – Cu Chi Mule and Cu Chi Mojito – are mildly sweet but definitely provide enough kick to let you enjoy the night.
Every night, you can also enjoy different kinds of music and performances from different DJs and bands that start around 9 p.m.
---
Written by Rizelle "Rei" Leaño
General Information
2nd Floor, 5767 Ebro St., Poblacion, Makati
0906-526-0256
5 p.m. - 2 a.m. (Sun, Tue. to Thu.), 5 p.m. - 3 a.m. (Fri. to Sat.)
Monday