Kojiro Ojisan Food House is Home of Koroke and Veggie-Filled Ramen in Silang Cavite
Here in Silang, Cavite, we found Kojiro Ojisan Food House and it's not like any other Japanese place you know. Instead of the conventional staple food like sushi, they serve Japanese treats that have been given a fun twist at such affordable prices.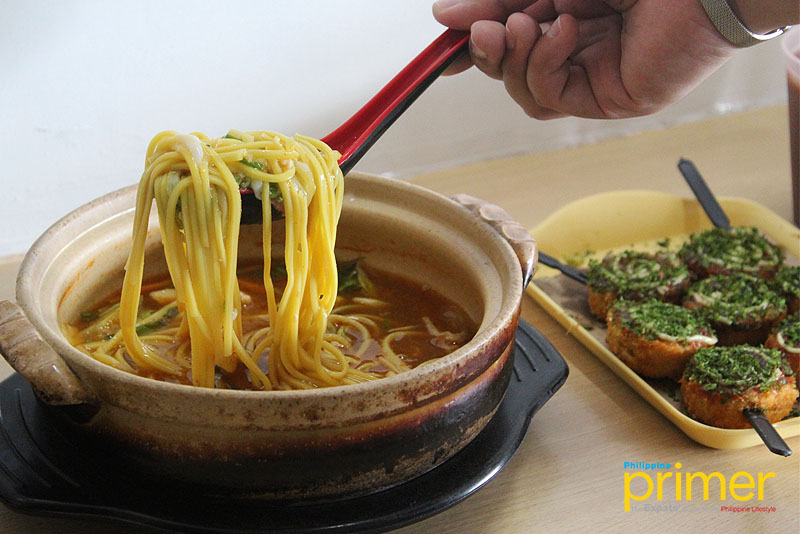 This hole-in-the-wall Japanese restaurant was named after Seigo "Kojiro" Sasaki, the patriarch of the family who owns the food stall and the one who made the recipe for everything on their menu.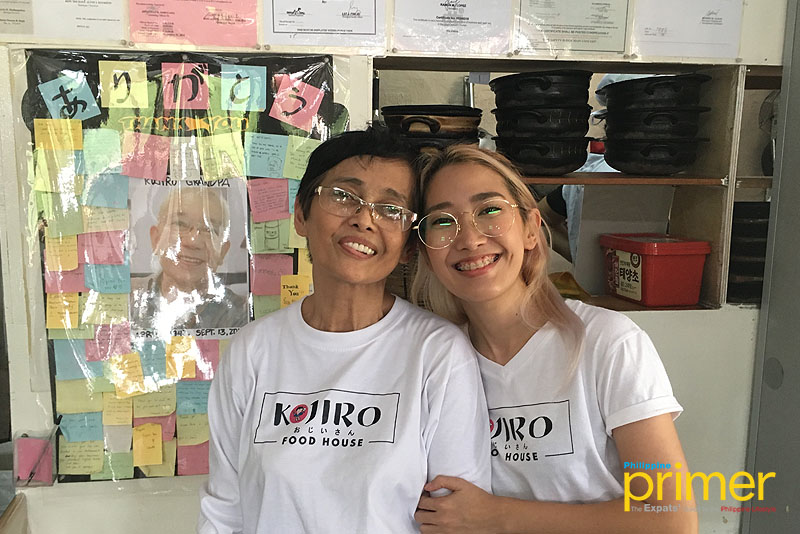 Elsa and Rei Sasaki pose beside the memorial wall for the late Seigo Sasaki, where patrons have written messages of condolence and support. 
Seigo Sasaki was a native of Japan where their family used to have a yakiniku restaurant called "Yakiniku Kojiro" in Miyazaki, Kyushu. Unfortunately, an epidemic hit the town and people avoided eating out at restaurants, which strained the food establishments including their own. Eventually, they were forced to close it down.
It was after the unfortunate incident that Seigo and his family moved to the Philippines, where they finally found their home in Silang. They opened a new food business, which was then simply called Kojiro Food House, a small food stand in front of the family's own house.  The name was recently changed to Kojiro Ojisan Food House after the passing of Seigo to commemorate him, whom many loyal patrons have fondly treated as their uncle, or "ojisan" in Japanese.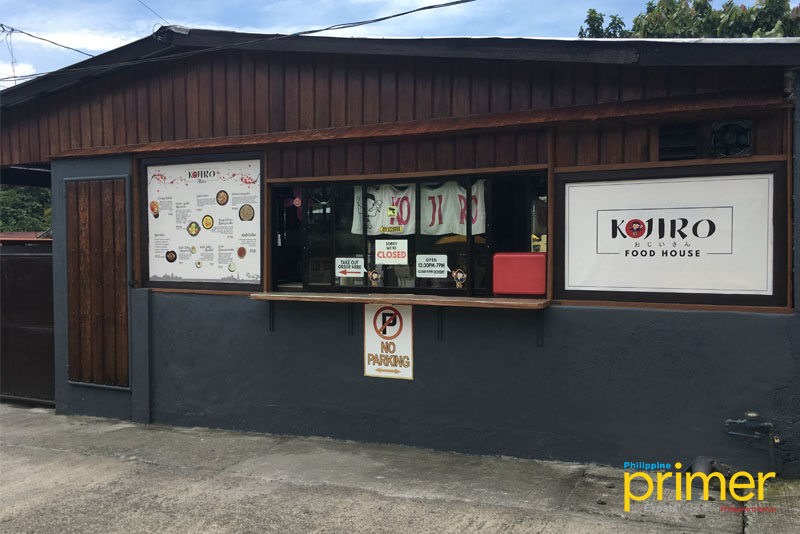 In the early days, students from the nearby schools would flock to their place for their bite-size Koroke (Php 10/pc), which has been the crowd-puller until now. These Japanese potato croquettes are made tastier with pork bits and flavorful toppings.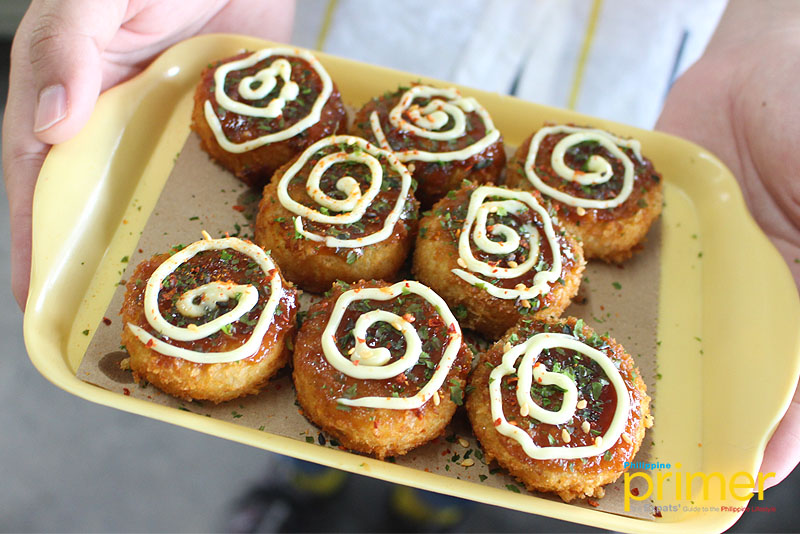 Korokke (Php 10/pc)
Koroke is often paired with Kafe Jelly, which you can have as regular or upgrade to special with milk and chocolate powder.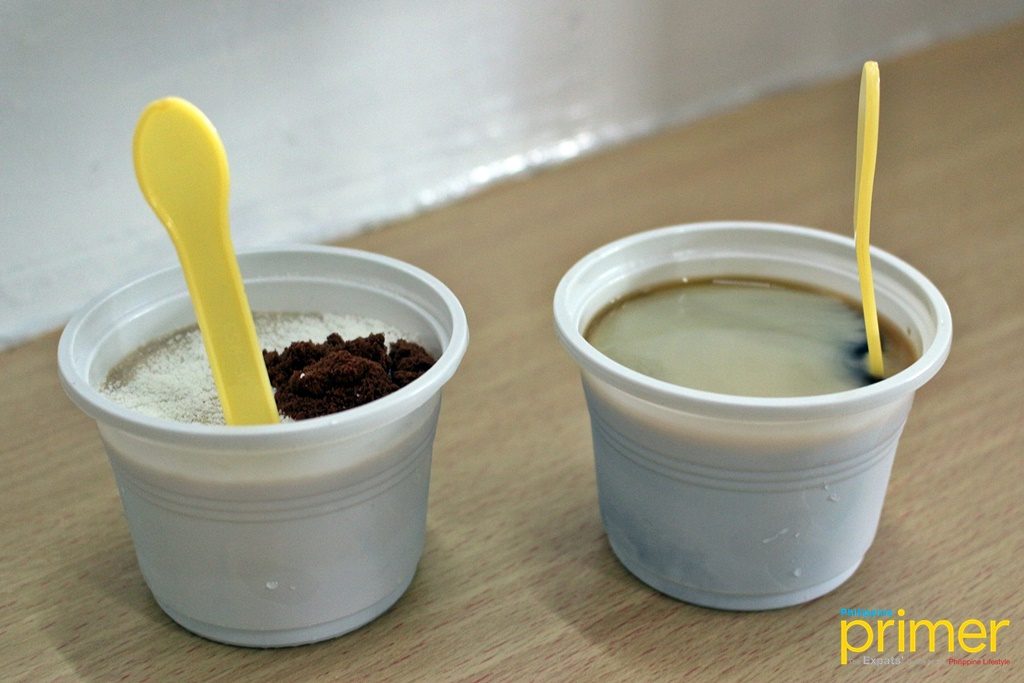 Kafe Jelly Special (Php 17) and Kafe Jelly Regular (Php 12)
Due to the high demand, the family expanded their menu and moved to a more spacious location to accommodate their growing number of diners. From a food stand with a very limited number of seats, they now have a dining space that can accommodate up to 30 customers. Their customer base is also more diverse now.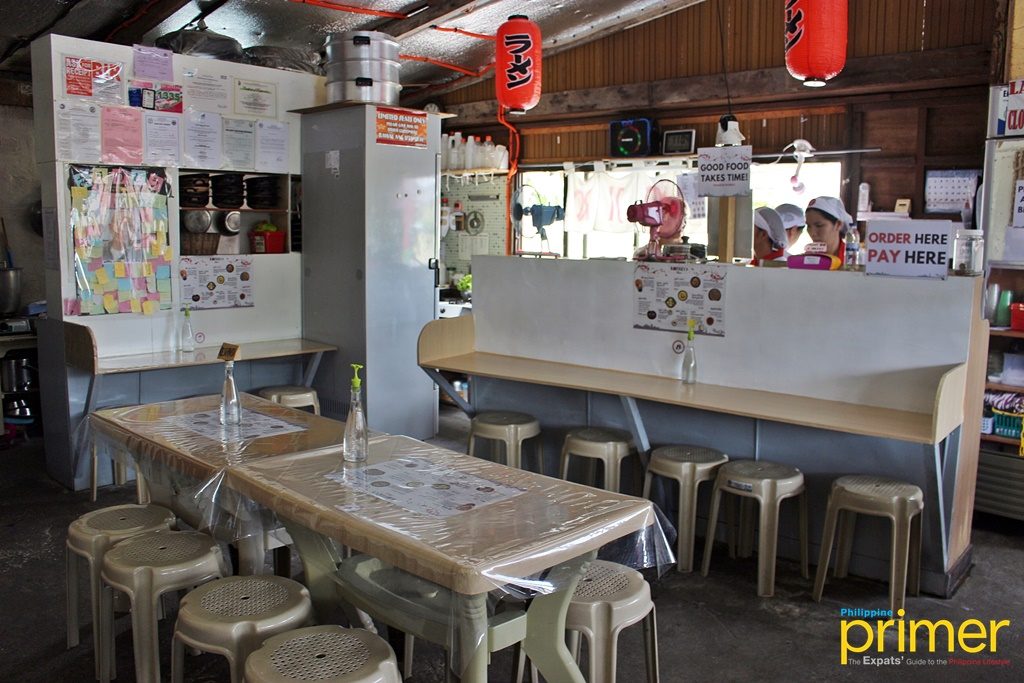 One of the newly-introduced items is the Nabi Yaki Ramen (Php 130) served in a piping ceramic hot pot. It is filled with more vegetables than your regular ramen, and the flavors are robust. You can also opt to give it a Korean touch by adding gochujang to make it spicier.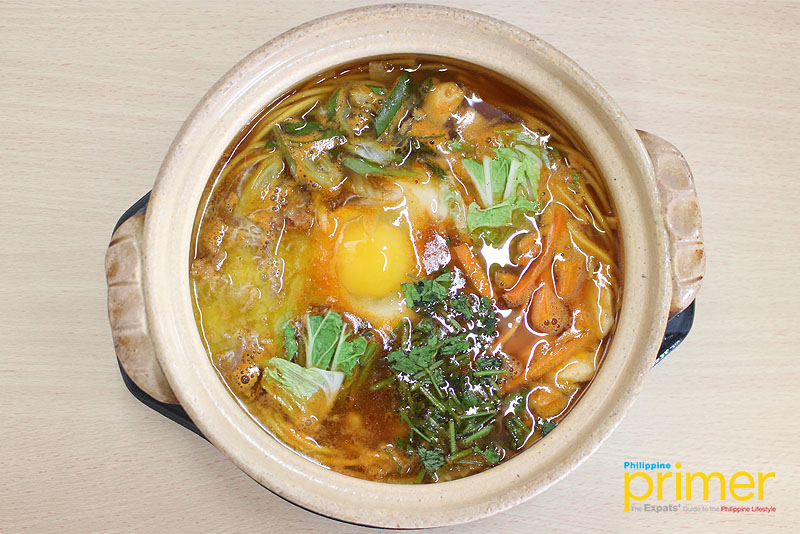 Nabi Yaki Ramen (Php 130)
Another must-try is the Napolitan Spaghetti (Php 110). Napolitan spaghetti itself is a famous ketchup-based pasta dish in Japan. However, the food house's version is given a unique twist—this pan-fried spaghetti is served on a sizzling plate with a scrambled egg like an omelet. It has a distinct sweet taste brought by the egg mixture and the onion slices in the spaghetti. Aside from onions, carrots, and bell peppers, it also has slices of ham to give it a mild meat flavor.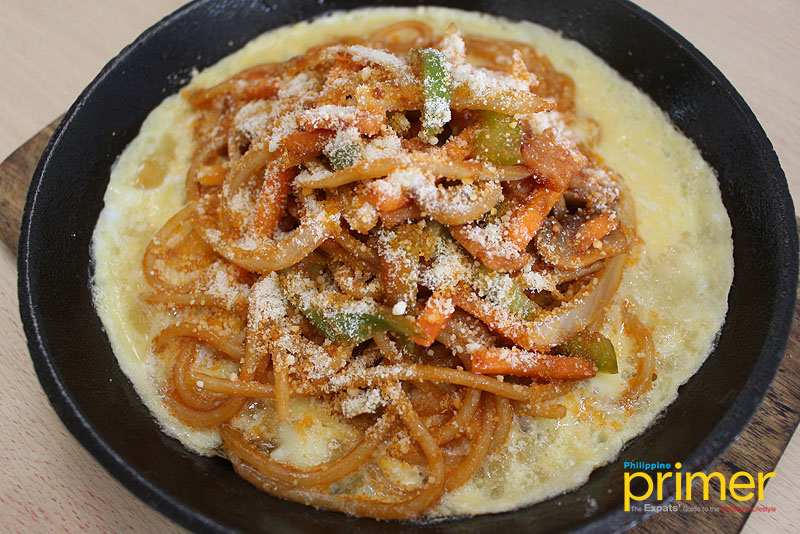 Napolitan Spaghetti (Php 110)
The Okonomiyaki (Php 180) on the other hand, is a Japanese pancake filled with cabbage, leeks, crab sticks, fish cakes, and lean pork. It is topped with a special sauce of mayonnaise, nori, and bonito flakes.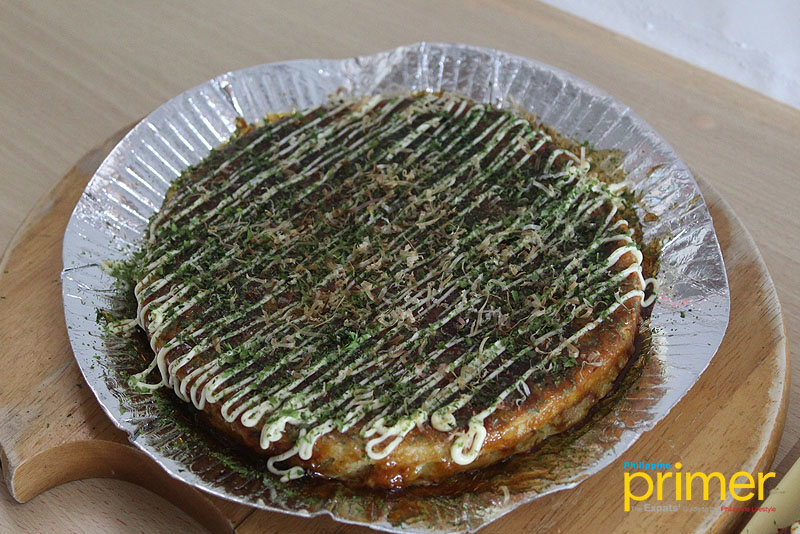 Okonomiyaki (Php 180)
They also have their own version of Yaki Udon (Php 155), a tasty serving of Japanese stir-fried udon with generous amounts of vegetables and pork belly, which make gives you a mouthful of flavors.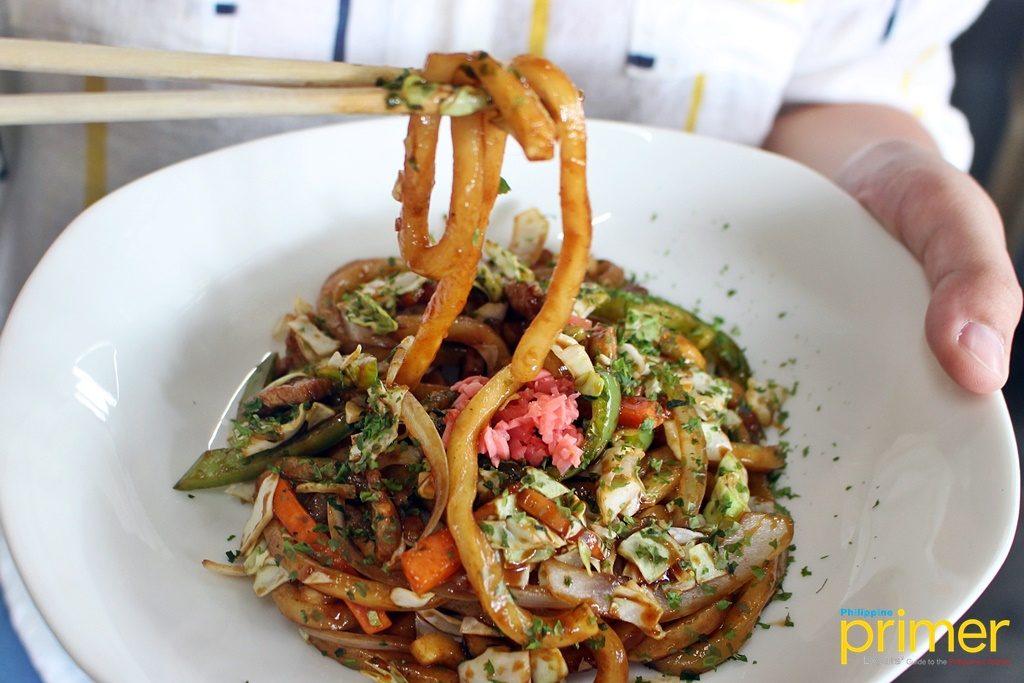 Yaki Udon (Php 155)
15 years of operation and a couple of tasty and unique food offerings later, Kojiro Ojisan is still well-loved by the people of Silang!
How to get here:
By car: You can get to Silang Town Plaza via SLEX Carmona Exit or Cavitex and Aguinaldo Highway. Once you reach the town plaza, you may park your car at the public parking in front of the municipal hall, and proceed walking to M. Belen Street, where Kojiro Ojisan Food House is located, which only takes 1-2 minutes.
By public transport: Kojiro Ojisan Food House is situated close to the Silang Public Market as well as the tricycle and jeepney terminal in the town plaza, which are both within walking distance of the restaurant. You may also opt to take a tricycle from the public market, which costs Php 30.
---
This first appeared in Philippine Primer's Japanese and English Magazine November issue.
Store Information
M. Belen St., Silang, Cavite
046-413-5179
12:30 p.m. - 7 p.m. (Sun. to Fri.)
Restaurant Menu
You can scroll the image left and right.