Rice and Dough in McKinley Hill: A Bold Fusion of Japanese and Italian Delicacies
Have you ever craved for sushi and pizza at the same time? Most probably not. Yet once you've experienced the unique offerings of Rice and Dough at the Venice Grand Canal Mall, we're sure you'll be met with this curious double craving every now and then.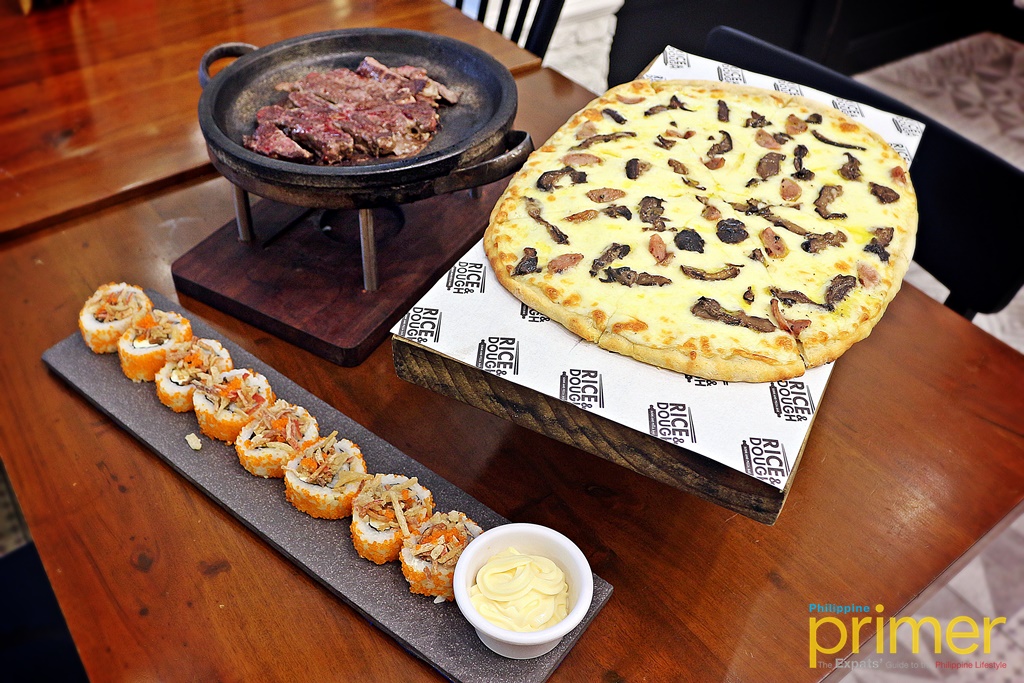 Rice and Dough is an offshoot of the Torch restaurant to match the romantic Venice-inspired shopping mall at Mckinley Hill, the Venice Grand Canal Mall.
This restaurant specializes in sushi rolls (rice) and pizzas (dough), a bold fusion of Japanese and Italian delicacies, a seemingly unlikely combination but proves to be a match made in heaven. That means that pizza and sushi lovers—and every foodie for that matter—can come together in this one venue and celebrate a universal passion for awesome food.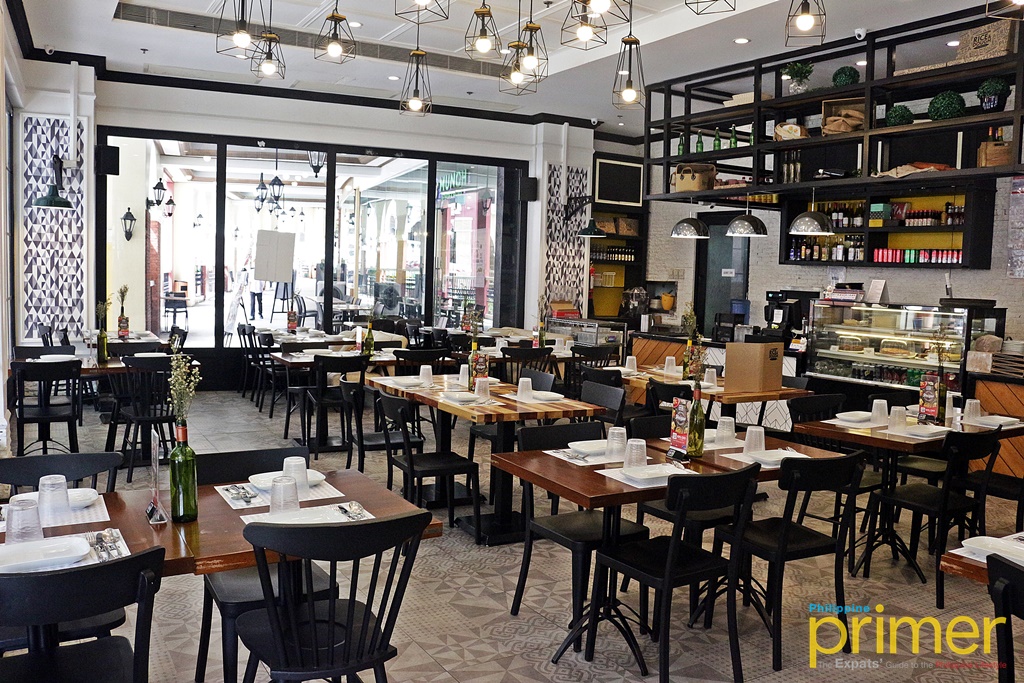 To ensure the quality and authenticity of their specialties, Rice and Dough brought together Japanese and Italian chefs to concoct unique dishes based on the delicacies of their home country. Putting them together resulted in a menu that is loaded not only with energizing carbs but also with tempting flavors from the east and the west.
Whether you're a sushi lover or a pizza addict, you will certainly fall for both worlds.
For pizza lovers, while enjoying your forever favorite pie, we highly recommend trying their World War Roll (Php 399.95), which will amaze you even before you snap your chopsticks apart. The dish is served flaming, which already makes a killer first impression. It will get you rolling to get your hands on these hefty rolls.
Made with soft-shell crab, kani (crab sticks), tamago (egg), unagi (eel), and tuna, and then topped with crispy battered shrimp and unagi aioli cream, the rolls are slightly spicy and refreshingly savory. Although primarily for presentation, the flame actually adds a bit of smoky flavor to the rolls.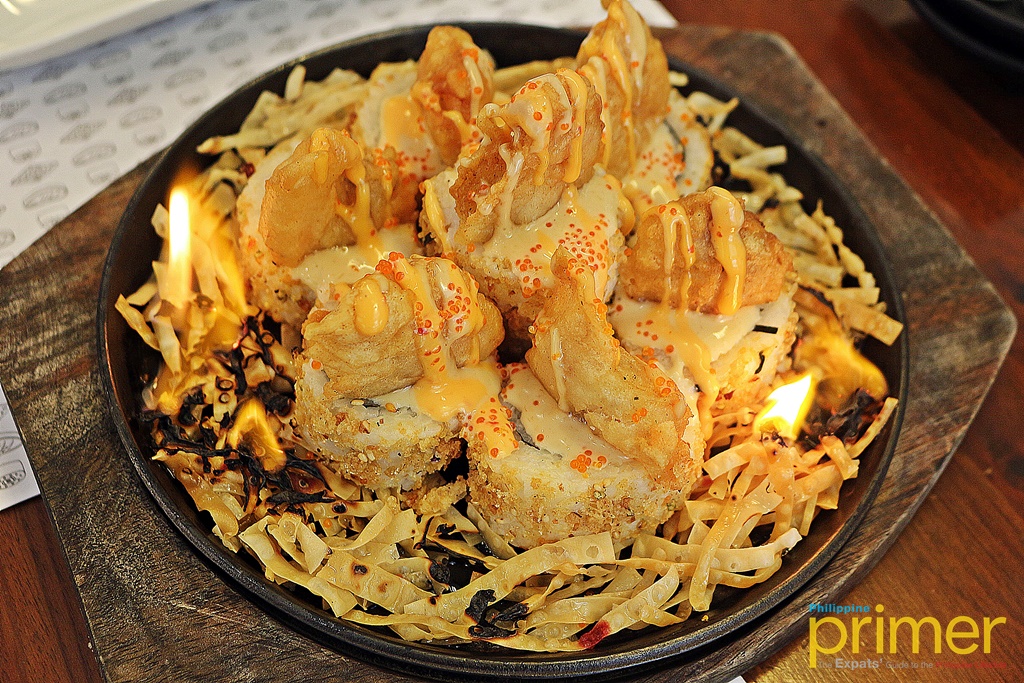 World War Roll (Php 399.95)
For sushi lovers, meanwhile, a must-try item from the other side of the world is the Rich King (Php 449.95) pizza. Although the ingredients seem simple, we'd say this dish is aptly named and indeed fit for royalty as it is neither pretentious nor overdone. It's only made of things that a king or queen could enjoy: fresh mushrooms, tasty sausage bits, and a luxurious finish of truffle oil.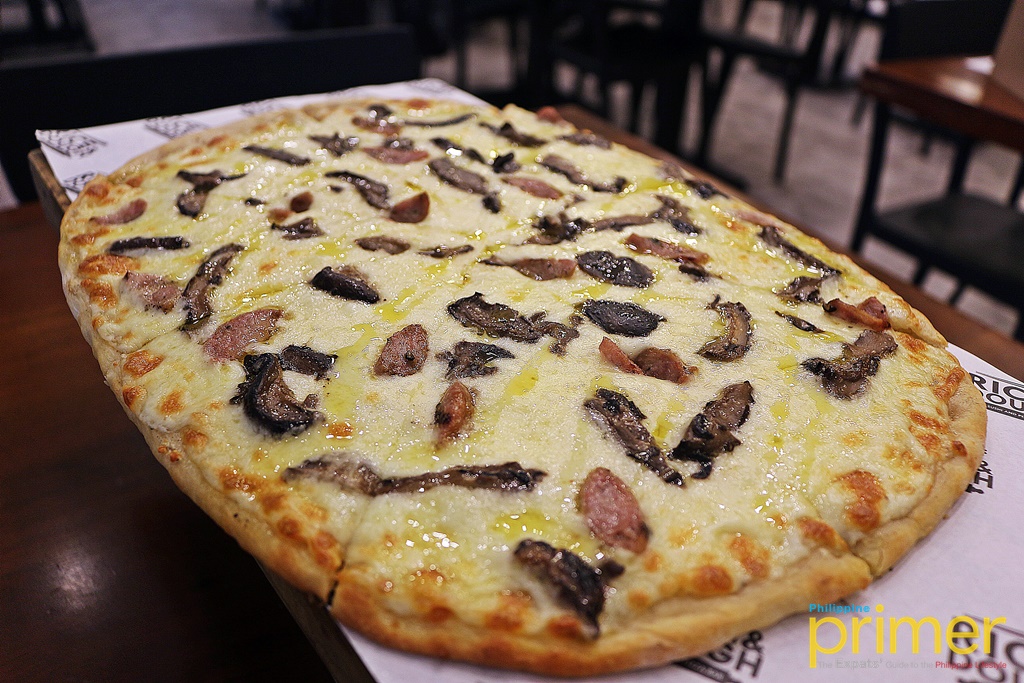 Rich King (Php 449.95)
Another awesome thing about Rice and Dough is that they give you the freedom to experiment and create your ideal sushi or pizza. No need to dissect your sushi just to remove the cucumber, or trim unwanted toppings off your pizza like pruning grasses on your lawn! This time, you'll have only the ingredients that you want.
For your DIY Sushi (Php 495.95), choose your style, fillings, toppings, and sauce. If you're making your DIY Pizza (Php 495.95), you get to choose your sauce, type of cheese, meat, and vegetable toppings. The best part of it all? You get to name your dish!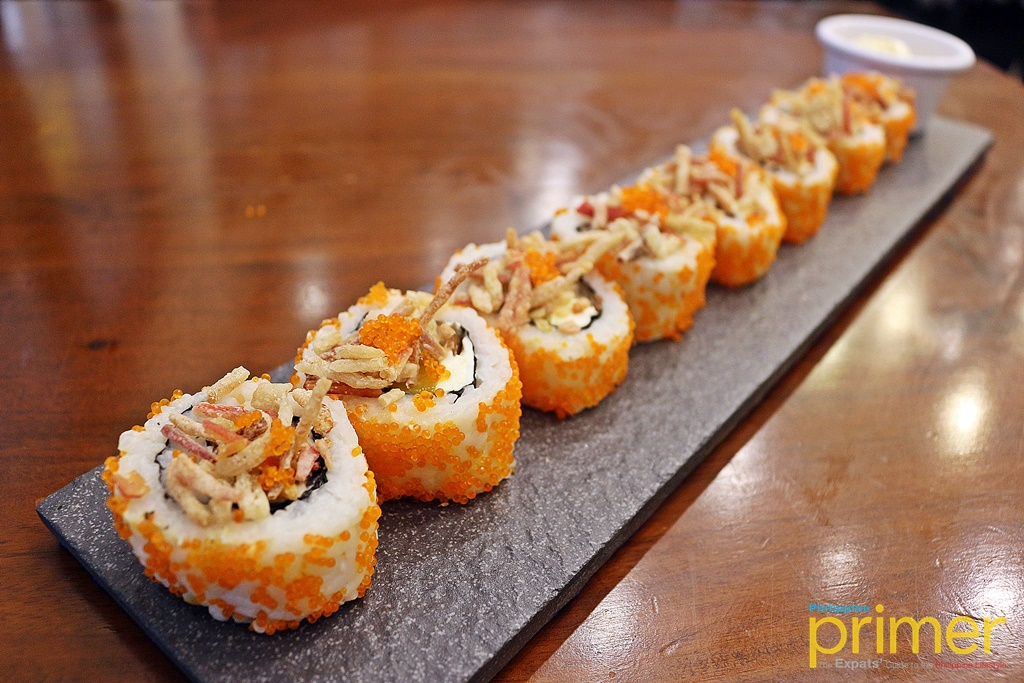 DIY Sushi: "Especially for Rei" (Php 495.95) made with unagi, tamago, mango, cream cheese, topped with fried Kani and tobiko, and served with a Japanese mayonnaise dip.
Rice and Dough also has other offerings on the menu like steaks, pasta, all-day breakfast, group meals, desserts, and beer and wine. Among their main course items, we highly recommend their Grilled Salt & Pepper Meltique Ribeye Steak with Beans and Carrots (Php 879.95). According to Mike Chua of the Torch Group, Meltique beef is like the wagyu of Australia. The meat is also consistently tender, flavorful, and juicy.
The Meltique ribeye steak is prepared and cooked on a cast iron griddle on your table so that you can control the doneness of your meat. This is also a great way for you to appreciate how your steak is cooked without using oil. See how the natural juice comes out of the meat!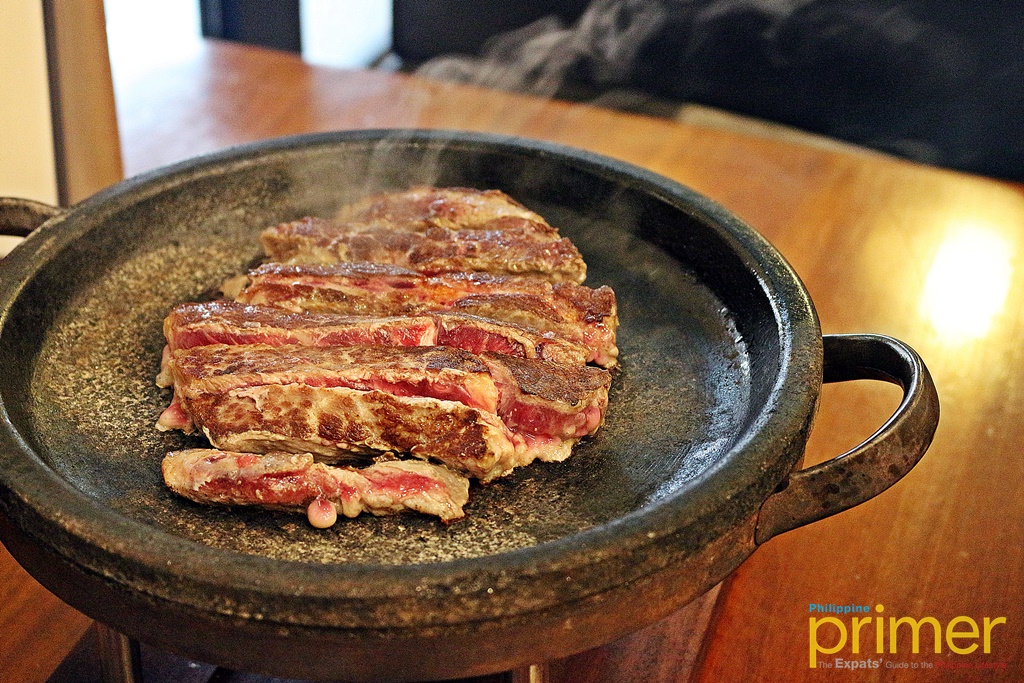 Grilled Salt & Pepper Meltique Ribeye Steak with Beans and Carrots (Php 879.95)
With its romantic location overlooking the man-made river with sailing gondolas at Venice Grand Canal Mall, Rice and Dough has also been a venue for romantic dates and a witness to wedding proposals. The restaurant is spacious and airy, with floor to ceiling glass windows that let everyone see the charming river, an inspiring setting for intimate conversations and great bonding over delicious rolls and pizzas.
You can also boost the romantic mood with a Wine All You Can (Php 400). Their wine selection includes Yellow Tail, Apaltagua, and Terranoble wines.
---
Written by Rizelle "Rei" Leaño
A version of this also appeared in Philippine Primer Japanese magazine March 2019 issue.
Updated as of April 1, 2019
General Information
Venice Grand Canal Mall, Cluster B, Upper Mckinley Road, Mckinley Hill, Taguig City
02-656-9212
11 am to 11 pm (Mon to Sat); 10 am - 11 pm (Sun)
riceanddough@yahoo.com.ph