Tipple & Slaw in BGC Might Be the Perfect Spot for Your Comfort Bites
Tipple & Slaw in Bonifacio Global City birthed from a simple sandwich shop idea. However, when the owners saw their prospective space at The Forum, which only had one or two restaurants then, they thought that it would be better to go with a bar instead.
They weren't wrong about the decision, though, as it's now one of the oldest (and still standing) restobars in BGC.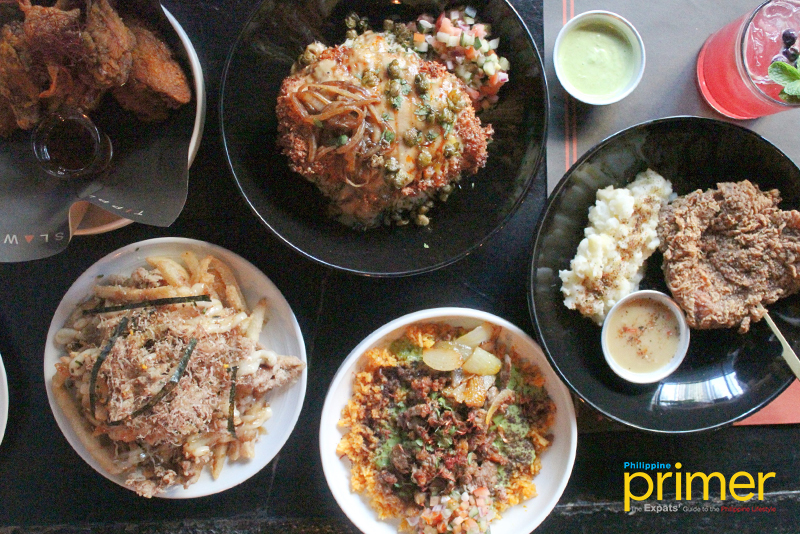 Established in 2014, Tipple & Slaw boasts every comfort food that you can think of, perfectly paired with their long list of alcohols. The history of its name will spark your interest, too.
"Tipple & Slaw" came from an old English name Tipple, which means drinking, and Slaw, coming from 'coleslaw' to emphasize the original idea of a sandwich place," says Marlo Naval, one of the owners of the bar. "It basically means 'eat and drink'."
Further, its co-owner and head chef Francis Lim is responsible for its menu, from finger-licking bar chows to unique alcoholic drinks. Chef Francis also owns Sup? Chow in Makati, which also serves comfort food.
Also read: Sup? Chow Now Open in Salcedo Village, Makati
If you're ready to sample their luscious food, start with their popular fries and wings that both go well with their alcohol.
Umami Fries (Php 300) is not your typical platter because it's exploding with both sweet and salty flavor, matched with its crispiness—even if it's cold! The seafood aftertaste will also entice your taste buds.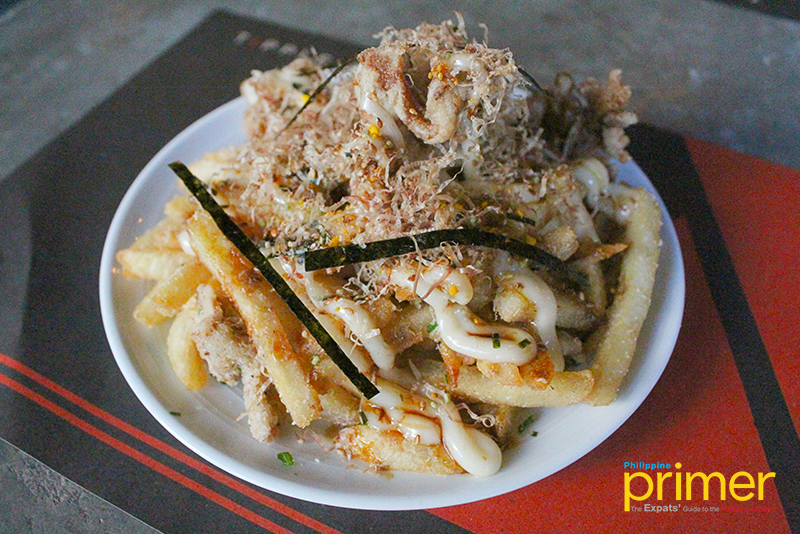 Umami Fries (Php 300)
Meanwhile, a platter of their Dirty Wings (Php 380) doesn't seem to lose crunch, too. It's dipped into the Truffle honey that has some slightly spicy kick in it.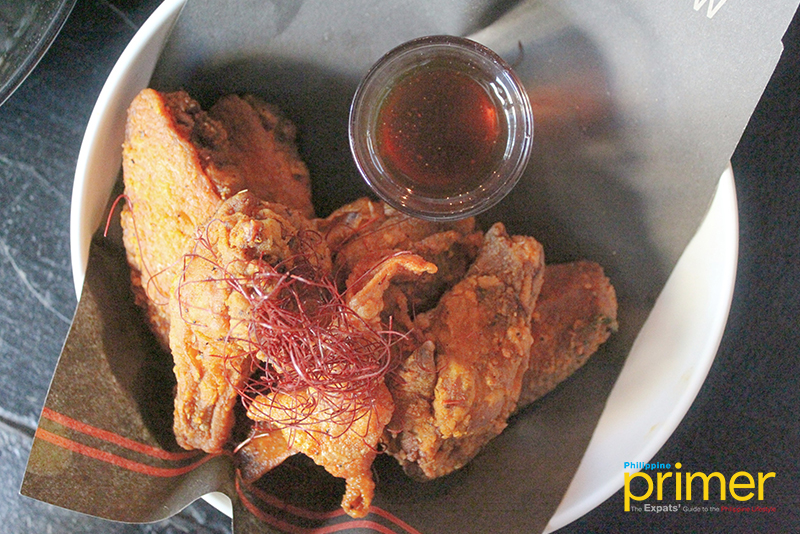 Dirty Wings (Php 380)
But if you just want to enjoy a decadent rice meal, there are three chef-recommended dishes to choose from.
The crowd-favorite might be the Shawarma Rice (Php 320), which is comprised of shawarma beef, greek salsa, curry rice, and green garlic sauce. Its beef is super soft, and you can actually recognize the Mediterranean spices used.
Shawarma Rice (Php 320)
Parmesan Porkchop (Php 320), on the other hand, boasts its cheesy taste, paired with cream cheese gravy and soy onions. It's very crunchy and yet it retains the tenderness. Meat-eaters will instantly love this unique porkchop take!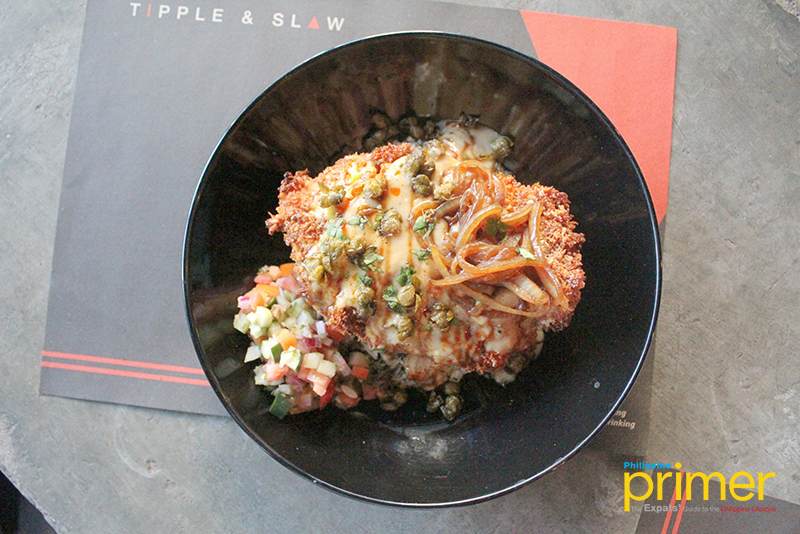 Parmesan Porkchop (Php 320)
Finally, The Fried Chicken (Php 280) makes a simple yet rich meal. Its crispiness somehow beats the popular fried chicken spots around. The mashed potato that comes with it also helps balance the overall taste.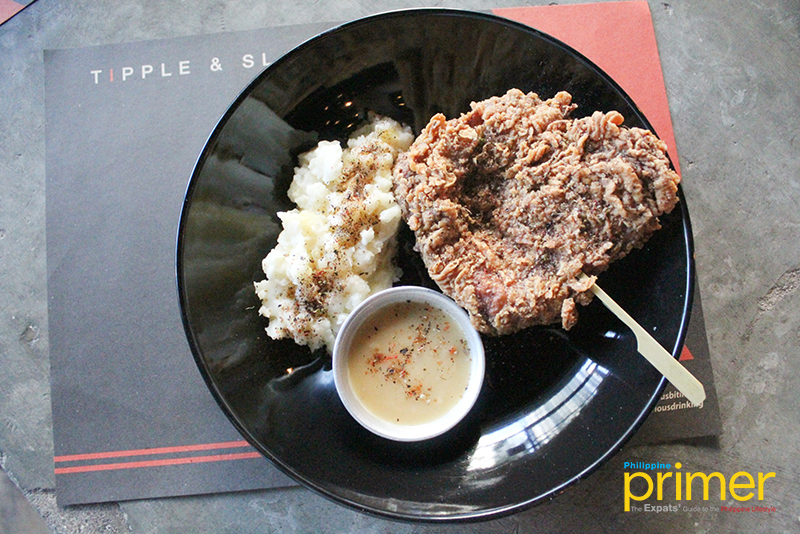 The Fried Chicken (Php 280)
They also ensure that customers are comfortable with their food, so they are open to orders off the menu. They are very particular if their customers are vegetarians/vegans or have allergies.
As for the interior, Tipple & Slaw has this industrial feel and yet exudes a party vibe.
Tipple & Slaw actually has a variety of parties and activities weekly, with Tuesdays being the Ultimate Game Night; Wednesdays with Pretty Reckless, which is popular as a ladies' night out; Thursdays are called Wait What? where they mostly play electronic dance music through the night; while Fridays and Saturdays are meant for mainstream music—and these are usually the busiest nights.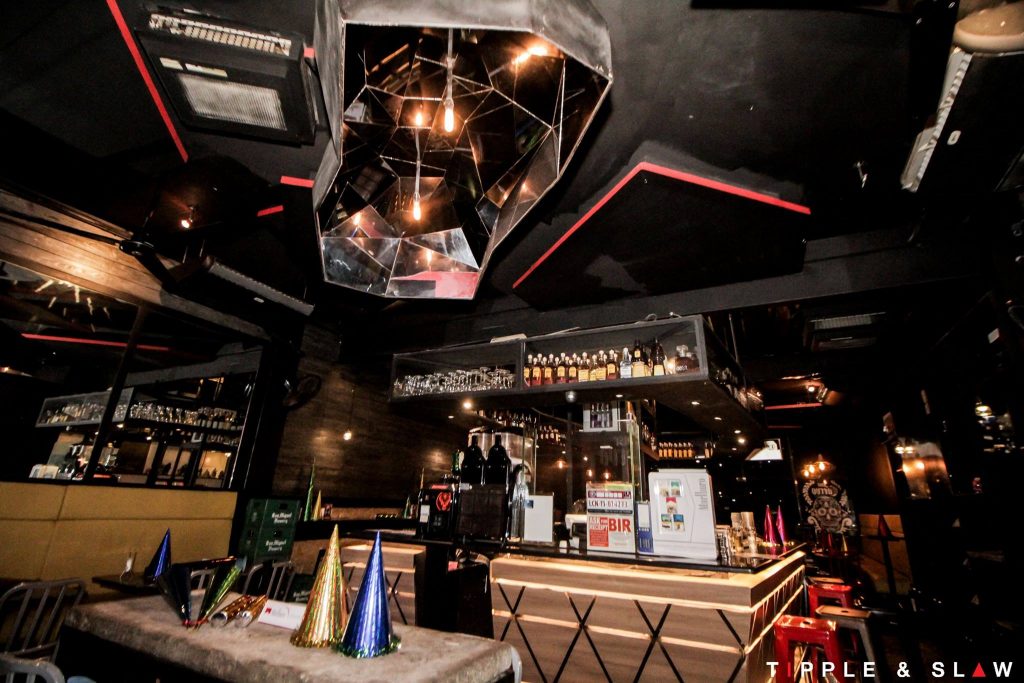 IMAGE Tipple & Slaw
So if you're looking for a lively spot at a lesser busy area in BGC, Tipple & Slaw is definitely your place. The mouthwatering eats alone are enough to come back to this restaurant every now and then.
Watch out for the second quarter of this year, too, because Tipple & Slaw BGC has more in store for you. They will do a major overhaul, but no one knows the changes yet!

2/F, The Forum, 7th Ave. cor. Federacion Drive, Bonifacio Global City, Taguig

Mondays to Thursdays: 11 a.m. to 2 a.m. ; Fridays and Saturdays: 11 a.m. to 4 a.m. (Closing time varies)

The Pop Up, Katipunan Avenue corner, Xavierville Ave, Diliman, Quezon City