Buddha's Surf Resort and Restaurant in Siargao Stands out for Their Authentic Thai Cuisine
Buddha's Surf Resort and Restaurant in Siargao Stands out for Their Authentic Thai Cuisine
Serving Thai cuisine born from Northeast Thailand, with its fusion of the Laos and Vietnam gastronomy, Buddha's Surf Resort and Restaurant stands out for their rich and rustic cooking care of Chef Suksa-Ard Wichaisri, better known as Chef Art.
Along the Tourism Road of General Luna, you can spot this Thai restaurant by what is unmistakably a smiling Buddha plastered on a circular sign that says, "Buddha Thai Cuisine".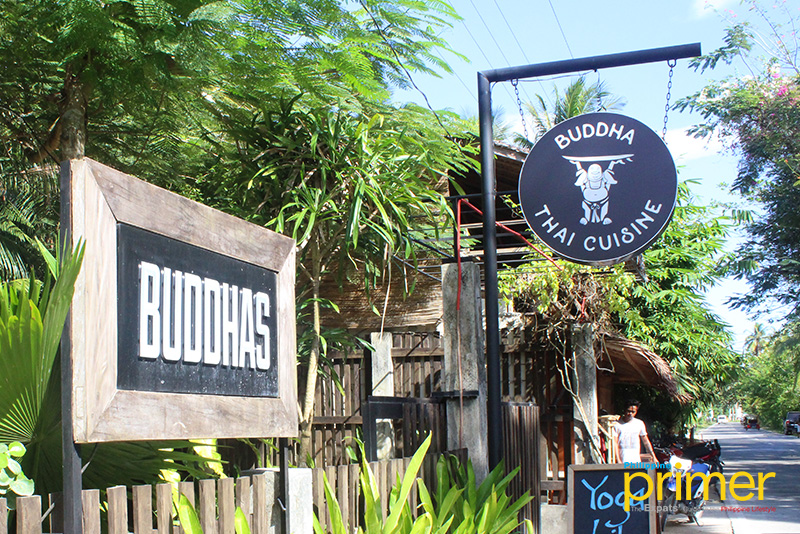 The smiling Buddha goes at the forefront of this resort and restaurant, inviting you to rest in their villas and sample their delicious Thai cuisine
Upon entering this modern Nipa-hut-like structure, comfortably grab a seat with your family and friends, and enjoy a simple yet hearty dining experience, made warmer with its fully occupied seats during the night.
Buddha's Surf Resort Restaurant sports a rustic appeal amidst the greeneries and wood fences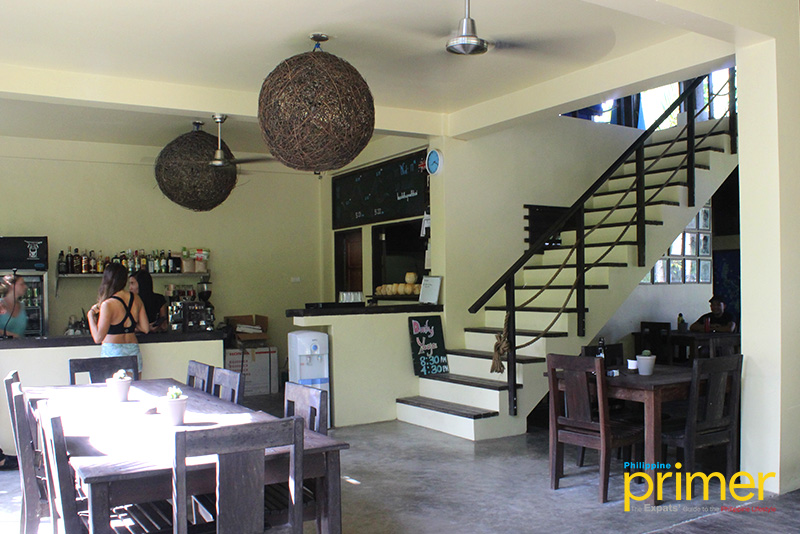 Experience a laidback island dining at Buddha's Surf Resort Restaurant with your friends and family
With what perhaps may be the only original Thai chef in the island, Chef Art detailed the history of Thai cuisine, being a fusion of dishes from China, Malaysia, Indonesia, Vietnam, India, and the Philippines, which brought about the simple but most popular dishes of Pad Thai and Tom Yum Gai.
Pad Thai (Php 320), a combination of stir-fried rice, noodles, mixed vegetables, and chicken, is the most common and well-loved dish from the Thai cuisine.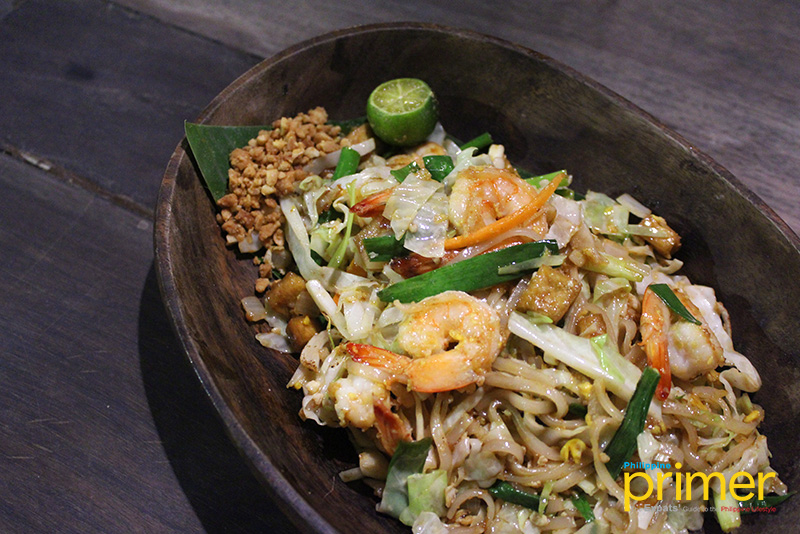 Pad Thai (Php 320)
It goes alongside the Tom Yum Gai (Php 180), which is a combination of greens like okra and stringed beans, a bit of mushroom, served within a sour soup brought about by the tomatoes, which will ultimately tickle your taste buds.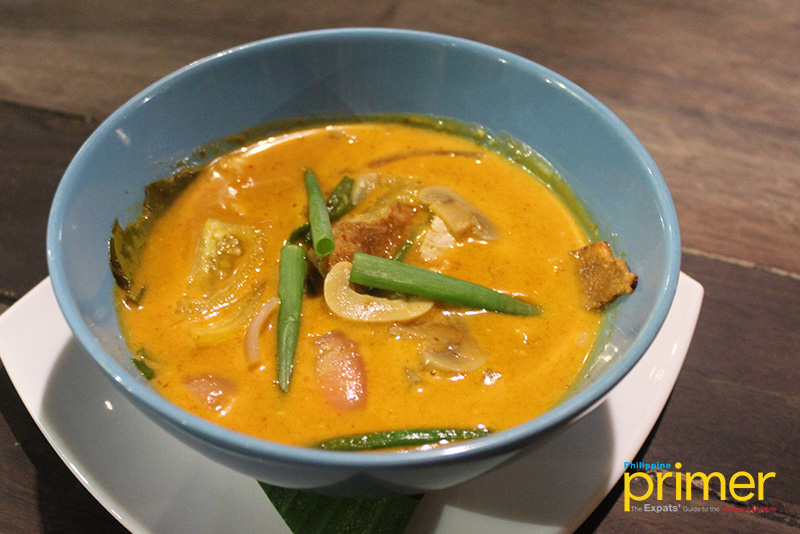 Tom Yum Gai (Php 180)
Another dish you may wish to try inside the equally rustic Thai restaurant is the spicy Gaeng Ped (Php 340) or Red Curry Chicken, with its fragrant aroma brought about by the spices enmeshed within the thick soup.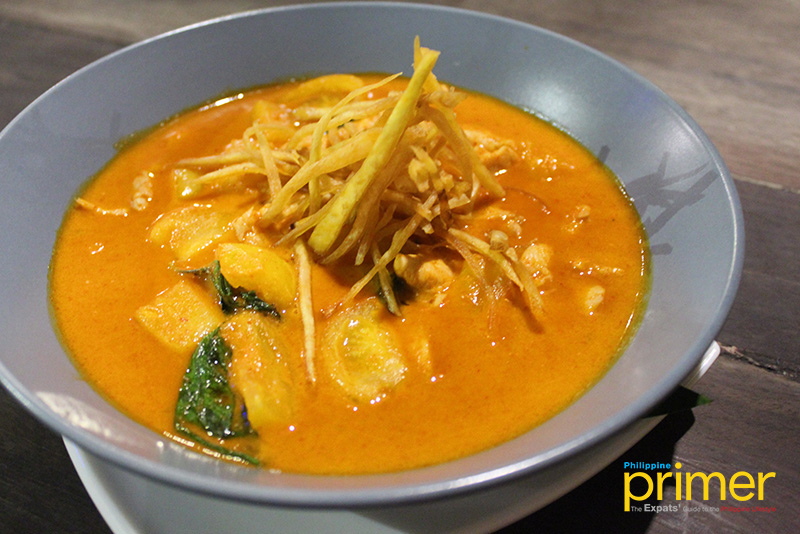 Gaeng Ped (Php 340)
The Gaeng Ped is best paired with Khao Pad (Php 120) or the Fried Rice Chicken, which fills the tummy with its rich stir-fried rice with generous bits of chicken and green sprigs, best served when squeezed with calamansi or lime to add an acidity to the ensemble.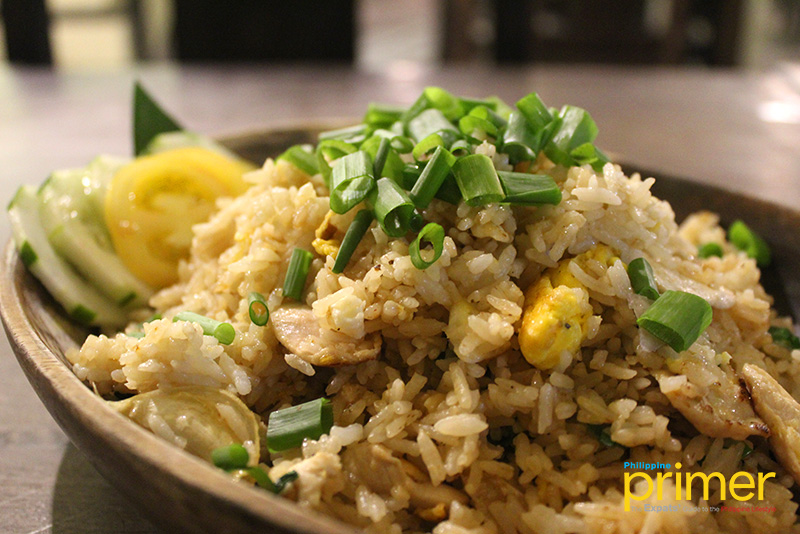 Khao Pad (Php 120)
With 45 to 50 people filling Buddha's Surf Resort and Restaurant every night, the Thai restaurant is perhaps one of the most visited places in Siargao, serving breakfast from 7:30 a.m. to 10:30 a.m. before resuming from 12 noon until 9:30 p.m.
So visit this authentic Thai restaurant along Tourism Road in General Luna, and don't forget to look for the "Buddha Thai Cuisine" sign that will welcome you before you enter this rustic abode!
Also read: Bravo Beach Restaurant in General Luna, Siargao Offers Complex Taste of Spanish Delicacies
For more information, you may visit Buddha's Surf Resort and Restaurant's website, or follow their Facebook page, as well as Instagram and Twitter at @buddhasiargao.
---
This first appeared in Philippine Primer Japanese Magazine's December 2018 issue.
General Information
Buddha Thai Cuisine, Tourism Road, Brgy. Catangnan, General Luna, Siargao Island, Surigao del Norte
0928-207-9631 / 0919-945-6789
Breakfast - 7:30 a.m. to 10:30 a.m. & 12 p.m. to 9:30 p.m. (Mon. to Sun.)