Pio's Kitchen in Quezon City: Celebrate life's special moments
Celebrating life's special moments couldn't always be a piece of cake; there's the pressure of time and precision, the horror of choosing the wrong caterer, and all the whats, hows, and wheres. Of course, the food should be your number one priority but when it comes to venue, a partial part of you should always look for a welcoming place where every guest can feel that they're at home and cared for – this is exactly how you'll find Pio's Kitchen in Quezon City.
Dubbed as Manila's Best Private Dining Paella Restaurant, Pio's Kitchen was born three years ago under the care of partners Chin and Mon Bagis. The house, which now serves as a stronghold of many life's special occasions and celebrations, was built in 1956 and was originally the ancestral home of Chef Chin's grandfather. At present, Pio's Kitchen is open only by reservation for private dining and events.
The place is bright, welcoming, and beyond doubt, beautiful — characteristics that can also apply to describe Chef Chin, the woman behind the famed Pio's paella. Going inside the eccentric, rustic-styled mid-century abode, it is another kind of warmth you'll feel. There are three different spots inside the house where you can freely lounge around namely Lolo's room, garden area, and dining area. Anyway, you basically have the whole house all to yourself when you make a reservation!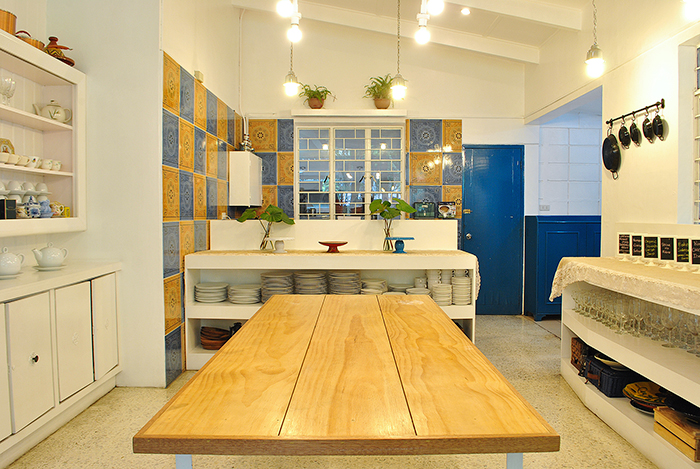 The process for the reservation is actually fast and hassle-free — just note to book at least one month in advance to make sure of the availability of the place. You can choose to reserve by filling up the reservation form available on their website or directly call them or just send them an e-mail. There's a minimum 8 pax and maximum 50 pax for the reservation of the whole place; children below 5 are free and up to 3 nannies are free and not considered on the headcount. 6 to 12 are half rate and 13 above are considered adult for this rate. You can choose amongst their three best seller packages: Menu A for P2950 per head, Menu B for P2850, or Chef's Choice for P3150. You may also customize as you wish.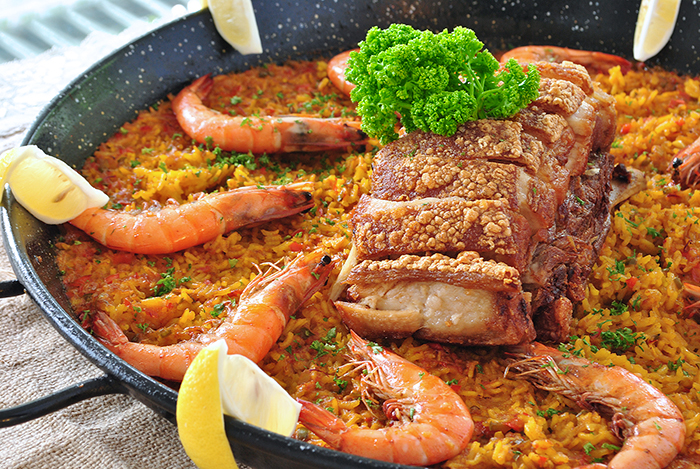 Pio's Kitchen Paella Bagnet
More than the aesthetic feature of the whole place, Chef Chin's sumptuous dishes — inspired by her work, travels, and heirloom recipes — are a vital part of one's experience in Pio's Kitchen. They pride themselves with Tapas selection, sangria bar, and of course Chef Chin's famous Paella which she learned at the country of its origin, Barcelona, Spain. Guests can even join in the cooking and volunteer to cook their paella of choice for the day; a live cooking demo is also hosted for the guests by the Paella maker herself! 
Also read: Recipe Corner: Paella Bagnet by Chef Chin Gallegos–Bagis of Pio's Kitchen in QC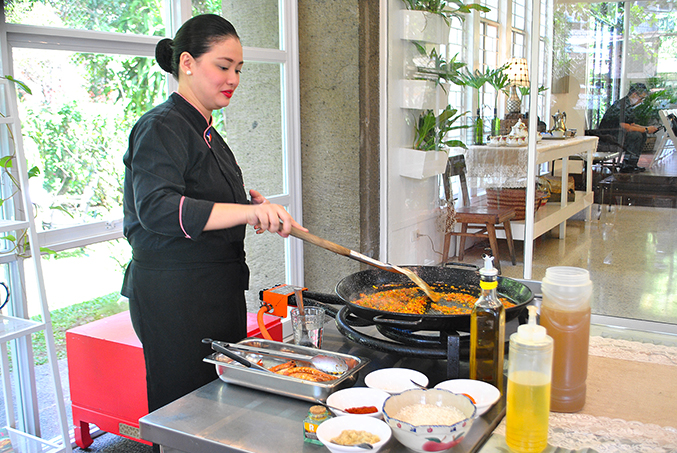 When asked about what she feels with other people coming in the ancestral house of her grandfather to celebrate their special moments in life, Chef Chin gave an answer that is surely evident in her ways and passion. "That's the joy of my life, you know, when people come here and families gather here, I feel that my grandparents are happy because they used to love entertaining in this house. This house used to be a place where family and relatives all over the world will come and enjoy Sundays. I think that's the essence of who we are; we really are a home."
Owner Chef Chin with her husband Mon, Logistics and Marketing director of Pio's Kitchen
"People think that Pio's Kitchen is a restaurant but we are actually a home. We open our home so when people go here they don't really feel like they are in a restaurant, they feel like they're just hanging out in their grandparents' or a friend's house and then enjoying good food and good company."
All the information you need can already be found on their website, a reservation form is also provided for you, otherwise, just shoot them an email at pioskitchen@gmail.com or contact them through 0917 5322892; 02 5094529; 02 5012391
Watch:
---
Written by Carissa Mari Torres

96 Scout Reyes cor. Scout Fuentebella Bgy Laging Handa QC

(By Reservation only): 12:00nn - 3:00pm/ 7:00pm - 10:00pm