Belito's Vineyard in Davao
"I love food and that's the inspiration," says Richie Ferrazzini, owner of Belito's Vineyard, when asked why he came up with the idea of putting up a restaurant.
Richie Ferrazini named his restaurant after his abuelo (or grandfather in English). Although located outside of main road, Belito's Vineyard is one of the popular restaurants when it comes to Spanish cuisine.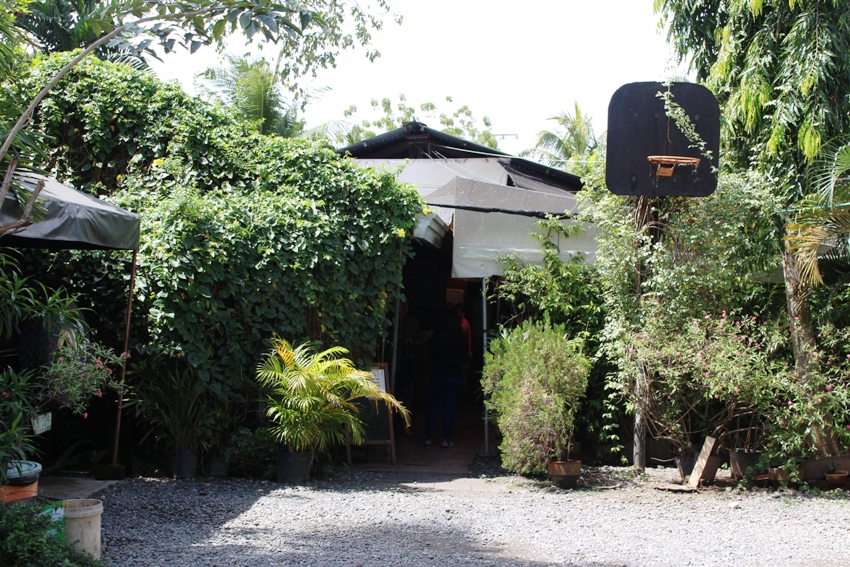 Façade. Belito's Vineyard is a hidden Spanish restaurant located along Palm Drive in Davao.
From the outside, you may not think that it's a restaurant at first. But as soon as you enter the place, you will find a garden setting with wooden tables and chairs, and ornaments in almost every corner, adding extra special feel to your dining experience.
Belito's interior, with wooden fixtures, including the chairs and tables
This hole-in-the-wall al fresco dining restaurant serves mostly Spanish cuisine. Their Paella Negra (P400) is the most requested dish by the patrons.
Paella Negra. Cooked rice mixed with calamari, Spanish chorizo, spices, squid ink, and olive oil, P400
Ferrazzini takes pride on the generous amount of squid ink smothered in their Paella Negra. They also have Shrimp Gambas, which is served with black bread that's also made of squid ink, creating a perfect balance of taste and color.
Shrimp Gambas paired with their homemade black bread, P260
Ferrazzini describes the restaurant as relaxing and comfortable which is great for those who want an intimate set-up with friends. Their restaurant is open from 11:00 a.m. – 2:00 p.m. and resume from 5:30 p.m. – 10:30 p.m.

Palm Drive, Bajada, Davao City

(11:00 a.m. – 14:00 p.m.) (17:30 p.m. – 22:30 p.m.)