Sabores Mexicanos in Santa Rosa, Laguna
Mexican restaurants are rare in Manila, and are even rarer in Santa Rosa. You can have restaurants that serve Tex-Mex (a play on the US state of Texas and Mexico) cuisine, but hardly any that serves authentic Mexican fare.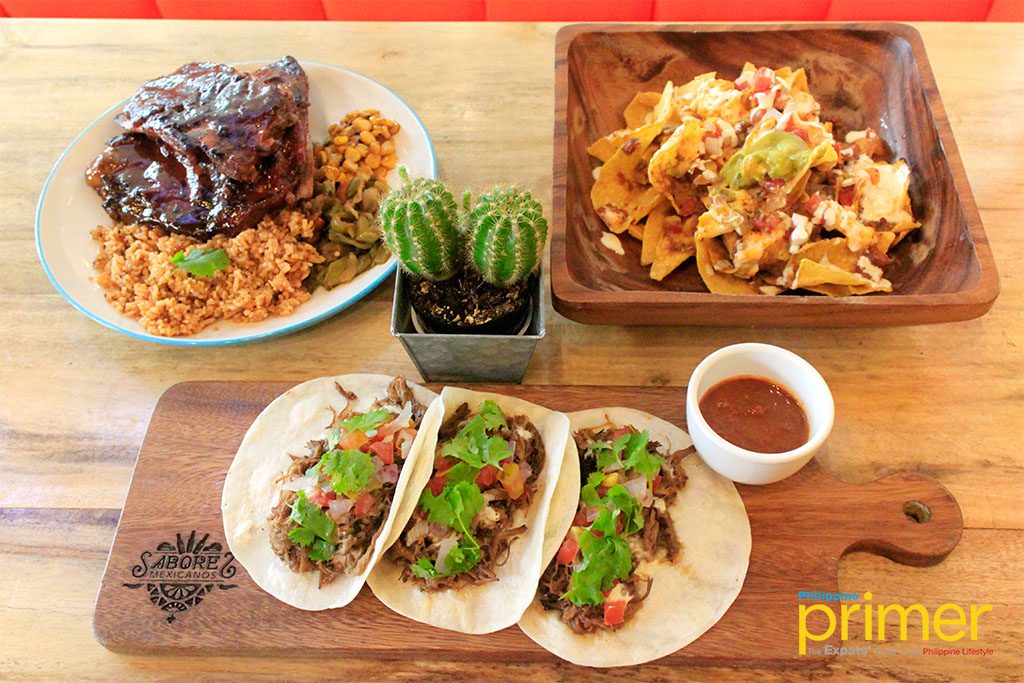 A visit to Vista Mall in Santa Rosa, Laguna, however, will introduce you to a restaurant that gets you as close as you possibly can to authentic Mexican cooking: Sabores Mexicanos. They don't claim to be a Mexican restaurant, but they will give you a taste of the flavors of Mexico in a way that both Filipinos and expats will appreciate.
Located on the second floor of Vista Mall Sta. Rosa, this 9-month-old restaurant has been attracting a lot of executives from the technoparks within the area, and with good reason. Their take on Mexican food appeals to the international community as it is as close as you can get to being in Mexico.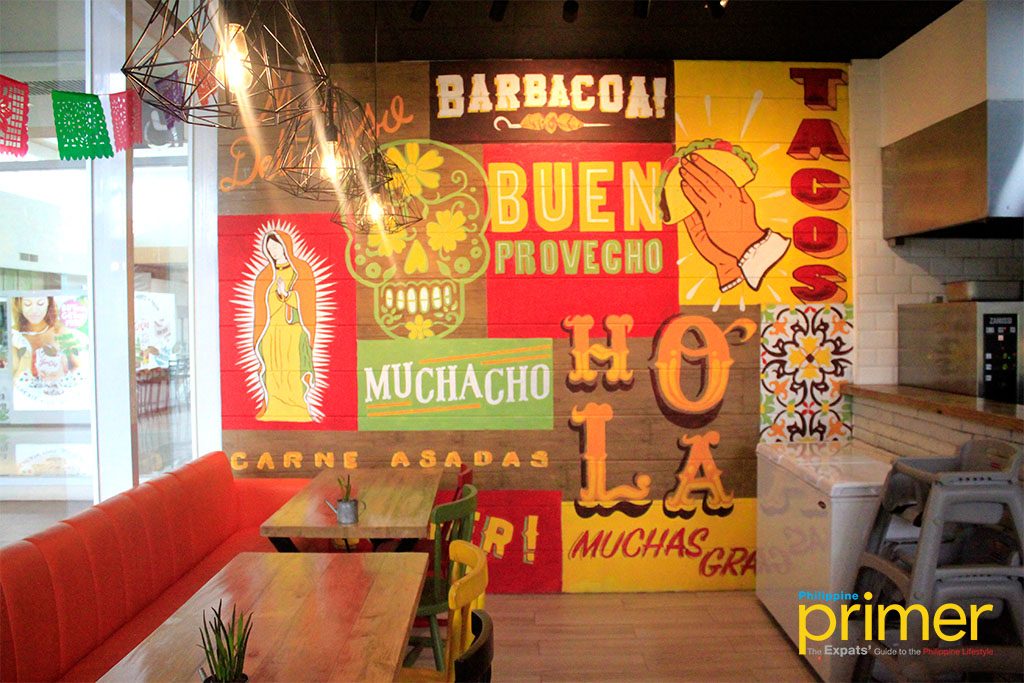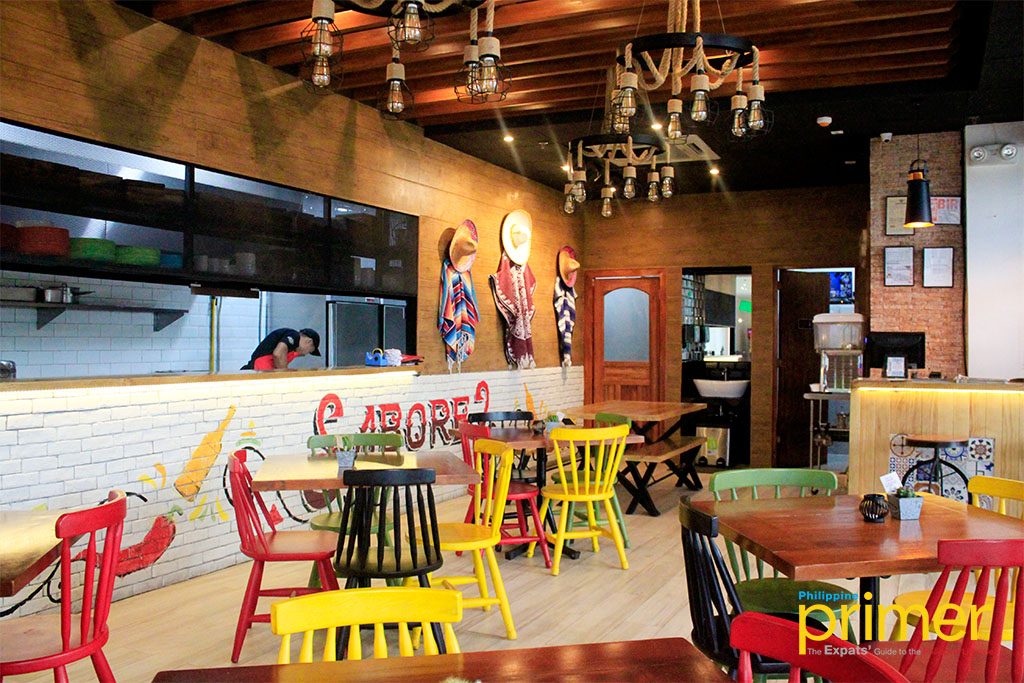 The walls speak of Mexican culture, with colorful murals and decorations that will remind you of the Central American country. They don't go overboard with the decorations, though; the layout is simple enough that you can stroll in wearing anything decent and not feel like you're out of place.
The food, however, is what really shines for Sabores Mexicanos. With fresh ingredients taken from the nearby market at Paseo de Sta. Rosa and servings large enough for at least 2 people to share, you'll always find a reason to drop by Sabores.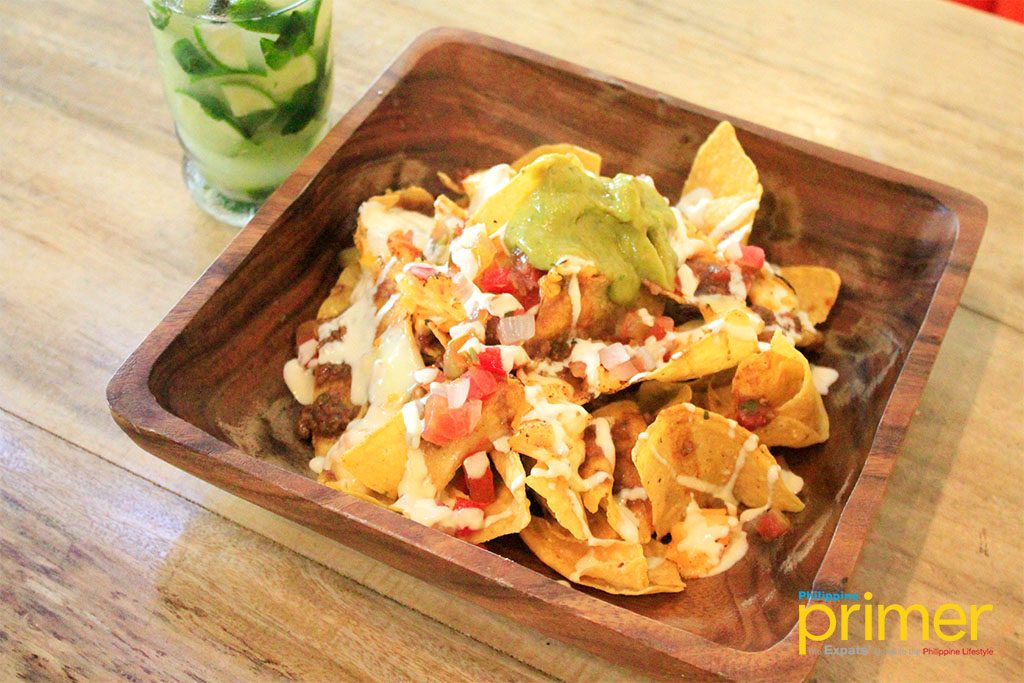 NACHOS GRANDE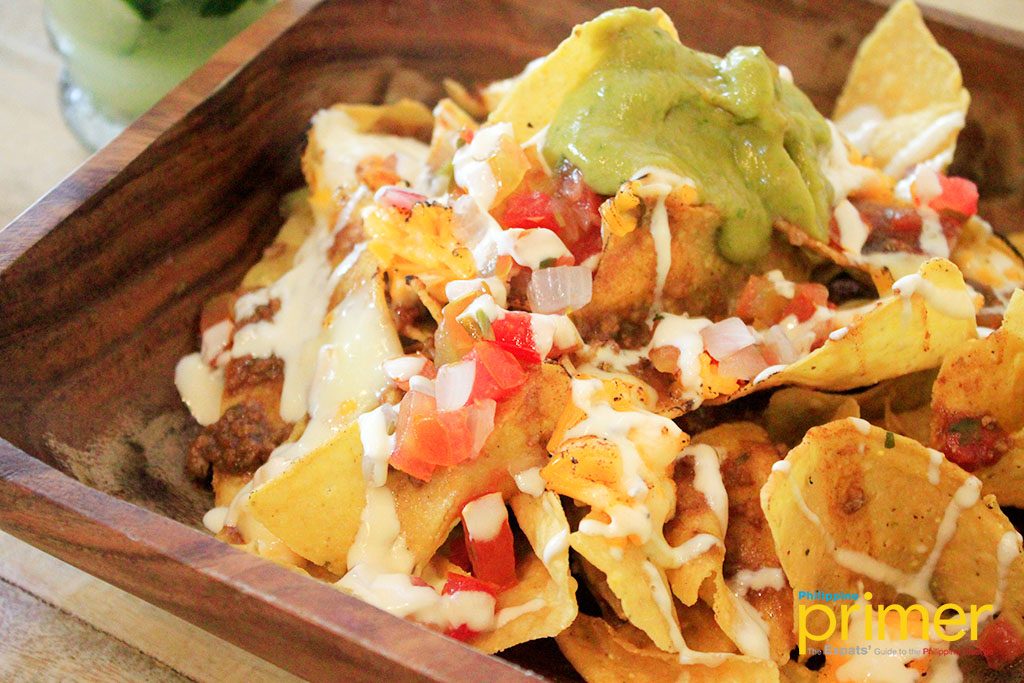 Dig in!
Take their Nachos Grande (Php 245). It's a simple bowl of nachos, but the tortilla chips are fried in-house. They include a generous portion of nacho meat (chili con carne sans the beans), their homemade pico de gallo, sour cream, guacamole (available year-round), and mixed cheese.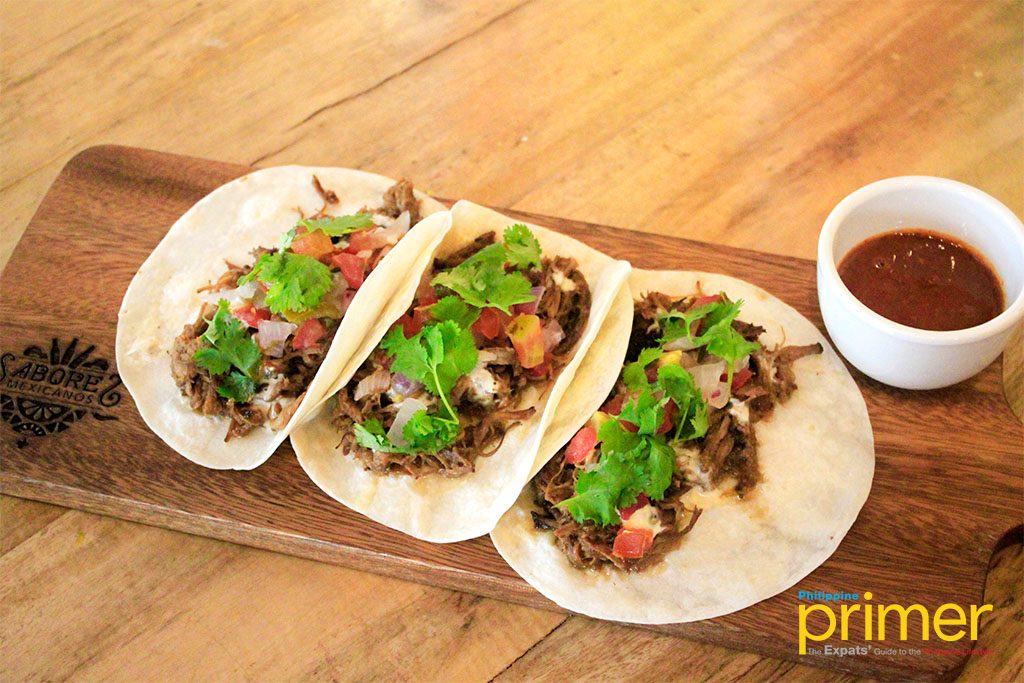 BEEF TACOS
Mexican food is almost always associated with tacos, and Sabores' Beef Tacos (Php 280 for 3 taco shells) does not disappoint. If your idea of a taco is one that's topped with cheese, then you're in for a surprise: Mexico doesn't do cheese on their tacos (that's more of a Tex-Mex thing).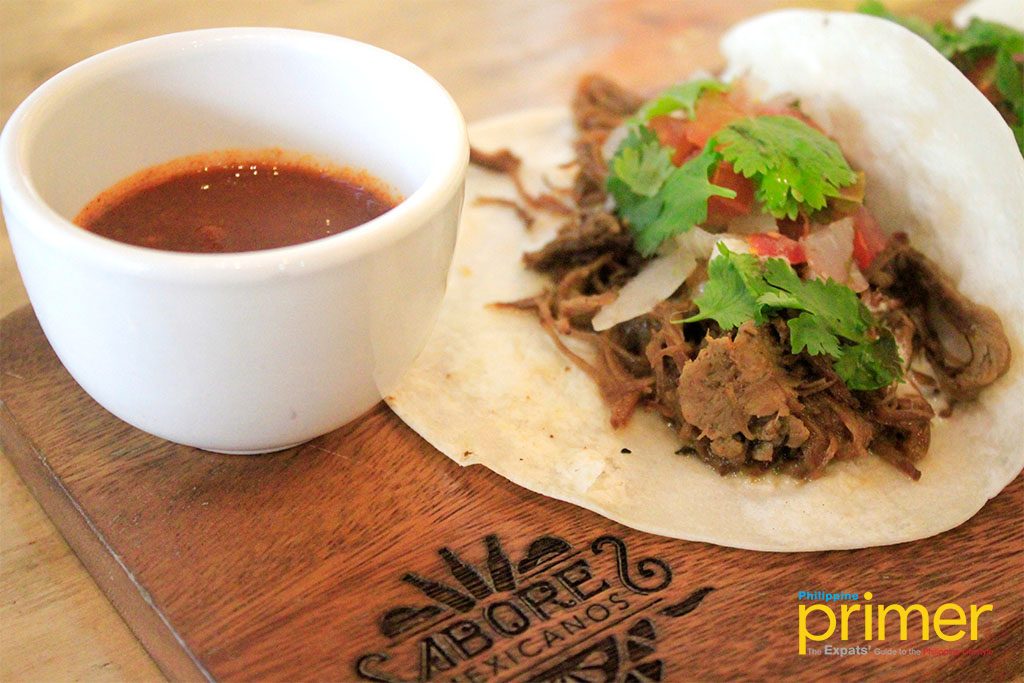 Watch out for that hot sauce.
The beef is pressure-cooked for at least 2 hours, marinated in a secret recipe known only to the staff. It's then laid out on a soft flour tortilla and topped with pico de gallo and cilantro. Take two more of these and add their homemade special hot sauce and you have yourself a meal fit for three.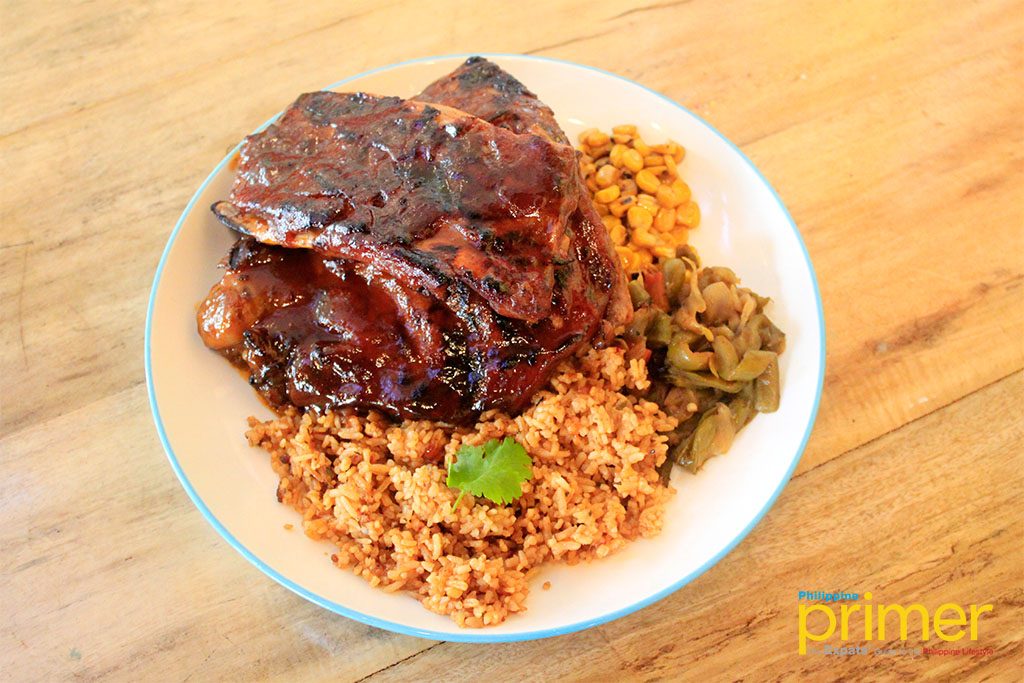 COSTILAS A LA BARBACOA
The star of the show, however, is their Costilas a la barbacoa (Php 430). Trust us when we say you have never met a rack of ribs quite like this. It's a falls-off-the-bone rack of local pork ribs served on top of Mexican rice pilaf, grilled buttered corn, and a fajita vegetable mix.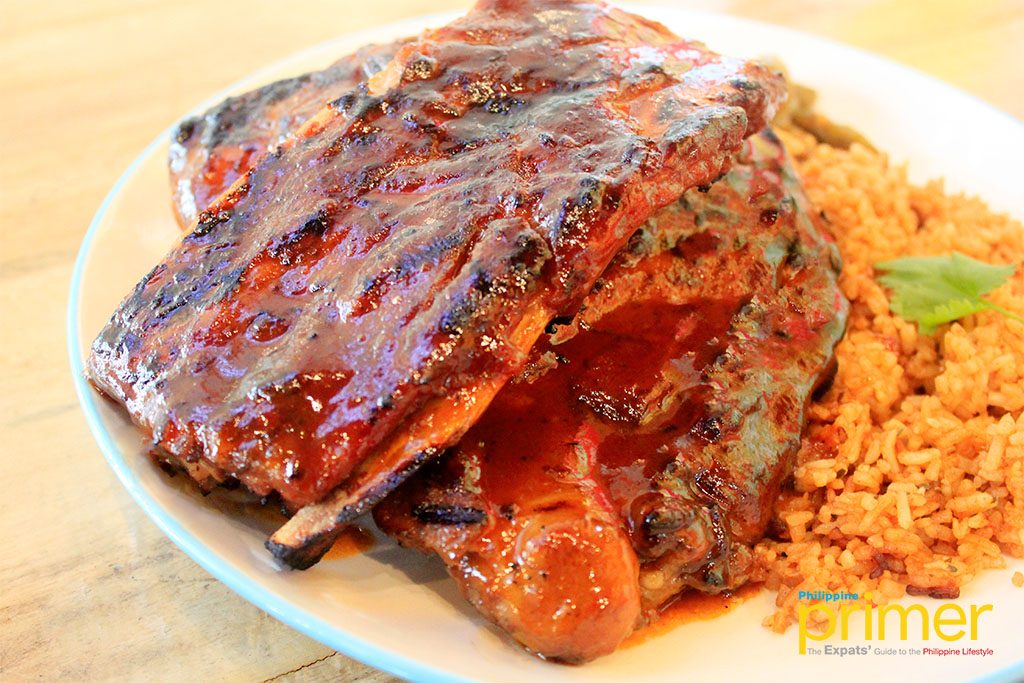 It's local pork, but don't let that dissuade you from sampling this soon-to-be favorite.
People might be turned off by the fact that it's made from local pork, but do not let that put you off. There's a reason why our lechon (roast pork) is renowned for its taste; Sabores just gave it another reason to be liked. Don't be surprised by the unusual portion size or shape; that's just how local pork is. With their homemade barbecue sauce and the aroma of grilled buttered corn, these ribs can compete with any restaurant in Metro Manila that serves pork ribs.
Next time you're in Sta. Rosa, swing by Vista Mall and make your way up to this hidden gem. 
---
Written by Andronico Del Rosario
This first appeared in Philippine Primer Japanese Magazine's August 2018 issue.
General Information
2/F, Vista Mall Sta. Rosa, Santa Rosa-Tagaytay Rd., Don Jose, Santa Rosa, Laguna
049-533-9267
10 a.m. to 9 p.m. (Mon to Thur); 10 a.m. - 10 p.m. (Fri - Sun)