Persephone: A Seasonal Kitchen in the Heart of Makati
Updated July 10, 2023, Permanently Closed
Bountiful colors play around Persephone in Makati: a seasonal kitchen that offers Filipino fusion dishes. It's owned by restaurateur Jessica Roasa, who says she found her inspiration through Greek Goddess Persephone who brings diversity and freshness.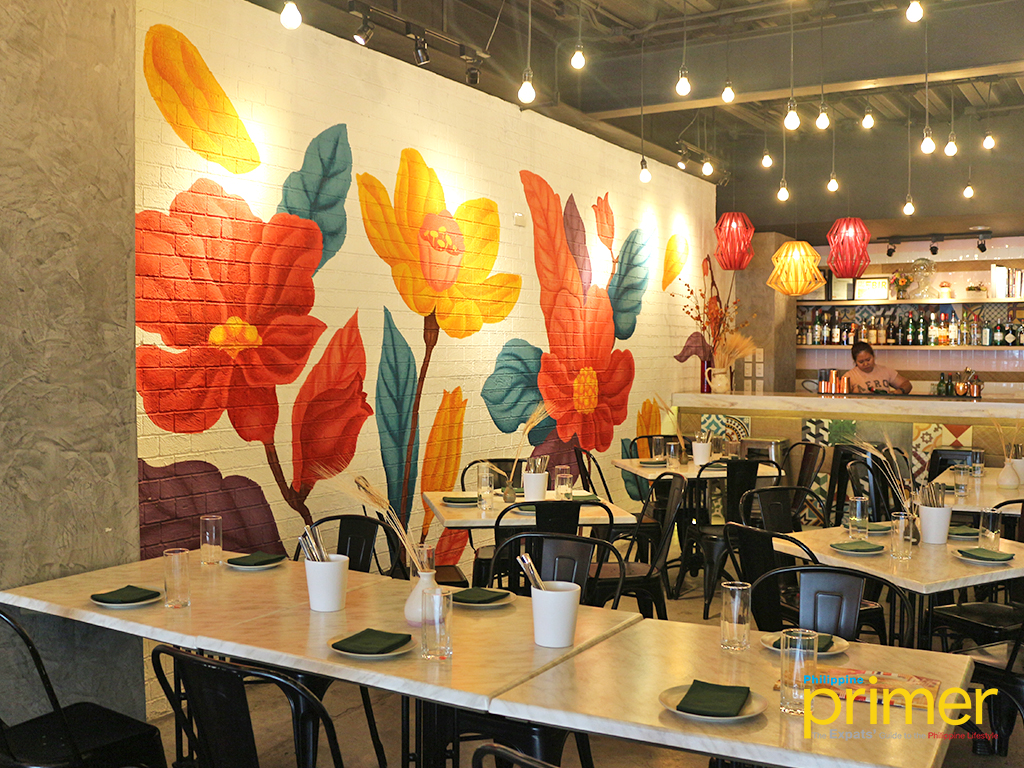 The vast floral mural on the walls represent the Goddess of Spring and Underworld.
 "Our menu is dynamic and flexible in a sense that when a diner comes in, we can tweak or make a special dish as per their request," says Roasa, who always makes sure to innovate Persephone's menu.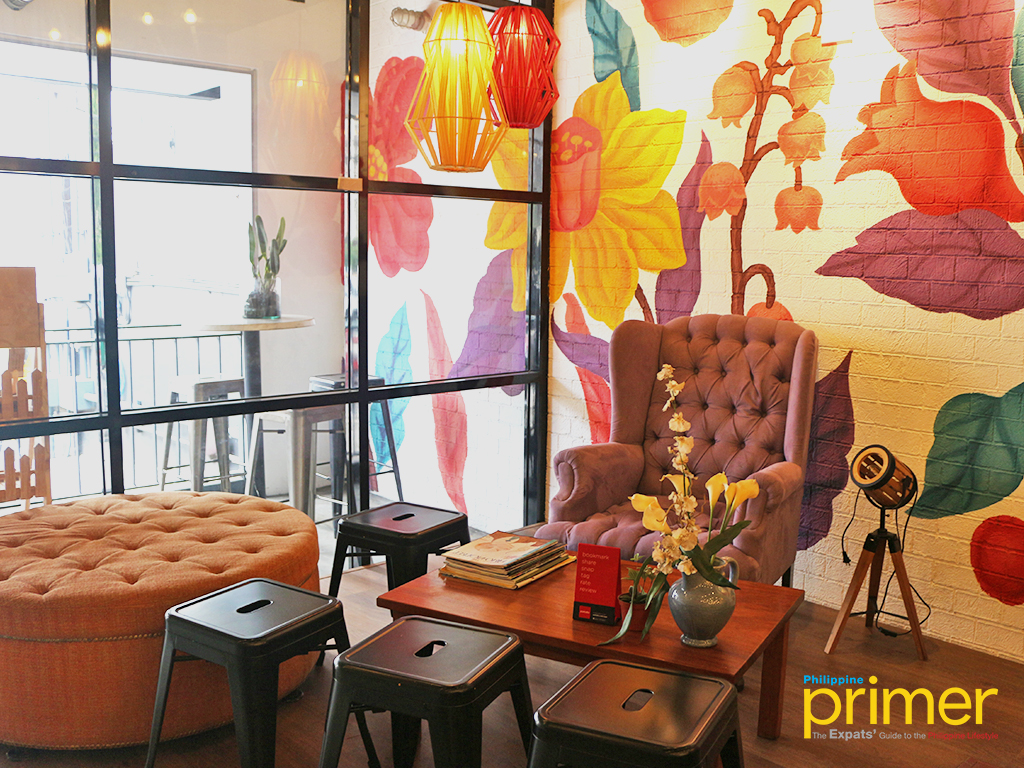 The floral mural is extended outside so diners can already see it
Marrying cuisines such as Korean, Japanese, and Filipino, Persephone wants to have the familiarity, all while having its own flair for what they're serving. Located along Jupiter Street, this makes it accessible to corporate employees and expats who are in search for good food within reach.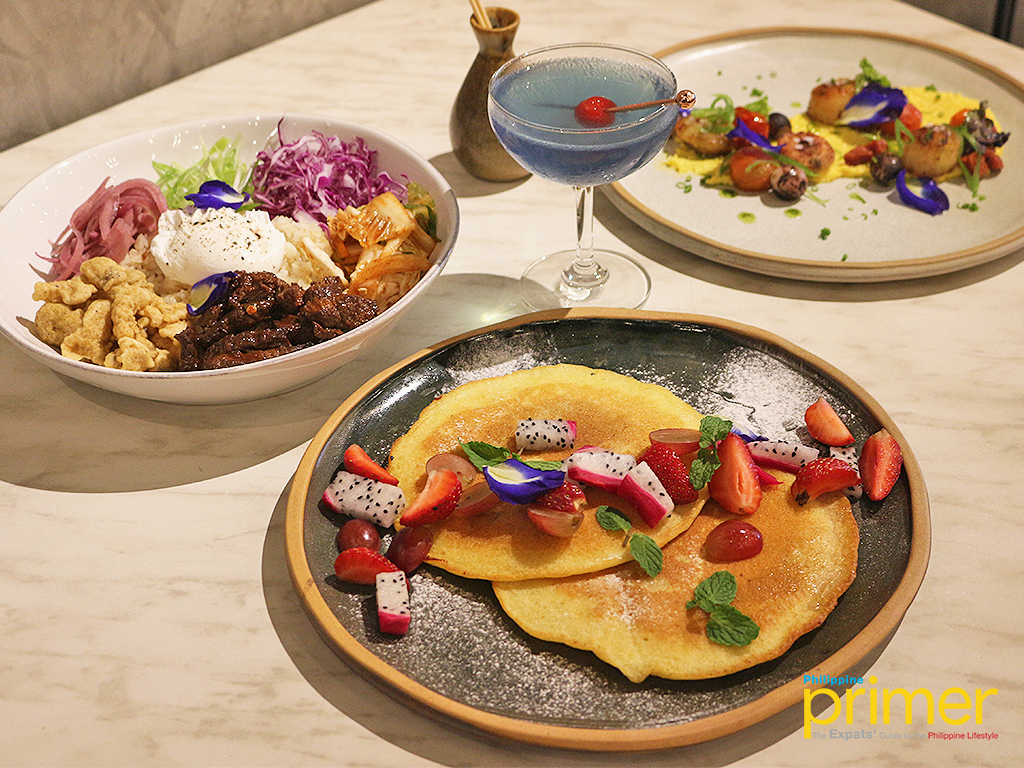 A perfect brunch set with your friends and family! 
One of their best-selling dishes is their own take on Tapsilog (Php 325) good for two to three persons. It's a mix of sirloin steak, pickled onions, kimchi, red cabbage, shimeji tempura, leeks, garlic confit rice and topped with a poached egg. Compared to other Tapsilogs, Persephone adds a Korean twist on theirs as it resembles Bibimbap, in which you just need to mix all the ingredients together to fully enjoy the dish.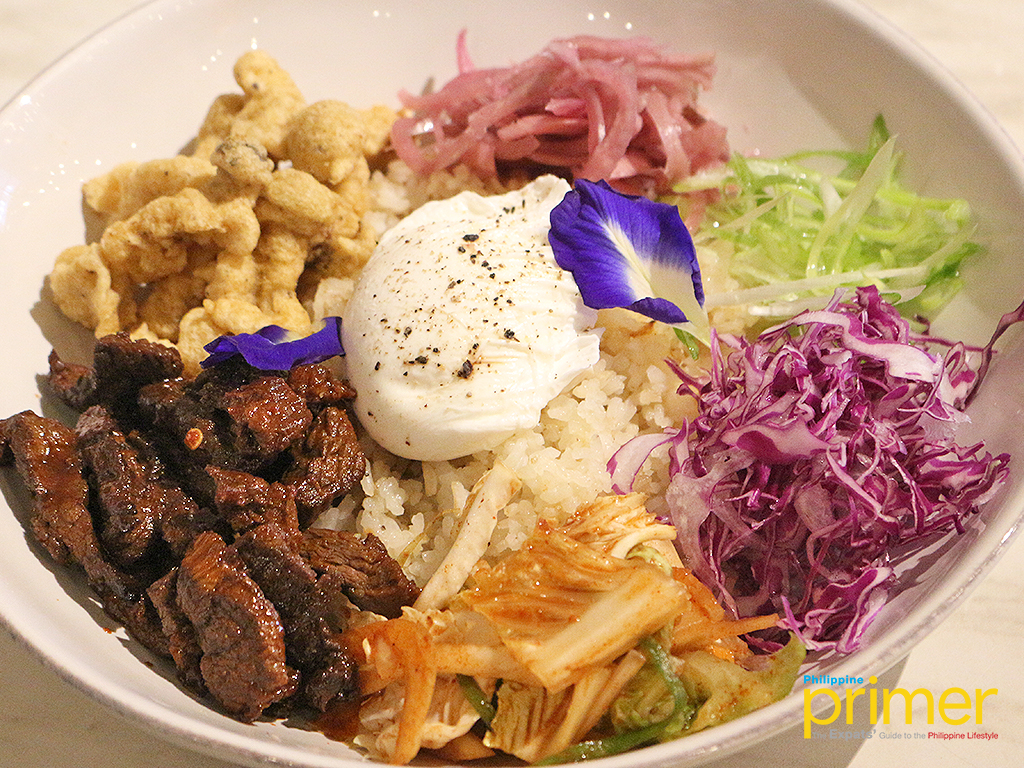 The unconventional Tapasilog (Php 325) of Persephone
If you're looking for something light yet flavorful, try their Scallop in Corn (Php325) made of corn puree, roasted cherry tomatoes, blowtorched shallots, chorizo, thyme, spring, onions, and scallops. The creaminess of the corn puree blends well with the perfectly cooked scallops as well as the acidity of the tomatoes.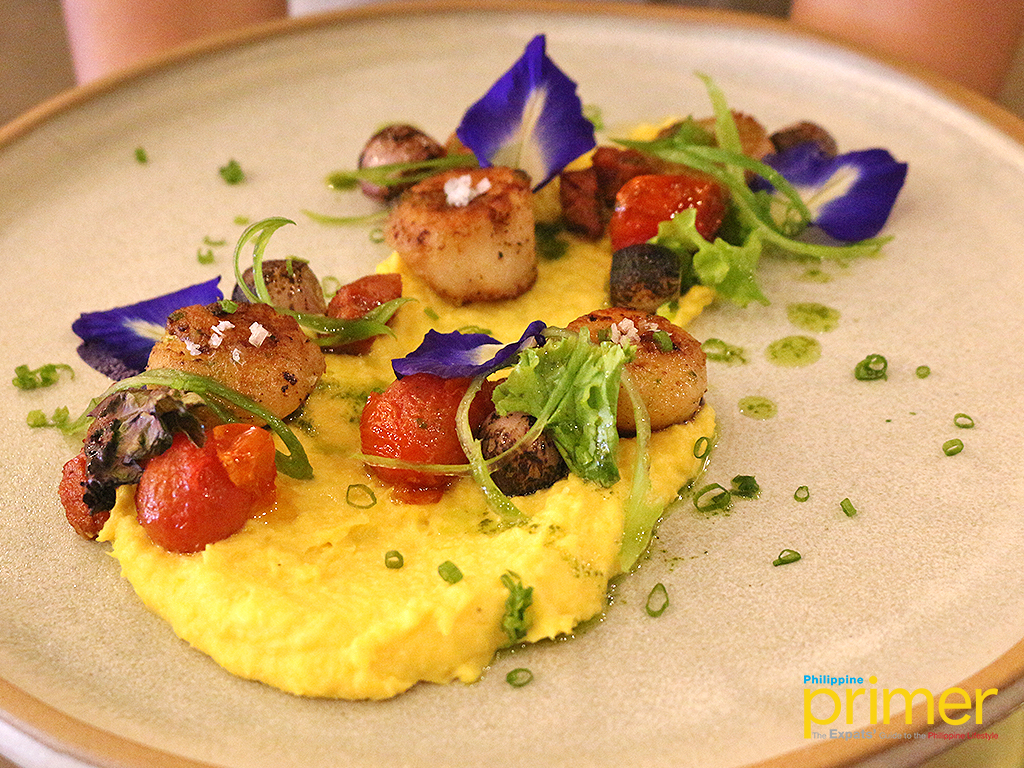 Scallop in Corn (Php 325)
Persephone serves brunch until 5:00 pm, perfect for the late risers. For something comforting, order the Fruit Pancakes (Php 245) garnished with fresh fruits and edible flowers– this being their trademark when it comes to designing food.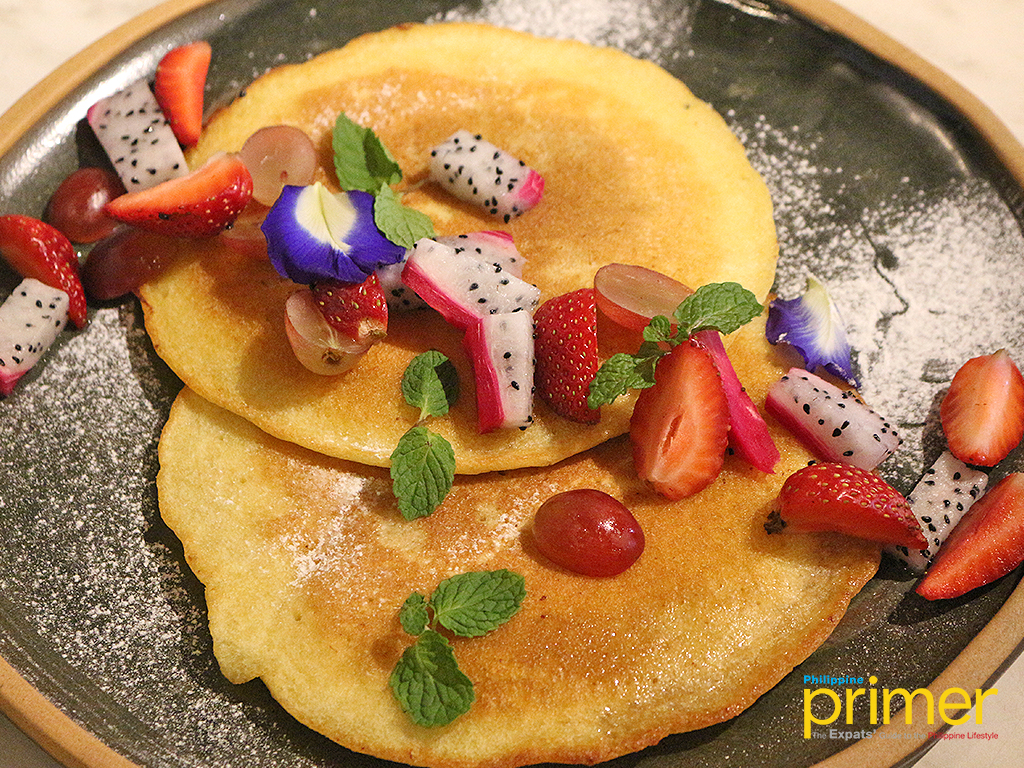 Fruit Pancakes (Php 245)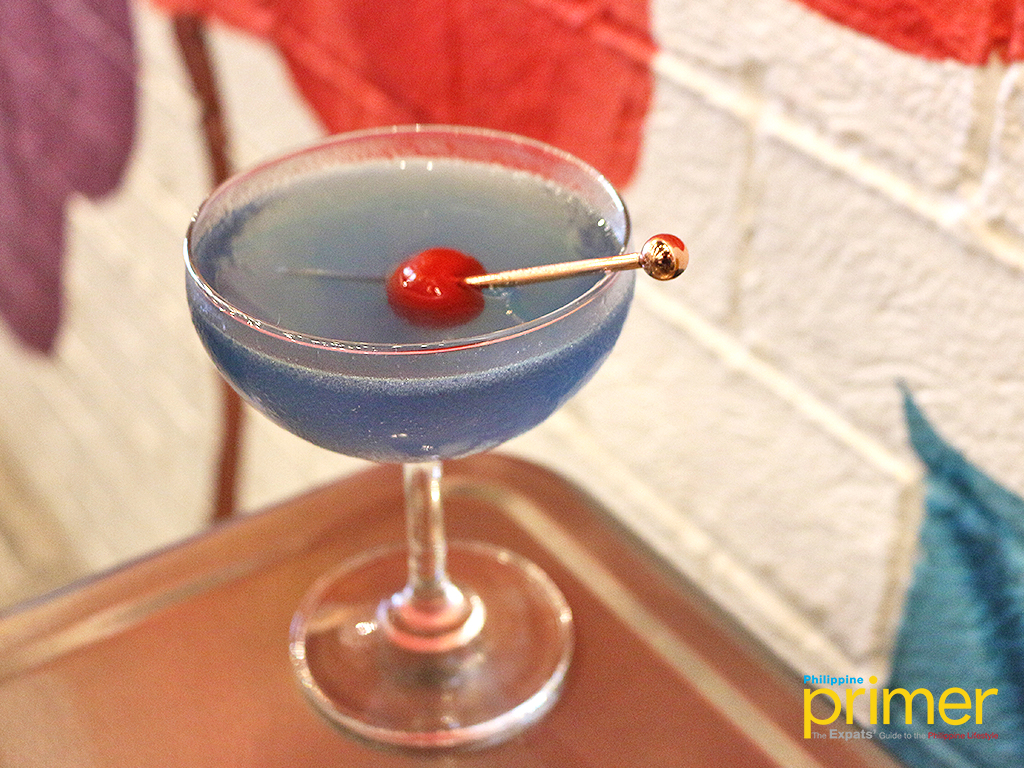 Aviation (Php 285)
The underworld play comes in through their own concoctions of cocktails that are served even by day. Aviation (Php 285) somewhat represents the Goddess just by the look and taste of it. Aviation is made with Tanqueray, peach syrup, violet liqueur, and lemon, added with cherry for femininity. This drink will surely blend in well with your meals.
There's always something to look forward to when visiting Persephone. With their vibrant interiors, seasonal offerings, and mouth-watering dishes, we're sure you'll be smitten just like how Hades was to Persephone!
Store Information
120 Jupiter Street, Barangay Bel-Air, Makati City
802-6064
0917-554-3825
Brunch Service: 9:00 am to 5:00 pm (Monday to Friday), Dinner Service: 5:00 pm to 11:00 pm (Monday to Saturday)
Sunday
persephonemnl@gmail.com