UMU Japanese Restaurant at Dusit Thani Manila Serves Bountiful Feast and Food Entertainment
UMU Japanese Restaurant at Dusit Thani Manila Serves Bountiful Feast and Food Entertainment
It's no doubt that Makati surely is among the food hotspots in the metro as every corner is settled with various restaurants, cafés, bars, and bistros. If you are going to saturate the area, perhaps you will find every kind of fare there is—from American and Italian to Korean and Japanese cooking.
Looking for an exceptional dining experience in Makati is not as hard as it seems. If ever you are around the area and happen to be craving Japanese cuisine, Dusit Thani Manila will not disappoint you with its array of first-rate restaurants to fill in your hunger for an immense food adventure.
Situated inside the 5-star hotel is UMU Japanese Restaurant, a hidden gem of superb Japanese cuisine offering not only bountiful piquant dishes but also a flair of entertainment.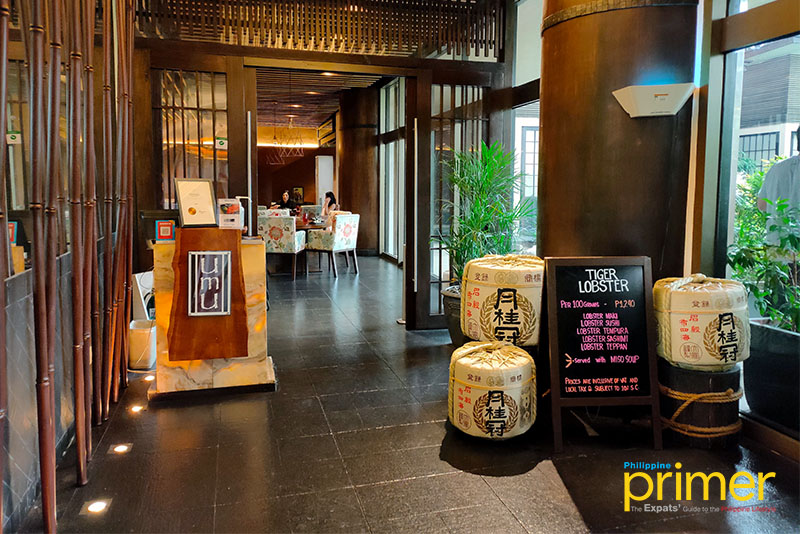 Established in February 2008, UMU Japanese Restaurant's roots can be traced from the hotel's then-famous Japanese restaurant, Benkay back when the hotel rebranded from Dusit Hotel Nikko to now Dusit Thani Manila.
Living up to its name's meaning—"born of nature"—its unpretentious oriental ambiance seemingly invites you to feast in an authentic Japanese cuisine to your heart's delight inside a serene setting reminiscent of a homey yet modern Japanese house.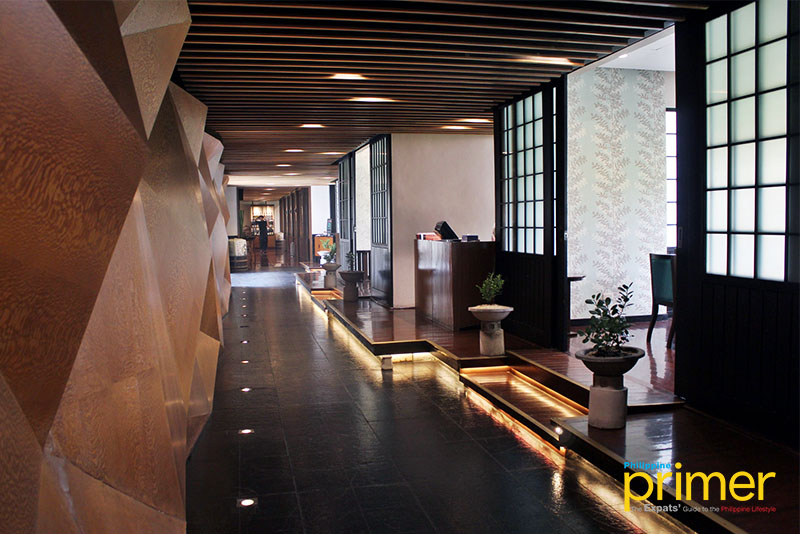 UMU's menu features a range of Japanese cuisine, retaining some of the well-loved dishes of Benkay along with the new selections that are not only appetizing for the eyes but also for the diner's palate.
Luckily, Philippine Primer got the chance to sample some of their first-rate dishes and also experience the immense sense of service and entertainment brought by its staff.
Start off your meal with the classic Dragon Maki (Php 925) made with grilled unagi, mango, cucumber, and cream cheese drizzled with sweet eel sauce. This glorious roll is a mix of both savory and sweet flavors that parties in your mouth with every bite. No wonder that this maki is a personal favorite for some diners.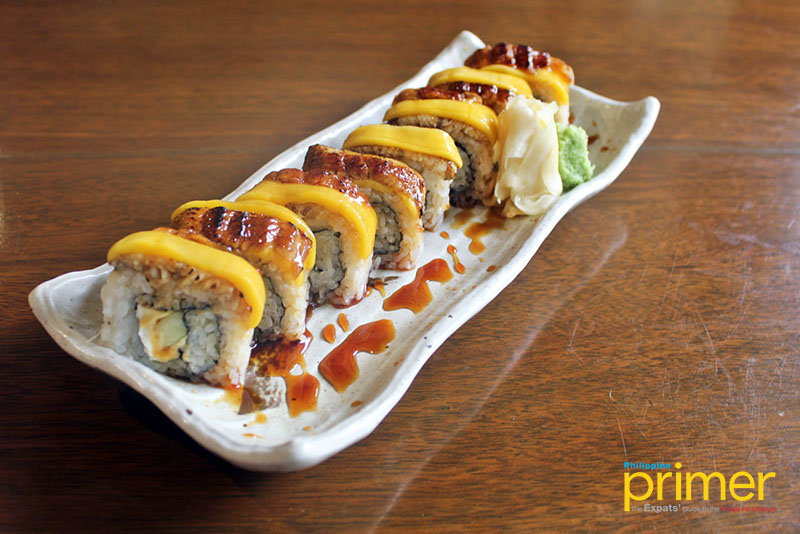 Dragon Maki (Php 925)
For sashimi lovers, their Gosyumori (Php 2,350) is the best choice to order. This platter serves five kinds of raw fish sliced into five pieces each such as Kampachi (greater amberjack), Maguro (tuna), Hata (Lapu-Lapu), Shake (salmon), and Tai (red snapper). 
Aside from the fresh raw fish itself, another thing to enjoy is that this platter is served to your table with a splash of amusing presentation brought by the dry ice.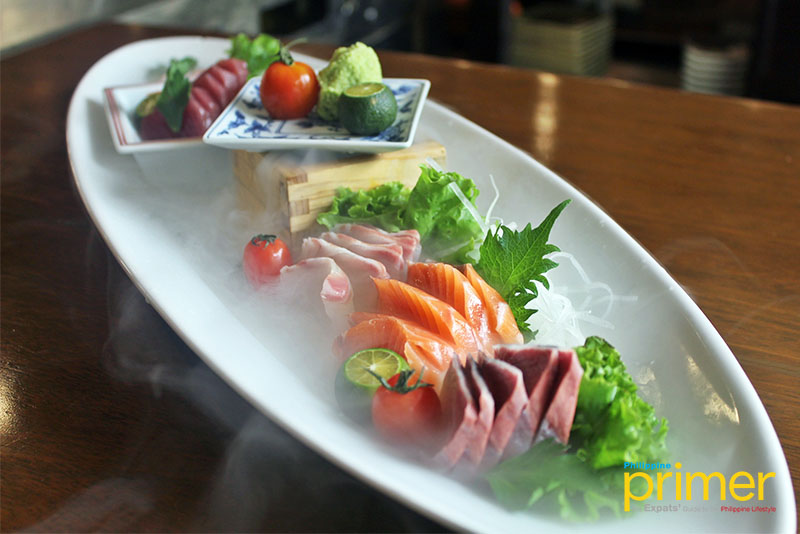 Gosyumori (Php 2,350)
A tip before taking a bite in these delicate slices of raw fish, don't forget to squeeze the calamansi or brush a thin slice of lemon onto the sashimi to enhance its freshness and flavor.
If you are not a fan of sashimi, however, a plate of Ebi Tempura (Php 975/6 pieces) may be the right dish to delight your tummy before savoring a ton of teppanyaki dishes. These deep-fried prawns are served with homemade tempura sauce.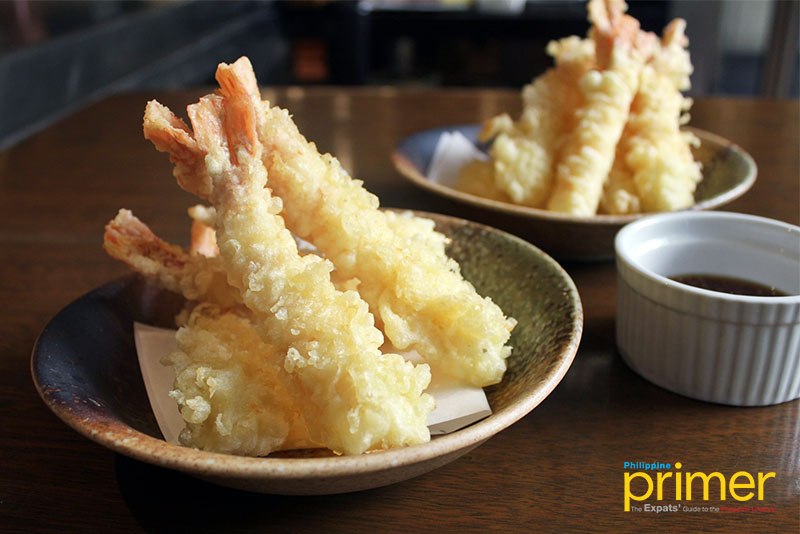 Ebi Tempura (Php 975/6 pieces)
Moving on to teppanyaki, you are free to choose the ingredients you want in your dishes. Just take note that you need a minimum of Php 5,000 worth of teppanyaki dishes to dine at the live cooking stations.
Your dining experience will not be dull because you'll also be delighted with a bit of entertainment as their skilled chef will grace you with tricks while they prepare your food like arranging onion rings into fire-shooting volcanoes or serving you your rice bowls with the use of their spatula.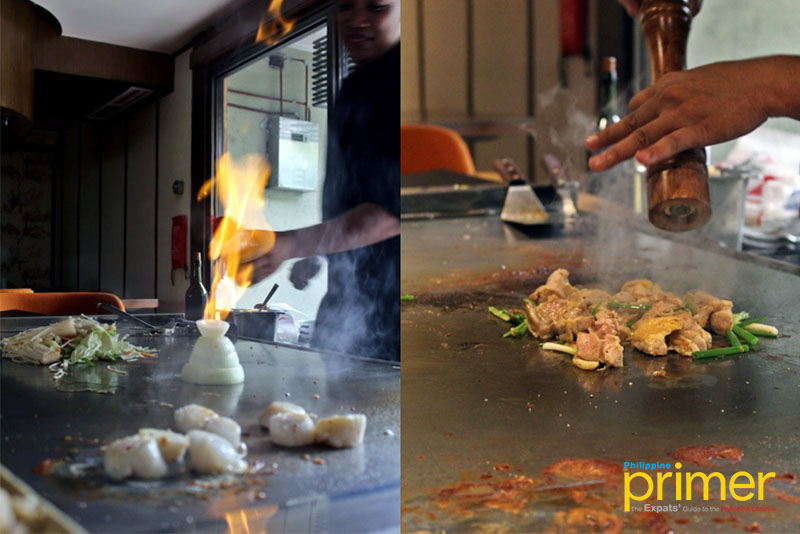 In UMU, the ingredients of their Western-style teppanyaki consists of mostly seafood, vegetables, and also meat like beef and chicken.
Teppanyaki ingredients

For that, Philippine Primer got to try some of their teppanyaki dishes such as Hotate (Php 1,250) or pan-grilled scallops cooked with soy sauce and light seasoning, Wakadori Teppan (Php 495) or chicken thighs grilled with scallion, and Kaki (Php 1,250) made with oysters in garlic butter soy sauce and bed of vegetables.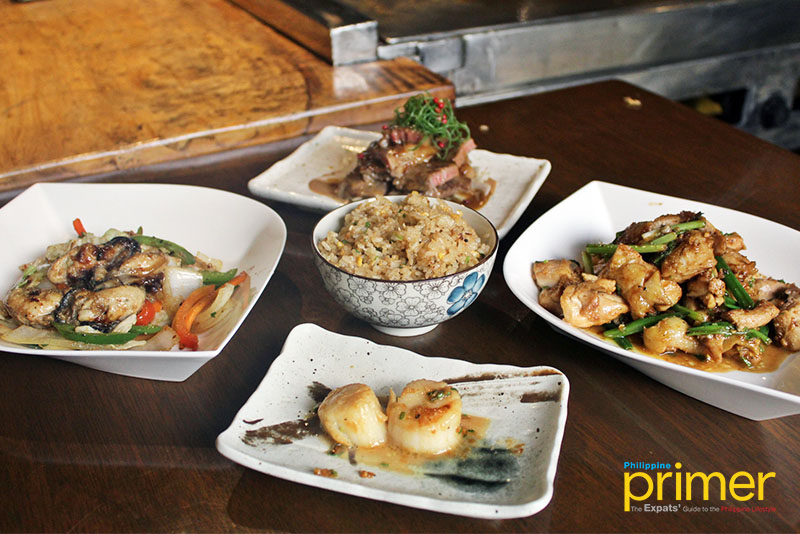 (Clockwise) Wafu Steak, Wakadori Teppan, Hotate, Kaki, and Nin-niku Yakimeshi
Stir-fried rice is also cooked teppan-style such as a serving of Nin-niku Yakimeshi (Php 185) or garlic rice.
Another great dish to savor with your teppanyaki dishes with is the Wafu Steak (Php 1,250) or US Rib Eye in wafu steak sauce and red peppercorn on top. This plate of tender slices of beef is best-enjoyed medium-rare with garlic rice on the side. You may also request for it to be served well-done.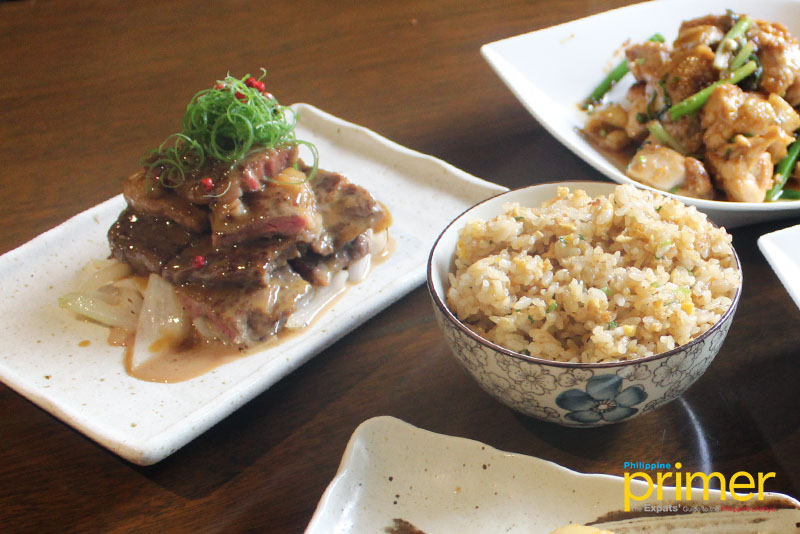 Wafu Steak (Php 1,250) and Nin-niku Yakimeshi (Php 185)
Live lobsters are also available in UMU priced at Php 1,240 per 100 grams. You can have your lobster cooked in any way you like such as maki, tempura, sushi, sashimi, or teppan, served with miso soup.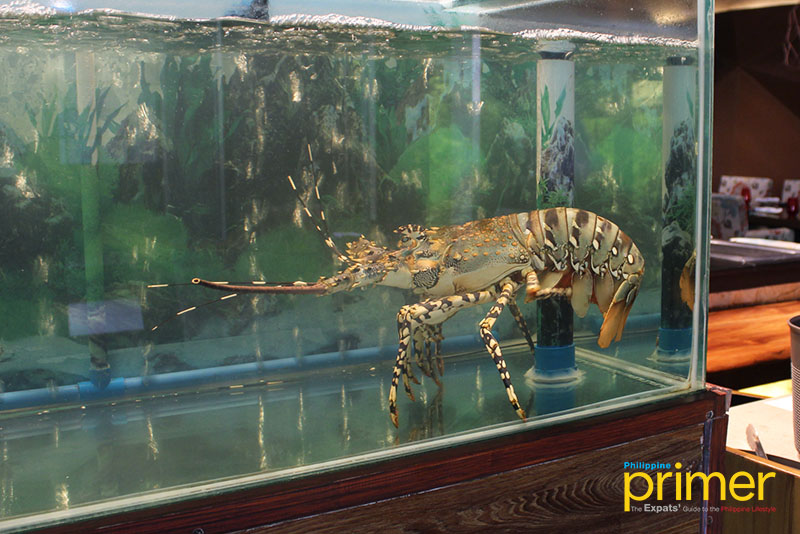 Live lobsters (Php 1,240 per 100 grams)
Further, UMU also offers a la carte, bento-style, and Kaiseki (traditional Japanese set menu) dishes for variety. It is good to mention that servers will never let your teacup dry out as they instantly refill your cup every once in a while.
'Born of nature'
The restaurant's interior is adorned with a balance of stylish dark scheme with a spark of vibrant colors, a modern take on the traditional Japanese ambiance.
Each dark wooden table in the main dining areas is accented with floral-patterned chairs and tableware to bring contrast to the almost rustic yet modern vibe of UMU.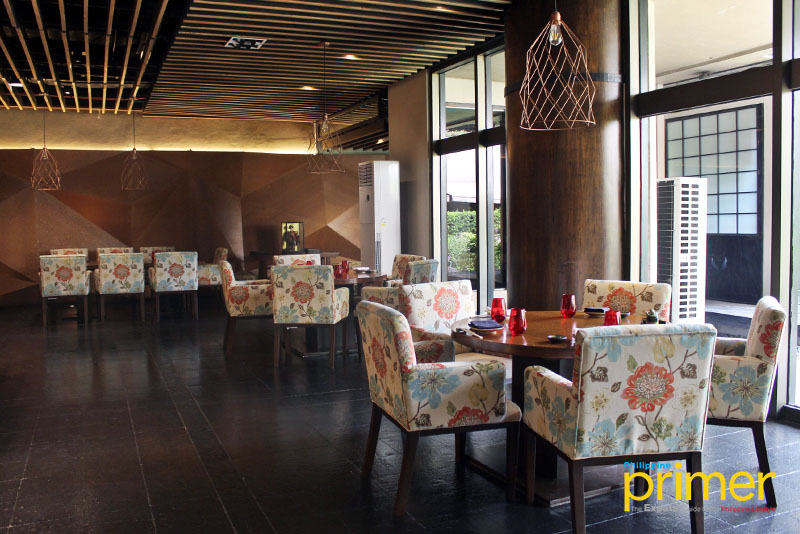 Going inside to the hallway are private rooms good for 14 persons. Passing through the rooms, you will see three live cooking stations for teppanyaki and another main dining area. As you go further to the back, you will locate the tatami rooms for a more traditional Japanese dining.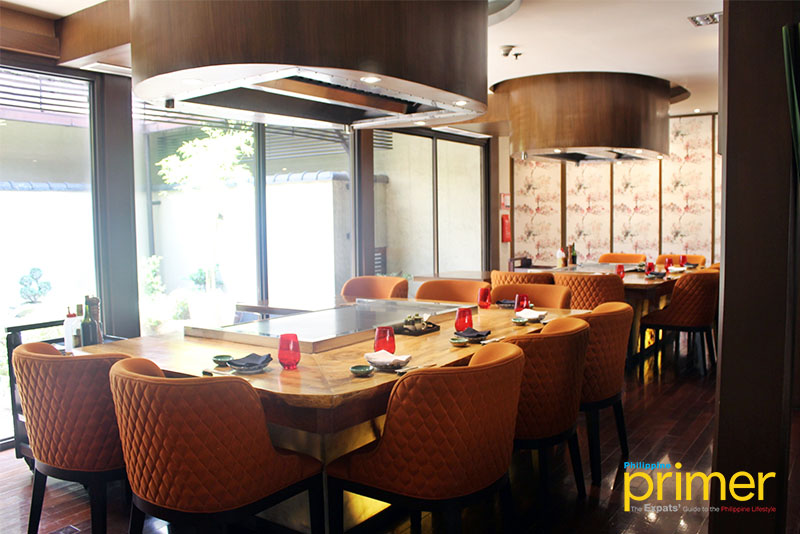 Live cooking stations 
Living up to its name, an alfresco dining area with a scenery of koi pond and Japanese garden is also available for diners who want a serene lunch or dinner in the midst of the hotel's greeneries.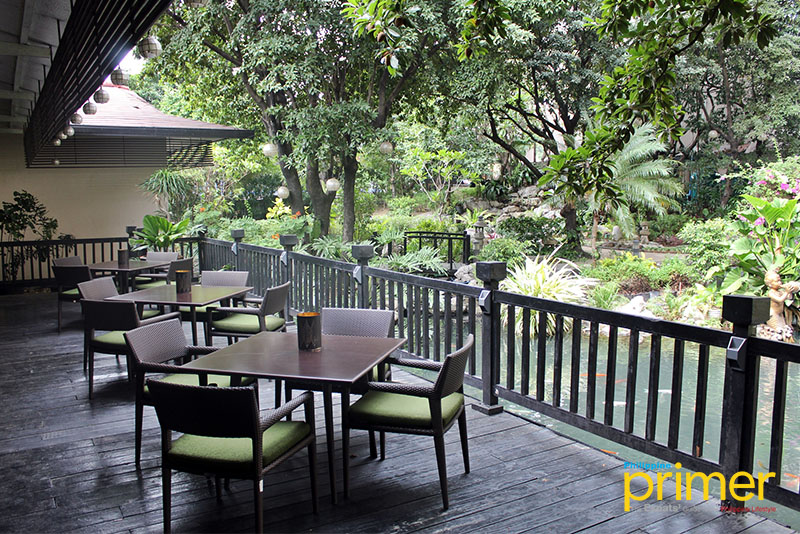 Japanese Garden
How to get here
• UMU Japanese Restaurant is located on the ground floor of Dusit Thani Manila straight across the main entrance.
• To get to Dusit Thani Manila from north, drive along EDSA going to Ayala then make a right turn onto Palm Drive; if you are from the south, turn right onto Arnaiz Ave. from EDSA bound to Theater Drive.
• Parking area is available for guests.
---
Words and photos by Deneca Ordinanza

Lobby Level, Dusit Thani Manila

12 n.n. to 2:30 p.m. (Lunch); 6 p.m. to 10 p.m. (Dinner)

Accepts cash and major credit cards