Pang Masa Ya Yakiniku and Teppanyaki in Makati: The New Jap Resto to Look out for
Alright, let's talk comfort food – and by that, I mean Japanese food. There's seriously nothing that gives you that warm and fuzzy feeling like a plate of perfectly seasoned sushi or a steaming bowl of ramen. It's like a warm hug that wraps around you and says, "Everything's gonna be alright." I mean, think about it. You've got maki rolls that's light and appetizing, tempura that's crispy and fluffy, and don't even get me started on the magic of yakiniku. You're not just getting a meal; you're diving into a genuine taste of tradition and comfort. So, give in to temptation and order that bowl of ramen and a box or two of mouth-watering gyoza you've been craving for a now. And if you're on the hunt for the real deal, head straight to Pang Masa Ya Yakiniku and Teppanyaki in Makati, the new resto on the block where the magic happens.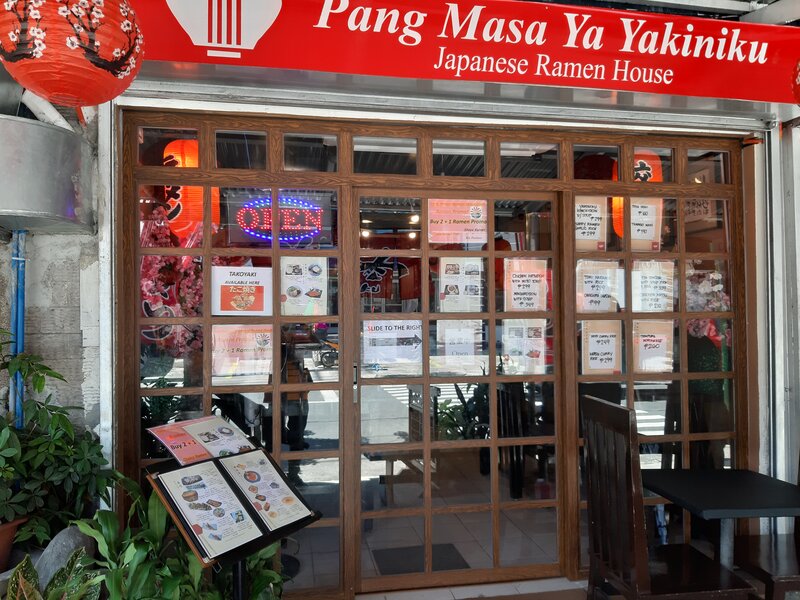 IMAGE from Philippine Primer
Located in Brgy. Sta. Cruz, Makati, Pang Masa Ya offers a delightful fusion of authentic Japanese staples in a rustic, welcoming space. Chef Ishikawa–the veteran owner–prides himself and his team of cooks on delivering an exceptional culinary experience that surely resonates with Japanese food lovers. From their signature ramen bowls and its diverse array of Japanese favorites such as maki, teppanyaki, and yakiniku, Pang Masaya embodies a commitment to quality ingredients, meticulous preparation, and a dedication to creating enjoyable moments.
Chef Ishikawa / IMAGE from Philippine Primer
The restaurant's homely vibe here creates an inviting and immersive environment, inviting diners to embark on a gastronomic exploration. Whether it's the intimate seating arrangements or the tastefully curated dining space, the restaurant fosters an atmosphere of comfort and relaxation, making it an ideal setting for savoring their array of oishilicious offerings.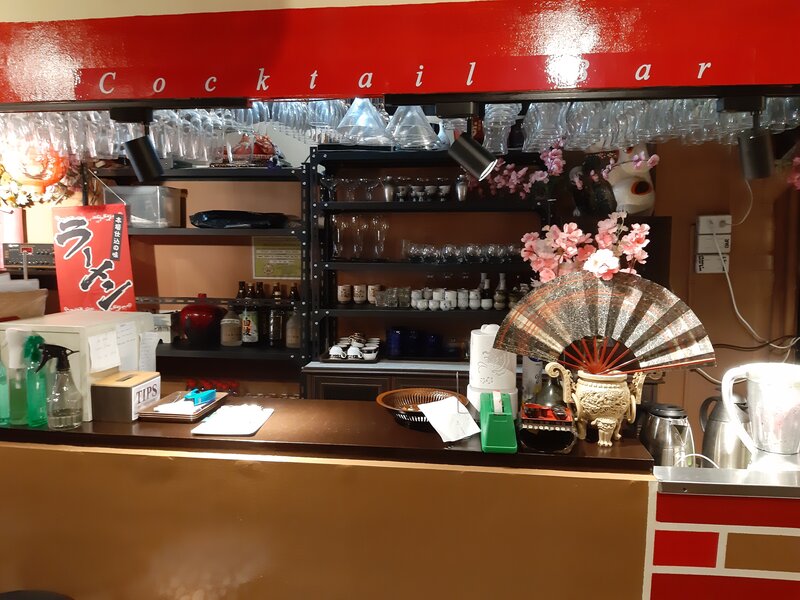 IMAGE from Philippine Primer
From perfectly rolled aburi to delicately crafted hot pot, each dish showcases a harmonious blend of flavors and textures. Here are some of our favorites:
Pang Masa Ya's California Roll, a staple of fusion sushi, showcases perfectly cooked sushi rice, kani sticks, cucumber, mango, and avocado, bound by a layer of nori seaweed. This roll's accessibility and harmonious blend of textures—creamy avocado, crunchy cucumber, and tender crab—make it a beloved choice for sushi lovers and newcomers alike. Its sweet and savory flavors, when paired with calamansi, in-house pickles, and wasabi, create a delightful symphony of flavors.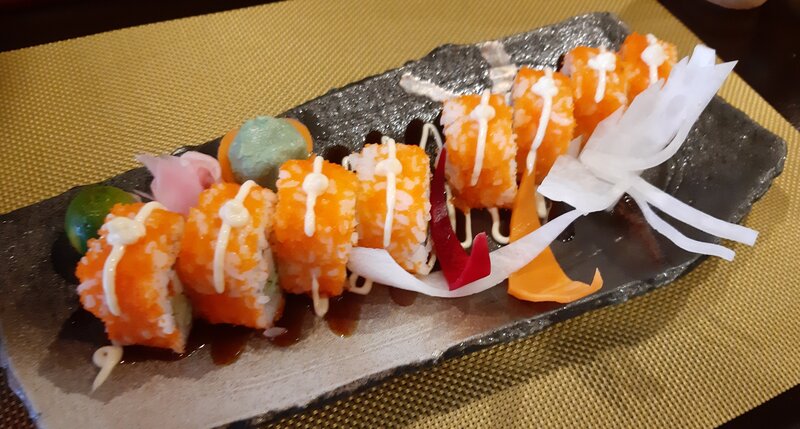 California Maki / IMAGE from Philippine Primer
Imagine this: a cozy ambiance, a table set with an array of succulent beef or pork cuts, smoky aroma filling the air, and the pure joy of flipping those little flavor bombs till they're perfectly grilled. Just like samgyeopsal, their Yakiniku centers around the art of grilling high-quality meats directly at the table. It offers a dynamic and interactive culinary experience. Diners have the opportunity to select their preferred cuts of meat, which are glazed with Pang Masa Ya's secret sauce and then grill them to perfection a shichirin (traditional Japanese charcoal grill).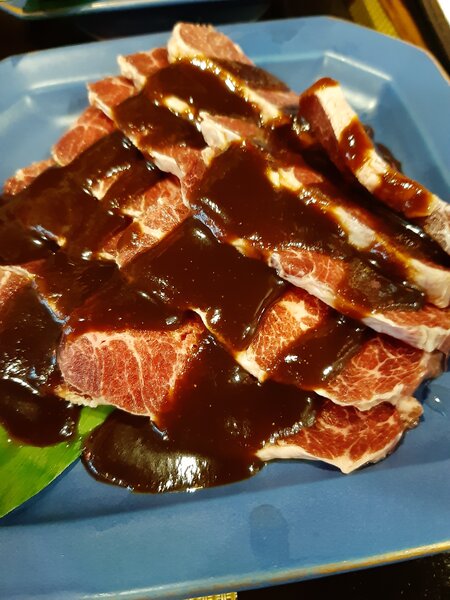 Beef Yakiniku / IMAGE from Philippine Primer
Their best-selling Tan Tan Men, a captivating blend of Japanese and Chinese culinary influences, features handmade noodles in a rich broth infused with sesame paste and chili oil. This is further elevated by the addition of thinly sliced beef strips not the usual ground pork, providing a satisfying contrast to the creamy broth. Topped with an array of vegetables and garnishes, Pang Masaya's take on this beloved noodle dish offers a harmonious interplay of spicy, nutty, and savory notes, creating a memorable and distinctive ramen experience.
If you're in the mood for something soothing and filling, go get their Beef Sukiyaki, a traditional Japanese hot pot dish comprising of a delightful amalgamation of thinly sliced beef, vegetables, and tofu simmered in a subtly sweet and savory soy-based broth. This communal dining experience encourages diners to cook the ingredients at the table, allowing them to gradually infuse the soup with their unique flavors. The tender beef, accompanied by the fresh crunch of vegetables and the smoothness of tofu, offers a balance of textures and a rich depth of umami flavors.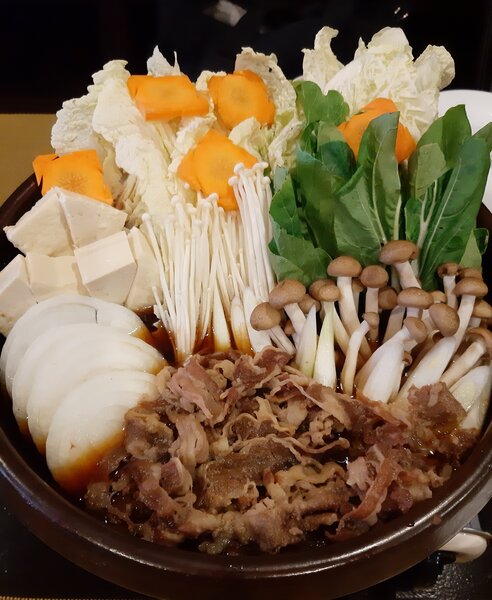 Beef Sukiyaki / IMAGE from Philippine Primer
Embracing a philosophy of quality and excellence, Pang Masa Ya Yakiniku and Teppanyaki ensures that their offerings reflect the dedication to culinary artistry. Whether you're a die-hard Japanese food fan or just testing the waters, this restaurant surely delivers. So don't settle for mediocre – go grab yourself a feast of happiness at Pang Masaya and let your taste buds do the happy dance!
General Information
1198 Pablo Ocampo St., Brgy. Sta Cruz, Makati City
0995-792-3563 / 0945-441-3122
mamagotoinc@gmail.com