Kazunori in Makati: A Tokyo-Inspired Cafe, Sushi Bar and Japanese Dining Area
Tucked along the busy thoroughfare of Chino Roces Extension is the best-kept secret of this side of Makati—Kazunori, a Japanese restaurant owned by the same group that brought us Ramen Yushoken and Mendokoro Ramenba.
You are guaranteed to get the best of Japanese food, from sushi and grilled meats to rice and noodles—that is, except for ramen, which already has its own dedicated place.
Established in 2017, Kazunori is an amalgamation of three dining concepts and various culinary influences. It has integrated a Tokyo-inspired cafe, a modern Japanese dining area, and a sushi bar into one restaurant space.
With its highly extensive menu, you can experience both traditional, modern, and ingenious renditions of Japanese cuisine—everything that takes a lifetime to master.
What's special about Kazunori is that, despite its relatively obscure location, it naturally stands out because of the experience of food that it offers. The experience here is artisanal and sincere—dedicated to showcasing the real quality of every dish.
For a start, you can enjoy traditional Japanese dining at the main dining area, which is at the back part of the restaurant, hidden from view. In this area, you can easily watch chefs perform wonders at the semi-open kitchen, overseen by Japanese chef Kazunori Kuramochi whom the restaurant was named after.
The main dining area of Kazunori is hidden from view.
Kazunori highlights the simplicity in every comforting serving of soba, a less famous Japanese noodle that is surely worth a try. We recommend their Zaru Soba (Php 320), a combination of cold soba noodles and dipping sauce.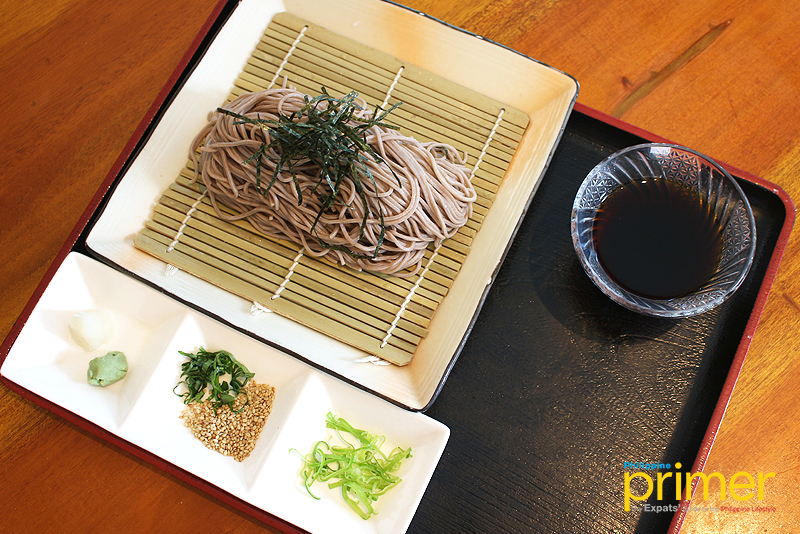 Zaru Soba (Php 320)
 Another lesser-known Japanese noodles are thick and chewy udon noodles made from wheat flour. If you'd like a heart-warming bowl of noodles, better try their Tempura Hot Udon (Php 590), perfect to warm you up this rainy season.
The bowl has light flavors, complemented by tender slices of meat. It is best paired with everyone's favorite, tempura that adds a different layer of crispiness to the meal.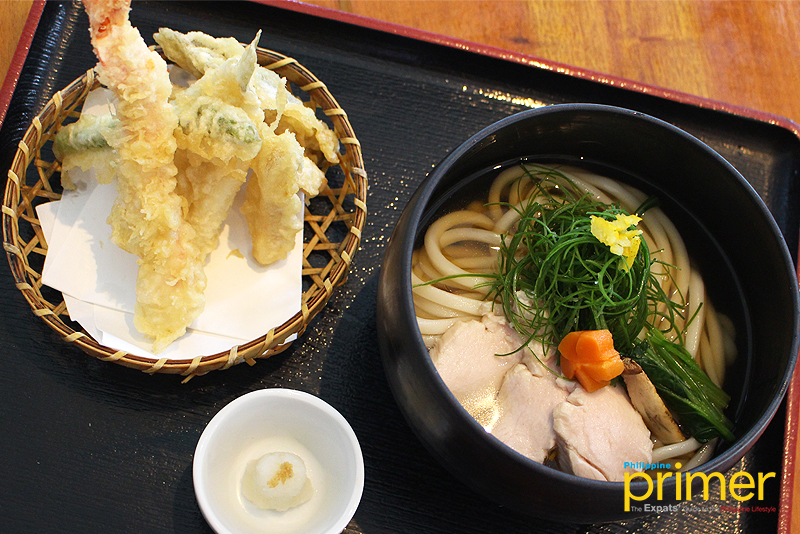 Tempura Hot Udon (Php 590)
If you're going for a quick meal to fuel you up or just craving for some meat, they have the Buta Kushi Miso (Php 220) and Tori Momo (Php 180).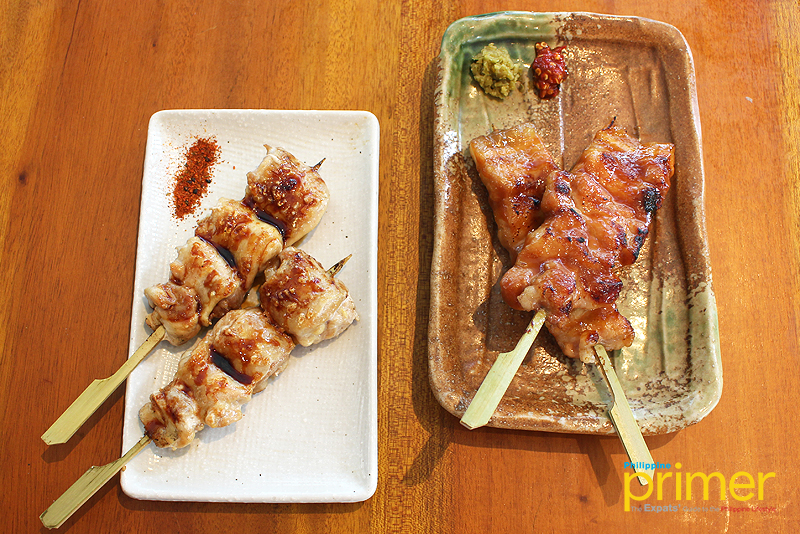 Buta Kushi Miso (Php 220) and Tori Momo (Php 180)
The Buta Kushi Miso is tender, flavorful pork belly marinated in a special sauce made with white miso for about three days. It is served with Japanese chili powder on the side for an added kick.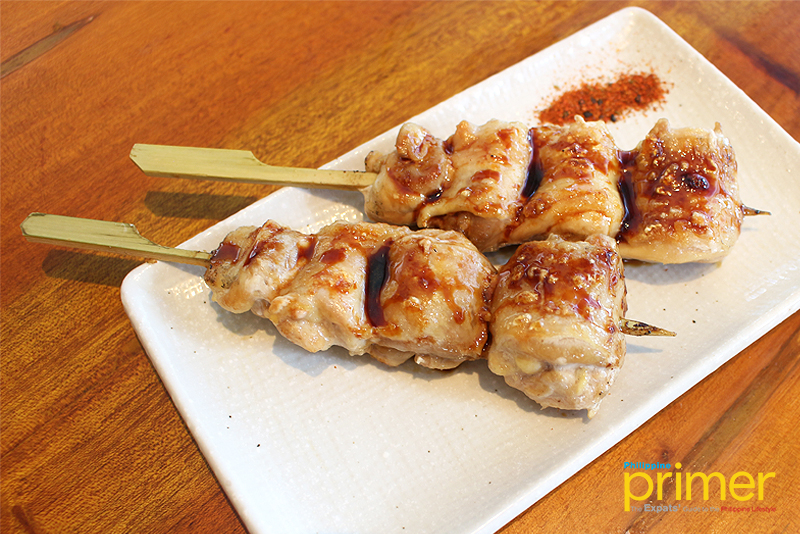 Buta Kushi Miso
The Tori Momo, on the other hand, is yakitori glazed with tare sauce grilled over Japanese binchotan coals to boost the flavors of the meat.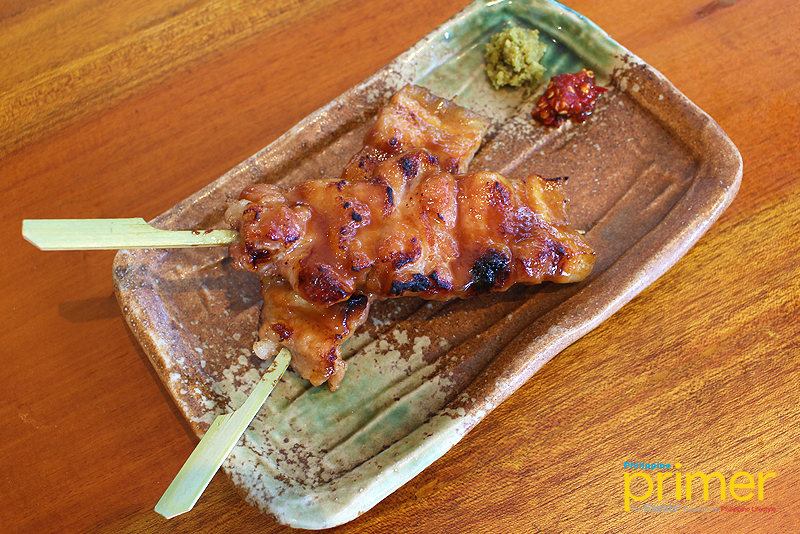 Tori Momo
Meanwhile, you can have more casual dining at Kazu Café, which is right at the front of the restaurant, the first area you'll walk into as you enter Kazunori.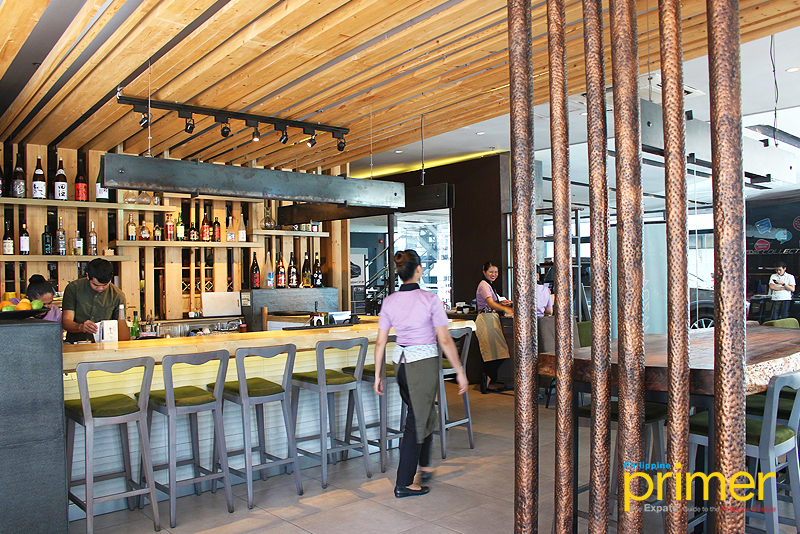 The café is furnished with wooden tables and olive green sofas, a casual and laidback setup for a delightful Japanese meal.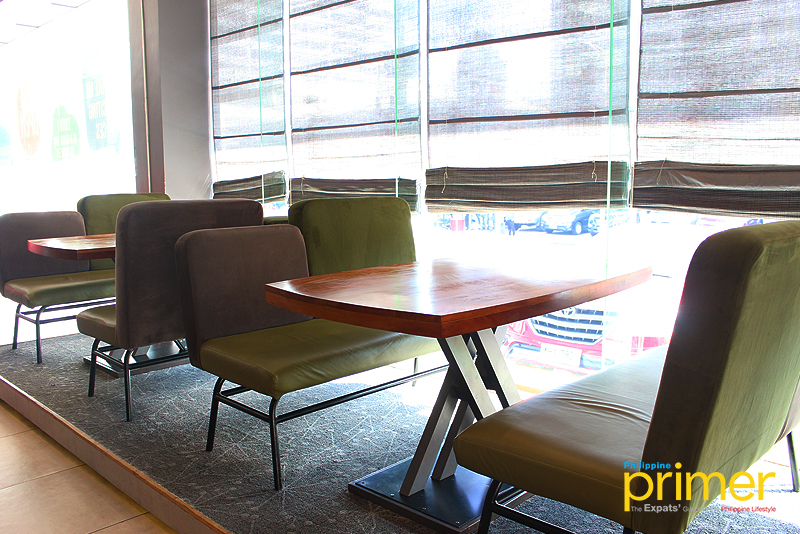 The best meals to enjoy here are modern Japanese dishes with Western influences, such as their Omu Rice (Php 420), a spin-off of the popular Japanese dish typically made with fried rice, omelet, and ketchup. Only, the version of Kazunori is more playfully sophisticated in terms of visual and taste.
The rice is covered with a fluffy omelet as it lies in a bed of smooth curry sauce, producing a nice contrast of sweet, creamy, and tangy flavors.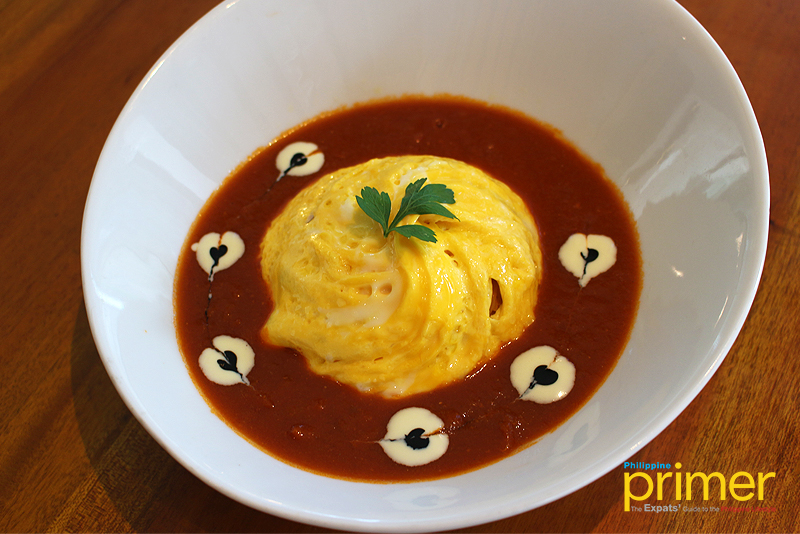 Omu Rice (Php 420)
Behind the cafe is the semi-enclosed area that serves as a sushi bar, offering the restaurant's crown jewel—fresh and authentic sushi prepared by their sushi master, Chef Takiru Saito.
If you're wondering what makes Kazunori's sushi specials stand out among the rest—well then, it all boils down to their utmost respect for this delicacy. The application of the Japanese art of ike jime makes a big difference in the taste.
It involves a deep understanding and lifetime mastery of the act of netting and killing fish to preserve the quality. Choosing and cooking the rice, a crucial part of sushi, is also a highly meticulous feat for the professional sushi chef.
In order to fully explore Kazunori's sushi offerings, consider getting their Omakase, which translates to "I'll leave it up to you," or simply entrusting the choice to the sushi master. Their talent and various techniques will bring you an interesting plate of sushi, a celebration of Japanese ingredients and different seasonalities in Japan.
In three different settings, Kazunori brings feelings of warmth and comfort, all while you savor your favorite Japanese dish—whether you seek something traditional, modern, or novel.
Visit Kazunori Japanese Restaurant at G/F Mazda Makati Bldg., Chino Roces Ave. Extension, Makati City. For more information, you may contact them at 02-989-3152.

G/F Mazda Makati Building 2301, Chino Roces Ave. Ext. Makati City