Daily Chico in Nakano, Tokyo: Home of the Tallest Soft Serve
In a country with four seasons like Japan, it is unusual for ice cream to be still sought out in winter or spring. But it is not the case at Daily Chico. At this little ice cream shop at the basement floor of Nakano Broadway, ice cream is the dessert of all seasons, drawing flocks of ice cream lovers every day and all year round.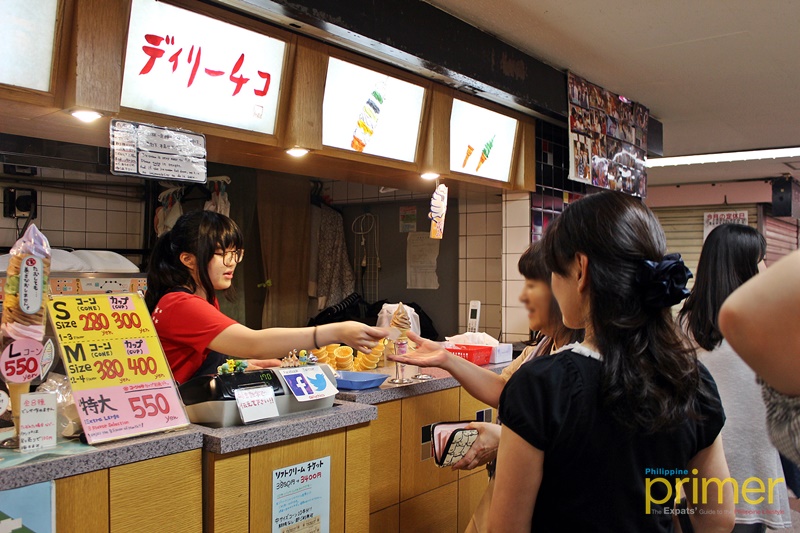 Started by a small businessman 50 years ago, Daily Chico is now a staple at Nakano. Their ice cream is homemade, low in calorie, and rich in probiotics. The main crowd puller is the Tokudai Soft Cream, a towering soft serve made with layers of soda pop, green tea, Muscat grape, chocolate, vanilla, coffee milk, strawberry, and dessert cheese.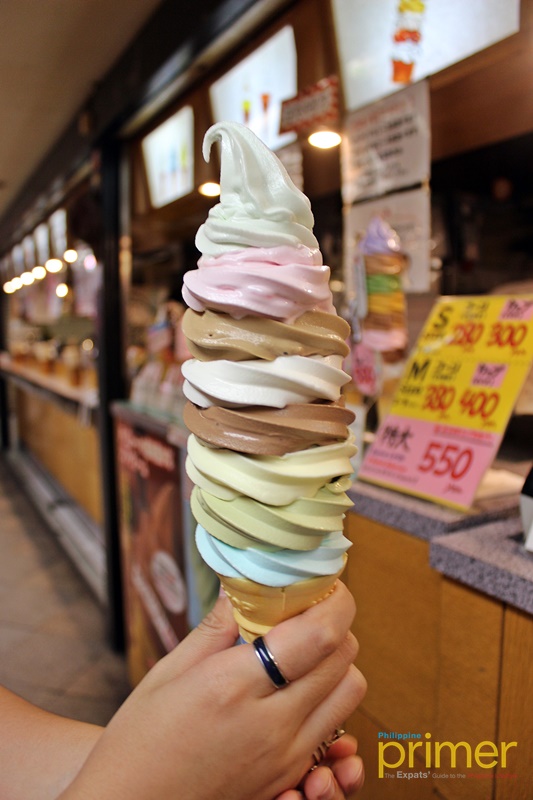 Tokudai Soft Cream (¥550)
Although it is served on a cone, it is not ideal to tilt and lap up the tall soft serve. The Tokudai Soft Cream is served together with a mini spoon, and you have to lightly scoop from the bottom up, so you can also enjoy the unique combination of flavors. If you got your eyes on one flavor while your companions focus on the others, just scoop gently sideward.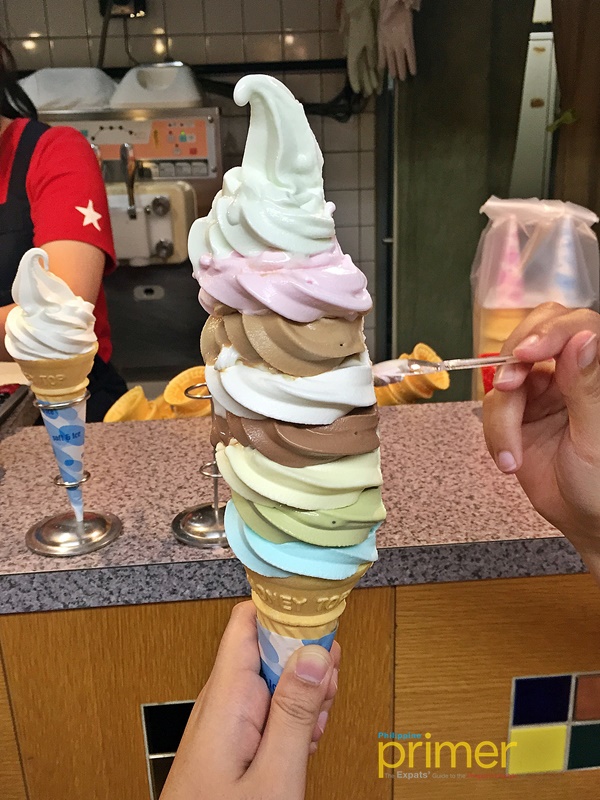 The Tokudai Soft Cream is perfect for first-timers to get a taste of all available flavors before ordering a serving of one or two flavors. When you find your favorite flavor, you can get a small serving for ¥280 (one to three flavors). You can also get two to four flavors of your choice on the medium serving for ¥380. For the small and medium sizes, you may opt to have them served in a cup (¥300 for small, ¥400 for medium).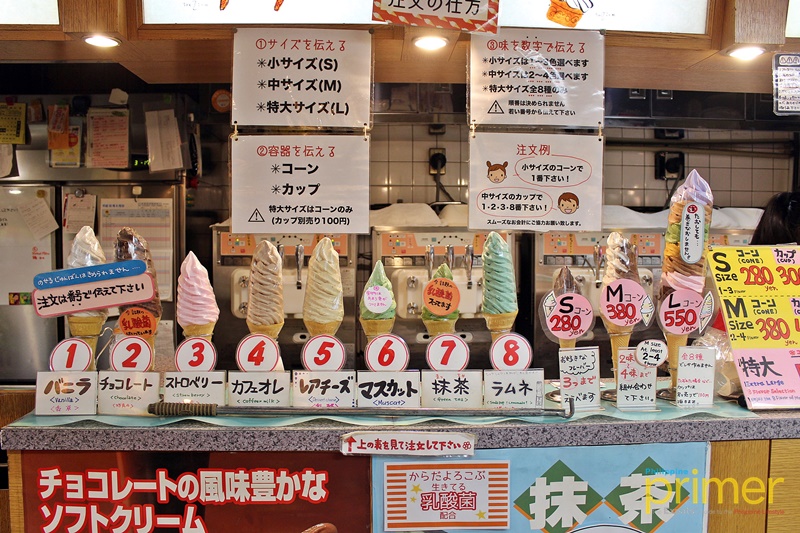 According to the owner, vanilla is the universal best seller. Most Westerners go for green tea and soda pop, while Asian tourists love chocolate and strawberry.
Daily Chico keeps on innovating on flavors, so you might see some different flavors after a few months or so. So far, they have featured a total of 40 different flavors! At the time of our visit, their newest flavor is the Muscat grape and dessert cheese.
How to get there
• Daily Chico is on the basement floor of Nakano Broadway. Nakano Broadway is an easy five-minute straight walk from the North Exit of Nakano Station, where you will pass Nakano Sun Mall Shotengai (shopping street) first.
• From Tokyo Station to Nakano Station, it takes about 23 minutes via the Chuo Line.
• From Shibuya Station, take the Yamanote Line and transfer at Shinjuku Station and take the Chuo Line to Nakano Station. The trip takes around 20 to 23 minutes.
---
Written by Rei Leaño
This first appeared in Philippine Primer English magazine's Vol. 31 – October issue. 

B1F Nakano Broadway, 5-52-15 Nakano, Nakano-ku, Tokyo