Piccolo Padre in Angeles, Pampanga Whisks You Away on a Journey to Italy
It is surprising to find a unique Italian restaurant in Pampanga but Piccolo Padre is exactly where it needs to be. Have some wine, admire the Venetian interior design, and enjoy the delectable dishes at the perfect place for romantic dinners and anniversaries.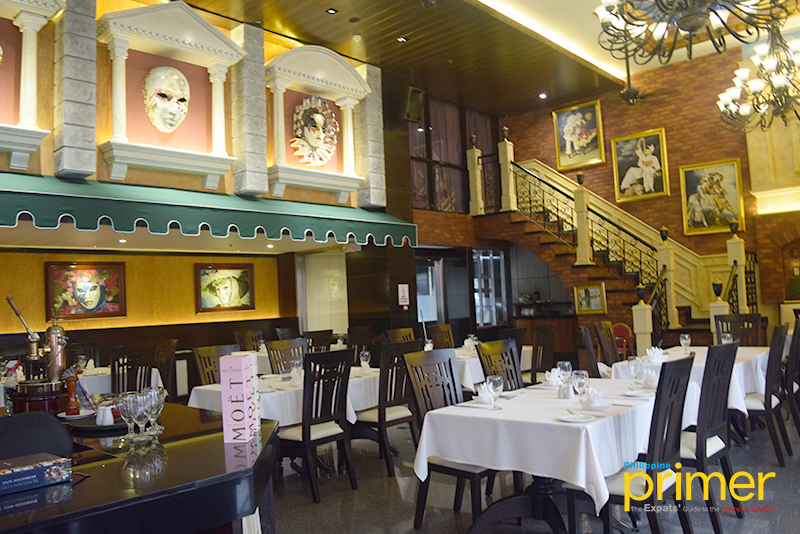 From Italy with love. The interior of Piccolo Padre is designed specifically to show Venetian design and the carnival masks.
Sit by the beautiful view of the scenery of Venice as you dine at Piccolo Padre ("little father" in Italian,) the specialty restaurant created by Italian Chef Dan Giampaolo. Enjoy a wide variety of quality food, good service, and good ambiance at one of the most romantic places in town.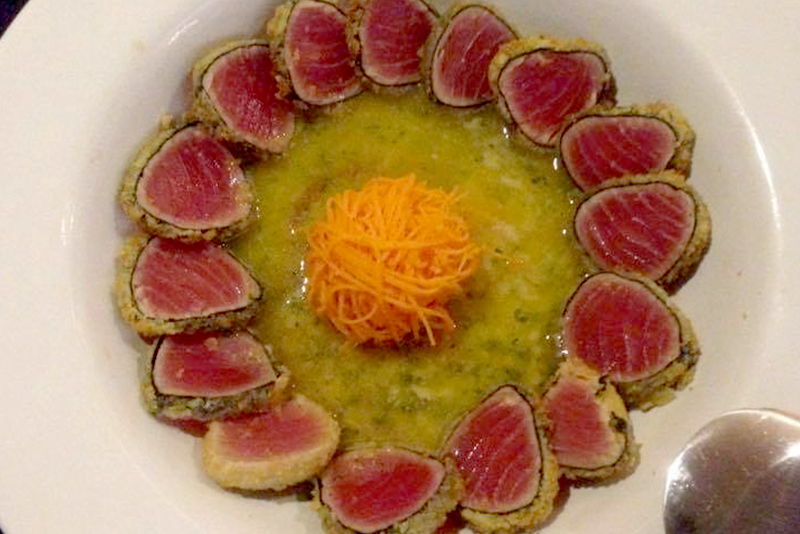 Ahi Katsu (Php 600) is sashimi tuna wrapped in nori, panko and fried; served with lemon, garlic, and butter sauce./IMAGE courtesy of Chef Dan
A step into the restaurant will transport you to Venice, Italy. From the ceiling, the carnival masks, the wall accent imitating Piazza San Marco, and the window boxes, the interior of Piccolo Padre is a testament to the romance and grace of classic Italian design. It is the perfect visual as you savor their dishes.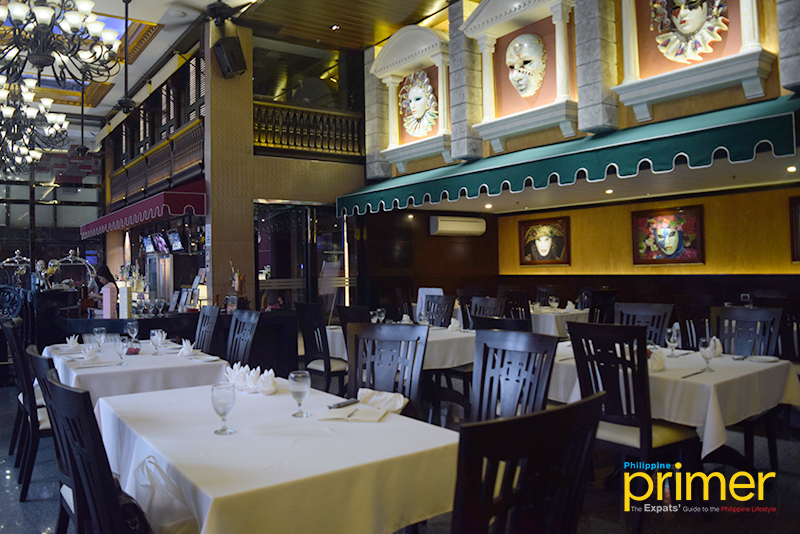 The restaurant can hold 64 pax but the VIP room on the second floor can have an additional 80 people for Php 2,000/ person.
They have a menu featuring dishes that are considered homecooked meals in Milan, Venice, and Sicily. Expect dishes that have satisfied customers served in the original Piccolo Padre in Italy, owned by Chef Dan's father.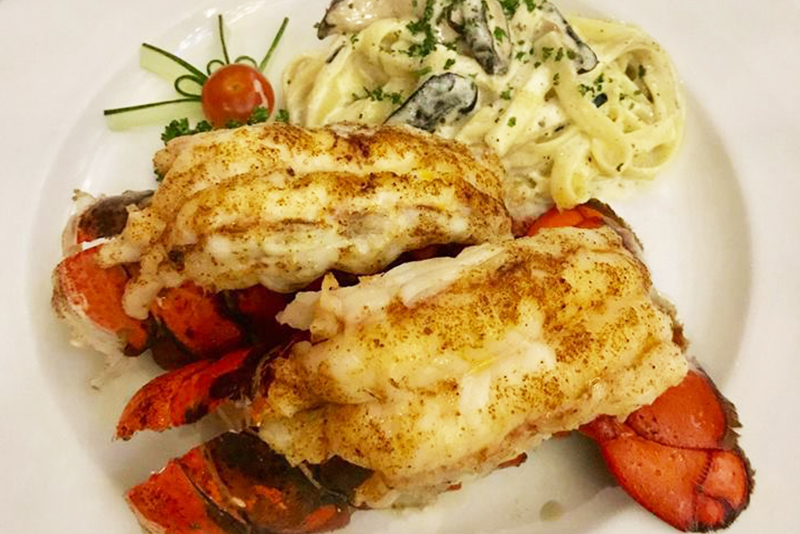 Piccolo Padre's Maine Lobster Tails (Php 1,750) is baked and served with lemon, garlic, and butter dipping sauce./IMAGE courtesy of Chef Dan
It is known in Pampanga that they serve the best steaks in Angeles and this includes the Golden Wagyu Rib and the Porterhouse Fiorentina (Php 3,950/ 900g). Also try their Seafood Platter (Php 950), Piccolo Padre's bestseller, which includes pan-fried clams and black mussels or baked oysters ala Genovese, and Ahi Katsu in lemon butter garlic sauce and shell-on scallops in cheese sauce.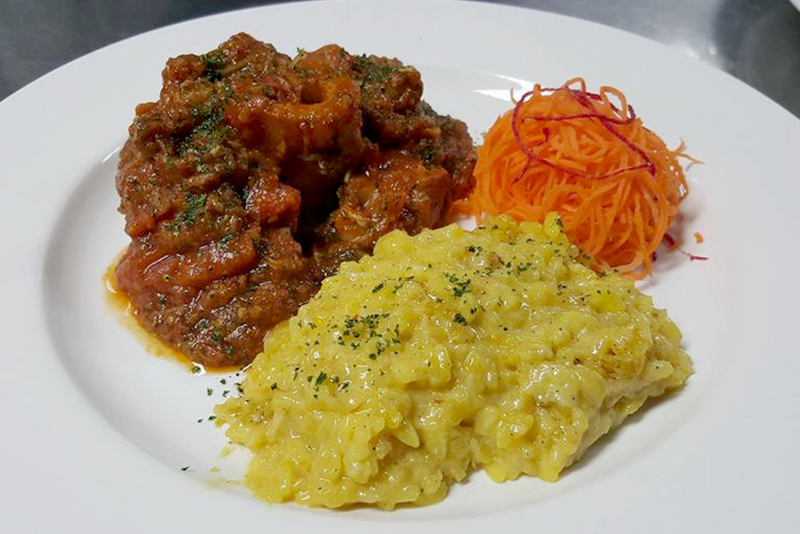 Ossobuco Alla Milanese (Php 1,100) is veal shank served with saffron risotto./IMAGE courtesy of Chef Dan
Chef Dan's attention to detail also reflects on the dishes being served. The vegetables are also sourced locally for freshness but everything else is imported from Italy to retain the authentic flavor.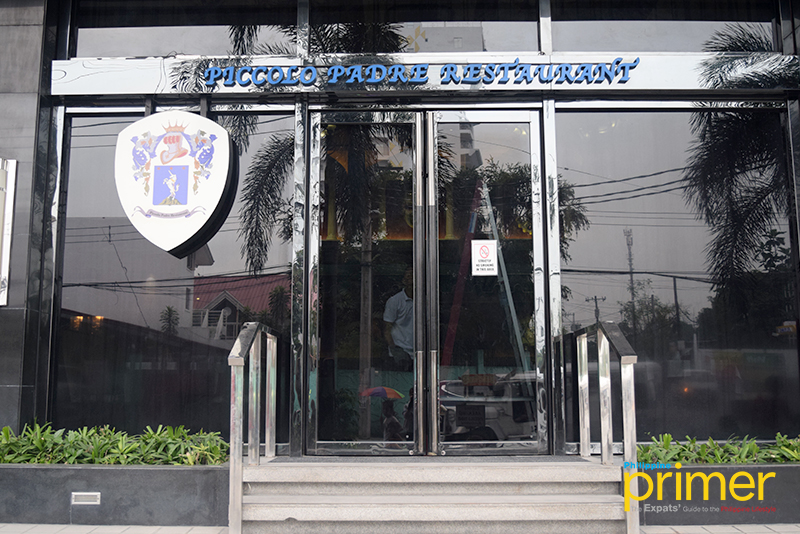 Come over for a family dinner or a romantic date; either way, it will be an experience to remember.
Overall, dining at Piccolo Padre is something that many look forward to. The dishes that were enjoyed back from its first branch in Italy and later in the US are a delight to have. For a taste of Italy, visit Piccolo Padre in Pampanga.
---
This also appears on Philippine Primer Japanese Magazine's November 2018 issue.
Store Information
Prime Asia Hotel, Narciso Ave., Angeles City, Pampanga
0919-500-4750 / 0919-887-2195
5 pm to 11 pm. Last seating at 10 pm
Monday