Elbert's Pizzeria in Makati Serves Authentic Neapolitan Pizzas
Just like the country's long list of Filipino food, pizzas also vary from one place to another. In fact, some of the pizza recipes in the country are named after the exact spot people have tried them. There's classic New York style pizza, the ever-favorite Hawaiian pizza, and the deep dish Chicago pizza.
Filipinos, of course, also contributed to the growing number of pizza recipes, even adding a local touch much like Ilocos' Pinakbet pizza.
Further, there's a notion that more toppings equate to a tastier and more appealing serving. But this new quick pizza diner claims otherwise—proving everyone that crusts also matter above everything else, literally.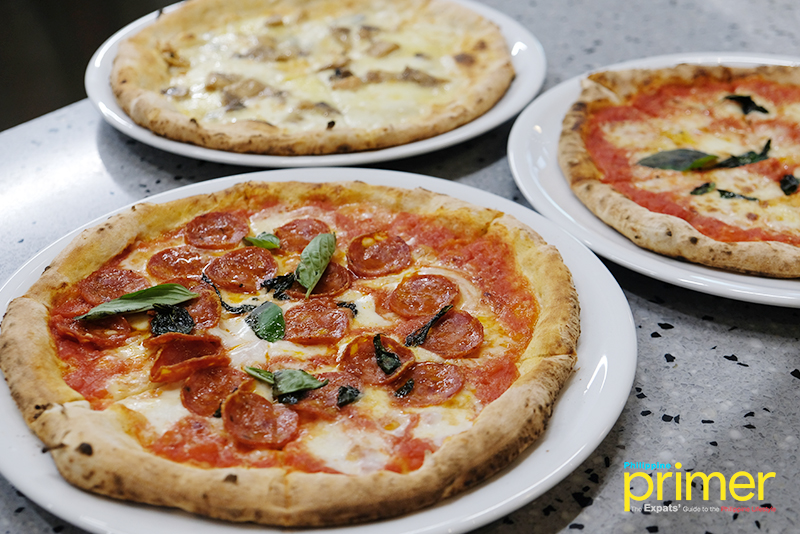 Owned by businessman Elbert Cuenca, Elbert's Pizzeria could be every foodie's next stop for some bites. It is the latest addition to his Steak Room Concepts, Inc.'s line of humble restaurants, alongside Elbert's Steakroom, Elberts's Sandwich Shop, and Elbert's Upstairs Bar.
Also read: Business Talk with Elbert Cuenca, Steak Room Concepts
The pizzeria was pushed through when Elbert's brother, Adrian, had the opportunity to learn about the art of pizza-making overseas—the Neapolitan style. "Any opportunity to learn something new in another country will always interest anyone," Adrian explained. "Without hesitation, I really took the chance."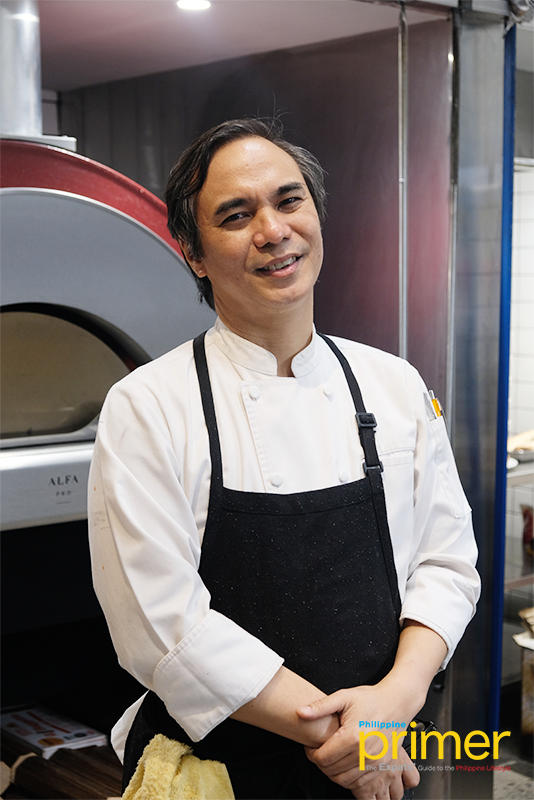 Chef Adrian Cuenca
For just a month, Adrian, who also works at the Steak Room Concepts as its corporate chef, was immersed in pizza-making in True Neapolitan Pizza Association, a non-profit organization based in Naples, Italy.
Through his mentor Gaetano Fazio, Adrian acquired proper knowledge and learned the know-how of crafting pizza—from preparing the dough to cooking in a wood-fired oven.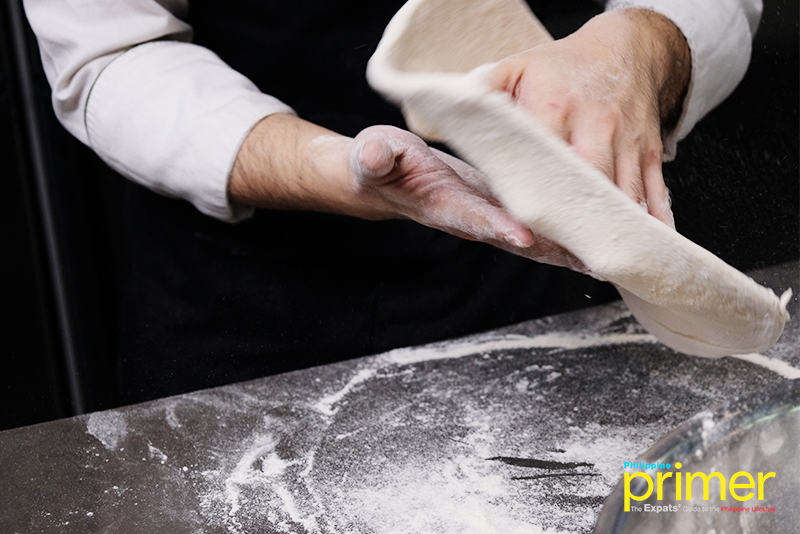 Eventually, the pizzeria took over the available space in V Corporate Center in Salcedo Village, Makati. After months of conceptualization and preparation, Elbert's Pizza formally opened its doors to exploring foodies last July 1.
The newly-opened pizza joint puts great pride in presenting their simple yet appetizing eats. With only 12 variants in their arsenal, Elbert'z Pizzeria lives up to the true essence of Naples style pizza: there is no space for fancy toppings.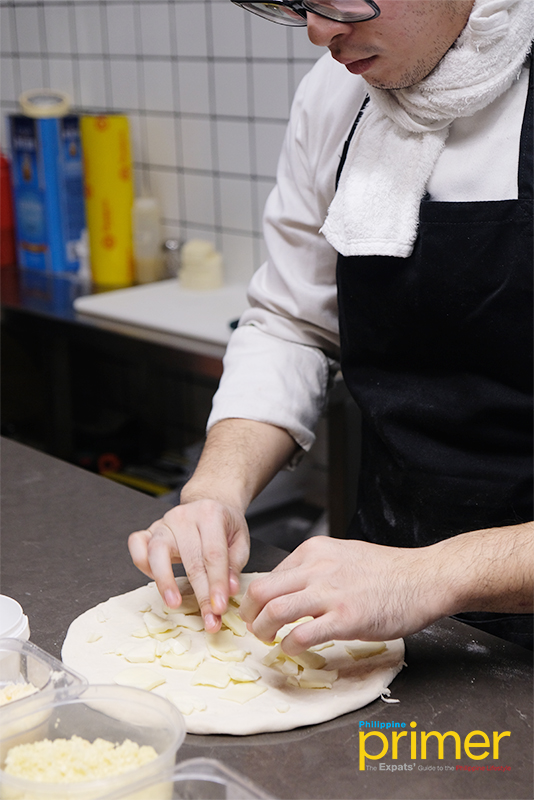 For Adrian, putting too much toppings overpowers what pizzas are supposed to taste like. "It's all about the crust, it's all about the simplicity," he stressed.
In order to achieve the perfect pizza, Elbert's Pizzeria only uses the Caputo 00, a widely used pizza flour in Italy and United States. Caputo oo gives the pizza joint's ideal characteristics of crusts—thin, crunchy, and chewy.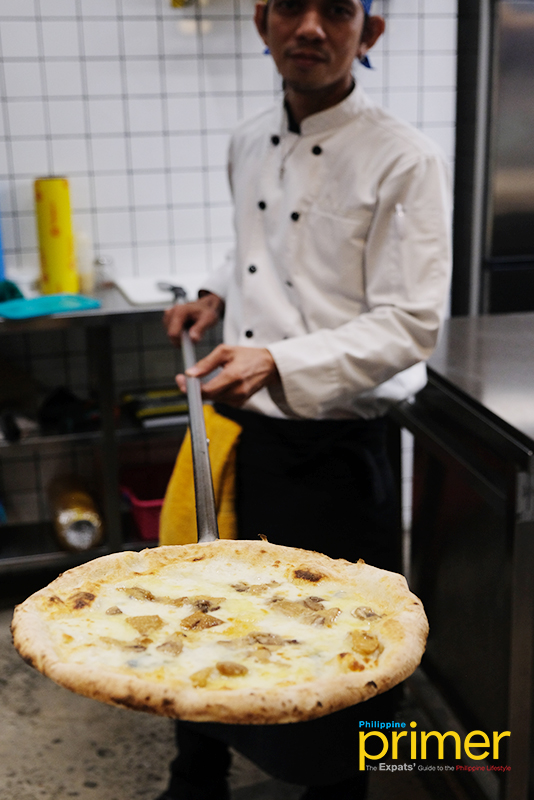 They also source most of their toppings from Italy to bring this original pizza taste to the pizza-lovers in the country.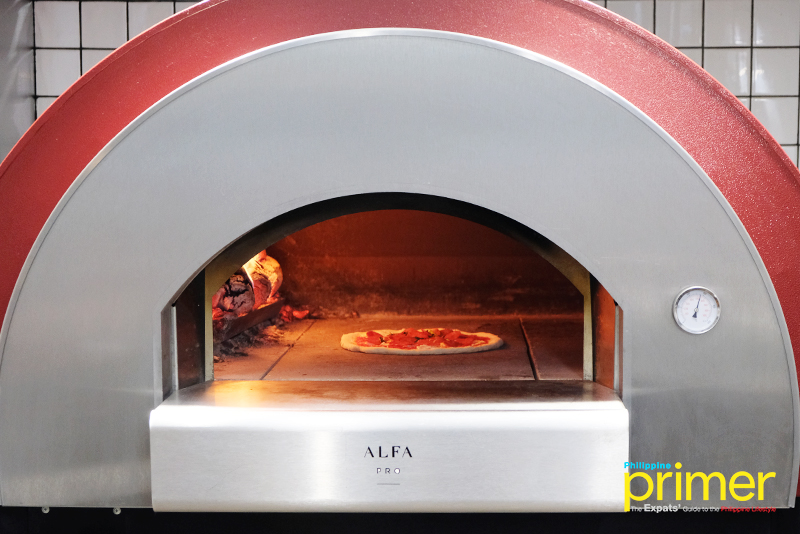 Flattened using bare hands, the doughs are knead on a floured surface. When the shape has been formed and the thickness has become even, the right amount of toppings—such as pepperoni, tomatoes, and cheese—are put into place.
Afterwards, it is cooked in their modern wood-fired oven for 60 to 90 seconds, ensuring an incredibly delicious pizza.
To start your gastronomic treat, sample their house pizza, Margherita (Php 320). It has tomato pulp, mozzarella fior di latte, parmesan, extra virgin olive oil, and basil. It's that classic pizza taste you'd want to snack on anytime of the day.
Margherita (Php 320)
If you want something spicy, then the al Diavola (Php 400) is perfect for your palate—this one has pepperoni. Every bite is kicking with goodness!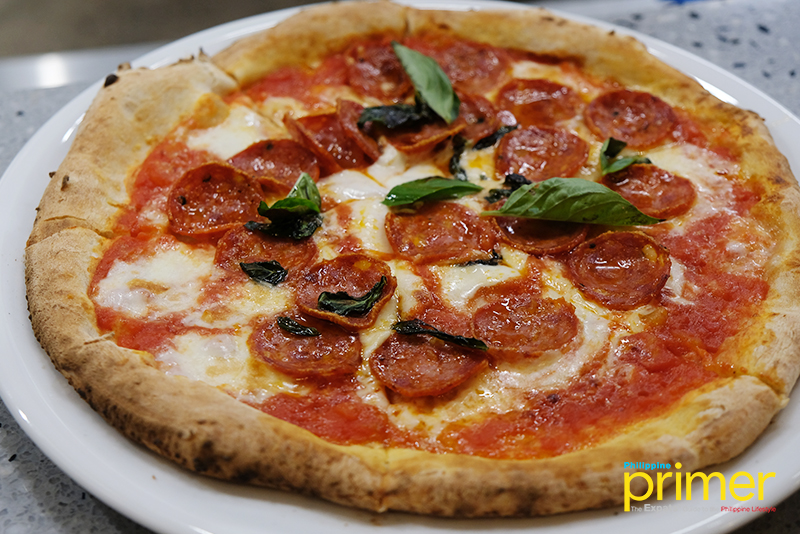 al Diavola (Php 400)
Meanwhile, the Quattro Formaggi e Fungi (Php 570) will surely work wonders to those who are craving for cheese as it has emmental, gorgonzola, and parmesan, drizzled with mixed mushrooms.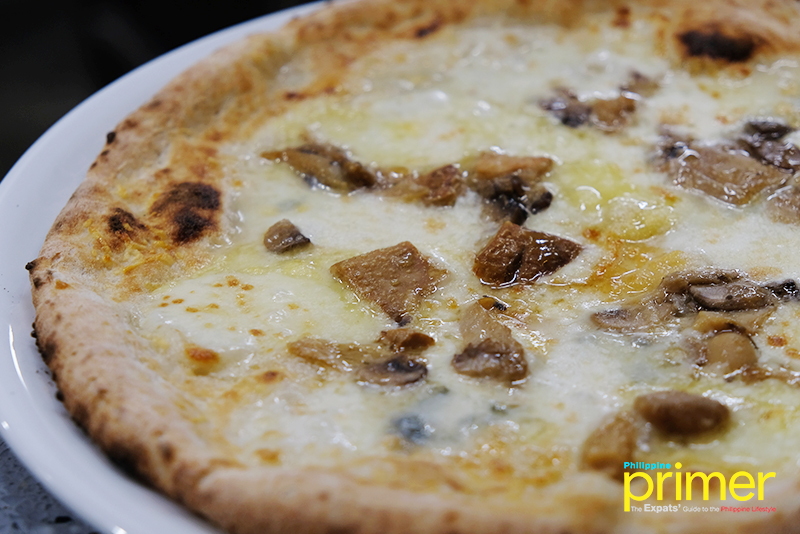 Quatro Formaggi e Funghi (Php 570)
Pizzas can be divided into six slices, best paired with their drinks that are also imported from Italy.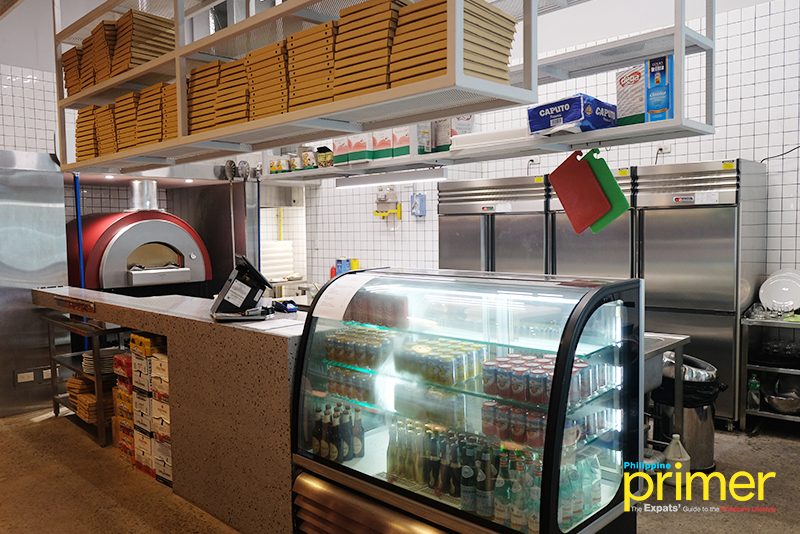 Elbert's Pizzeria can sit up to 14 diners. Just like the pizzas, the interiors exude a laid-back and bright atmosphere—a perfect place to hang out and lounge. They accept take-out orders, too!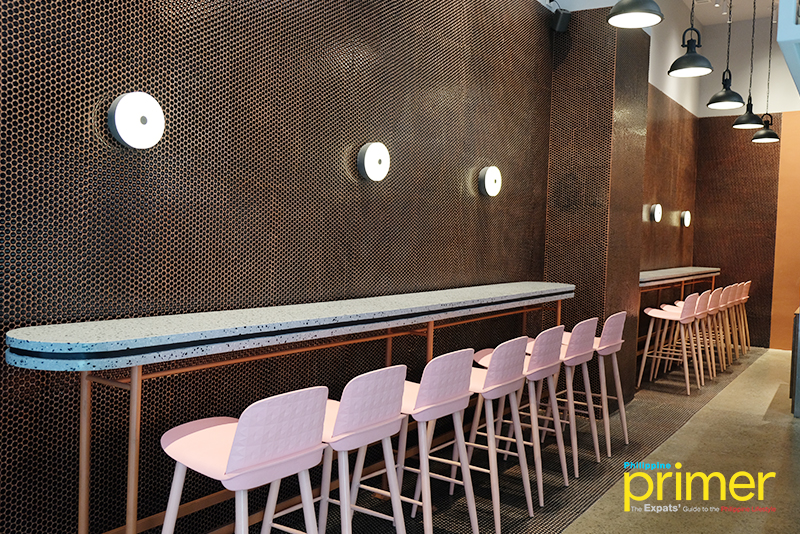 Visit Elbert's Pizzeria at 124 L.P. Leviste St. Salcedo Village, Makati City. It opens from 11 a.m. to 11 p.m.. For inquiries, you may call at 02-978-8325 or message them on Facebook.
---
Written by JR Padlan
General Information
124 L.P. Leviste St. Salcedo Village, Makati City
02-978-8325
11 a.m. to 11 p.m.
Cash, Card