An Italian experience awaits you at Farfalla Osteria
A true Italian experience awaits you at Farfalla Osteria, the Hotel Durban's in-house Italian restaurant.
Farfalla Osteria is a modern Italian restaurant with an emphasis on keeping your Italian dining experience as authentic as possible. The name may not ring any bells, but it's very popular amongst westerners, especially those who stay at the Hotel Durban.
START YOUR MEAL WITH Farfalla's Insalata di arance (P300), a medley of orange slices, greens, red onion, black olives, and olive oil.
Their menu is carefully curated by an Italian consultant, who makes sure each dish stays true to its Italian roots. This holds the key to this restaurant's success: an Italian restaurant with dishes that not only look but also taste 100% Italian.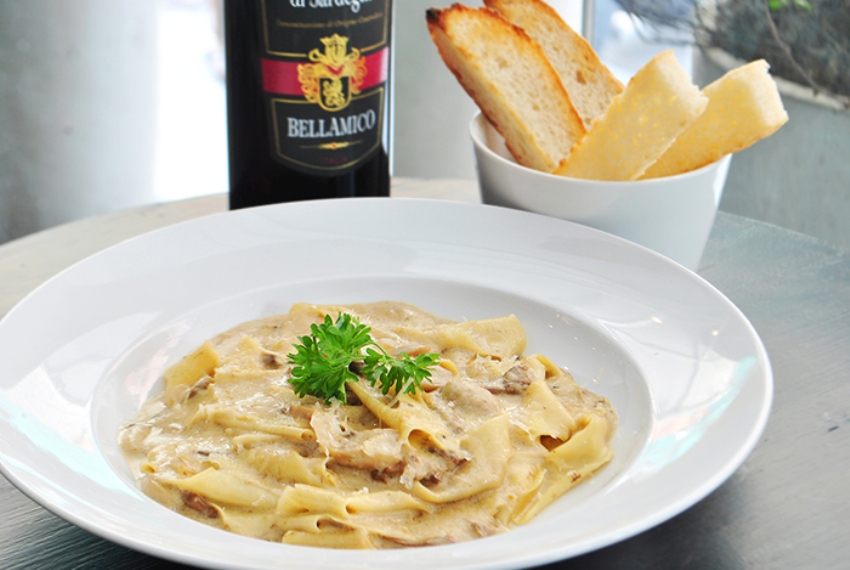 Pappardelle tartufate. an Italian classic, Farfalla's Pappardelle tartufate (P400) gives you a taste of their hand-cut pasta with porcini mushrooms and white truffle cream sauce.
Their homemade pasta and pizza are staples among the many dishes they serve. The pasta is done al dente, and their pizza is deliciously thin and crispy.
To get the best of Farfalla, we recommend going for their 4-course menu priced at P550 per person.
Visit Farfalla Osteria at the Hotel Durban, 4875 Durban St., Makati Ave., Makati City. For reservations, please call 02-897-1866 to 68. They're open every day from 7 a.m. to 11 p.m. You can also visit hoteldurban.net for more information and the full menu of Farfalla Osteria.

Hotel Durban, 4875 Durban St., Makati Ave., Makati City